Happy Wednesday Yall!
And today is a happy day indeed as this morning, temperatures are supposed to finally be in the double digits! Oh Yeah! Lets ALL dance now!
After 2 whole days of lows in the single digits (6 degrees F/-14 degrees C) I am so ready for this chill to move on! My hats off to all of yall that do life in these frigid temperatures ALL winter! I think I might have to look into some cryo-hibernation or something if I had to go ALL winter in these temps!

And, cue second happy dance cos today is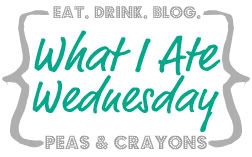 I LOVE gawking at food, mine, yours, theirs, I don't discriminate whose plate or bowl it is!!!
Thank you Jenn @ Peas and Crayons for hosting today's food fest! So without further ado - here are my eats from Saturday...

Oats (yes there are oats under there), almond milk, salt, cinnamon, vanilla extract, scoop of protein powder, topped with peanut butter and chocolate chips.

I am so loving this snack lately - dates and peanut butter or any nutbutter, really.

Leftover bowl of collards and onions, ginger, garlic, and tomatoes.

Mocha shake - Vanilla protein powder, almond milk, coffee and chocolate syrup.

And scrambled eggs, broccoli-corn-pinto beans-onions-garlic-ginger-sundried tomatoe stir fry
Now I am off to gawk at yalls eats - here's hoping one day soon technology will provide us with a scratch and taste monitor!

How's your week been?
Is it colder where you are than it has been here? IF so, would you wanna hibernate ALL winter?
If not - can I come live with you till winter's over?