I received coupons for free samples of Davidson's Safest Choice Eggs mentioned in this post. By posting this recipe I am entering a recipe contest and am eligible to win prizes associated with the contest. I was not compensated for my time.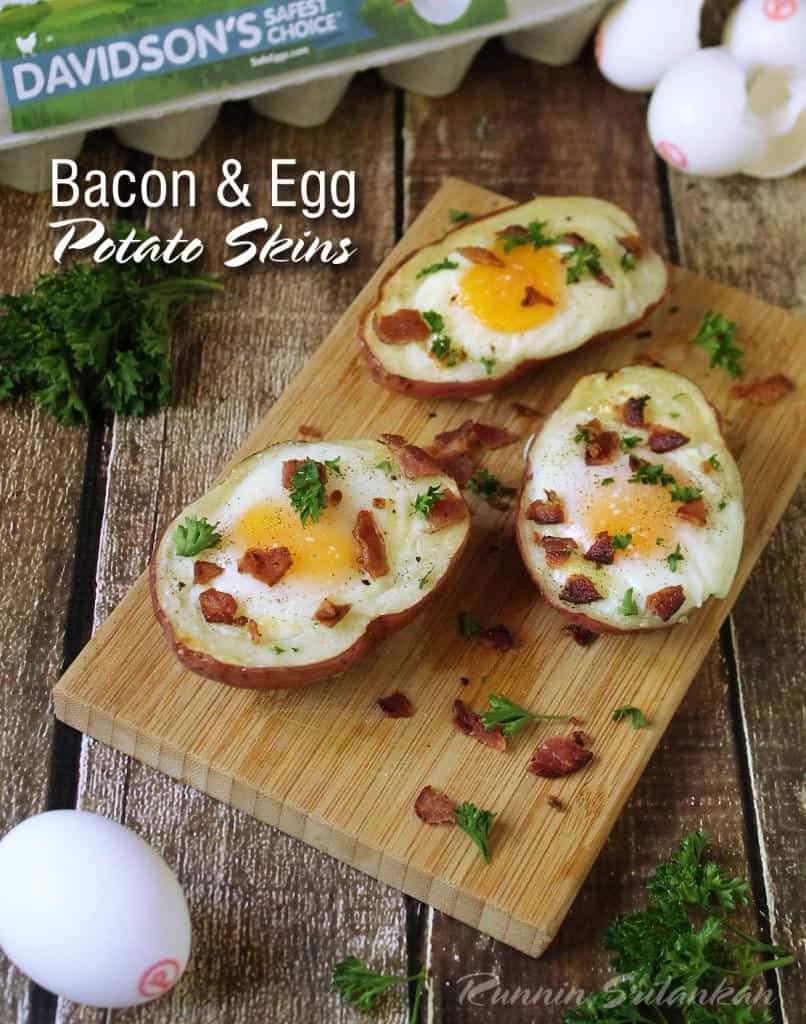 When a friend of mine was cramming for her Bar exams, she would eat a potato every night. She would go on and on about how that potato calmed her nerves and helped her shut off her worried mind. As I am always spewing out "facts" trying to justify my coffee habit, I was not about to deny her justification for her potato-a-day habit.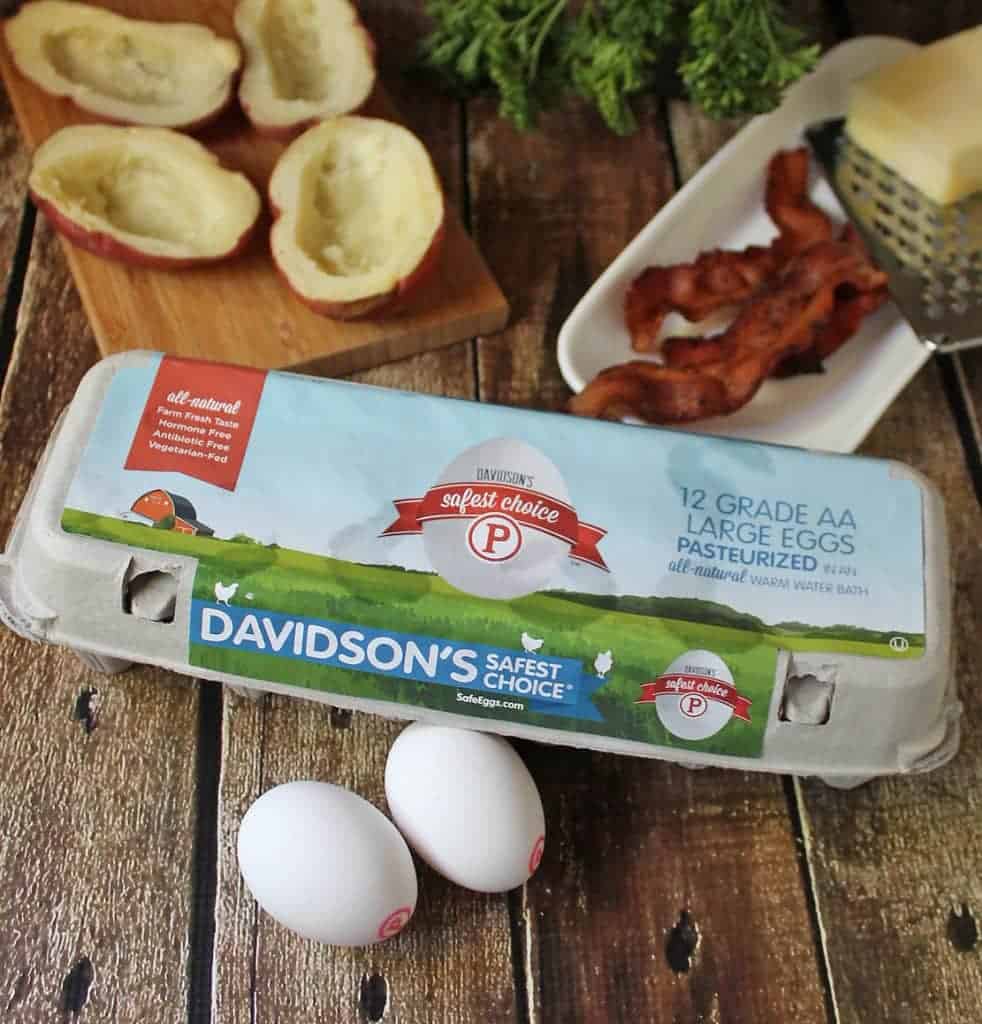 Then I came across a book called "Potatoes not Prozac", by Dr. Kathleen DesMaisons. Now, this book was released back in 2008, so you probably already know about it. But, I have this annoying habit of jumping onto bandwagons a little too late (7 years to be exact in this case) but better late than never -right? In this book, Dr. DesMaisons talks about how potatoes can cause an insulin response that "effects the movement of the amino acid tryptophan from your blood into your brain". DesMaisons further goes onto say that our bodies use tryptophan to make serotonin, which is responsible for that mellow and happy feeling we get – like after a turkey dinner!
Now, I am not a nutritionist or dietitian and have no scientific explanation for this, but, I do have practical proof! At times when I am super stressed, I've been turning to potatoes – with a side of eggs. Even though Dr. Kathleen DesMaisons specifies that protein can block potatoes' nutritional powers, I have grown to treat potatoes and eggs as my comfort food.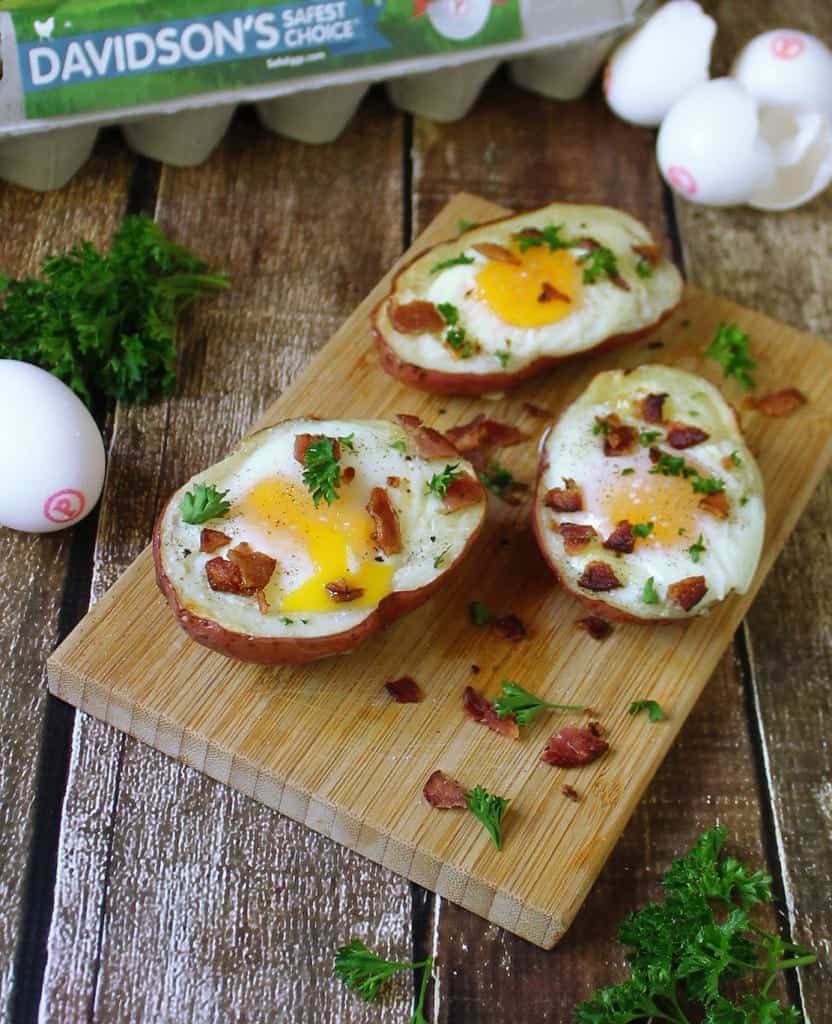 This past Saturday, my daughter wanted to have some tater tots with eggs and bacon for breakfast. As tater tot's don't hang out in our refrigerator often, and as I wanted to put something a bit healthier in her belly, I suggested homemade potato skins. And, we ended up with these Bacon And Egg Potato Skins!
I used Davidson's Safest Choice Eggs for these skins as I wasn't planning on cooking them all the way through and besides – who doesn't love a little drippy yolk action in the morning?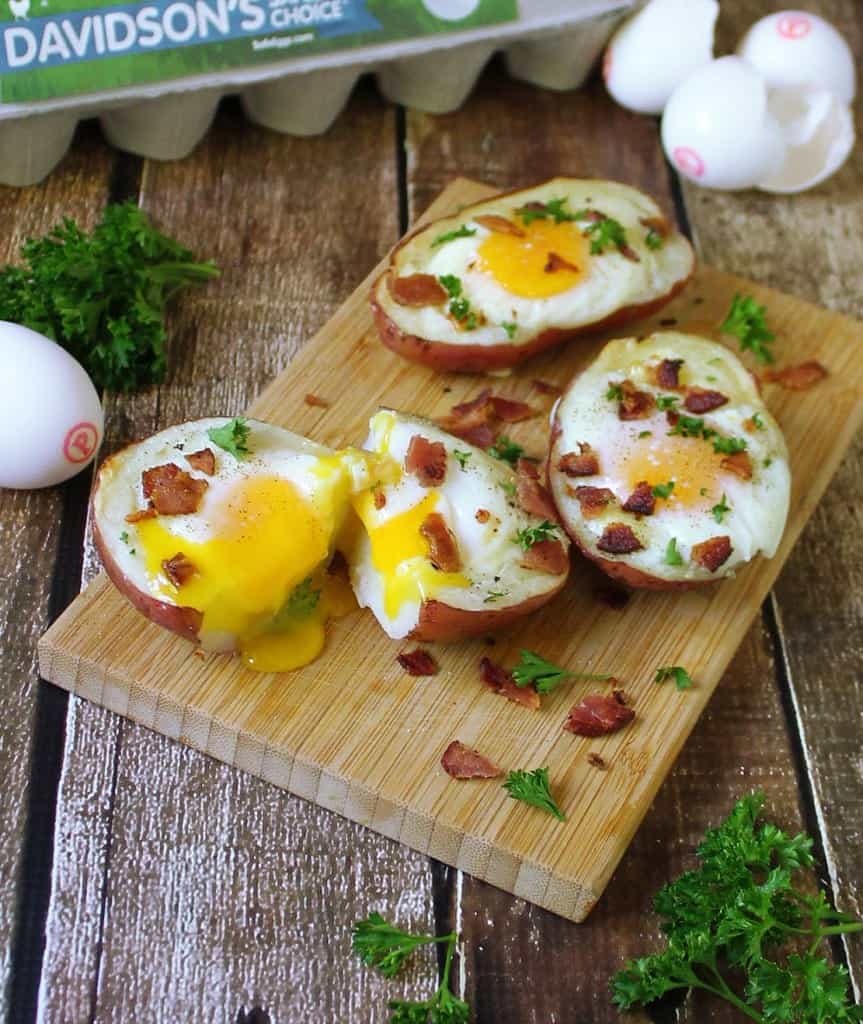 Davidson's Safest Choice Eggs "are pasteurized in an all-natural warm water bath, so they taste great and are safe". With Davidson's Safest Choice Eggs, you, too, can enjoy your favorite raw or gently cooked recipes without the risk of Salmonella.
[Tweet "Bacon & Egg Breakfast Potato Skins #ad @SafeEggs @RunninSrilankan"]
If you would like more information on Davidson's Safest Choice Eggs, please check out their website.
And, follow them on Social Media
Facebook • Twitter • Instagram • Pinterest • Youtube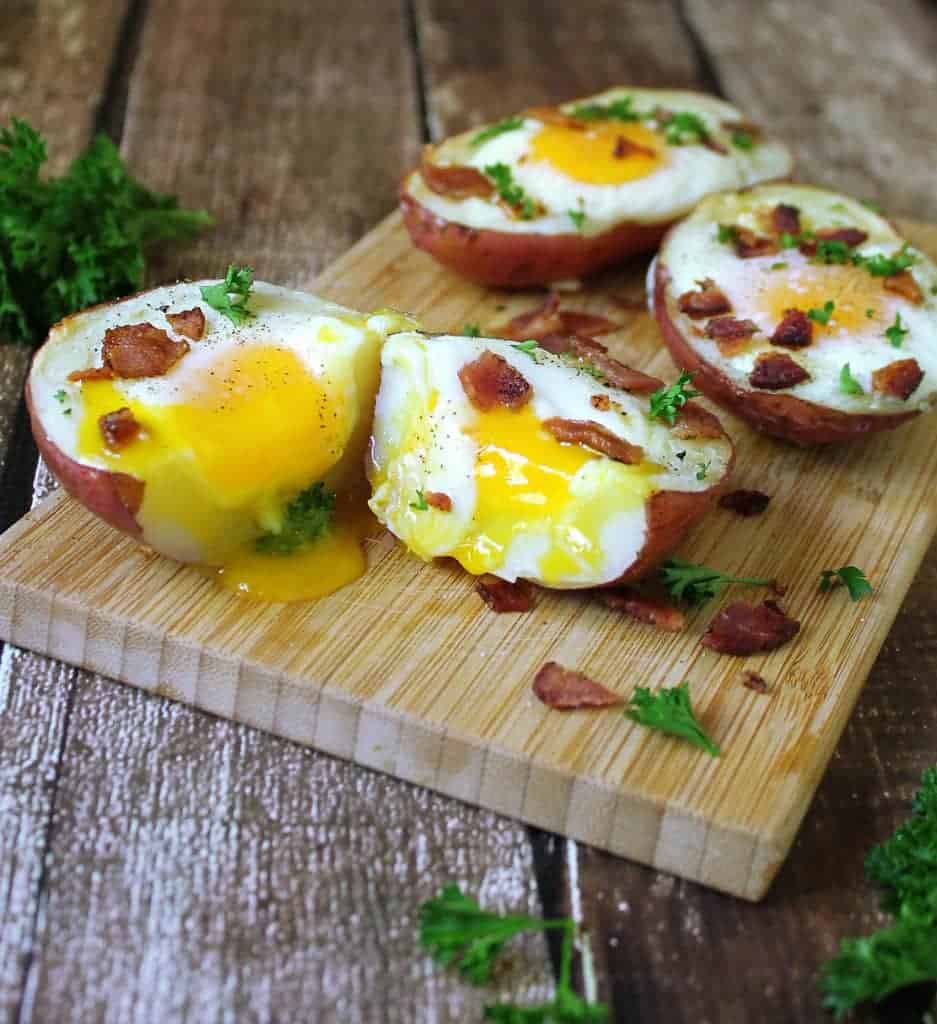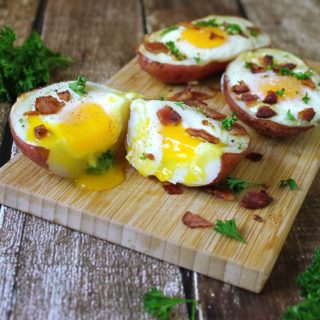 Print Recipe
Bacon And Egg Potato Skins
You cannot go wrong with these potato skins! Filled with bacon and cheese and some runny eggs, they are sure to get your morning off to a tasty and filling start!
Ingredients
4

Davidson's Safest Choice Eggs

2

potatoes

2

pieces

bacon

4

small rectangular slivers of cheese

to fit into the potatoes

Salt & Pepper

Olive Oil

Parsley or cilantro to garnish

Optional toppings: chili flakes

salsa, avocado
Instructions
Preheat oven to 375 degrees

Microwave the 2 potatoes till cooked and cut them in half

Scoop out the insides of the potatoes - making little "potato boats" in the process

Add a sliver of cheese in each potato half and place potatoes on a baking tray (I used bunched up foil to make sure they were upright before the next step)

Brush potatoes with olive oil

Break an egg into each potato half and bake for 18-20 minutes

Cook strips of bacon and drain well on paper towels

Take the eggs out of the oven - making sure the whites are set

I sprinkled the potato skins with bacon and salt and pepper and parsley and chili flakes, but avocados and salsa would make some super tasty toppings too.