This past Friday, I attended my very first food blogger conference; TECHmunch, a travelling food blogger conference, spearheaded by Babette Pepaj, made it's way to Monday Night Brewing in Atlanta -aaaand they brought a slew of information and food to share!
The One Day Conference started off at 9:30am sharp with an informative session on "How To Create & Leverage Your Brand" with Celebrity Chef Virginia Willis and Bakerella herself, Angie Dudly as panelists! Their stories of their journeys from book to blog and vice versa were fascinating – and filled with so much info!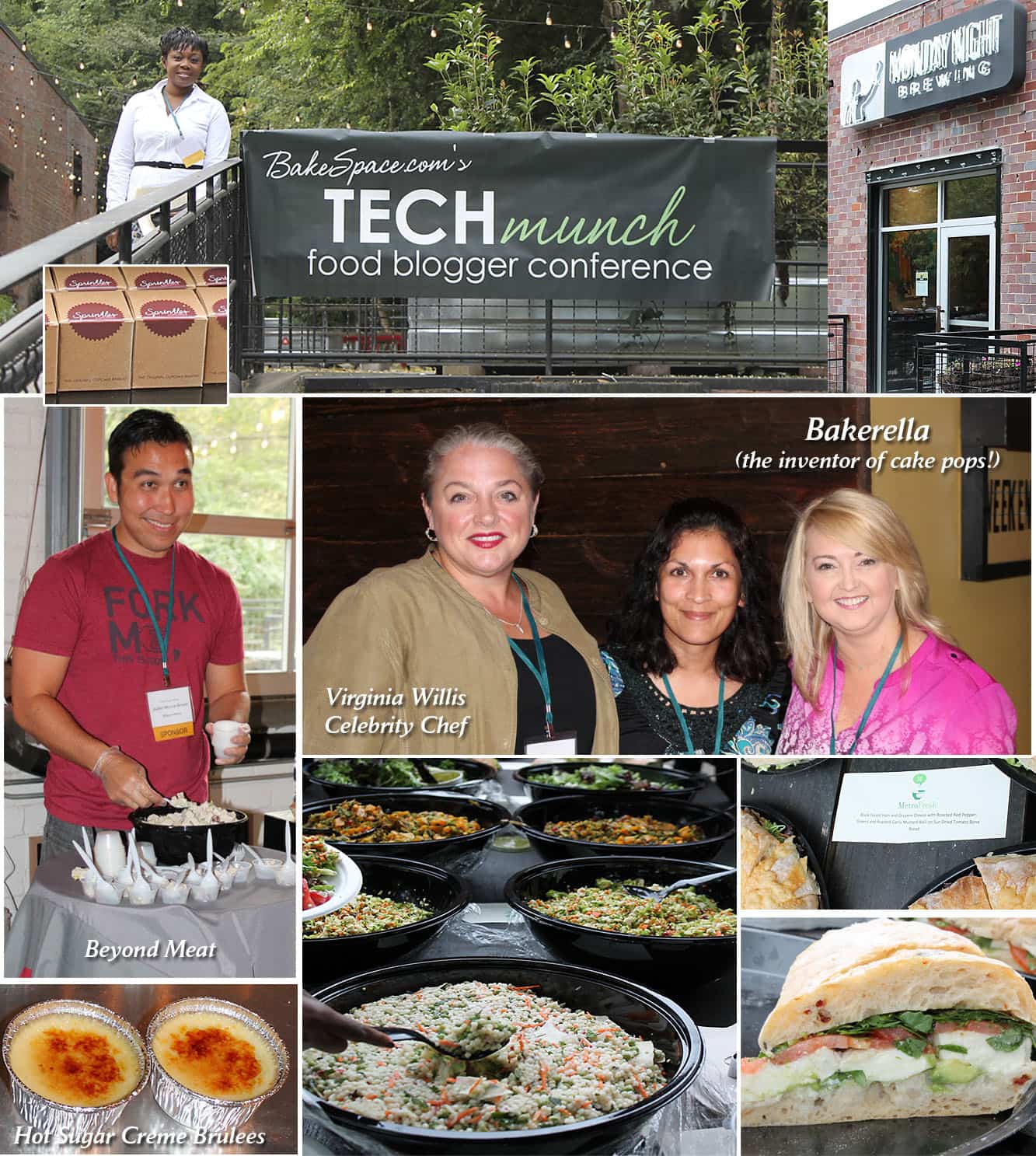 Panels that followed addressed the etiquette around restaurant reviews; working with an editorial calender; social media leveraging tips, food photography tricks and tips; and, monetizing and working with brands!
As the saying goes – when I was a kid, I thought I knew it all; but as I have grown, the more I learn the less I feel I know…and that so applied to Friday – even though I learned so much during the day, I felt I have so much yet to learn!
In addition to all the learning, I also got to meet -IN PERSON- some fellow Atlanta Food Blogger Society Members, pitch a cook book idea, and make some new friends! I also got to sample lunch from MetroFresh, cupcakes from Sprinkles, a bite of creme brulee from Hot Sugar, and meatless chicken salad and tacos from Beyond Meat – a company I have been honored to work with.
And as a huge fan of Beyond Meat's "Chicken-less Chicken", I figured this recipe would be a wonderful accompaniment to this review – though, it would also be a wonderful accompaniment to rice or cous cous!
This chicken-less chicken and cashew curry came together in less that 30 minutes!
I started off with my usual immune-boosting base of onions, garlic, ginger and turmeric and added coconut milk, some chili, paprika, cumin and coriander and Beyond Meat's non-GMO, Gluten Free and Antibiotic Free Grilled Chicken and cashews and lemon and topped it with some chopped green onions and just like that – dinner was done!
Beyond Meat Supplied me with samples of their products, I received no other compensation from them and as always, all opinions are my own.