This Boozy Caramel Pecan No-Churn Ice Cream is so easy to make – and even easier to eat! By the way, it also happens to be dairy free as well!
So, yesterday was college move-in day for my daughter. And, guess where she is today?
Nope, not in her bed in her dorm – but, in her bed at home.
That child of mine walked into the registration venue, checked in politely, got her keys and all the pertinent info, met one of her roommates, moved a few of her belongings in and then said ciao to her dorm.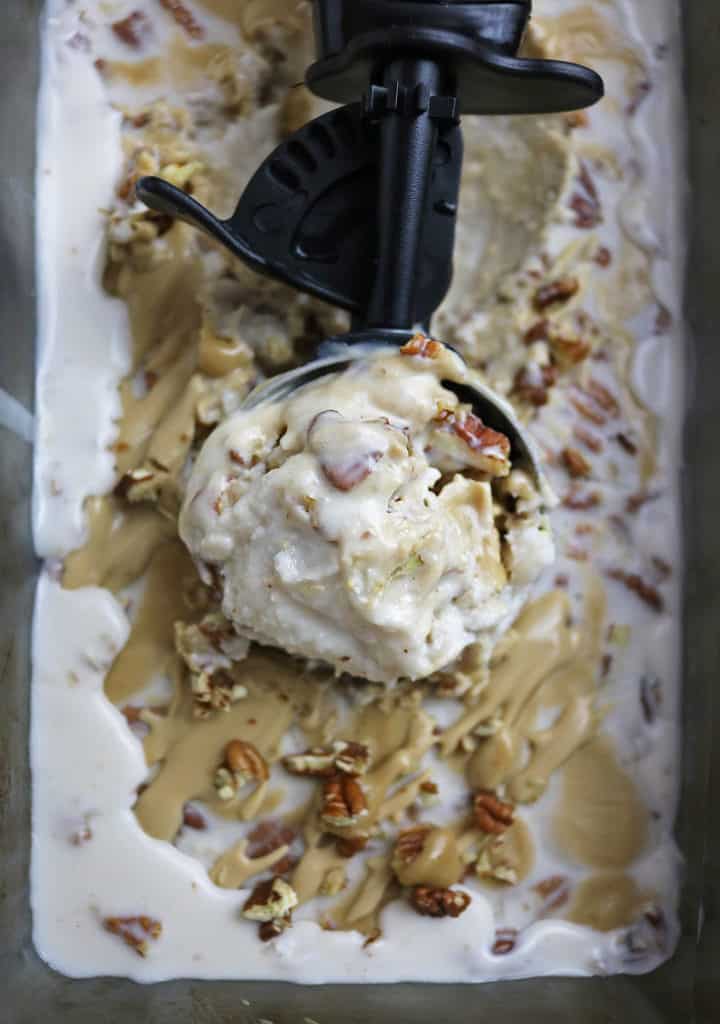 When I pictured move in day, and imagined her saying "mom, I'm ready to go" I thought it would be her way of telling me to let go – I didn't quite imagine her telling me that in reference to her wanting to leave her dorm room to head back home to her room.
But, I'm not complaining. In fact, I'm thrilled. Six more days! I get six more days with my kiddo!
You see, prior to this turn of events, I thought she'd be staying in her dorm. And…I'd be a blubbering mess on the way home and after. So…to keep as much of the blubbering at bay, I figured I'd come home and throw back a few sips of brandy – in the form of this Boozy Caramel Pecan No-Churn Ice Cream!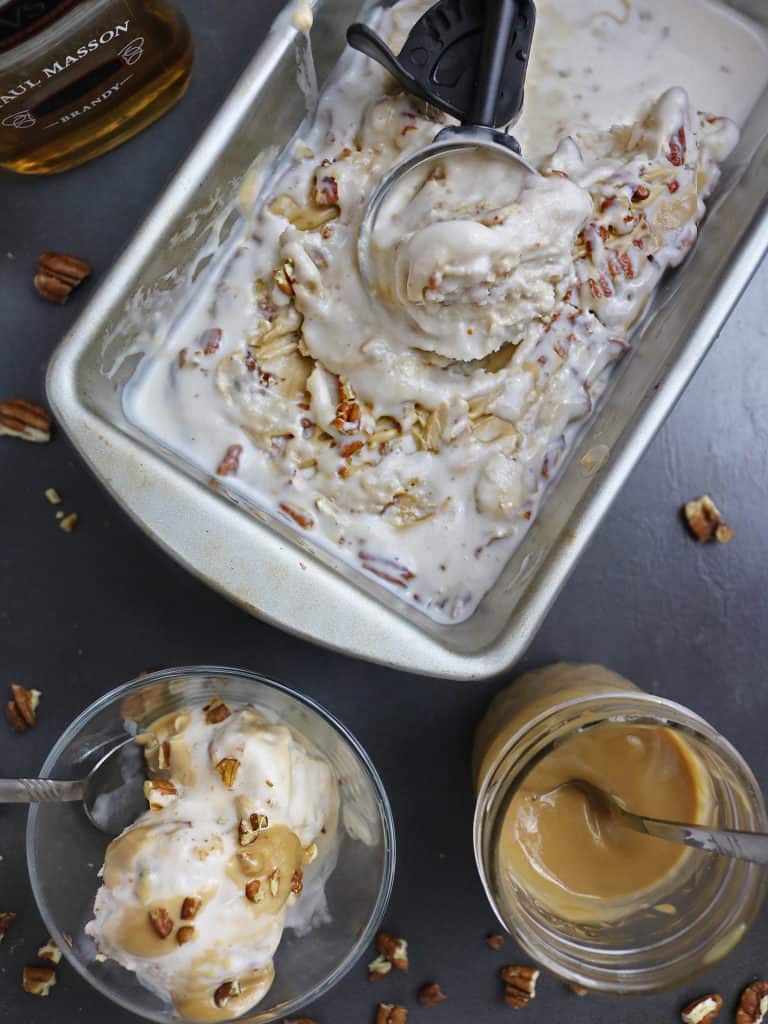 I'm a huge fan of using booze in treats like cupcakes, popsicles, tofu and even sloppy joes, so I figured why not use it in some indulgent Caramel Pecan No-Churn Ice Cream! You don't need an ice cream maker to make this indulgent treat – just grab a whisk and get churning… or… rather… stirring. GAH – I promise I'm turning down the cheesy factor pronto!
This Boozy Caramel Pecan No-Churn Ice Cream also happens to be dairy free as I used dairy free coconut condensed milk (I usually use Natures Charm Brand coconut condensed milk #notsponsored) and creamy full fat coconut milk. However, if lactose is your friend, please feel free to substitute heavy cream for the coconut milk and regular sweetened condensed milk for the coconut condensed milk. And, if you want to keep this booze-free, then just omit the brandy. But, if you are looking for an indulgent adult treat, grab a spoon and come join me tackle this easy Boozy Caramel Pecan No-Churn Ice Cream!
[Tweet "Msg 21+ #Easy Boozy Caramel Pecan #dairyfree #nochurn Icecream"]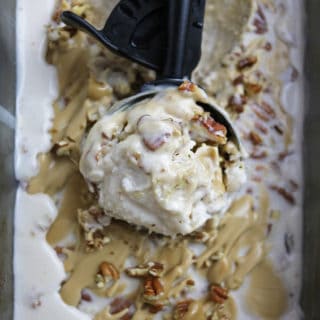 Boozy Caramel Pecan No-Churn Ice Cream
An indulgent, decadent, dairy free, adult treat!
Instructions
Add coconut condensed milk and coconut milk to a bowl and stir using a whisk.

Set a little bit of the pecans aside for topping the ice cream with and add the rest to the coconut milk/coconut condensed milk.

Add the 1/4 cup of caramel sauce and brandy to the mx and stir well.

Drizzle the tablespoon of caramel sauce over the mixture and also sprinkle on the rest of the pecans.

Pour into a container and freeze for 2 to 4 hours and enjoy.