Most mornings find me with a cup of coffee and a bowl of this:


I adore my bowl of oatmeal!
I really do!
With chocolate and peanut butter or almond butter and honey or bananas and yogurt…
My bowl of oatmeal is as much a part of my pre-opening-my-eyes-morning-routine as my cup(s) of coffee are!
But, this WIAW, I did not crave my bowl of oats…this WIAW (and at least once a day this past week), I have been cheating on my bowl of oatmeal with these scones!

Now, these scones are not your typical scones – no butter or all purpose flour were beaten together in the making of these! What actually went into these….
well…
that reveal is for another day…
another post…
today I must say a big thank you Jenn @ Peas and Crayons for hosting another smorgasbord of delectable eats for food lovers all over!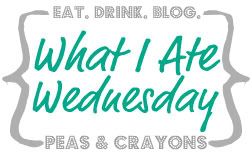 A scone (or two) and a couple of spoons of this yogurt have been keeping me seriously fueled up and oh so full for a large part of the day!
I know it's not the best thing to go 6-7 hrs without eating anything – but when a gal's full, a gal IS full!
At least till 4pm hits…
Which found me snacking on pita chips and broccoli dipped in tomato paste and hummus – talk about a partay for my tastebuds!

After working in the yard cutting weeds grass, I was famished and rummaged through my leftovers in my fridge to scoop up a little bit of this veggie heavy quinoa salad:

Later on that night, my daughter and I chomped on a lite dinner of these cauliflower crust hors doeuvres and a side of broccoli sauteed with onions, ginger and garlic. Yup, broccoli is right up there with oats, chocolate and nutbutter on my Food Love chart!

And so ends another day of good eats!
Speaking of good…I am leaving yall with THIS STORY of a bus driver whose hart was melted by the good he witnessed!
"Surjit Singh Virk", the bus driver noticed a man on his bus with plastic hairnets on his feet instead of shoes. He noticed another passenger take of his shoes and socks and hand them to the first man saying "You can take these, don't worry about me — I live close by and can walk"!
Gives new meaning to walking a mile in someone else's shoes or without them!
Happy Wednesday Yall!
Would you try hummus and tomato paste if I bribed you with a chocolate scone?
Anyone going to the Bloggy Boot camp in Atlanta on October 11th?