A flavor-packed garlic and herb sauce tops this delicious, veggie-packed Cheesy Tomato Veggie Crumble Casserole making this one dish hard to resist!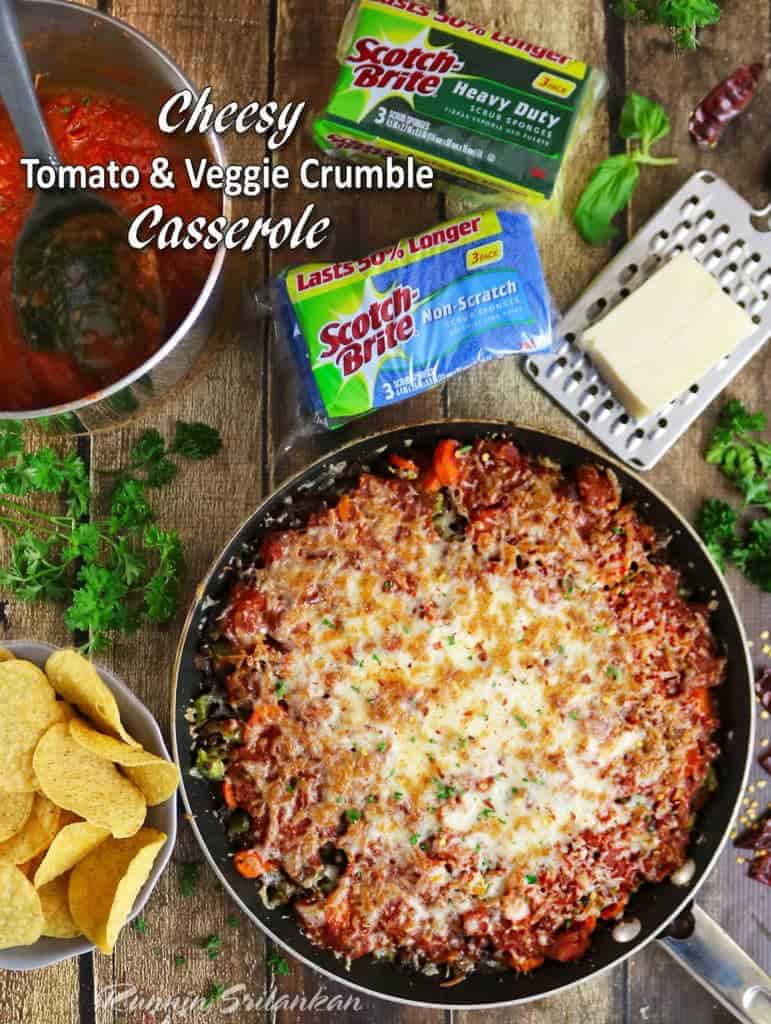 As a parent, I have spent so much time repeating myself.
"Wipe your nose!" "Wipe your nose!" "Wipe your nose!"
"Eat your veggies!" "Eat your veggies!" "Eat your veggies!"
"Do your dishes!" "Do your dishes!" "Do your dishes!"

And, I thought that most of that repetition had to happen because I wasn't being listened to in the first place. But, I seemed to have thought wrong.

You see, a couple of months ago (a few months shy of her 18th birthday) my daughter told me that she was taking my advice to "eat her veggies" to heart and becoming a vegetarian!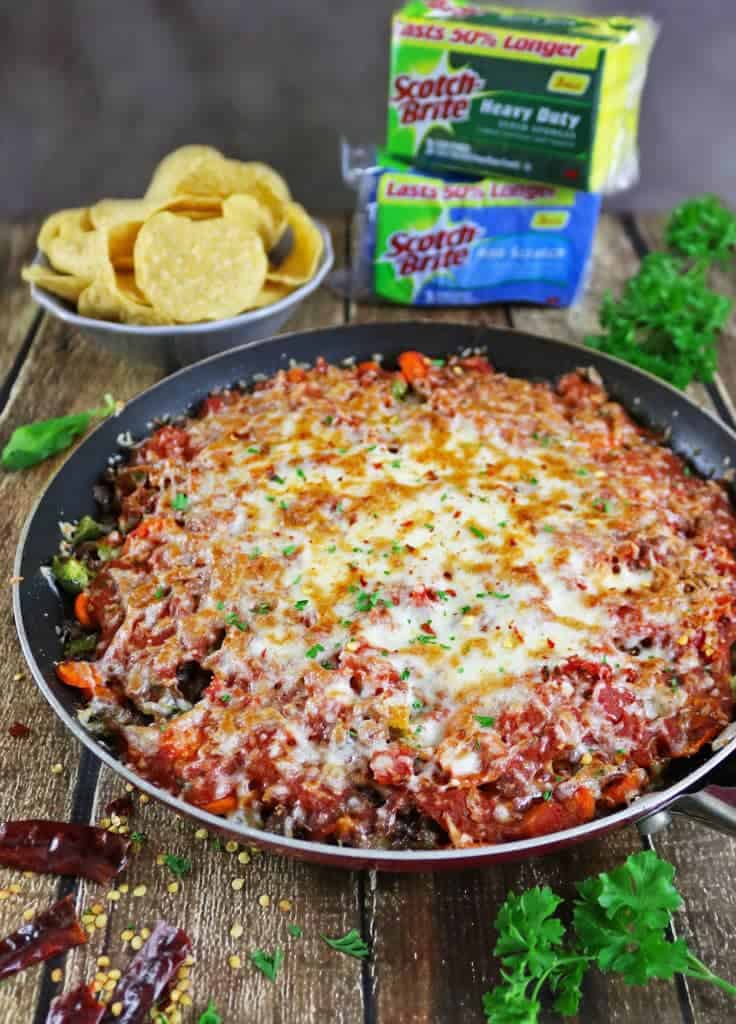 So, I have tried my best to play the role of a supportive parent. I have made and remade favorites like spinach and chickpea curry and lentil shakshuka. And, I have added in a few new concoctions like this Cheesy Tomato Veggie Crumble Casserole to our dinner menu.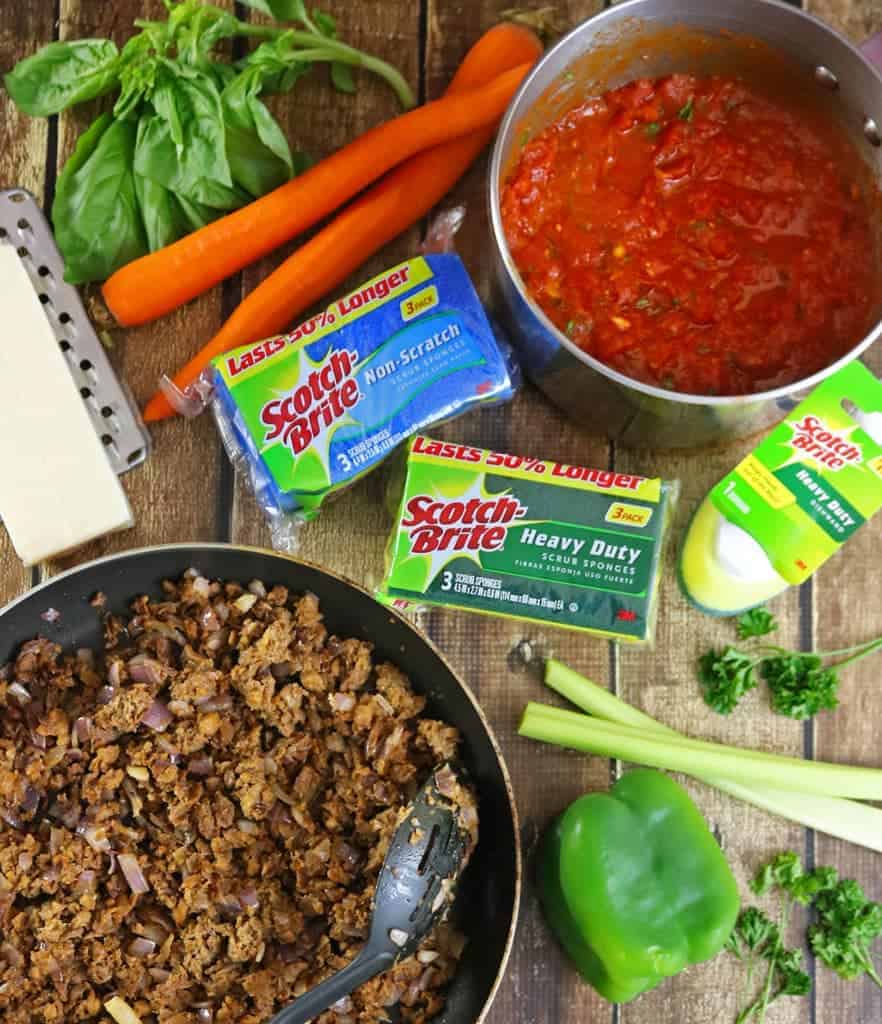 This casserole includes:
– A super easy, herb and garlic tomato sauce,
– Caramelized onion and ginger flavored veggie crumbles (you could use ground turkey or chicken if you wanted to make this a non-vegetarian dish),
– A generous helping of carrots, green pepper and celery, and
– A super cheesy top to finish it all off.

Now, this Cheesy Tomato Veggie Crumble Casserole involves quite a few steps – and you will dirty more than one pan – but, it is so jam-packed with flavor, the extra steps and elbow grease are so worth it!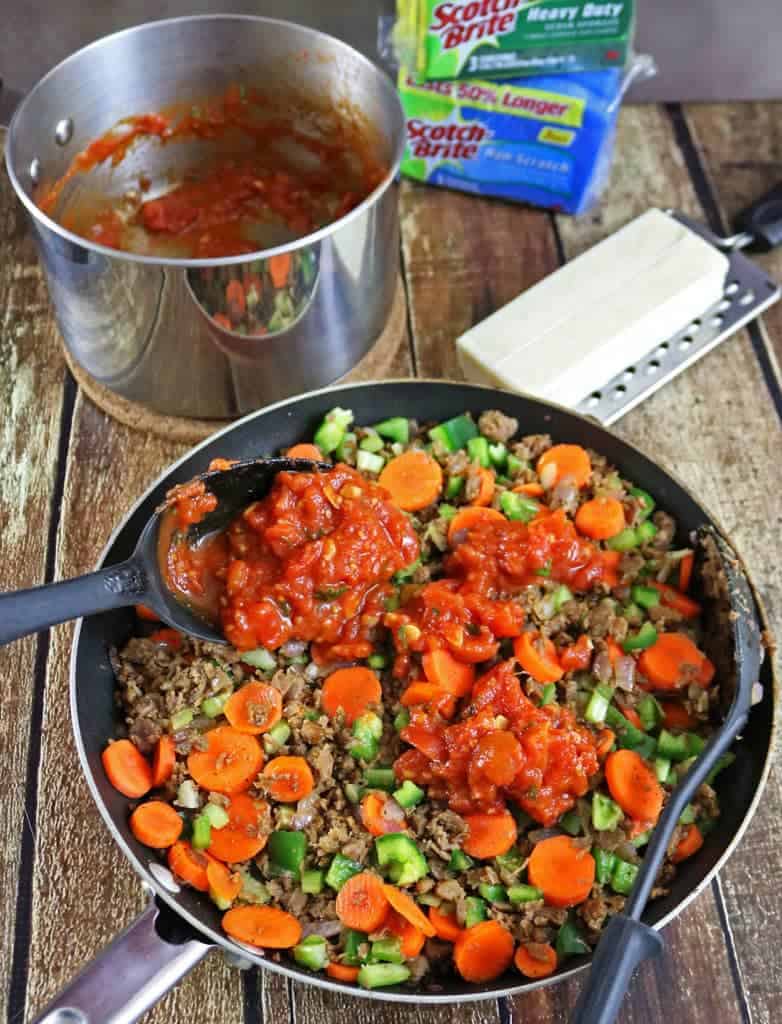 Besides, I got lucky and my daughter even offered to do the dishes AND clean up my mess! It might have taken 18 years, but am gonna call that a parenting win!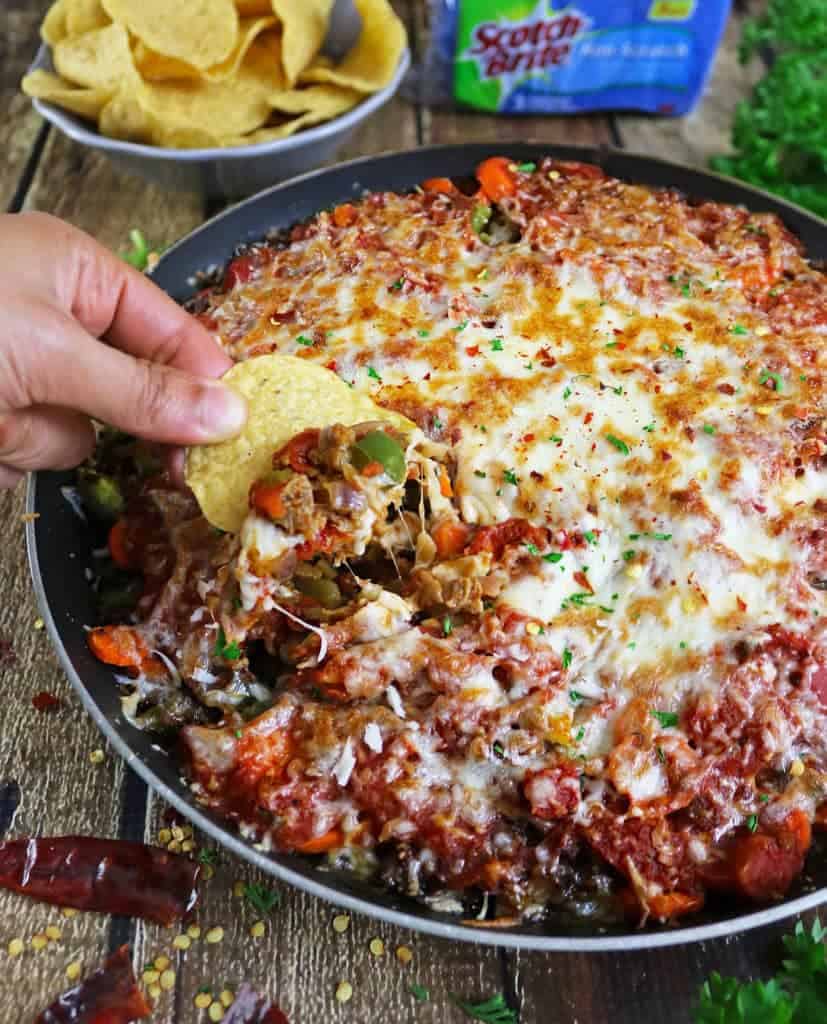 My daughter had a little help in her dish washing and clean up duties with the Scotch-Brite® Heavy Duty Scrub Sponge, that I had picked up from my local Walmart store. As she knew that the Green pad on Scotch-Brite™ Brand products meant they were for Heavy Duty cleaning and could help remove tough, baked-on messes on pots, pans, oven racks, grill racks, tools, tires, and sinks 50% faster than other competitive sponges, she used them to clean up the casserole baking pan and the oven racks where the cheese oozed out.

Since she also knew that the Blue pad on Scotch-Brite™ Brand products meant those products were for cleaning non-scratch surfaces like non-Stick cookware, counter tops, cook tops, tubs, shower tile, windows, and dishes, she used this pad to clean up the sauce pan with the sauce, the counters and the cook tops.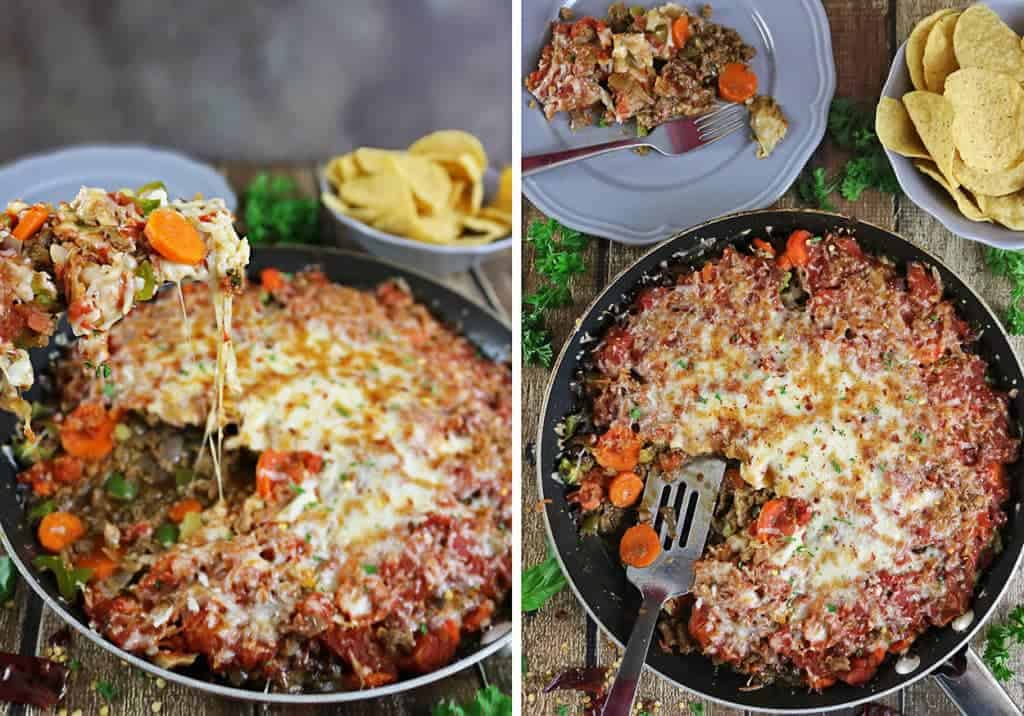 Scotch-Brite™ Brand products have the Right Tools for Every Surface – which can make cleaning your home easier and faster!
You can find them down the cleaning aisle at your local Walmart, along with the dish detergents and mops.
A 3-Pack is valued at $2.96, a 6-Pack at $5.48 and a 9-Pack at $7.97.