Most of the time, I try to make healthier scones...
Most of the time, white flour is substituted with whole wheat flour or, butter is substituted with coconut oil or yogurt...
Most of the time.
However...
There are some other times when "healthier" takes a back seat...
Some times when butter IS used, and self raising flour cannot be substituted...
And in times like that, "Chocolate-Dipped, Strawberry, Cinnamon, Chocolate Chip Scones" are born!
These are a delectable, occasional treat - maybe a Valentine's day breakfast to be shared - by anyone celebrating that day.
While I am not a huge fan of Valentines day - I am a huge fan of love...and chocolate!
Now I am not some V-day Scrooge, I love experiencing and seeing love in all its many forms, but I am just not a huge fan of taking one day out of 365 to show it - that's all.
These scones however, should be enjoyed one day of the year - they are truly decadent and rich ... with butter, flour, couple spoons of Passion Fruit flavored Chobani, fresh strawberries and chocolate - lots and lots of rich semi-sweet chocolate - but they are so worth every rich mouthful!

Happy Wednesday yall - Today I am joining
Jenn @ Peas and Crayons
to share these scones for
WIAW
! Please head on over and feast your eyes on some other delectable eats!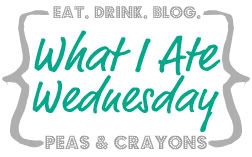 Care to share some of your Valentines Day food plans?
This recipe is also being entered into the Foodie Blogroll "1, 2, 3, Cook & Snap" Recipe Contest; it can be viewed here
Please vote here