This is my 25th day of "Operation Aqua-sition"...my 4th week of trying to drink 6 pints of water a day...
I said "trying to drink 6 pints a day..." because this week, 6 pints a day did not happen...
But...tomorrow is another day ...so, till tomorrow comes, I will enjoy another cup of this Godiva Chocolate Truffle Coffee. Amanda @ Running With Spoons first mentioned Godiva Cafe Chocolate Creme, so, when I happened to run into this Godiva Chocolate Truffle, I had to get acquainted with it real fast as I had a feeling we would be BFFs yall!
This was followed by baked oats (oats, almond milk, coconut butter, cinnamon, salt, and a huge squeeze of honey - baked for 15 minutes and topped with peanut butter and chocolate chips)

I am not a vegetarian, but I do tend to eat a ton of veggies (on days when I am not snacking)...I love how I can eat a huge plate of them and not feel full, like I do after a chicken thigh and drumstick...which leads me to:
A veggie heavy lunch: roasted potato slices and a sauteed medley of broccoli, green pepper, white beans, kidney beans, olives, onions, garlic and ginger.

Maybe it was the break in the regular schedule, but not sitting in my car had me doing less snacking...
Dinner was pizza a la Amanda made with pita bread spread with pumpkin and more veggies! While Amanda made hers with pumpkin and hummus, I was just plain lazy after having run out of hummus and opted to just use pumpkin (seasoned with cumin powder) and not run to the store! So-Good. Seriously. Try it-Now!

After dinner was this...
Hot cocoa and these Andes Mint Chocolate Peanut Butter cookies (recipe coming on Friday)...talk about bliss...

A big hoooooge thank you to Jenn for hosting this weeks WIAW!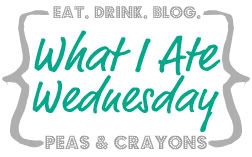 In addition to giving me a sugar high, this cookies and cocoa combination got me wondering...
• Do you drink your cocoa straight up?
• Or do you like some cookies on the side?
• Do you prefer pre-packaged hot cocoa mix or your own make-at-home version?