Today, white stuff fell from the sky over most of Georgia...
And nope - it wasn't manna!
I was one of the lucky ones to leave work early and head home after picking up my daughter before this happened:

But so many were left stranded - on freeways, in schools, at work.
Here, in Georgia, we are so unprepared for snow -of any magnitude!
The papers here are referring to it as "Snow Jam 2014", with the governor calling for a state of emergency (hope you were not expecting edible snow jam )
Thankfully, the sun is coming out tomorrow! My hats off to all you Northerners who deal with this stuff on a regular basis - I would have to join the bears and hibernate ALL winter if I lived in the North!
All this talk of snow has made me hungry...white snow makes me think of dark chocolate...which leads me to share a day (before Snow Jam 2014) of eats!
Thank you Jenn @ Peas and Crayons for hosting this weekly foodie lovers ogle-fest!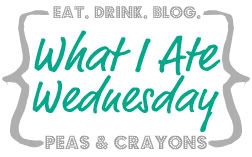 Breakfast...
Oats, almond milk, cinnamon, salt, peanut butter,
chocolate
and bananas
Lunch...
Left over roasted chicken - I have been following Pamela @ Brooklyn Farm Girl's recipe for the perfect roast chicken EVERYTIME - modifying only the spices. Roasted broccoli and avocado and chili sauce keeping the chicken company.


The very first time I roasted a chicken I didn't realize the giblets were supposed to be taken out - so I baked the bird, plastic wrapped giblets and all! Needless to say, it was not a hit - and, (there is a silver lining to this)- I learned something new that day!
Dinner...
Red quinoa, carrots, celery, onions, garlic, ginger, garbonza beans topped with avocado


This was my first time having red quinoa and I think I prefer it to the white one.
Dessert....
Started the day with chocolate - so it was only fair to finish the day with chocolate...
Homemade magic shell


On top of Kemps moose tracks froyo...total bliss!

Happy Wednesday yall!
Do you prefer red quinoa or white?
Have you ever baked a chicken with the plastic wrapped giblets inside? or do I stand alone in this "endeavor"?
Stay warm and safe!