Yall made some good good guesses as to what the Mystery Ingredient could be!
So good that yall had me wishing I HAD added what yall guessed…like Greek yogurt, or avocados, or applesauce, or even carrots…but…alas…none of them were what I actually added this time.
As for what I actually added…I must give a shout out and a BIG VIRTUAL HIGH FIVE to Kim @ Day with KT for guessing the mystery ingredient – if you look REAL CLOSE – you can see some of the not-quite-fully-blended pieces…
…of black beans! I have had them in brownies and I figured why not in pancakes 🙂
Thank You all for playing along – I need to host A-taste-test-mystery-ingredient-party at my place next time!
I have had the hardest time making Freekeh pancakes; before I used ground up freekeh flour (made from grinding Whole grain freekeh supplied by the good folks at Freekehlicious), I tried using cooked freekeh, and cooked and overnight soaked and blended freekeh with no luck. However, blending the freekeh flour with black beans resulted in some wonderfully textured pancakes!
Today I am also linking up with Jenn @ Peas and Crayons to feast on a smorgasbord of delectable eats, and share some of my own memorable ones, because today is WIAW!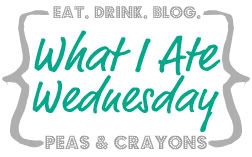 I was hoping to save some chocolate/black bean pancakes for breakfast from the other day, but I have a soccer playing teen in the house – so breakfast was a gluten free chocolate chip muffin (recipe to come)…

Most of my coworkers poked fun of me for simultaneously snacking on peanuts and carrots – to me, they were the perfect, portable, not-too-messy, sweet and salty snack – unfortunately I don't have a picture.
Lunch was chicken sausage hash and scrambled eggs…
And dinner was this Fried Freekeh made with cracked freekeh from Freekehlicious…


And dessert was more chocolate…with hazelnut meal…and peanut butter…:)

Happy Wednesday Yall!
Would love to know what is probably the weirdest combination of sweet and salty foods you have snacked on simultaneously?