Hummus Sauce…2 ways!
Nope, that wasn't a misprint! Remember the stash of Hummus Roots sent me…

Well…a quantity as large as that warrants experimentation! And experimentation has been happening a plenty at our abode!

First I made these flavor packed Hummus Scones, then I made this Hummus Chicken Curry and today I have 2 versions of this hummus sauce that I used to top off a quinoa bake and a head of cauliflower, to share with yall for WIAW!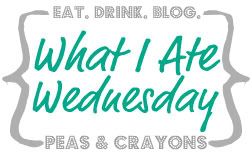 Thank You
Jenn aka the queen of chicken fried tofu
for hosting!
But before I get to the food for your belly, I have to share this story..this food for your soul!
Perusing the news yesterday, I came across This Story of 13 year old Jayci Glover, a Utah native who has been fighting a form of terminal lymphoma for the past year. When she was approached by the "Make A Wish Foundation", her request left me teary eyed! Instead of requesting a vacation, electronic item or even a celebrity visit for herself, young Jayci requested that the Foundation provide a new scoreboard for the gym in her hometown high school which would benefit so many others! Such selflessness at such a young age inspite of her troubles – just simply – WOW!

Moving onto Hummus Sauce...
The sauce for the quinoa bake was inspired by Mike @ TheIronYou's version of "Bruschetta Quinoa Casserole" . As my love for cheese is totally unrequited, (I love it but it so does NOT love me), I figured I would experiment with creating a hummus sauce to get it to bake up a tad creamy to resemble cheese. Aaaannnd, after a couple of tries – this "cheesy" hummus sauce was born!

Print Recipe
Quinoa Bake with Hummus Sauce
Ingredients
For Quinoa & Veggie Layers
Red Quinoa 1 cup

2

cups

water

I onion chopped

4

cloves

garlic chopped

1

inch

piece of fresh ginger finely chopped

3

carrots chopped

couple handfuls of broccoli spears

1/2

cup

or corn

I used frozen

salt and pepper
For the Hummus Sauce
1/2

cup

coconut milk

1

egg

1

teaspoon

olive oil

1

tablespoon

Roots Original Hummus

1

tablespoon

Roots Roasted Garlic Hummus or Thai Coconut Curry Hummus

pepper
Instructions
For the quinoa/veggies
Cook the quinoa in 2 ups water for 15 minutes,and when cooked place into the bottom of a baking dish

While quinoa is cooking, saute onions,garlic and ginger till golden

Add the veggies and season with salt and pepper and then layer on top of quinoa
For the Hummus Sauce
Coat a pan with olive oil

Add in the other ingredients, using a whisk to constantly beat the mixture so no lumps form as contents heat up.

Pour over the quinoa & veggie layers and bake for 15 minutes - till sauce is thickened.
Notes
The first time I made this sauce, I used Roots Thai Coconut Curry Hummus and it tasted heavenly, however, I didn't add enough coconut milk and the sauce was not as creamy. I was out of Thai coconut curry hummus, so used the roasted garlic one for the next couple of tries.
Since the quinoa needed a side (my daughter and I are all about eating ALL the veggies), this "Bloomin Cauliflower" happened!
Not to be confused with Outback Steakhouse's Blooming Onion – this has none of the "make-you-feel-sluggish-after-eating" effects!
Print Recipe
Bloomin Cauliflower with Hummus Sauce
Ingredients
1

head cauliflower

Olive oil

4

cloves

garlic finely chopped

1/2

cup

coconut milk

1

egg

Salt & pepper

1

tablespoon

Roots Spinach hummus

1

tablespoon

Roots Original hummus

parsley
Instructions
Preheat oven to 400 degrees
For the Hummus Sauce
Saute the garlic in the olive oil

Add the coconut milk, egg and hummus and whisk all ingredients well

Season with salt and pepper

Pour over the washed cauliflower head,sprinkle with parsley, and bake for 45 minutes.
Some of my other eats for the day were a lonesome strawberry pancake sans the chocolate sauce, some roasted carrots and parsnips and some oatmeal!
I have one more recipe: a lentil (or dal) and tofu stew using Root Hummus to share with yall …sooon!
Hummus Sauce – is your curiosity piqued?
What's your favorite hummus (brand &/or flavor)?