Hummus Sauce…2 ways!
Nope, that wasn't a misprint! Remember the stash of Hummus Roots sent me…

Well…a quantity as large as that warrants experimentation! And experimentation has been happening a plenty at our abode!

First I made these flavor packed Hummus Scones, then I made this Hummus Chicken Curry and today I have 2 versions of this hummus sauce that I used to top off a quinoa bake and a head of cauliflower, to share with yall for WIAW!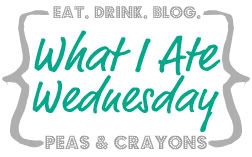 Thank You Jenn aka the queen of chicken fried tofu for hosting!
But before I get to the food for your belly, I have to share this story..this food for your soul!
Perusing the news yesterday, I came across This Story of 13 year old Jayci Glover, a Utah native who has been fighting a form of terminal lymphoma for the past year. When she was approached by the "Make A Wish Foundation", her request left me teary eyed! Instead of requesting a vacation, electronic item or even a celebrity visit for herself, young Jayci requested that the Foundation provide a new scoreboard for the gym in her hometown high school which would benefit so many others! Such selflessness at such a young age inspite of her troubles – just simply – WOW!

Moving onto Hummus Sauce...
The sauce for the quinoa bake was inspired by Mike @ TheIronYou's version of "Bruschetta Quinoa Casserole" . As my love for cheese is totally unrequited, (I love it but it so does NOT love me), I figured I would experiment with creating a hummus sauce to get it to bake up a tad creamy to resemble cheese. Aaaannnd, after a couple of tries – this "cheesy" hummus sauce was born!

Some of my other eats for the day were a lonesome strawberry pancake sans the chocolate sauce, some roasted carrots and parsnips and some oatmeal!
I have one more recipe: a lentil (or dal) and tofu stew using Root Hummus to share with yall …sooon!
Hummus Sauce – is your curiosity piqued?
What's your favorite hummus (brand &/or flavor)?