This post is sponsored by BabbleBoxx.com on behalf of Anolon.
This Sweet Potato Streusel Bake is for you if you are looking for an easy, better-for-you, gluten-free, sweet treat to add to your holiday table. With aromatic, inviting and warm spices like cardamom, cinnamon, and ginger, this is one dish that your family and friends are sure to love.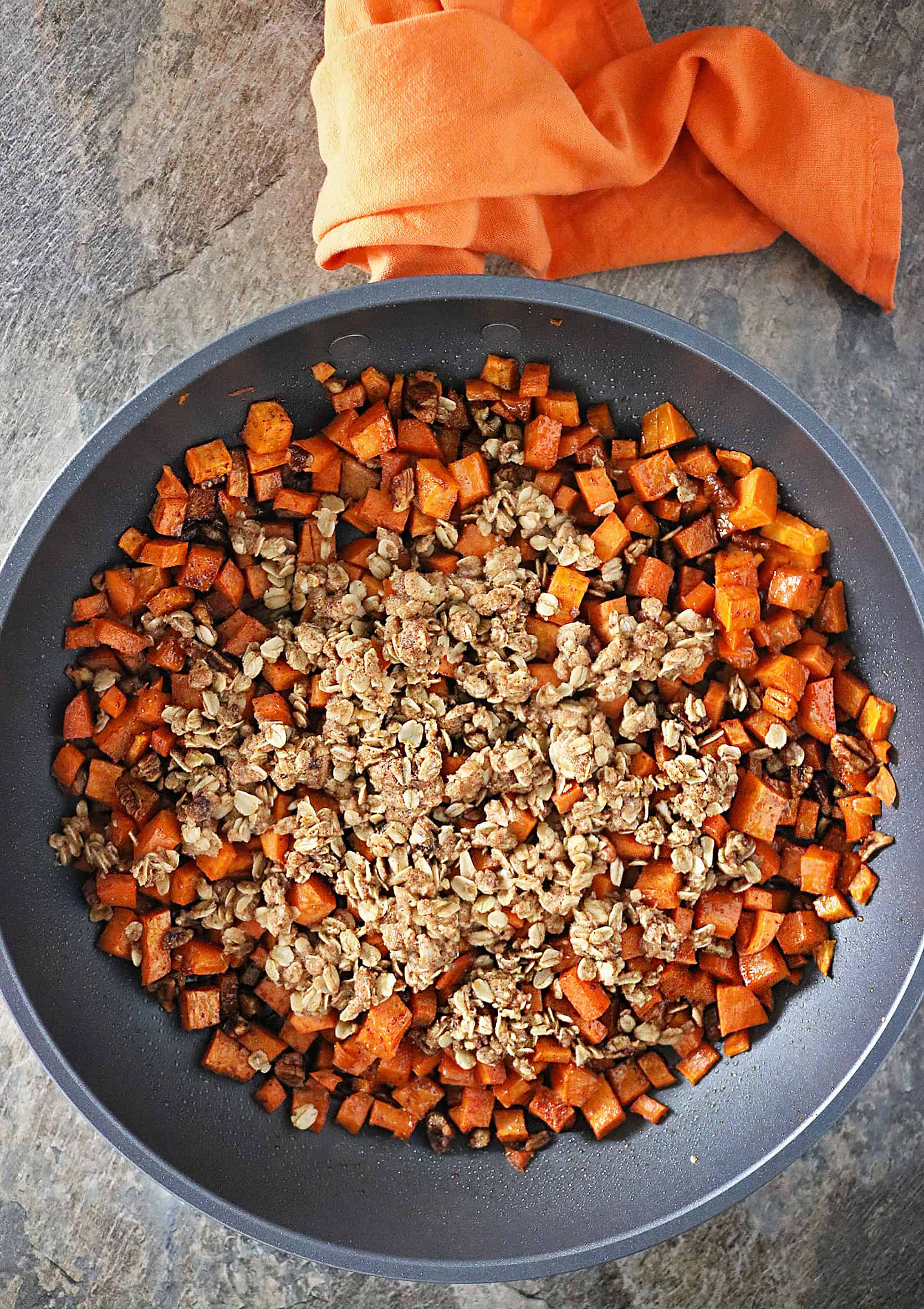 For the longest I've taken pride in my beaten up cookware. Like an old pair of jeans, I've had a hard time bidding adieu to them. You probably know the kind…those pots and pans that were once non-stick but now everything sticks… those pots and pans where caramelizing = burning…
Well, this week when I got my hands on a set of Anolon® Accolade cookware that included:
• An Accolade 8″ skillet
• An Accolade 12″ covered deep skillet
• An Allure 11×17 Cookie sheet
• A Tear drop teak cutting board, and
• A Teak spoon
I realized what I had been missing!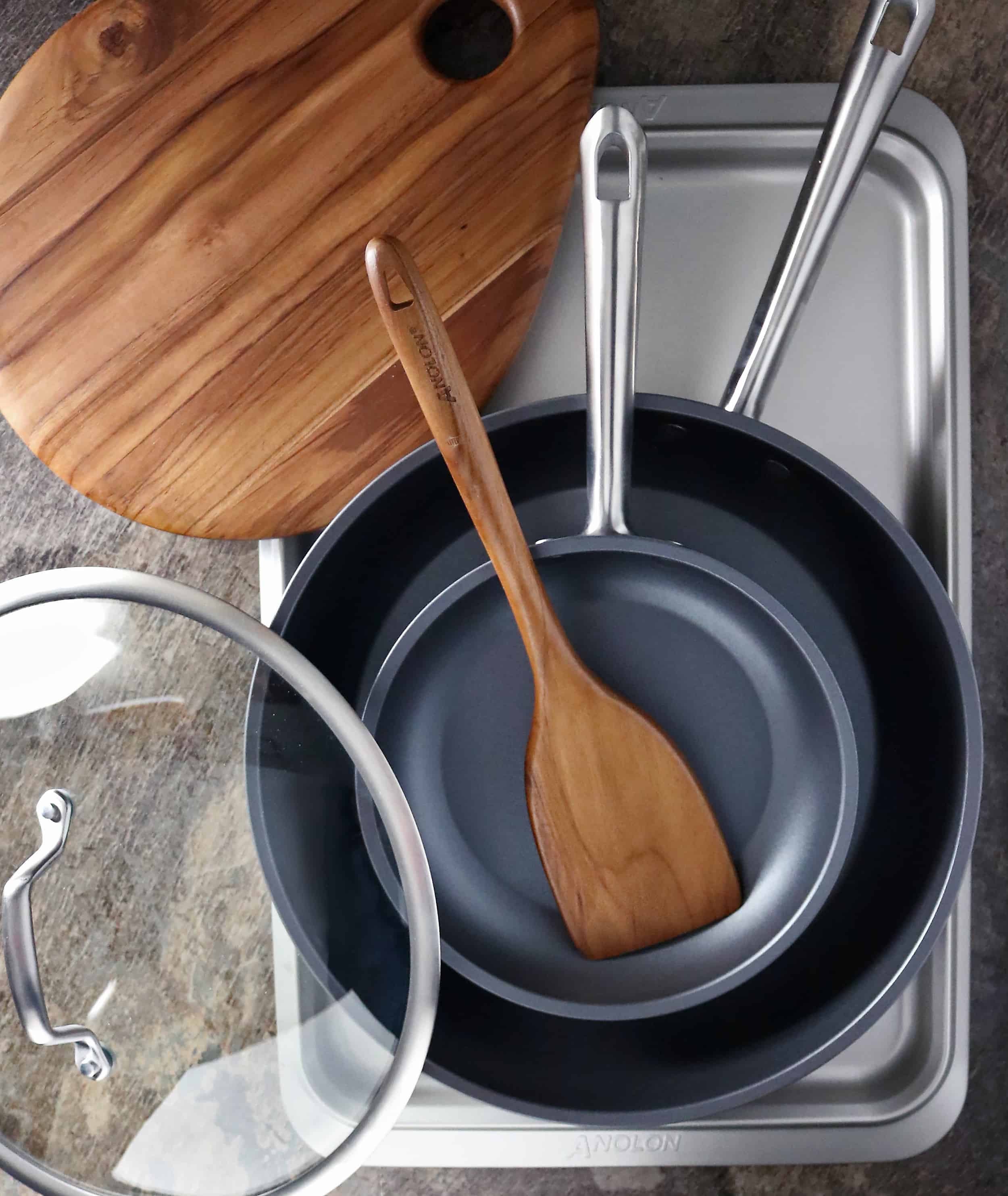 Why I love my Anolon®Accolade Set!
Anolon® skillets come with thick bases, slimmer walls, and ultra-tough rims that provide for fast and even-heating without any disfiguring.
They are constructed from hard-anodized aluminum [using patented Precision Forge™ technology] for ultimate durability.
I can use my Anolon® skillet on my stovetop, in my oven (safe to 500°F) and then wash it off in my dishwasher!
I can use my metal spatulas in my Anolon® cookware as their sapphire-reinforced, triple-layer nonstick is metal-utensil safe!
Anolon® cookware comes with stainless steel handles with easy-to-clean flat rivets – yay for no more protruding rivets that get dirty.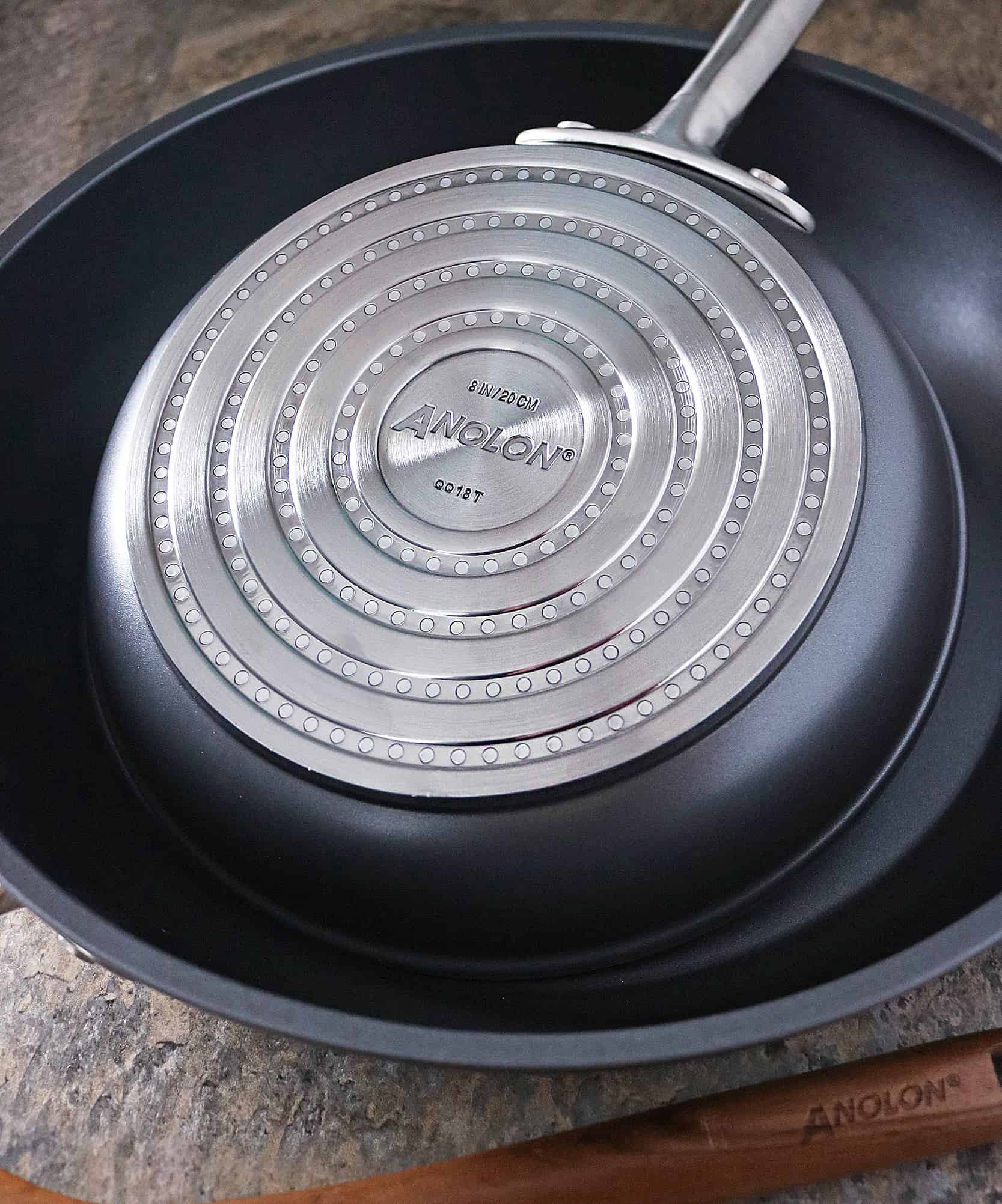 My Anolon® Accolade 12″ deep skillet made preparing this better-for-me, Sweet Potato Streusel Bake a cinch to prepare.
With the beginning of the holiday season, I wanted to try to come up with a substitute for sweet potato souffle. My aim was to use a rich, buttery, gluten free, streusel topping sparingly on a base of roasted sweet potatoes that were prepared without too much refined sugar or butter.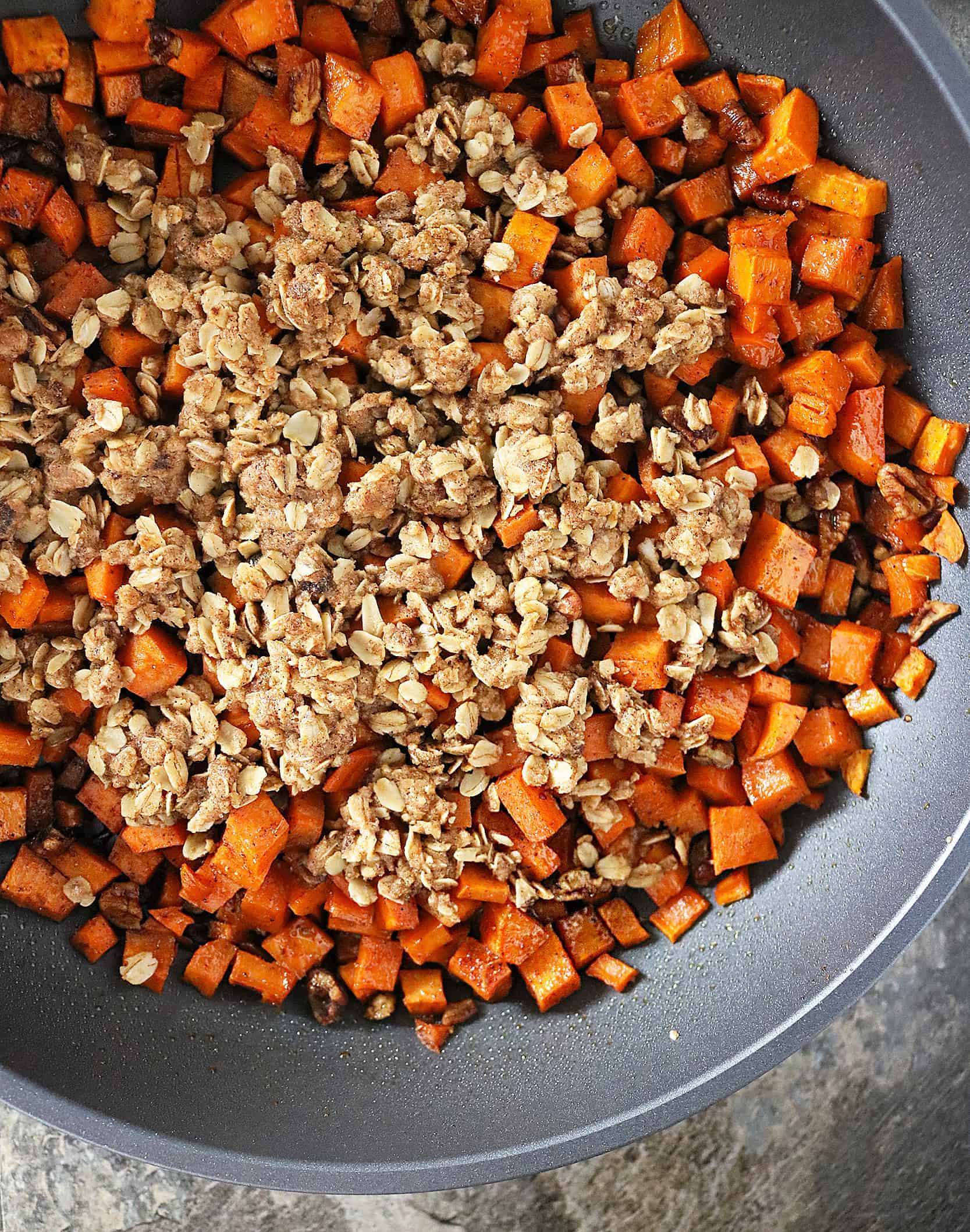 How To Make Sweet Potato Streusel Bake
So, for this Sweet Potato Streusel Bake, I simple sauteed up sweet potatoes with coconut oil in my Anolon® Accolade 12″ deep skillet. I also added in maple syrup and spices. And, even though I stirred it sparingly as I was busy whipping up that streusel topping, there was no burning or sticking at all. I added a richer, gluten-free, streusel topping onto these maple cinnamon cardamom sweet potatoes and popped the skillet into the oven for about 30 minutes.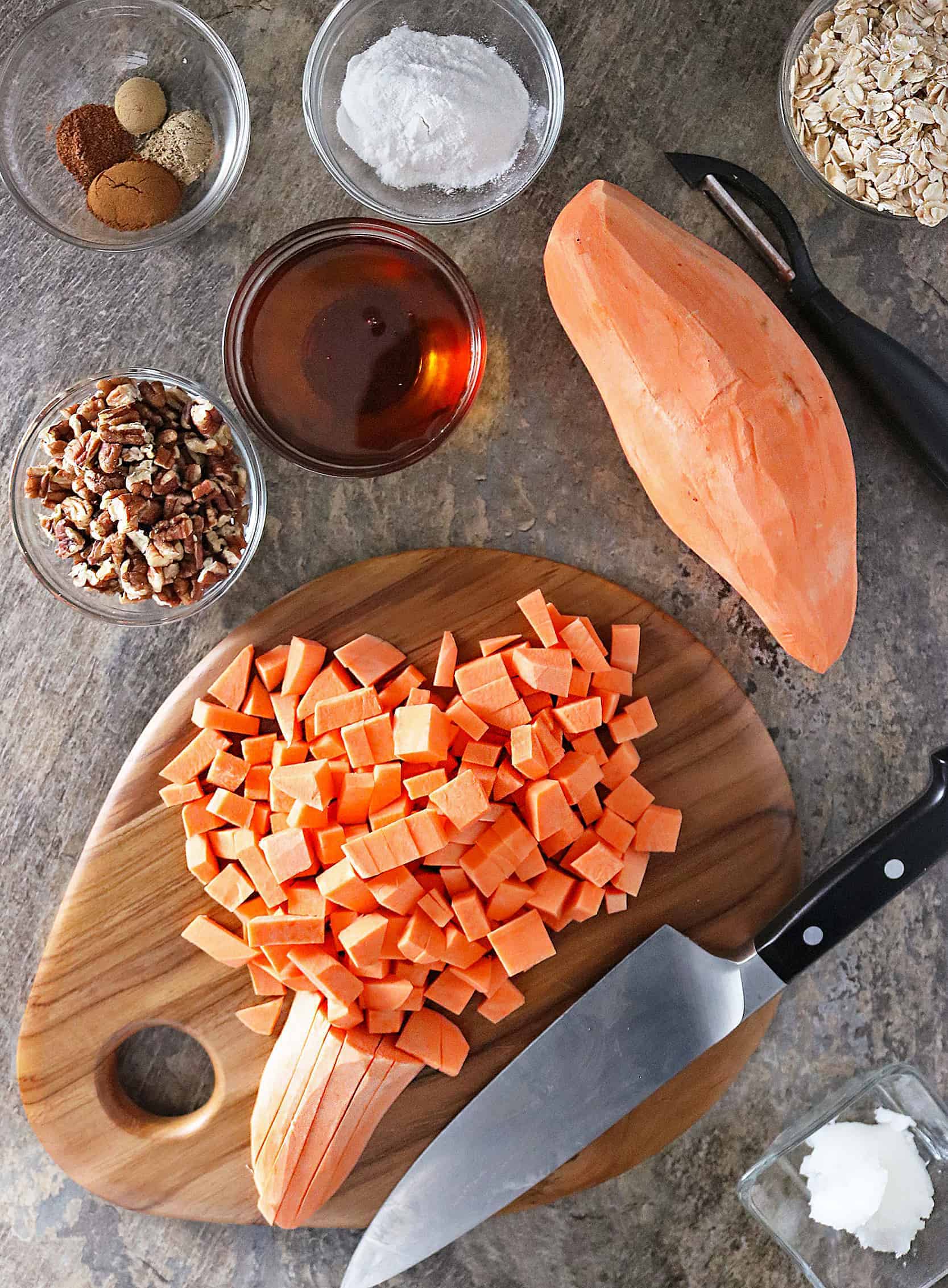 As you can see, even with maple syrup, there was very little burning/sticking at all. The tender sweet potatoes paired beautifully with the crunchy, tasty streusel topping. You can enjoy this Sweet Potato Streusel Bake with some vanilla ice cream or whipped cream or straight up like my daughter and I did.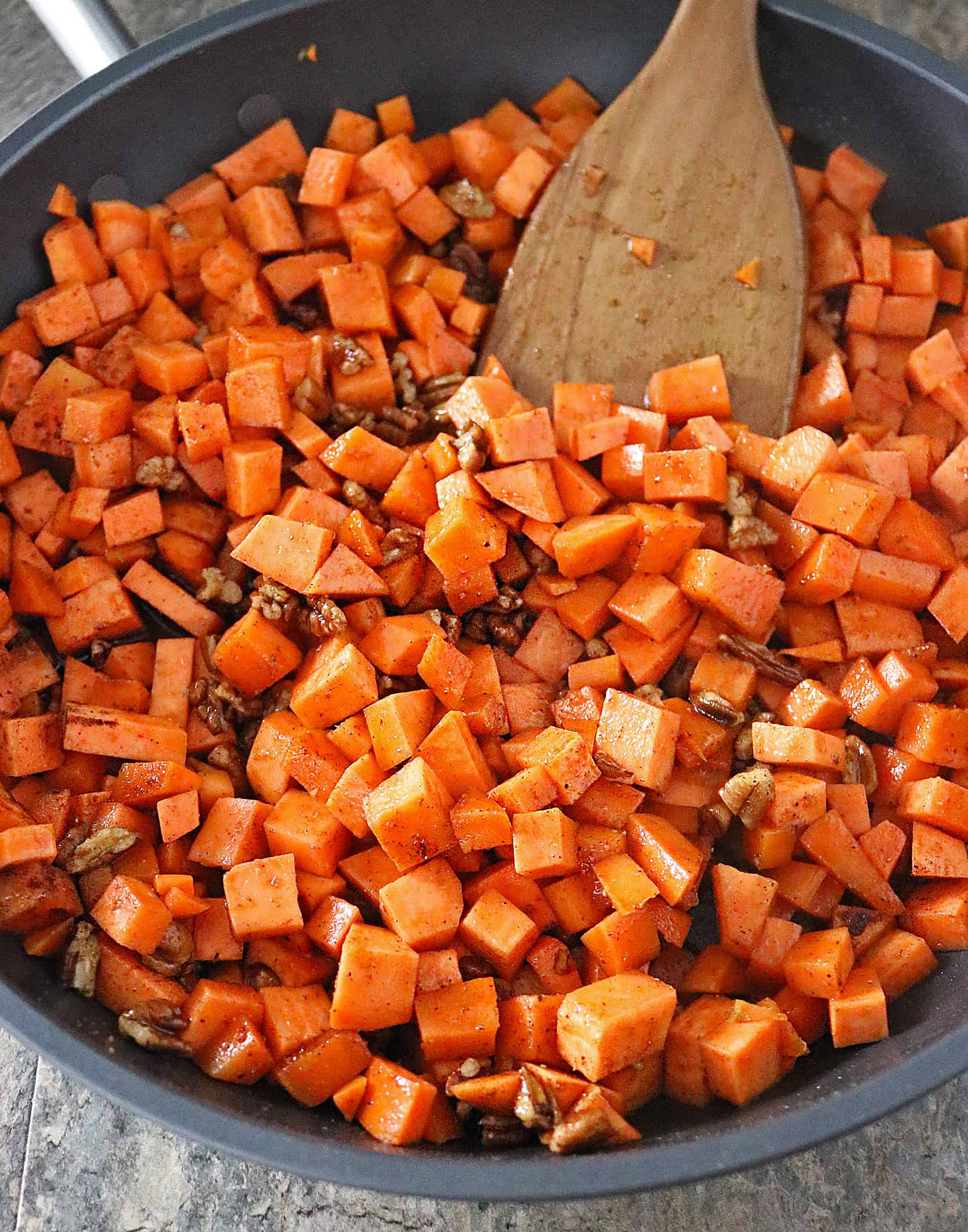 If you are thinking of a new set of pots and pans for Christmas, I strongly urge y'all to check out Anolon®.
Anolon® has had a proven track record since 1989. A quarter-century later, Anolon® is just as committed to making quality gourmet kitchenware that will inspire your personal culinary creativity. Anolon® knows that food, cooking, and eating connects us all and wants to inspire us to make those connections each and every day in our very own homes.
Head on over to Anolon®'s Facebook, Instagram, Twitter, and Pinterest channels to find out more about them!
By the Way, Anolon® is hosting a GIVEAWAY where 5 of y'all can WIN your very own Anolon® Accolade cookware set!
The giveaway is open to US residents only aged 18 and over. The giveaway will be live through November 30th 2018!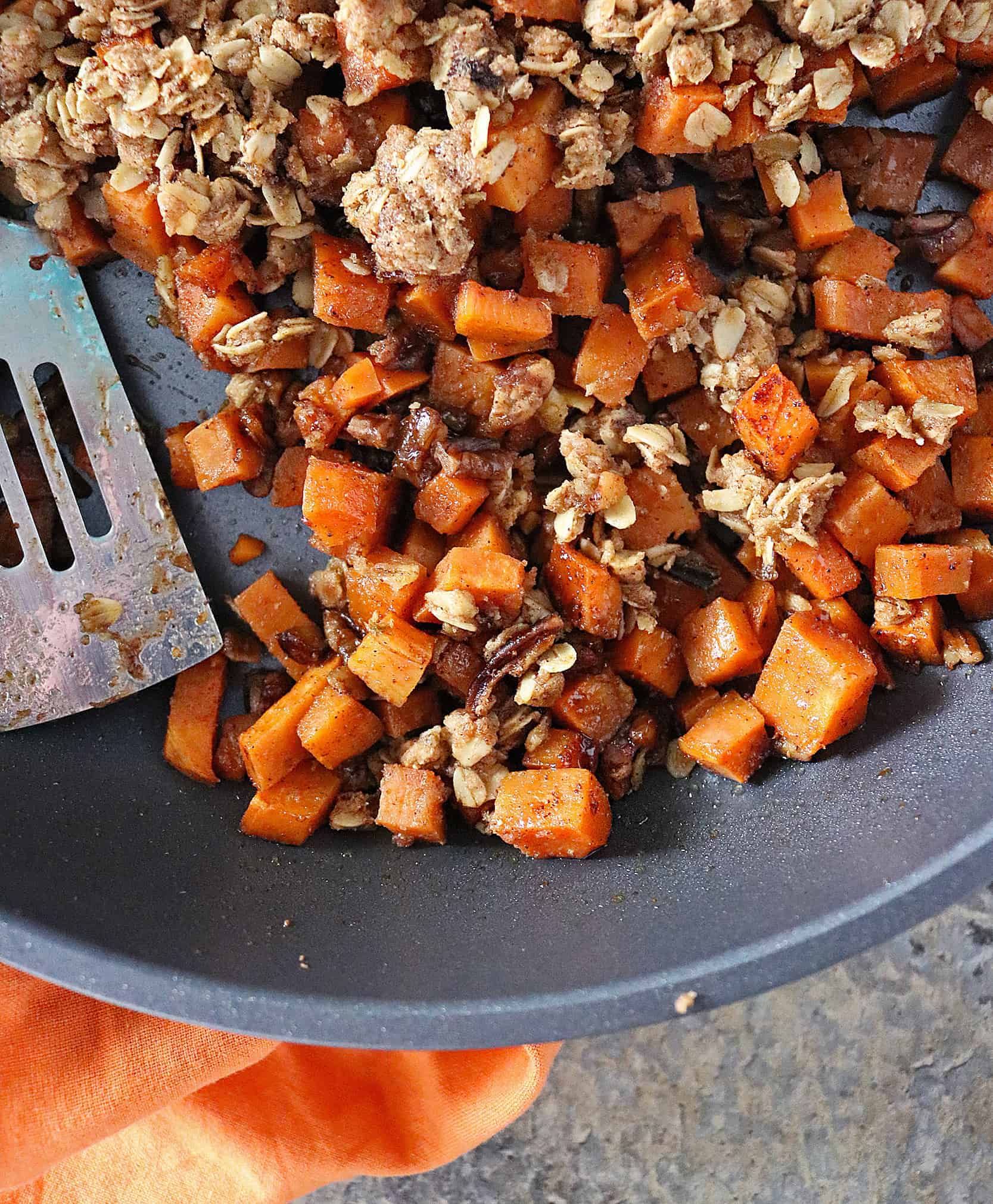 If you happen to make this Sweet Potato Streusel Bake, please do let me know your thoughts on it and, if you love it, please tag #savoryspin @savoryspin on social media so I can reshare it. You can also FOLLOW ME on FACEBOOK, TWITTER, INSTAGRAM and PINTEREST to get recipe ideas and inspiration.