Disclosure: This shop has been compensated by Collective Bias, Inc. All opinions are mine alone. #StopPainNow #CollectiveBias
Albert Einstein once said "The definition of insanity is doing the same thing over and over again, but expecting different results" and, I gotta admit, I have been pretty darn insane! In 2016 I managed to sustain an IT band injury due to bad running form while repeatedly trying to race my daughter. While I was told to take a break from running to recover, stubborn-insane old me didn't! And well, the pain never went away.
No surprise – eh?! In fact, it got worse (again no surprise eh?). And, I actually ended up taking a couple of days off running to give my leg a break. But, recovery takes more than a couple of days and, well, I have a problem with not moving for too long!
So, what's a girl to do?
Well, I resorted to moving in other ways!
5 of My favorite Ways to Keep Moving:
• I started going on long, slow, hikes through woods and paved trails with my un-furry and furry "people."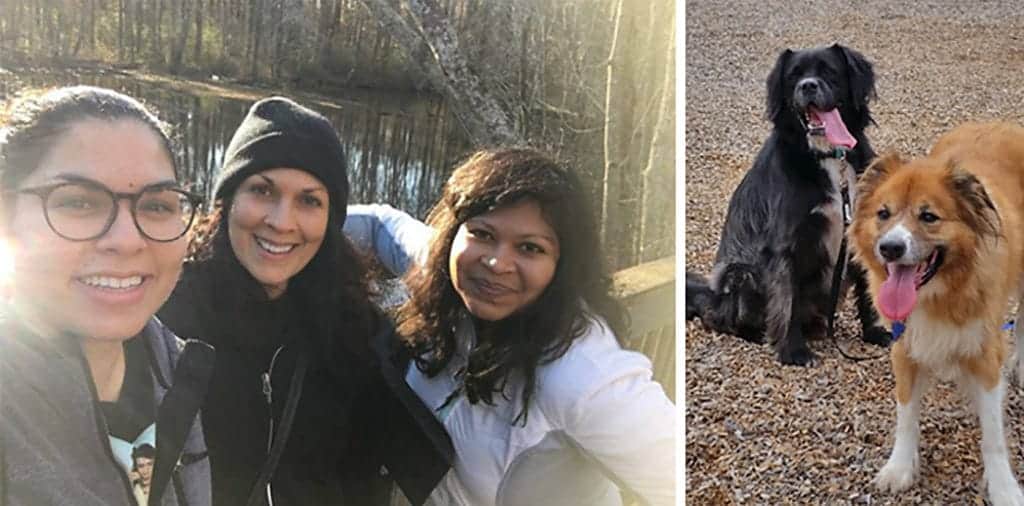 • I signed up for Les Mills On Demand after reading about fellow blogger, Katie's (from Healthy Seasonal Recipes), love for it. I gotta say, I didn't realize upper cuts and punches could make up for one heck of a sweat session!
• And, I graduated from dumbbells to barbells!
• Of course, I made sure to fill up on turmeric eats like these Turmeric Chickpea Bites. My mom often eats turmeric to ward off pain saying the curcumin in turmeric is an anti-inflammatory and antioxidant even though it's just a small quantity of it in the amount of turmeric used.
• And, I invested in a bottle of Curamin® Stop Pain Now to manage my pain so I could keep moving in other ways. Curamin® is a safe, effective, non-addictive herbal formula that is different from over-the-counter pain meds and prescription drugs that can sometimes have negative side effects. Curamin®, with herbs such as curcumin and boswellia, is supplement that doesn't just mask occasional pain, it gets to the source and stops it. Curamin® has been recognized throughout the natural product industry for life-changing pain relief with 28 awards including being the #1 Selling Brand as well as being voted #1 for Pain Relief.
Stop pain now!
If you have been suffering from long term pain and want to keep moving, you might want to check out Curamin® and you too will be saying: "Hello Curamin. Goodbye Pain."
Curamin® is available at fine health food stores nation wide. I happened to pick mine up at Sprouts Farmers Market.


Speaking of keeping on moving … you see that I have moved on from Runnin Srilankan. This is my first post as Savory Spin. I am making changes over these next week or so, so thank you for bearing with me. I hope y'all all have a wonderful Friday and weekend!