Do you ever have those days when you are just SOOO hungry?
And nothing can seem to fill that hollow feeling inside…
"Hollow Days" is what Katniss from the Hunger Games, called 'em…
Some days, that's me ALL THE WAY!
Some days though…not so much…
Like yesterday…
But before we look back, we gotta address the present
Because, today is…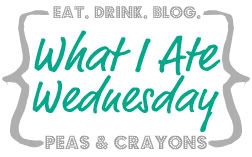 Thank You Jenn @ Peas and Crayons for hosting a foodie lovers ultimate rendezvous!
Yesterday I wasn't feeling oats for breakfast, but I was feeling Justin's almond butter and extra shriveled dates with my coffee…

Still not being too too hungry for lunch, I settled on a veggie stir fry with onions, garlic, ginger, broccoli, corn and black beans…

In my tween and teen years, "samosas" were my favorite School Cafeteria menu item! Even when a classmate found a cockroach in one, my love for these fried pastry's with their potato, onion, peas and spice filling, never was derailed, so when I found these a few weeks back at Cherian's (an International grocery store I got this bottle gourd from too), I could not help but snag me an 8 pack box from the frozen food section!
Dinner was one of these frozen samosas

And a bowl of leftover lentil (dhal) curry with eggplant – made by my mom.
My mom is dabomb! I have been worried about her alot lately because of a wound on her foot that refuses to heal, but inspite of it, she somehow managed to make enough lentil curry to send home with us after our weekend visit. I have tried replicating my mom's lentil curry many times, but it never tastes as good as hers!

After dinner my body was feeling -and NOT liking- the absence of chocolate, so, my daughter and I peacefully and fairly shared one of these Toblerone bars…

Because, after all…what is "stressed" spelt backwards?
Does your appetite change with the seasons? or with stress/worry?