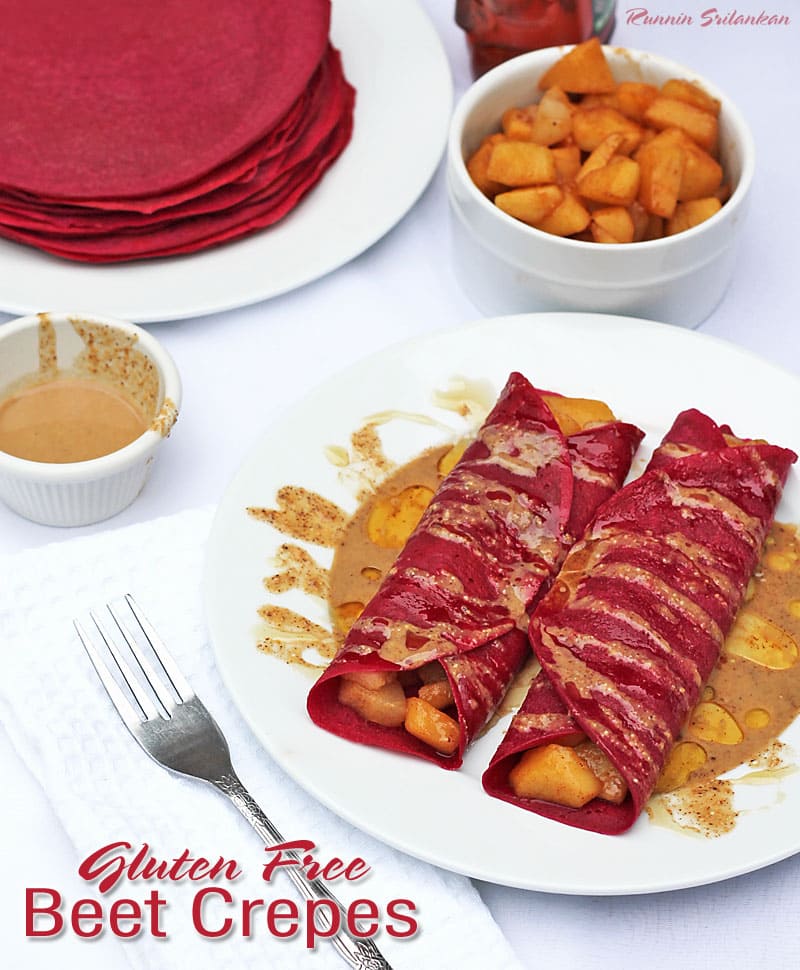 This past Sunday, the pastor of the church I go to, rode onto stage in an 83 year old Harley, and opened up a new series by challenging us to pick a word -one word- that would help us get a better life. He shared his word suggestion of "resilient", and used Harley Davidson as a company that stood firm and made adaptations to thrive – inspite of the depression and other challenges.
For me, a "box on wheels" (whether that be 2 or 4 wheels) is a means for getting from point A to point B – so the whole 83 year vintage Harley didn't intrigue me at all – but his word suggestion did! As my daughter and sat in the parking lot waiting to leave (our church is huge), we got into a conversation as to who the most resilient person we know is – and we both agreed that that person has gotta be my mom!
Other than to mention my mom's cooky measuring methods, I don't think I have shared a whole lot about her – so here goes…
My mom wasn't born into a wealthy family, and after her dad's untimely passing, money was tight and things were very tough – so, my mom went to work at an extremely young age. A few years after she met my dad and got married and my sister and I were born, Sri Lanka was ravaged by the Riots of 1983, with looting and burning and killing spreading through businesses and residential neighborhoods like a Tsunami! I don't remember much other than being in a car with my mom (when the riots broke out) and looking out and seeing buildings on fire and people walking around brandishing axes! Those early years were a blur, but I also remember my mom, in her quest to give us a better life, transferring into a job that sent her -and all of us- overseas to Abu Dhabi! Since I can remember, she has sacrificed, been firm and stood resilient through all adversities – just to make sure we had a better life than her!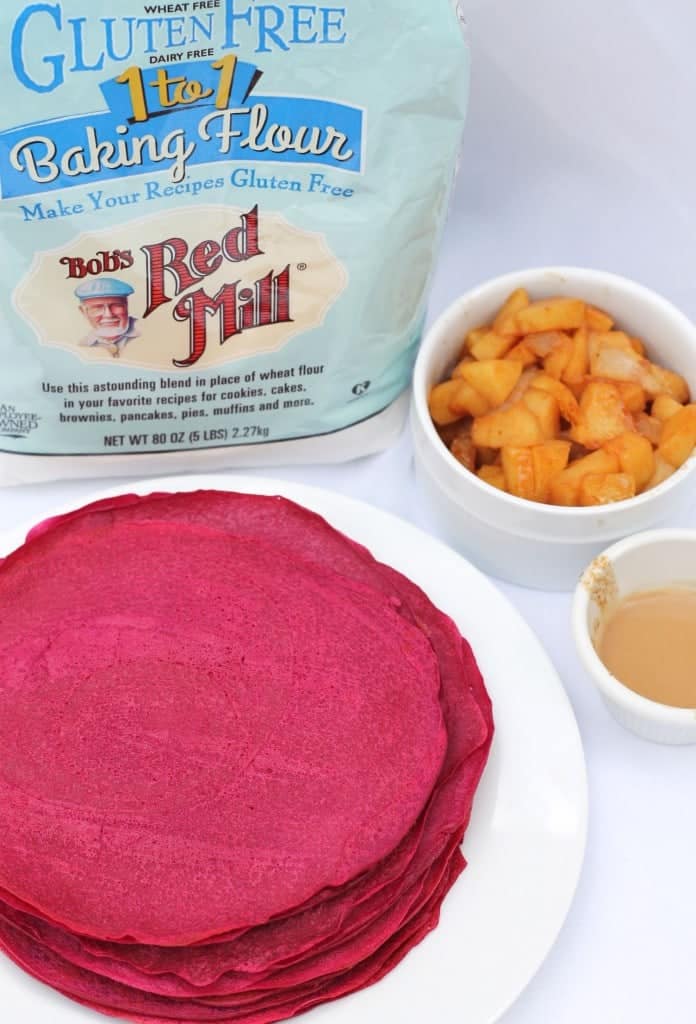 As my daughter and I talked more (it takes a while for 2000+ people to clear out of a parking lot), we figured we needed to come up with our own word that would help us be better – for the next 3 months at least. My daughter decided she needed to work on "consistency"; and I think I need to work on "community".
With that said, and inspired by my blogger friends Dixya @ Food, Pleasure and Health (who is kicking off her "blogger of the week" series TODAY), Suzanne @ A Pug In The Kitchen (who asked for recipe suggestions to recreate) and Charlie @ Hotly Spiced (who traveled the world through the recipes of fellow bloggers)…
I am thinking of picking a recipe from one of you amazing bloggers in this "blogging community" I have grown to love, and, recreate it – WITH BEETS (maybe)!
I might do this once a month; giving my mystery ingredient posts a little break…
Or…
Once every 2 months…
What do y'all think?
Do y'all want to send in recipe suggestions?
I asked my daughter for her opinion and her sassy answer was that I should have picked "decisive" as my word!!!
And then she mentioned she could give me a more concrete answer with a belly full of BEET crepes stuffed with apples and pears for lunch!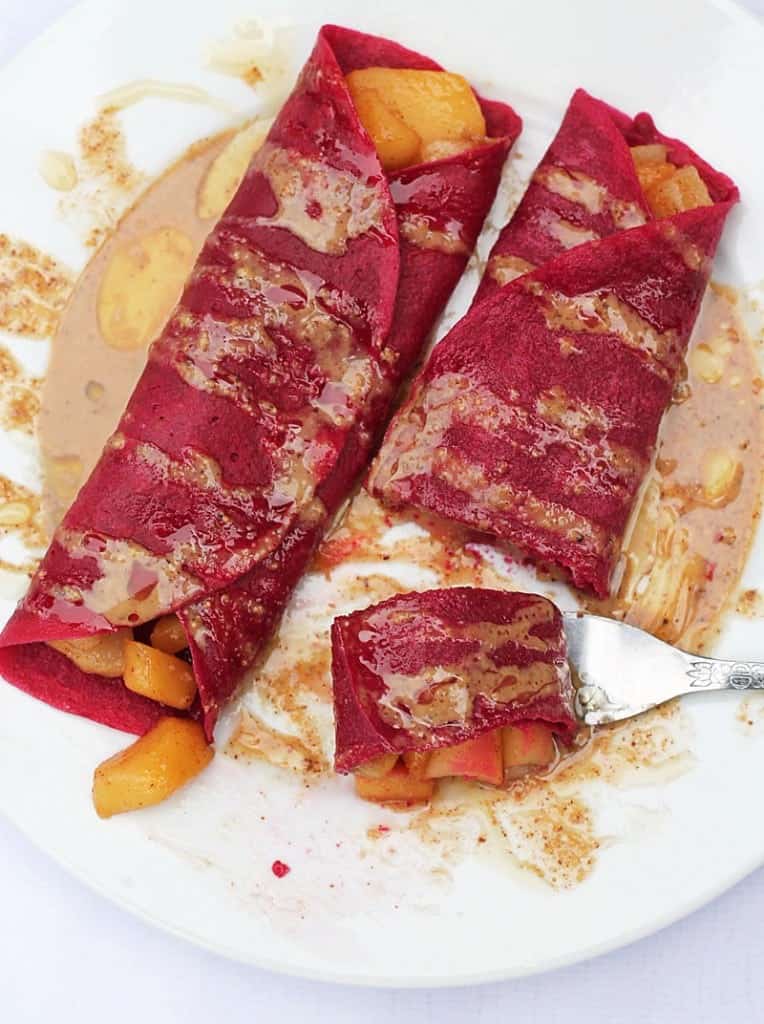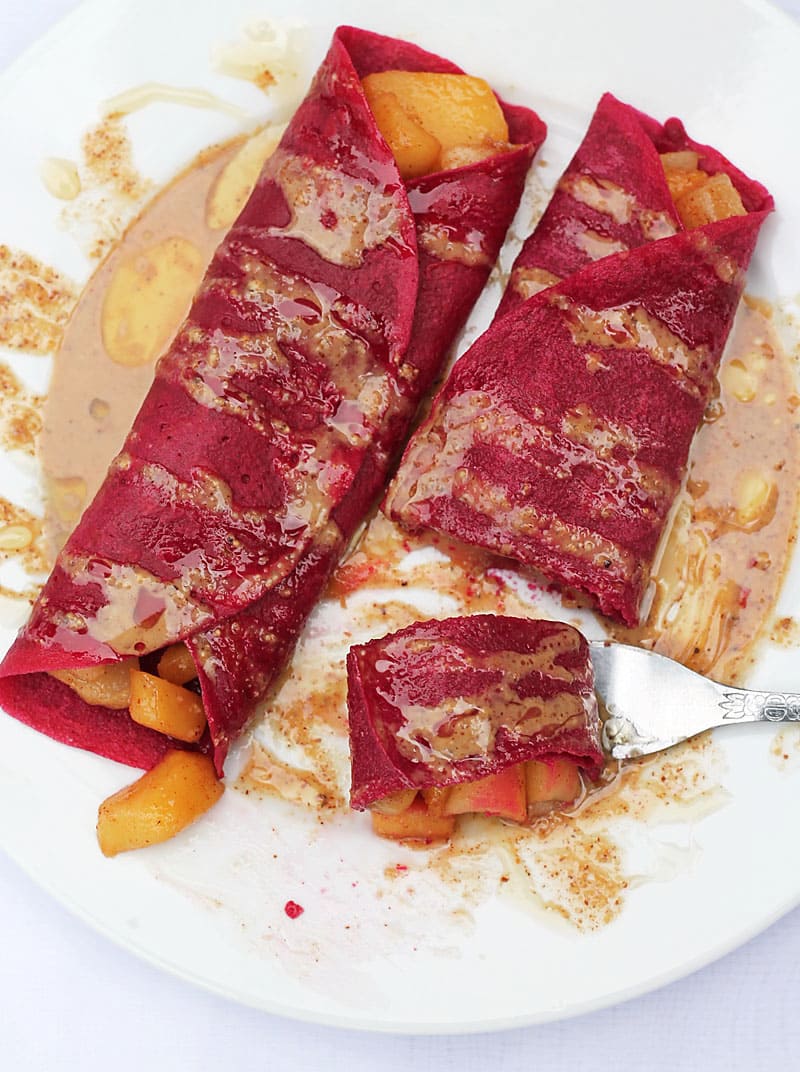 So – only fitting I share these with y'all!
These beauties are totally gluten free as I used Bob's Red Mill 1 to 1 gluten free flour….and seeing I have a picky teen who used to detest beets as a young one blackmail me into making these now… well…I guess y'all know these are THAT good!
[Tweet "Easy and gluten free AND teen approved Beet Crepes @BobsRedMill @RunninSrilankan"]
What do y'all think about my fellow blogger recipe doctoring -with or without beet- idea?
What would be a word y'all picked that would help y'all have a better life?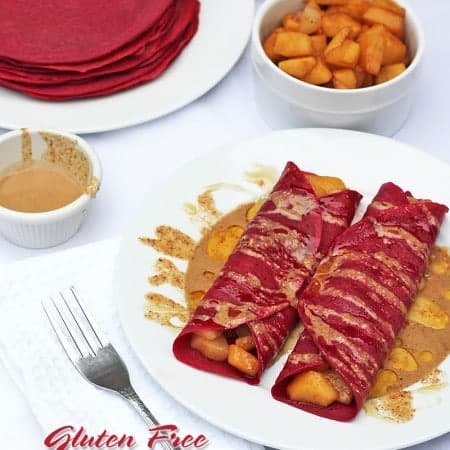 Print Recipe
Beet Crepes
Delicious and gluten free beet crepes with a light yet hearty apple and pear stuffing!
Ingredients
For the Crepes:

2/3

cups

pureed beets

1 beet roasted for 45 minutes and then thrown in a blender

1

cup

milk of your choice

2

eggs

2

tablespoons

melted butter

1

cup

Bob's Red Mill 1 to 1 Gluten Free flour

1/4

teaspoons

salt

1

tablespoon

honey

1

teaspoon

vanilla

For the apple/pear stuffing

1

apple cubed

1

pear cubed

1

teaspoon

butter

1

tablespoon

brown sugar

1

teaspoon

cinnamon

1

pinch salt

juice of 1 orange
Instructions
For the crepes:

Place the beet puree, milk, eggs, butter, flour, honey, salt and vanilla into a blender and give them a whirl till well incorporated.

Add 2 large spoons fulls of batter to a greased and heated up pan and swirl till mixture coats the bottom.

Flip and cook 20-30 seconds on opposite side

Repeat till batter is used up




For the apple/pear stuffing:

Add orange juice, apple, pear, butter, cinnamon, salt and brown sugar to a pan and let simmer over low hear for 15-8 minutes till liquid is absorbed




Assembly:

Place 1-2 tablespoons of stuffing on a crepe and roll each end in, top with honey and almond butter or any other topping of your choice.
Disclosure: I received a package of Bobs Red Mill 1 to 1 Gluten Free Flour to sample but was not compensated for this post. All opinions are my own.