Hello! I'm so glad you stopped by!
I am Shashi, the one behind the healthy-ish recipes on Savory Spin.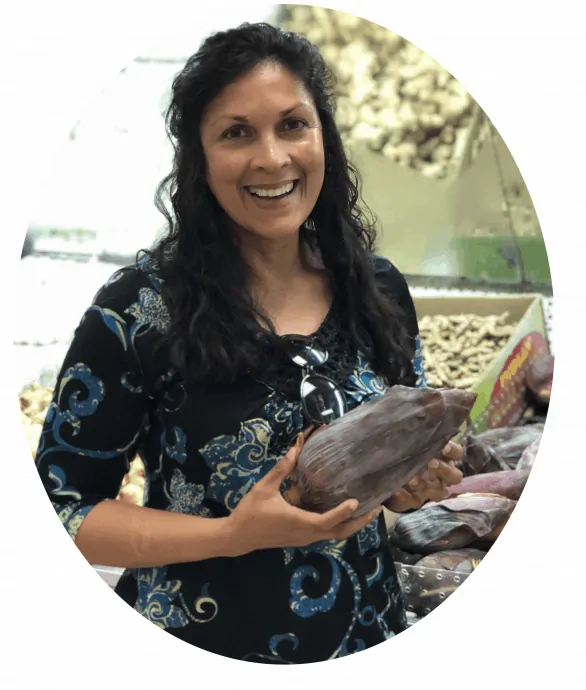 Humble beginnings…
I started Savory Spin in the summer of 2013 as an online recipe journal to keep track of recipes for my daughter. When I started this blog, it was under the name of "Runnin Sri Lankan." At that time, that seemed to work for me.

But, as this blog evolved, I decided to rename it so it would be more reflective of the recipes I wanted to share, recipes with their unique fusion spin. So, in 2016, I rebranded Runnin Sri Lankan to Savory Spin.
About Shashi
I was born in Sri Lanka and spent my elementary school years there. In 1984 my parents moved to Abu Dhabi, where I lived until I moved to Atlanta, GA to attend college.
As a result, most of the recipes I enjoy and share on this blog are heavily influenced by my years in Sri Lanka and the Middle East.
I am a self-taught cook and baker. I grew up enjoying my mom's delicious cooking most days of the week. We rarely ate out then, and these days, my daughter and I very often opt to eat in ourselves.
I have found that cooking at home is not only fun and therapeutic but, homemade recipes can be delightfully tasty and healthy at the same time. Not to mention, extremely budget-friendly as well. And, you will find these points reflected in most of my recipes here.
I currently live in Atlanta, Georgia with my daughter and our Newfie mix fur-bear!
About Savory Spin
Savory Spin is a collection of mostly nutritious, budget-friendly recipes with a Sri Lankan or Middle Eastern Spin.
If you stumbled on here looking to dine in more on wholesome, deliciously spiced, easy recipes, then you are in the right spot!
I like to enjoy foods that make me feel good mentally and physically so most of the recipes I share here have a bit of a healthy-ish spin. I draw on spices I grew up with such as coriander, cumin, harissa, berbere, za'atar, etc to add flavor to most of the recipes I share on this blog.
I am a huge proponent of "a little spice is always nice" and I passionately incorporate it into eats and treats that I sure hope will tickle your tastebuds and not mess with your waistline – too much.
I try my best to make sure that all the spices I use and mention in my recipes can easily be found at local grocery stores in your neighborhood or easily bought on Amazon.
I am so grateful you stopped by, I am so grateful to all of y'all who have crossed paths with me who have inspired me to cook and experiment more.
Contact Me
READERS: Contact me at [email protected] if you have any questions about any of the recipes you see on here. You can also follow me on Facebook, Instagram, Pinterest, & Twitter or subscribe to get new recipes delivered to your inbox!

BRANDS/MEDIA: For brand collaborations and/or more information, please feel free to read more here or do email me at [email protected]
~ Shashi