Now, you might look at this Beetroot Curry and think "what died right there in the pan?" But – let's just think of it like this – this could be the perfect curry for a Halloween night dinner combined with some fried black rice!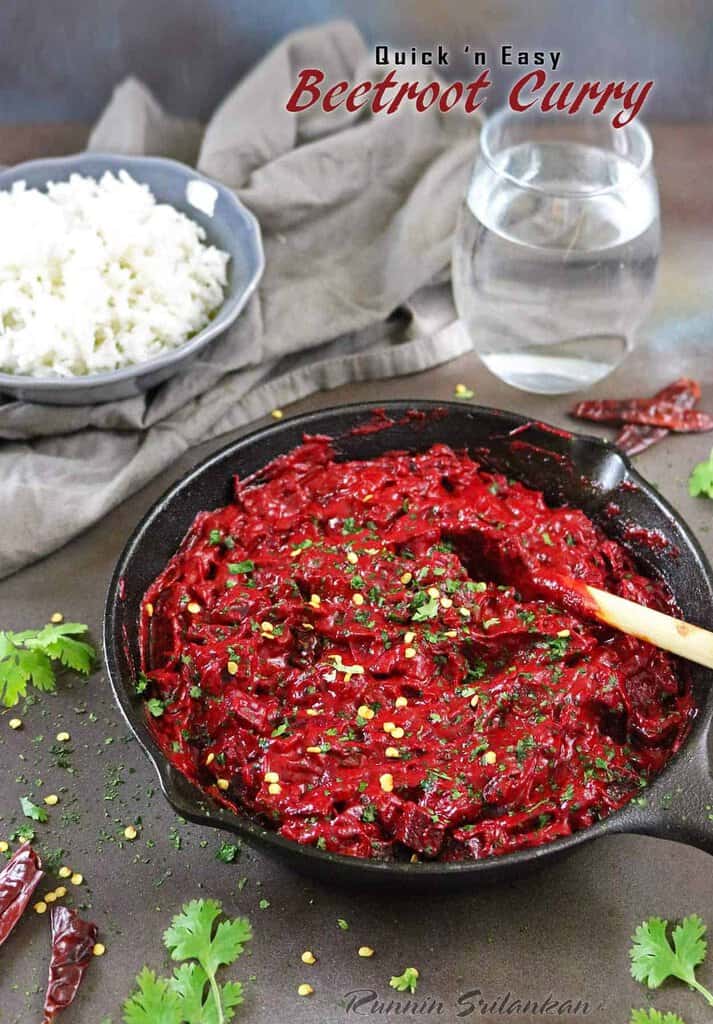 From where I'm standing, Mahatma Gandhi, Martin Luther King, music and food all seem to have one thing in common. They all seem to have this ability to unite people, to draw people close to each of them and -in turn- each other. Maybe you've met a person, or several, like that? My daughter told me about this new student on the football team at her high school who does just that. She told me that even as a 17 year old, this boy has a way of drawing players to him, of leading them without them even knowing he is, of setting a tone of good sportsmanship on the field and off which has lead to camaraderie and more wins this year than ever before.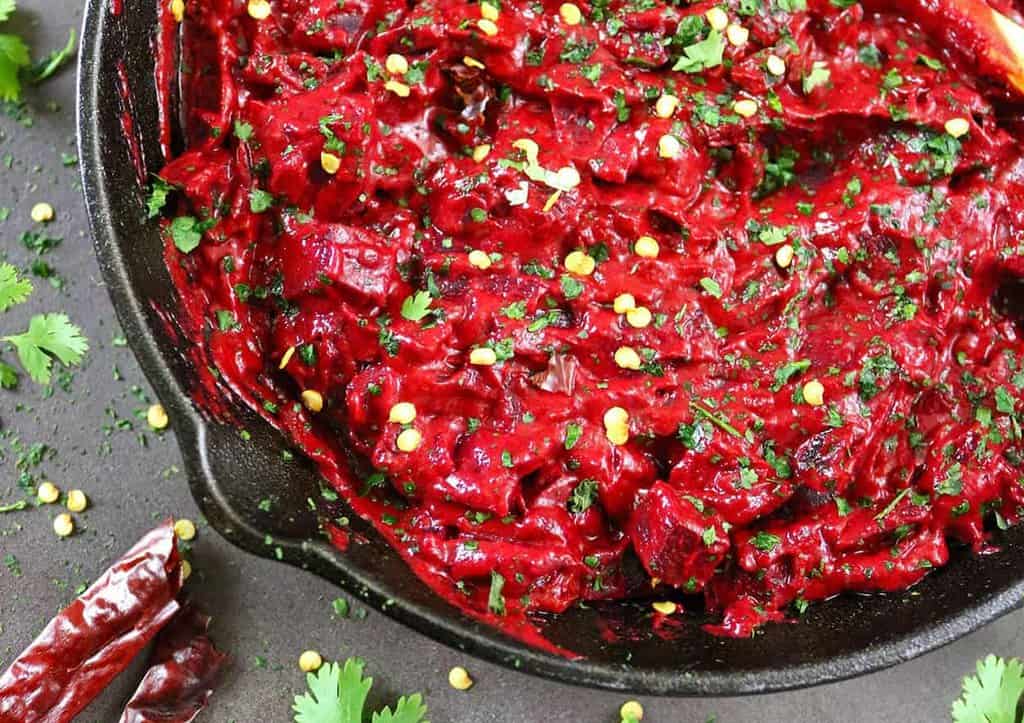 But today, today I don't fall into that category. Today I am here to divide and conquer! Okay so maybe that conquer part was a bit too dramatic, but, let's face it – when it comes to the humble, sometimes unsightly, beetroot – you either love it or abhor it! I happen to LURRVE beets. Last year I even did a "Beetified" series where I doctored up fellow bloggers recipes with beets! From their gorgeous coloring to their versatility and taste, they have my heart – like bacon does! Hey I even combined both my loves in this one dish!

But, back to this Beetroot Curry. It differs from the beetroot curry I grew up eating, which was more a spiced saute without coconut milk (which I will get around to sharing soon). The beetroot Curry you see here uses the basic curry equation I use in just about all my curries which is:
slightly caramelized onions + ginger + garlic + coconut milk + tomato paste + spices = quick and creamy deliciousness!
In this beet curry, I also added in some water and chili powder which I would say is optional in most cases, but seeing beets tend to be on the sweet side, that chili powder sure did balance things out. As I cubed the beets (which made for some weird photos) they were tender in about 16 minutes – which makes this beet curry one you could enjoy even if you are in a hurry!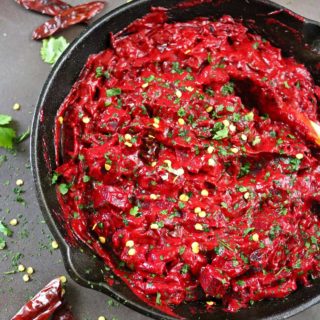 Beetroot Curry
This creamy yet dairy free, gorgeously colored Beetroot curry is not only delicious, but it can be whipped up in less than 30 minutes and is creepy enough to spook your Halloween dinner party guests - yeah!
Ingredients
1

onion chopped

2

cloves

garlic smashed and chopped

1

teaspoon

freshly grated ginger

powdered ginger just isn't the same in this curry

2

beets - washed

peeled and cubed into small chunks

1 1/4

cups

full fat coconut milk

1/4

up water

1 7

oz

can of tomato paste

small

2

teaspoons

garam masala

1

teaspoon

chili powder

2 teaspoons if you want a bit of a kick

1/4

teaspoon

each salt and pepper

or to taste

2

tablespoons

Olive oil

Cilantro and pepper flakes to garnish
Instructions
Add olive oil to coat the bottom of a pan

Add onion and saute till slightly caramelized - this took about 10 minutes for me

Add garlic and ginger and stir

Then add in the cubed beets

Pour in the coconut milk and water, and spoon in the tomato paste as well as the garam masala, and chili powder

Stir till all ingredients are well incorporated and cover and let simmer over a low-medium flame for about 15-16 minutes till beetroot is tender

Garnish and serve with white rice, naan, or (for a Halloween Twist) - fried black rice! 🙂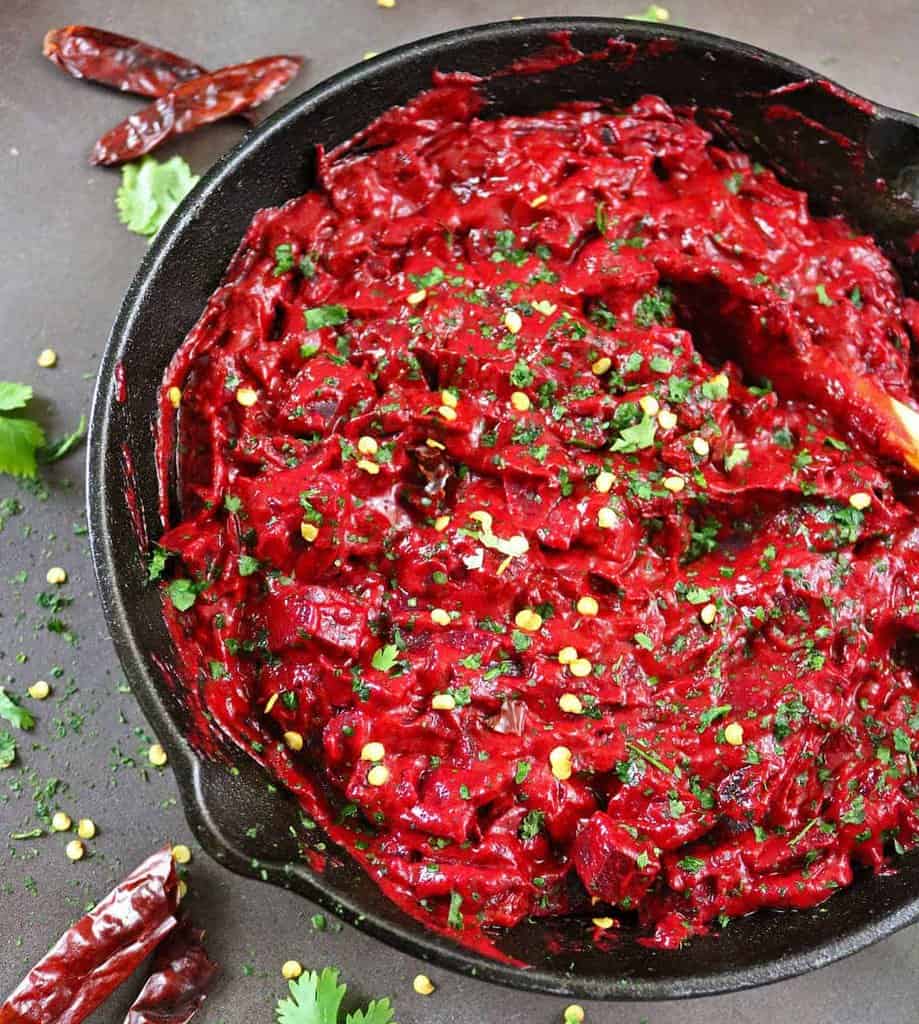 I made white rice to photograph this curry with, but the next day I made some fried black rice to go with the leftover Beetroot Curry. I wish I had taken a picture of my daughter's plate when she mixed the curry and fried black rice together – or maybe it's a good thing I didn't!?
Happy Friday Friends – here's hoping this weekend is filled with all sorts of deliciousness for each and every one of y'all!
[Tweet "Creamy Beetroot Curry #Quick #Easy And #Dairyfree"]