Buttery and delicious, this yellow rice looks fancy but it is so easy to make! And, you only need 7 ingredients and 20 minutes to make it. This vegan yellow rice pairs perfectly with curry and sautés and everything in between.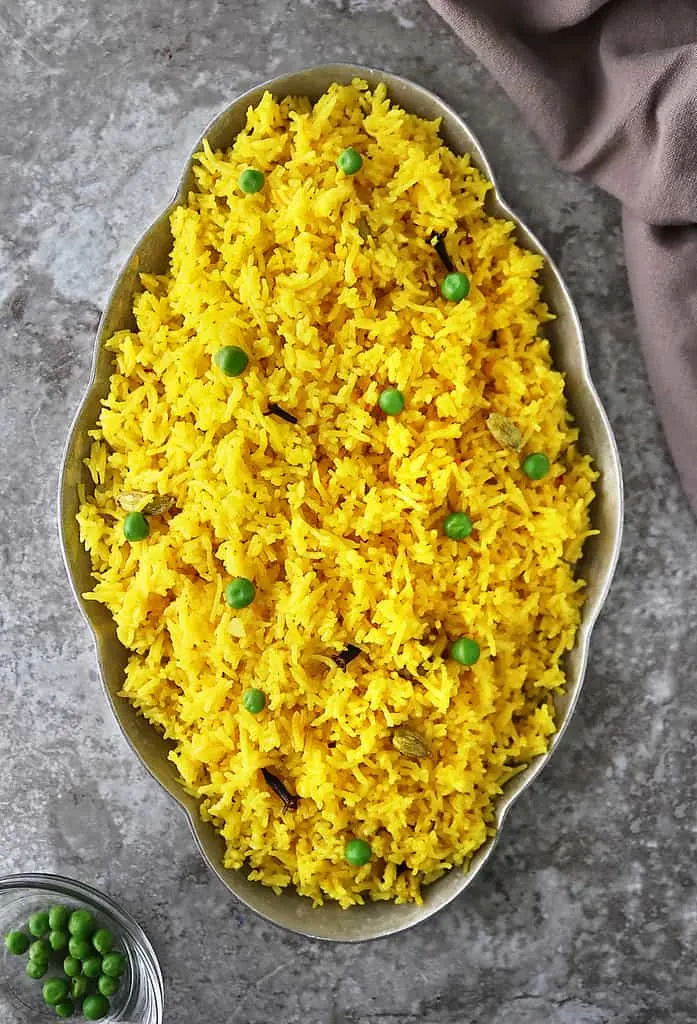 This yellow rice is so good that there has been many a time when I have served myself a large plate of it and gobbled it down without anything else. Buttery and incredibly flavorful, this rice is a vegan spin of the Sri Lankan yellow rice my mom makes.
Growing up in Sri Lanka, every holiday, birthday, and celebration involved a large plate of piping hot, aromatic yellow rice. Usually, yellow rice was served with some curried eggplant, potatoes theldala (aka a dry curry like this), chicken curry, cutlets, boiled eggs, chutney, and some sambol (aka salad). But, my mom's version was so delicious, it could have been served straight up!
My mom's yellow rice is so fragrant, that when we visit her and she has it on the menu, we can usually smell it before she even opens her front door.
My mom usually makes her yellow rice with ghee or butter, curry leaves, whole cloves, cardamom pods, saffron, turmeric, and basmati rice.
What I have here today is a vegan spin on my mother's recipe.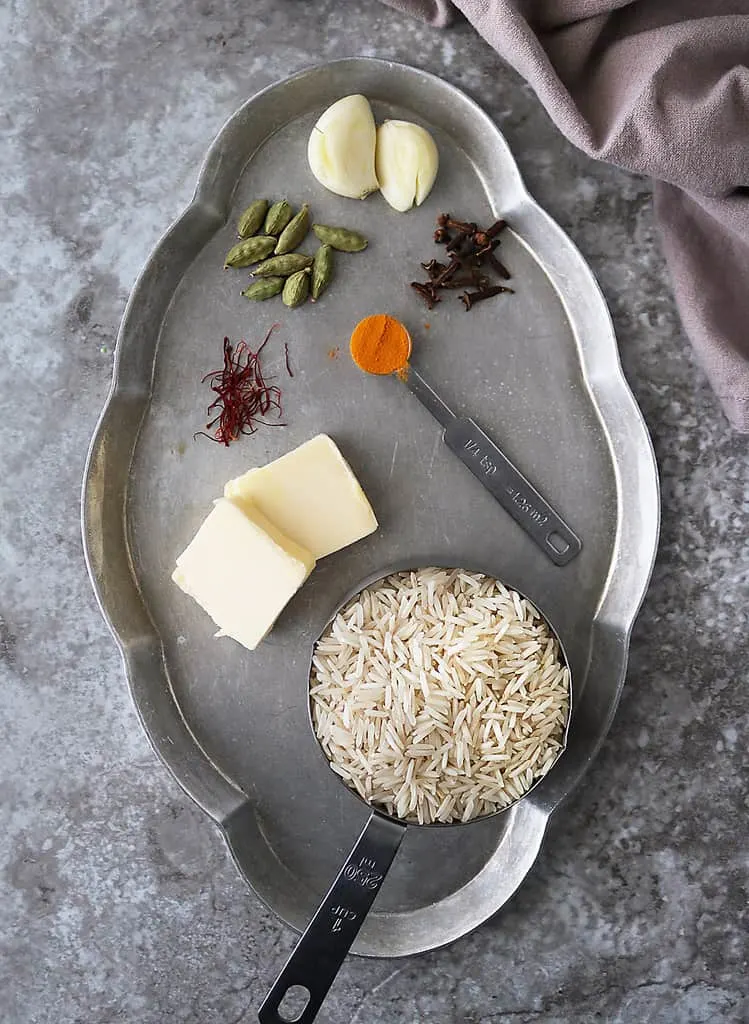 What are the ingredients needed to make this easy yellow rice?
I used vegan butter instead of real butter or ghee. As I haven't found any curry leaves at grocery stores near me, I opted to leave them out. By the way, if you can get your hands on some curry leaves, add about 4-5 to this recipe. They add just a hint of flavor and a ton of delightful aroma!
That golden hue you see here is because of two spices. One of which is saffron. Now, saffron isn't cheap, but I have been finding little mini jars with an equally mini-amount of saffron in them at stores like Sprouts and Trader Joe's for around $7.00 to $8.00. Now that might not be that cheap – but, you only need a little bit for this recipe. Saffron is one of those spices where a little goes a very long way. So, you will have saffron on hand when you next need it.
The other ingredient responsible for that golden hue is turmeric. Another one of those spices where a little goes a long way. And, turmeric is a nutrition powerhouse.
I love garlic and chose to add some finely chopped garlic to this yellow rice.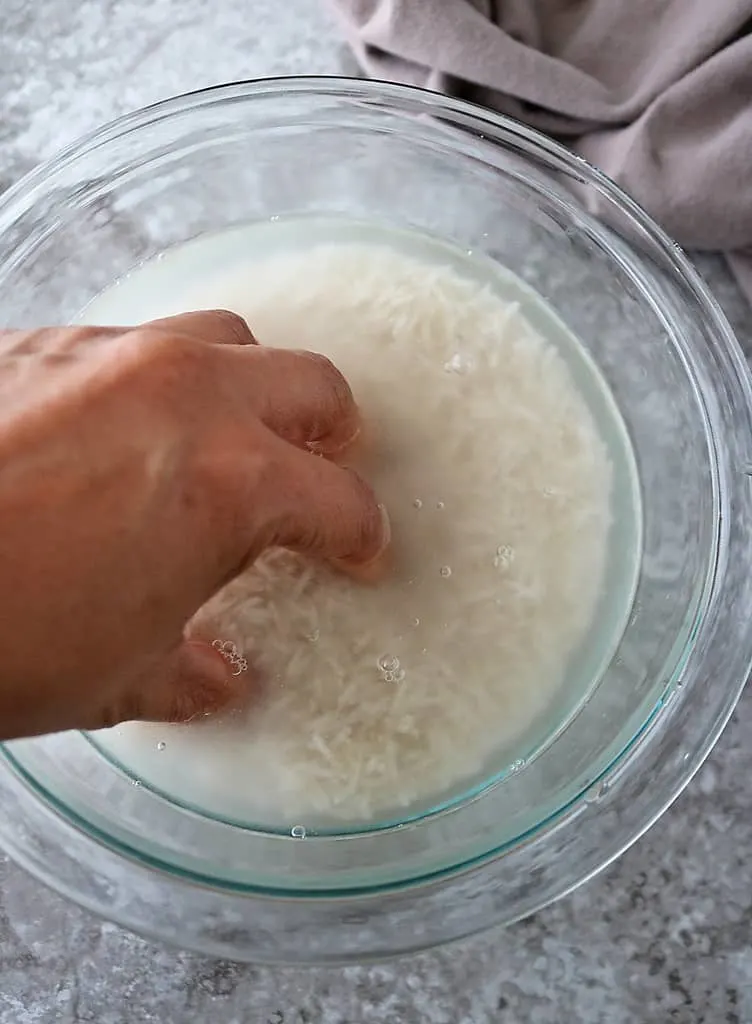 By the way, the rice I used was basmati. I washed it by placing it in a bowl of water and muddling it, then draining out the cloudy water. I repeated this until the water was no longer cloudy. By the way, remember to always wash your rice! By the way, You can also use jasmine rice or long-grain enriched white rice for this recipe. Just make sure to check cooking times as they may vary depending on the type of rice you chose to use.
And, the final two aromatic spices that go into this 7-ingredient yellow rice recipe are whole cloves and cardamom pods. You can usually find whole cloves and cardamom pods along with other spices at most grocery stores. However, if you cannot find them, I would urge you to not use powdered cloves and powdered cardamom. The flavors of the powdered versions are more intense and they would not work well in this recipe. So, if you cannot find whole cloves and cardamom pods, leave them out.
Why do I love this simple rice recipe?
I simply adore this yellow rice.
It is highly aromatic,
It is packed with flavor,
It is gluten free,
It is plant-based,
And, it is so easy to make.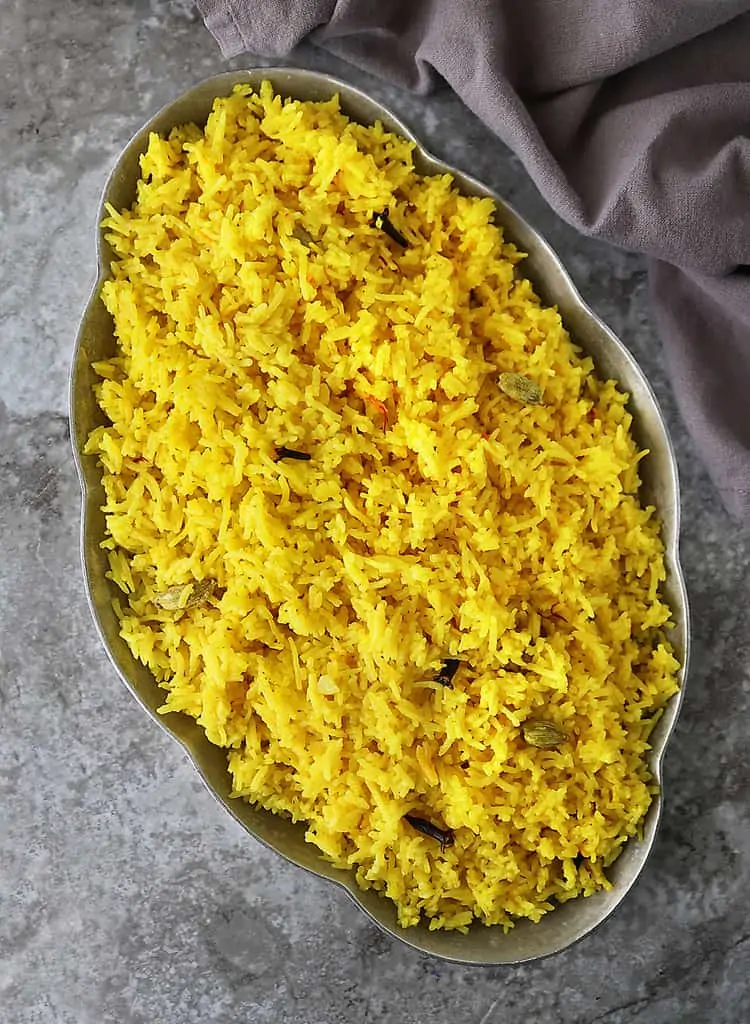 What do you serve with this yellow rice?
This yellow rice pairs well with curries like this zucchini curry, this broccoli curry, this asparagus curry, this harissa tofu curry, and this mango chutney or this pineapple chutney, and broccoli cutlets.
But, it pairs just as well with roasted meats and steamed veggies.
If you love rice for breakfast, you could serve this yellow rice with a fried egg and bell pepper sauté.
No matter what you pair with this rice, I am pretty sure you will enjoy it as much as I do.
However, if you prefer quinoa to rice, then make sure to check out this turmeric quinoa recipe – it is so easy, delightfully aromatic, and so darn tasty!
Thanks so much for stopping by. If you make this recipe, please let me know in the comments below what you think of it, or tag your creation on social media with @savoryspin or #savoryspin. For more fusion, spice-filled, recipe ideas, please subscribe and follow me on Facebook, Instagram, and/or Pinterest!