This Easy Egg Curry recipe results in a comforting and filling dish made with hard-boiled eggs suspended in a deliciously spiced tomato coconut sauce.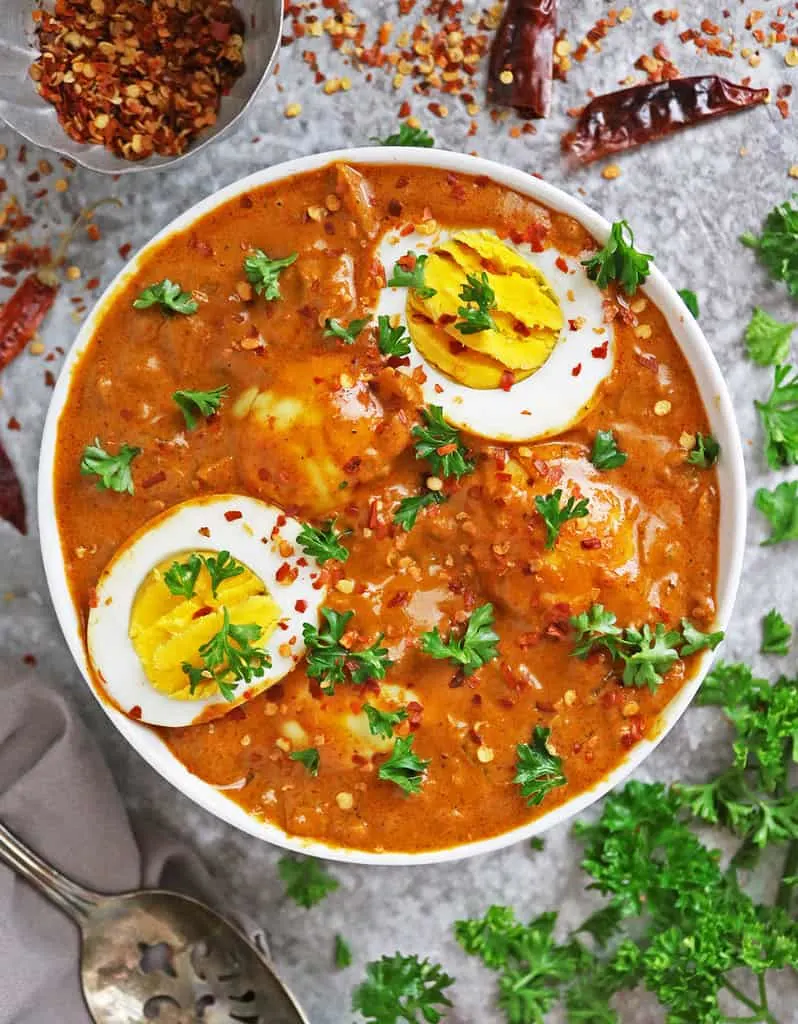 There are probably as many versions of egg curry around as there are cicadas in my backyard here in Georgia. And, in all my years, I have yet to taste or try an egg curry I did not like.
So, with that said, I feel I have to add to the ever-increasing number of egg curry recipes around with this Easy Egg Curry Recipe.
This Easy Egg Curry is thick and creamy. It is aromatic and deliciously spiced. It is comforting and filling. And, even though it might seem to be a complex array of smells and flavors, it is so easy and quick to make.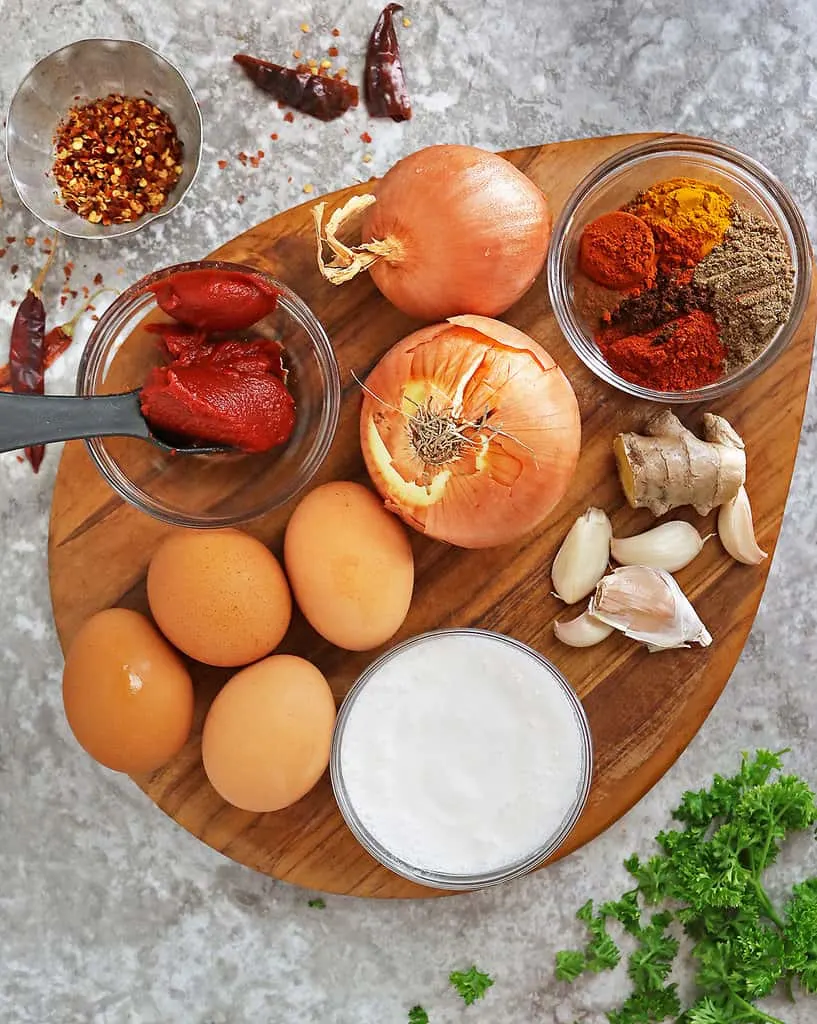 What is egg curry made of?
This Easy Egg Curry Recipe needs to following 12 ingredients, and they are:
Hard-boiled eggs
Fresh onions
Fresh garlic
Fresh ginger
Ground Coriander
Ground smoked paprika
Ground cayenne
Ground cloves
Ground cinnamon
Ground turmeric
Coconut milk (preferably full fat, I used Embe coconut milk– this is not sponsored, by the way)
Tomato paste
Also used in this recipe is 3/4 to 1 cup water, parsley and chili flakes for garnish, and salt and pepper to taste.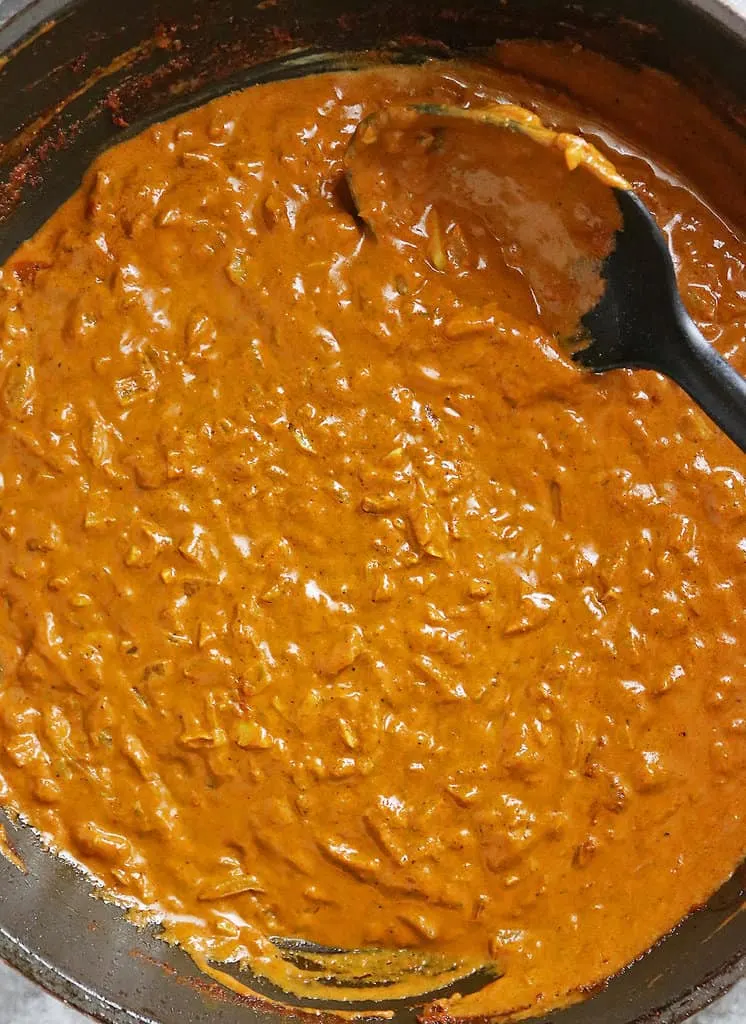 Tips when making this curry…
For this recipe, I usually make the curry and boil the eggs separately, but simultaneously.
The curry, which is a creamy and thick, spiced tomato coconut sauce, can be made in about 20–25 minutes.
Start off by sautéing some peeled and diced onions, ginger, and garlic. Around the 15-20 minute point, tomato paste, coconut milk, water, and all the spices are added into the sautéing onions, ginger, and garlic. This curry has an odd combination of some spices that might be popular in savory dishes (such as coriander, smoked paprika, etc.) and some that might be more popular in sweet dishes (such as cinnamon, cloves, etc.) But, trust me, they work so harmoniously well in this easy recipe, resulting in a curry that is delectably aromatic and flavorful.
While the curry is being made, the eggs will be cooked in another pan. Once they are done, peel them and add them to the curry. Then, simply season this easy egg curry recipe with salt and pepper and garnish it with parsley and chili flakes and enjoy!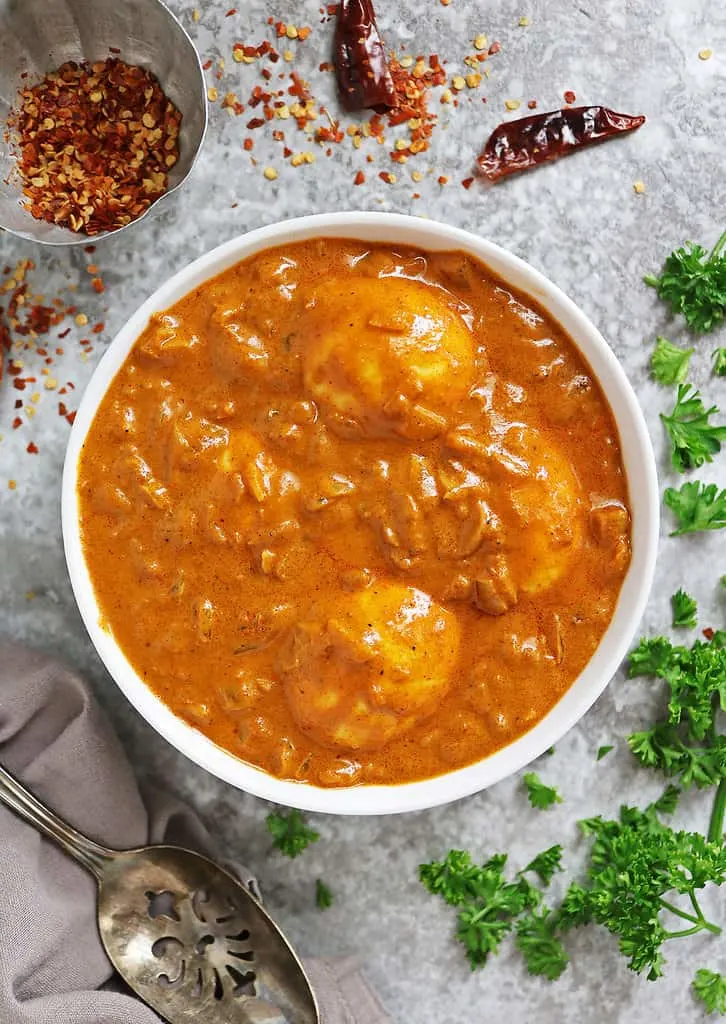 How long to boil eggs for this easy egg curry recipe?
I like to use hard-boiled eggs in my egg curry. This usually means I cook them for about 10–12 minutes. The easiest, most foolproof way for me to boil eggs is to place the eggs in a saucepan of water, with the water covering the eggs. Then, I bring the eggs and water to a boil. When this is simmering, I cover the pan and let it sit covered for about 10 minutes.
Then, I discard the water. Place the eggs in a bowl of cold water and peel them before plopping them into the rich, thick, creamy, spiced tomato sauce.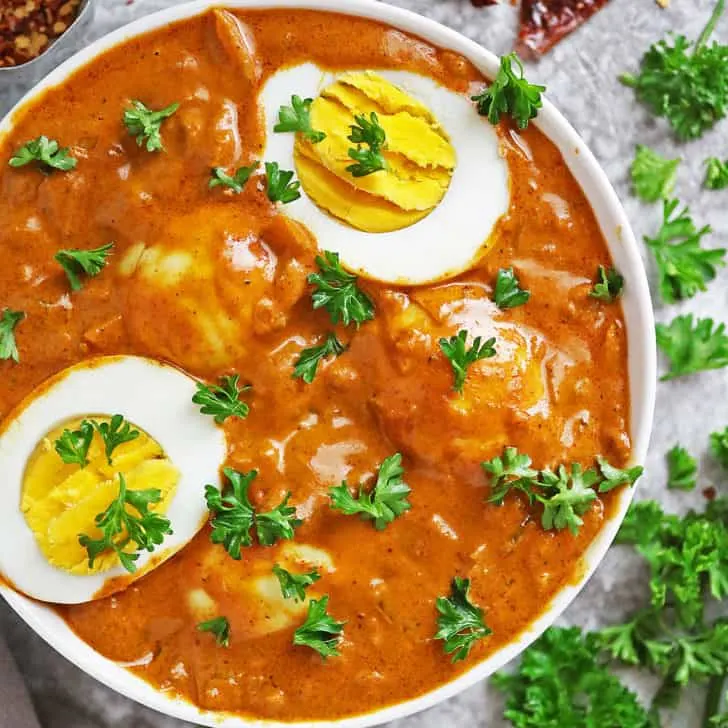 What is a good side dish for egg curry?
This egg curry can be paired with some roti or yellow rice for a quick and easy meal.
For a more elaborate meal, this easy egg curry can be paired with some broccoli curry, some green pea curry, some croquettes, some pineapple chutney, some oven-roasted eggplant, and some rice or naan.
---
Thanks so much for stopping by. If you make this recipe, please let me know in the comments below what you think of it, or tag your creation on social media with @savoryspin or #savoryspin. For more fusion, spice-filled, recipe ideas, please subscribe and follow me on Facebook, Instagram, and/or Pinterest!