Have dinner on the table in about 20 minutes with this creamy Easy One-pot Curry Noodles dish. Packed with veggies and flavor, this dish is plant-based, gluten-free, and so tasty!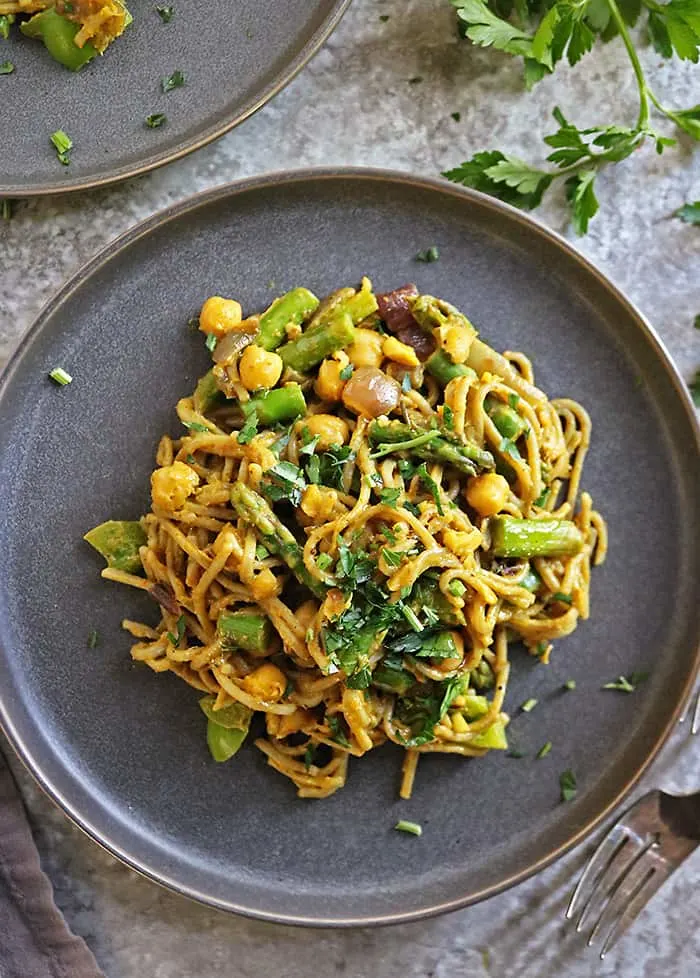 "What's for dinner?" is the most popular question in our home. And, when I have not been doing much meal prepping, that question forces me to get creative in the kitchen and come up with dishes like this Easy One-pot Curry Noodles.
This dish is so comforting and so easy, making it perfect for a busy weeknight meal. If you are trying to follow a more plant-based diet, this dish is a delicious main course or served with some meatless meatballs on the side. If you are not, then this dish would be perfect as a side dish to some cilantro lime chicken, or any other option you might have.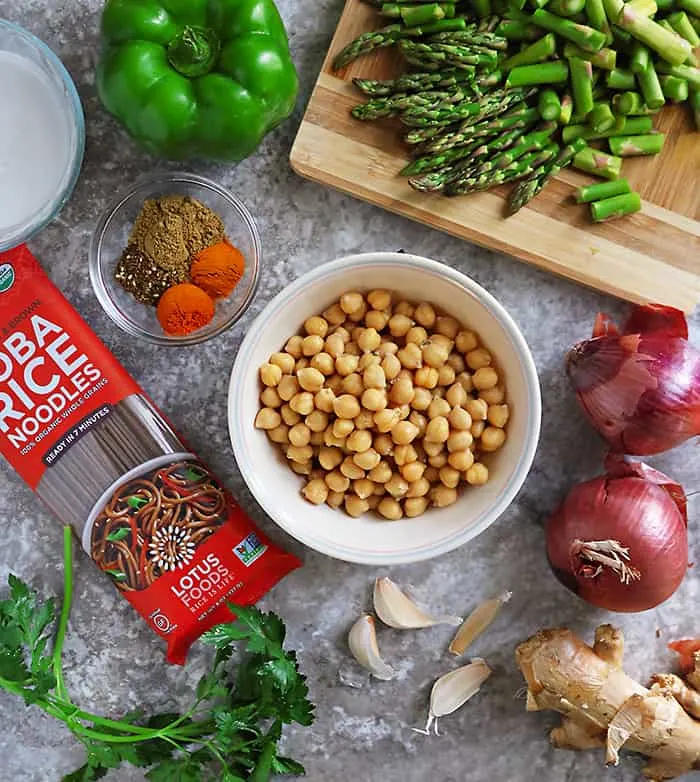 What are the ingredients to make these One-pot Curry Noodles?
You need the following 12 ingredients to make this recipe:
Coriander,
Zata'ar,
Smoked paprika,
Turmeric,
Red onions,
Garlic,
Ginger,
Canned chickpeas,
Asparagus,
Green bell pepper,
Coconut milk, and
Noodles.
You can find most of these ingredients including Zata'ar, at local grocery stores. I've found all these ingredients at the closest Kroger and Sprouts as well.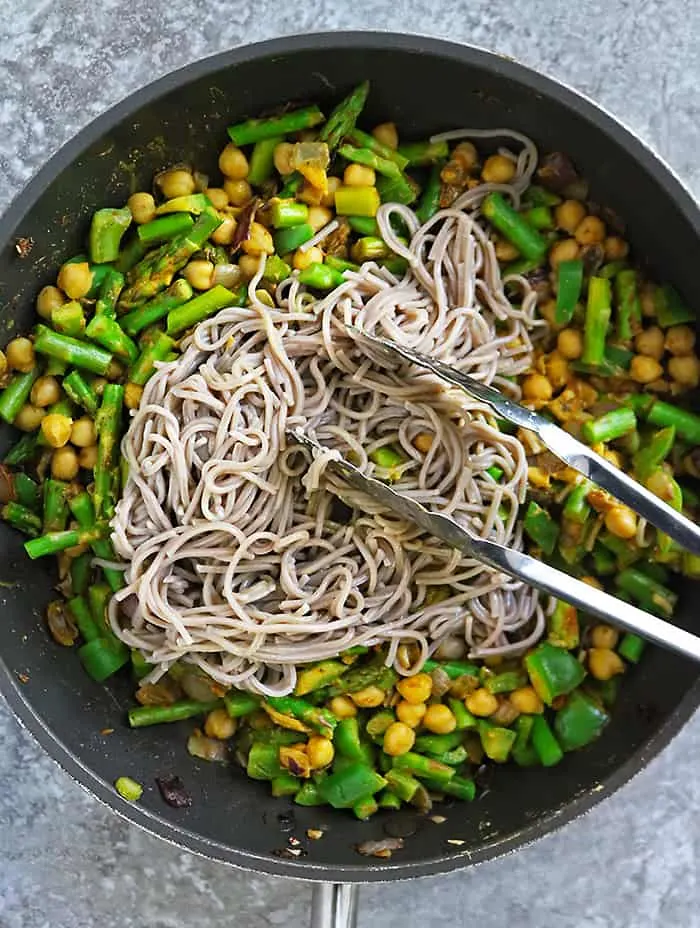 There is so much flavor in this fusion recipe
This comforting and tasty dinner is a fusion dish that marries together spices such as turmeric and coriander, which are often used in South Asian cooking, with zata'ar, which is a popular spice in Middle Eastern cuisine.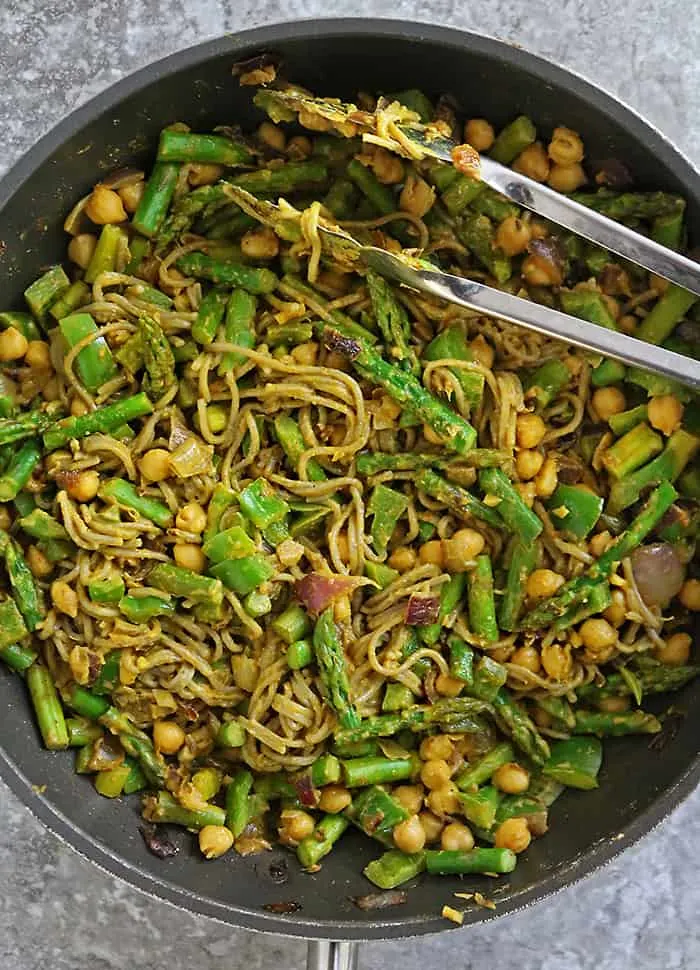 This is a versatile recipe
While I packed this dish full of delicious veggies like asparagus and green bell pepper, the choice of veggies is totally up to you. If you like, you can add in carrots and peas instead, or any of your favorite veggies. Also, while I used chickpeas, you can sub in some black beans or kidney beans instead.
I had some soba rice noodles from Lotus Foods (by the way, they didn't pay me for this plug) in my pantry and used those for this recipe. However, as with the beans and veggies, you do not have to use soba rice noodles. You can use whatever noodles you prefer or have on hand – in fact, you can even use prepared spaghetti in this recipe.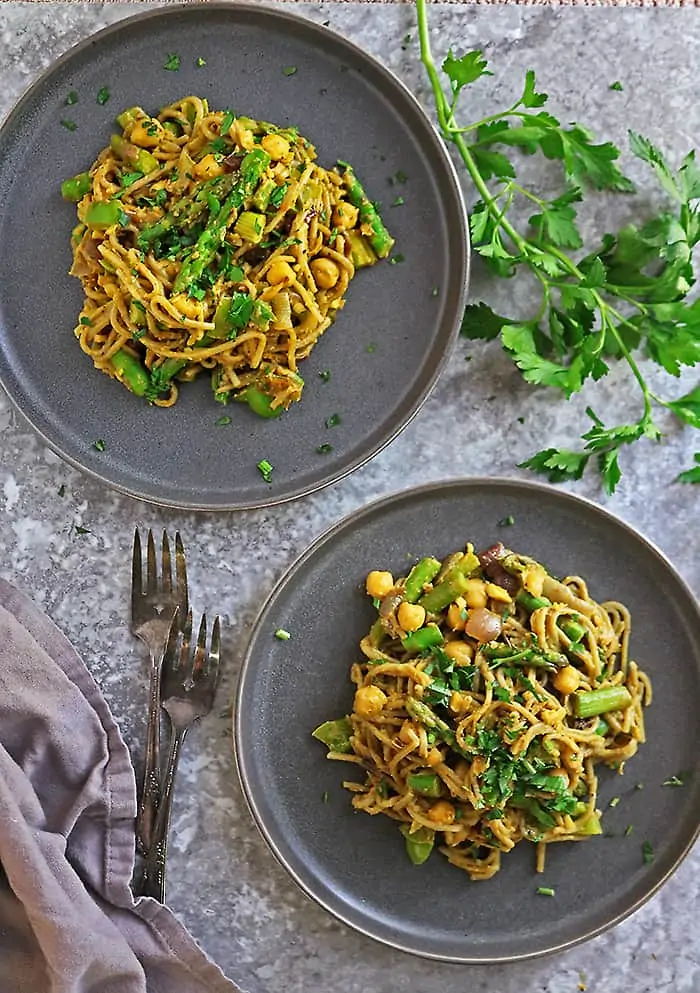 However, I would not change the ingredients of the spiced coconut sauce as this is what lends so much flavor to this easy, one-pot meal. This coconut curry sauce is made with onions, ginger, garlic, turmeric, smoked paprika, coriander, and zata'ar, making it a delicious fusion sauce that I have found to pair beautifully with noodles (or pasta) and veggies.
Why we love this curry noodle recipe?
We love this dish because it is:
• Such a tasty dish,
• It is so satisfying,
• It is versatile,
• It is plant-based,
• It is easy to make,
• It can be ready in less than 20 minutes,
• It is made with clean, wholesome, pantry-staple ingredients and does not use any store-bought sauces or pastes.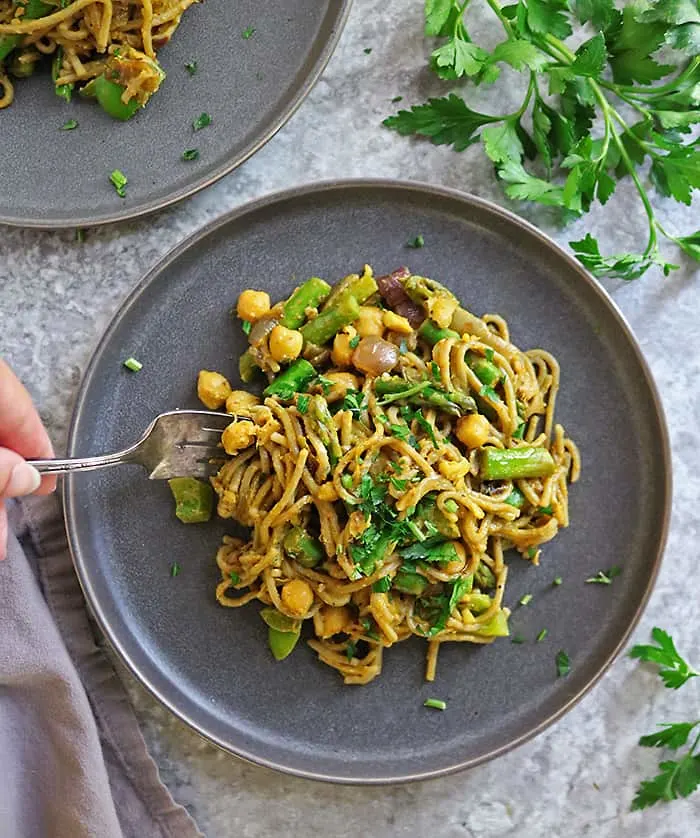 Why is this dish called "curry" noodles when it does not have "curry powder" in the list of ingredients?
Curry is not a flavor. The word "curry" is said to come from the Tamil word "Kari" which means 'sauce or gravy.' A popular staple in South Asian countries, curry is usually made with coconut milk and a variety of spices along with meat, tofu, and/or vegetables. Depending on the spices used, curry can be mild (like this cauliflower curry) or spicy (like this 3 bean curry). It is usually enjoyed with rice or roti.
While curry is a staple in South Asian countries, there are many other countries that have their versions of delicious curries – all beautifully spiced with the spices of the region and enjoyed by people from Malaysia, Jamaica, Britain, and more.
What is "curry powder" then?
Curry powder is a potpourri of dry spices. Most often this potpourri or mixture includes turmeric, ground coriander, ground cumin, ground ginger, and black pepper, making it a pungent and flavorful addition to any dish.
What about curry leaves?
Curry leaves are kind of like bay leaves, but with tons of bright, addictive, insanely aromatic flavor! Fresh curry leaves are are usually available in South Asian stores in the Atlanta area and they are very popular in South Asian cooking. They are usually tempered in oil with spices and other seeds as the base in curries and rice dishes like biryani.
Can you use a store bought curry sauce to make this curry noodle dish?
You may most definitely use a store-bought curry sauce as the base of this dish – especially f you do not have the spices listed in the recipe. But, do keep in mind the store-bought sauce would drastically change the taste of this dish as well as its nutritional content.
If you try out this recipe, please do tag @SavorySpin on Instagram and/or Pinterest, or leave me a comment below to let me know what you think. I sincerely hope you and your loved ones enjoy this as much as my daughter and I do.