Sweet Raspberries, honey, caramelized onions and chipotle peppers in adobo sauce make up the sauce that's one of 2 ingredients that go into making this aromatic and flavorful, Easy Raspberry Chipotle Chicken Curry that pairs oh so well with roti or rice.
[wprm-recipe-jump] • [wprm-recipe-print]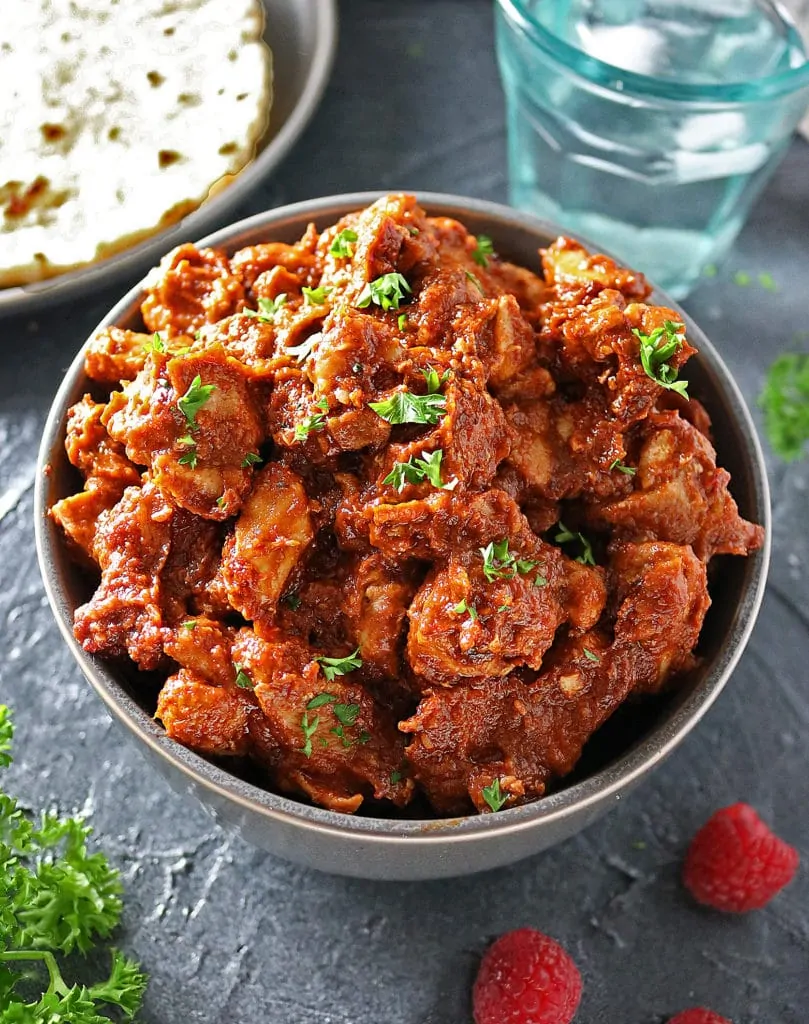 A can of chipotle peppers in adobo sauce is an easy and surefire way for me to add some spicy-hot, smokey flavor to a dish. But, more times than not, I end up using a few of those chipotle peppers and a few spoonfuls of that adobo sauce and then the rest gets packaged up and placed in the back of my freezer, aaaaand, forgotten about. And, that pattern seems to repeat itself every time I bring home a can of chipotle peppers in adobo sauce. Then I end up stumbling on all these little packages when I'm doing my year-end freezer clean out and resolve NOT to buy any more cans of chipotle peppers in adobo sauce until I work my way through these packets. Well, that resolution lasts till February when I end up forgetting about those packets (again) and bringing home a can! GAH!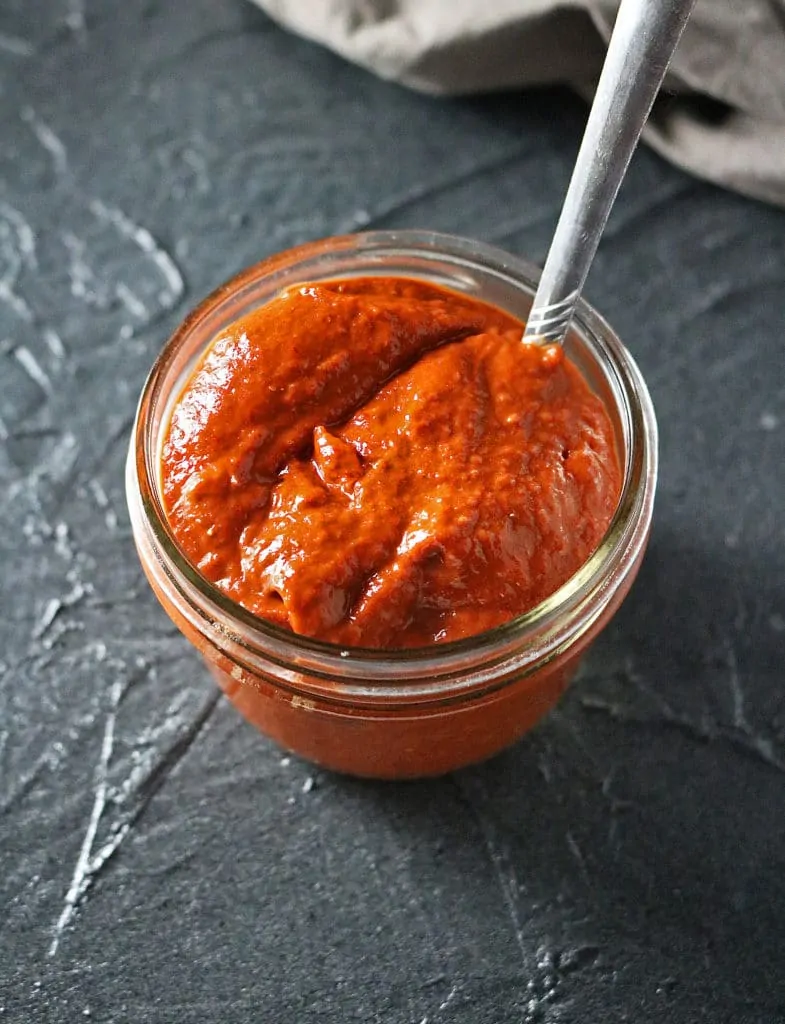 So…today… I have a recipe that uses a WHOLE can of those chipotle peppers in adobo sauce! You might be thinking that the resulting dish is going to be super hot, And, you would be correct – only, I added in a whole one and a half cups of sweet, fresh, raspberries, caramelized sweet onion and honey to balance of the heat of the chipotle peppers in adobo sauce! Talk about flavor, y'all!
I initially made a raspberry chipotle sauce that I was going to slather on meats and veggies before roasting them, but, my daughter suggested a Raspberry Chipotle Chicken Curry. I didn't want to dilute the sauce with coconut milk or chicken stock so, I figured I would saute the chicken a bit and then throw in a cup of sauce and see how it went before adding anything else in. Well, the result was an incredibly flavorful, dry-ish curry without much "gravy" and it paired up so well with some simple coconut roti.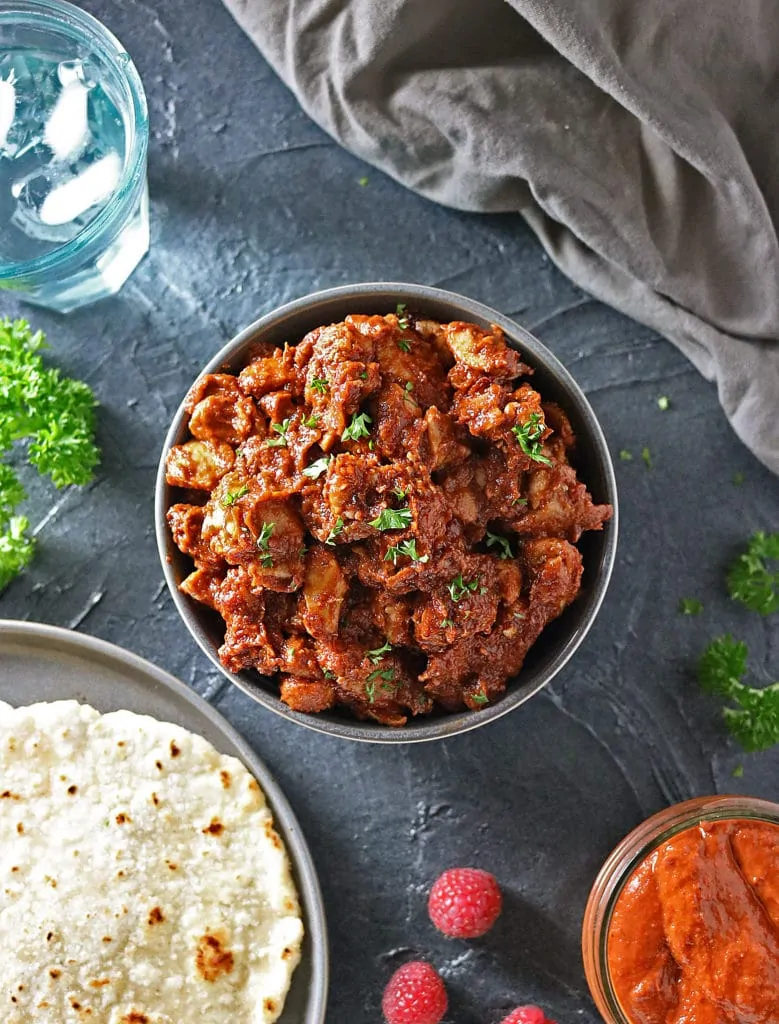 With Valentine's day on the horizon, stores are all about red and pink hearts in the time leading up to it, but February also happens to be heart health month when I try to be extra kind to my ticker all month long. I've shared on here before about my dad's struggle with heart disease, so, heart health is a sensitive and important topic for me. You might be wondering what that might have to do with today's recipe, well, in looking up health facts about chipotle peppers, I came across this article that talks about the link between chipotle peppers and a reduction in cardiovascular diseases. Apparently, Capsaicin (found in chipotle peppers) widens and relaxes blood vessels, which can reduce blood pressure, aiding in the passage of blood through our veins and arteries. Also, a substance in chipotle peppers supposedly helps our bodies dissolve fibrin, which is a naturally occurring substance that helps us form blood clots, which also happens to be a cause of heart attacks and strokes.
But, that's not all.
High levels of capsaicin are supposedly said to be linked to a decrease in the spread of cancerous cells and metastasis, as well. Currently, more research is being done on the effects of capsaicin and chili peppers on different types of cancer. Which leads me to the main reason behind this post. Today, I am joining several other bloggers in the 2018 Good Cookies Food Bloggers' Valentine's Event in the fight against pediatric cancer with this Easy Raspberry Chipotle Chicken Curry which could be part of your at-home Valentine's day meal!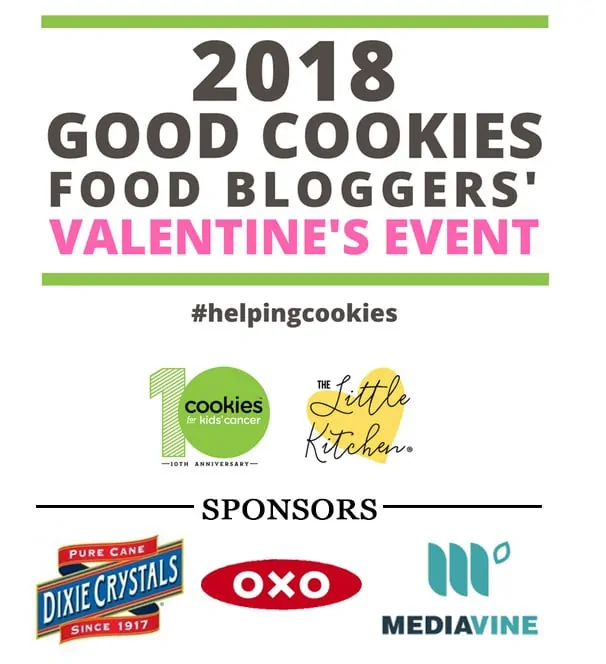 Did you know that cancer is the #1 cause of death of children by disease in the U.S.? There are 40,000 U.S. children actively battling cancer right now. With less than 4% of the National Cancer Institute's budget going to all childhood cancer combined, I knew it was important for me to get involved and donate to such an incredible cause. Please help us make a difference by donating to Cookies for Kids' Cancer! Our goal is to raise at least $3000. These three companies: Dixie Crystals, Mediavine and OXO have each pledged to match our donations raised through this campaign up to $3000!!! Thanks to many of you, that goal has already been reached, but, you can still donate until March 1st and help us make an even bigger difference! Thanks so much for your donation >> Donate here.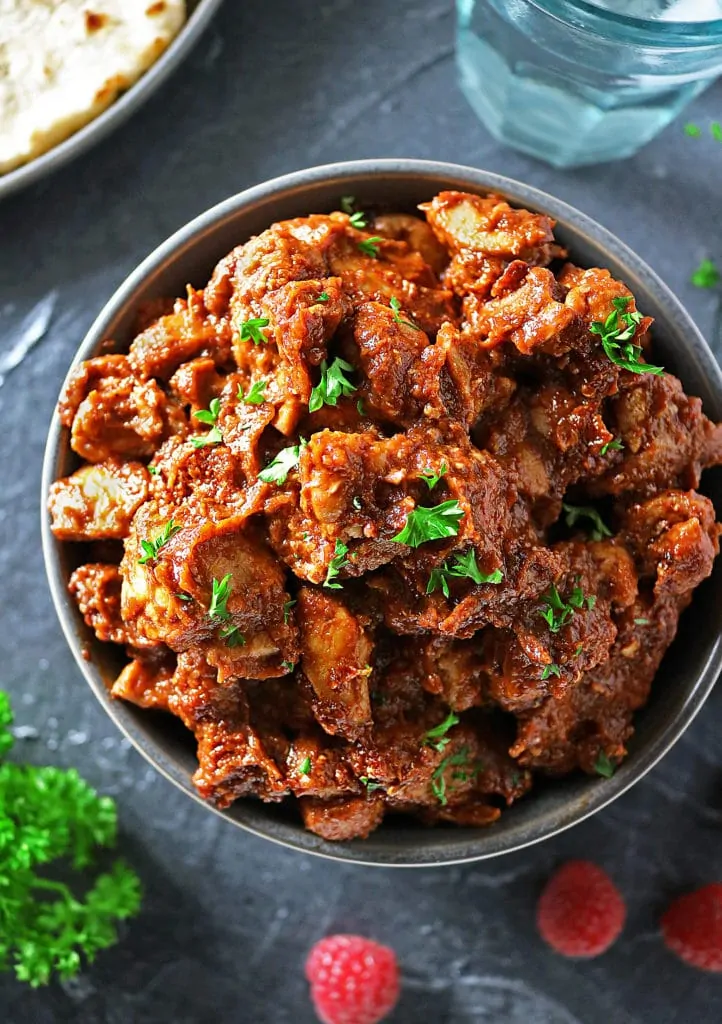 And…now that I have rambled on for almost 700 words, here's the recipe for this Easy Raspberry Chipotle Chicken Curry. The Raspberry Chipotle Sauce can be made upto a week ahead and you can whip it out and whip up something delicious for your loved one for Valentine's day or just because!

Looking for more Valentine's Day Recipe Ideas? Then check out these these recipes by fellow bloggers who also are part of the 2018 Good Cookies Food Bloggers' Valentine's Event:
Yellow Heart-Shaped Rainbow Funfetti Cookies from Julie of The Little Kitchen
Peanut Butter Cookie Cake from Julie of Julie Blanner
Cherry Coconut Macaroons from Miranda of Cookie Dough and Oven Mitt
Brownie Cookies from Mel of Mel's Kitchen Cafe
No-Bake Chocolate Candy Cookies from Debi of Life Currents
Double Dark Chocolate Chery Black Forest Cookies from Jamie of Southern Revivals
White Chocolate Valentine Madeleine Cookies from Marlynn of Urban Bliss Life
Pillowy Soft Sugar Cookies from Stephie of Stephie Cooks
Steak with Peppercorn Sauce from Sonja of Ginger & Toasted Sesame
Creamy Beet Risotto from Rachel of Copper & Verdigris
Valentine's Day Chocolate Sugar Cookies from Denise of Chez Us
Red Velvet Donuts from Gwynn of Swirls of Flavor
S'mores Brown Butter Panbanging Cookies from Marybeth of babysavers
Gluten-Free Chocolate Kiss Cookies from Audrey of Mama Knows Gluten Free
Gluten-Free Red Velvet Crinkle Cookies from Brianna of Flippin' Delicious
Rose Meringue Cookies from Kirsten of Comfortably Domestic
Raspberry Chipotle Chicken Curry from Shashi of Savory Spin
Double Chocolate Meringue Cookies from Dee of Meatloaf and Melodrama
White Chocolate Raspberry Smoothie from Sarah of Sarah Cooks the Books
Cream Wafer Cookies from Kelly of Live Laugh Rowe
White Chocolate and Raspberry Cookies from Wanda of My Sweet Zepol
Raspberry Fudge Cookies from Jessica of A Kitchen Addiction
Raspberry Cookies from Courtney of Know Your Produce
Syltkakor Raspberry Jam Cookies from Megan of Stetted
No-Bake Chocolate Tart from Rachel of Rachel Cooks
Heart-Shaped Chocolate Chip Cookies from Angela of About a Mom
Mexican Hot Chocolate Cookies from Lisa of TasteCookSip
Chai Latte Shortbread Hearts from Sue of It's Okay to Eat the Cupcake
Soft and Sweet Sugar Cookie Bars from Carlee of Cooking With Carlee
Strawberry and Cream Cookies from Ashley of A Cup of Charming
Cherry Cream Cheese Cookies from Lisa of Blogghetti
Galete Waffle Cookies from Shaina of Food for My Family
Almond Shortbread Cookies from Denise of addicted 2 recipes
Easy Strawberry Fudge from Chrysa of Thrifty Jinxy
Valentine's Day Mug Hug Cookies from Aimee of Southern From Scratch
Doughnut Sandwich Cookies from Bree of Baked Bree
Chocolate Nutella Cookies from Melissa of Modern Honey
Easy Crinkle Cookies from Amy of The Nifty Foodie
Chocolate Sugar Cookies from Becca of The Salted Cookie
Love Cake from Sara of Confectionary Tales
Meringue Cookies from Sara of My Imperfect Kitchen