Messaging below is intended for ages 21+ and is intended to be enjoyed responsibly, in moderation.
These Easy Hummingbird Cake Bars unite the elements of Southern Hummingbird Cake such as: pecans, pineapples and bananas into some delicious bars that pair beautifully with Francis Ford Coppola's canned Pinot Grigio for a snack, after-dinner treat, or even a picnic!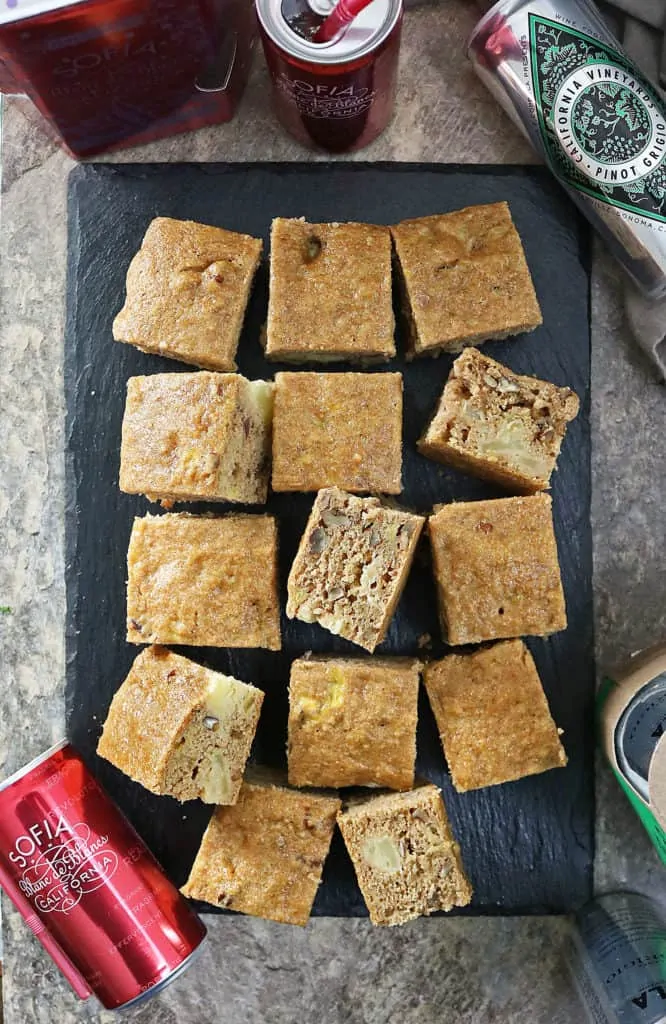 Last month, I had the pleasure of attending the United Wine and Grape Symposium in Sacramento, California. I wish I could say I was there to taste ALL the wine, alas, I cannot. However, I was there as one of three panelists for a panel on Influencer Marketing, which was the brainchild of the delightful Jennifer Leitman from the Francis Ford Coppola Winery, who was our moderator. The panel also included Kim Harris from Collective Bias (the largest influencer-generated, content marketing network) and Bri Stickland from Southwest Airlines.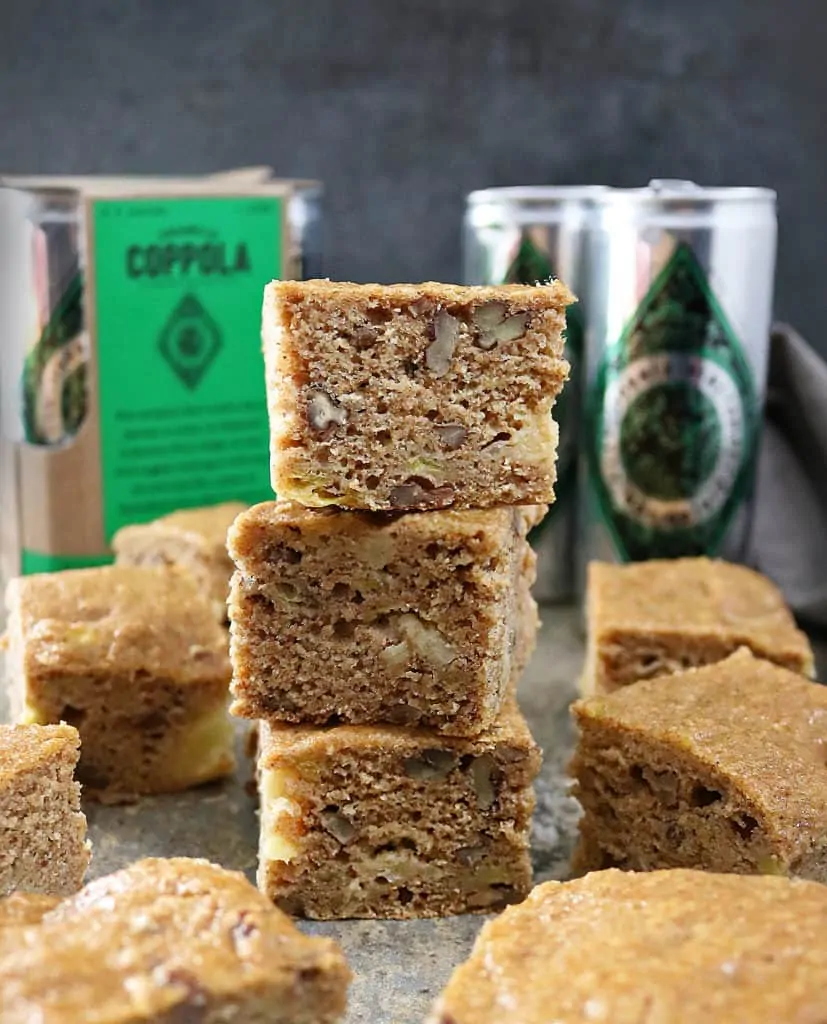 Now, months prior to my trip, I conjured up the assumption that being on this panel only involved submitting a few points on influencer marketing from my viewpoint as an influencer. At Jennifer's request, I submitted a few talking points that she turned into an effective powerpoint presentation, along with several points from Kim (as the spokesperson for the influencer marketing network) and Bri (the brand). Then, closer to the trip, I was informed that being on the panel would also involve speaking – actual speaking in public! To a roomful of strangers! EGAD! The last time I spoke in public, to a roomful of strangers was back during Public Speaking 101 in college! And that, my friends, was a long, long, time ago! Besides, I went to art school so a roomful of "strangers" was really a roomful of fellow art nerds! I guess I'm probably the only one who would assume that being on any panel would involve sitting there and silently surveying the room. EGAD! I even wondered if I could pull out of this trip at the very last minute… but my guilty conscience wouldn't let me. So, with sweatier-than-usual palms, I hopped a plane to Sacramento!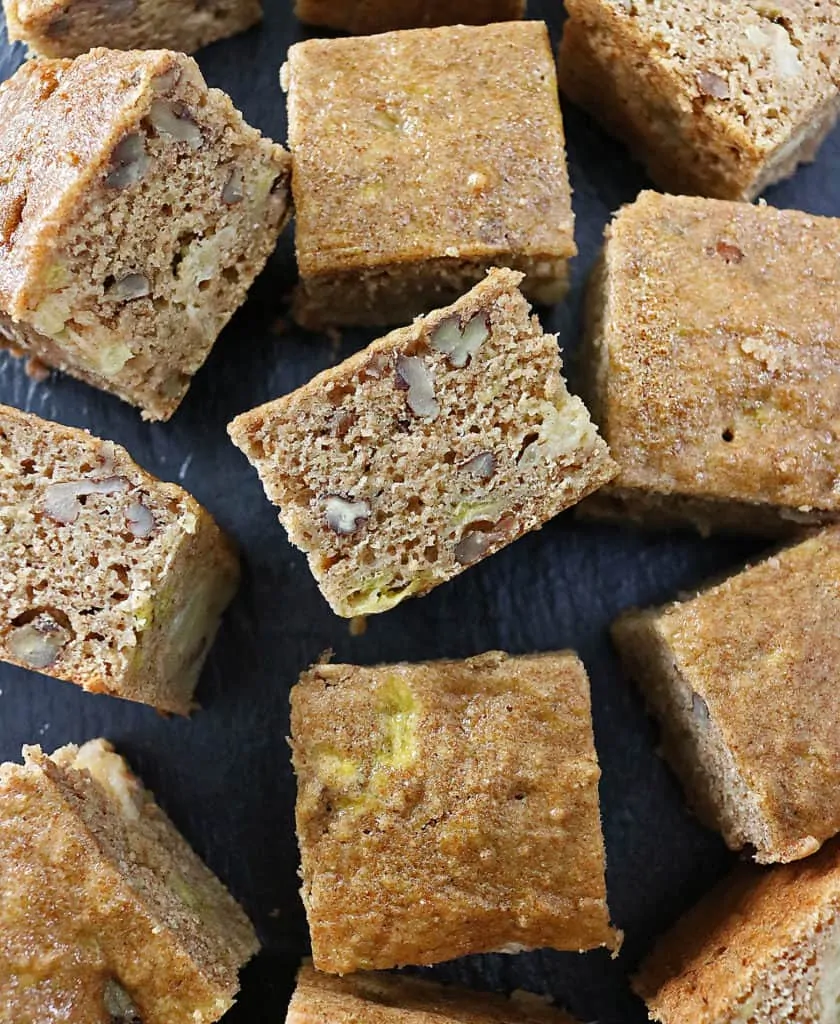 Now, I wish I could give you a play by play of what happened when it was time for our panel to take the stage. Yes, there was a stage and microphones and no wine, which means no one had a buzz on, which meant everyone would be paying attention to what was being said – EGAD! But, y'all, that whole hour and a half was pretty much a blur! Fortunately, other than this one picture by Devin Parr, I haven't seen any evidence of my time up on that stage. Phew!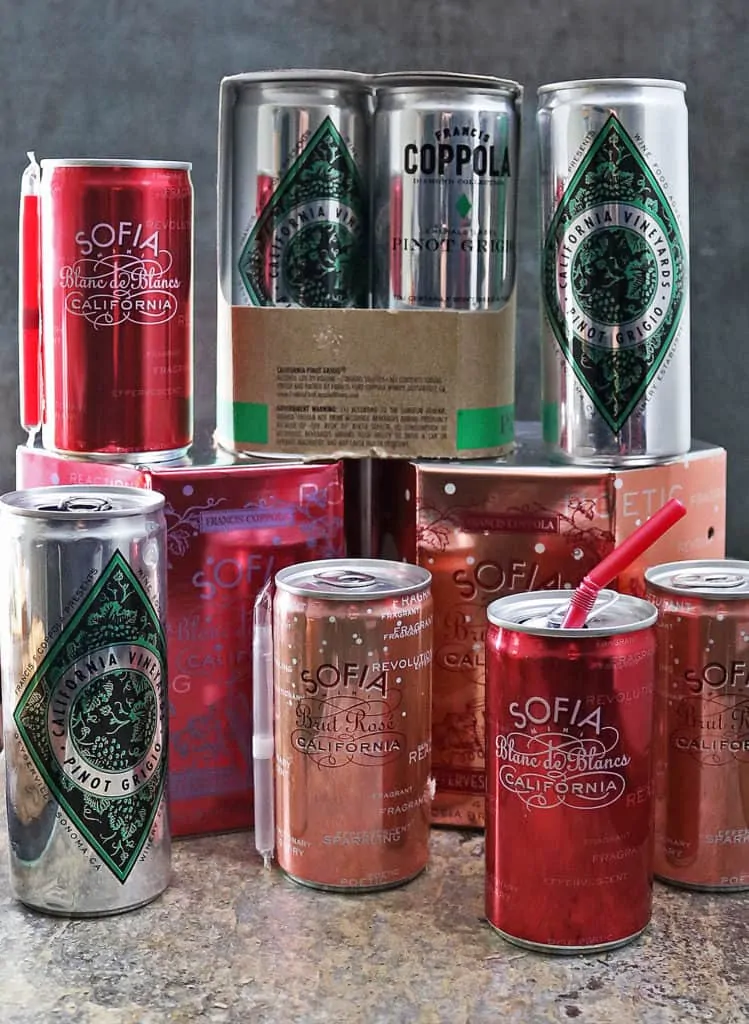 Shortly after I got back home and was trying to recover from "making a goose of myself" as my mom likes to say, I received an incredibly thoughtful package in the mail from Jennifer Leitman and the Francis Ford Coppola Winery. Prior to our panel taking center stage, we had gotten into a discussion on canned wines and I had mentioned that while I could find cans of Francis Ford Coppola's Blanc de Blancs (the cans are pretty handy on picnics or concerts or watching fireworks at Stone Mountain), I had a hard time finding cans of the Rosé at stores here in Georgia! Well, in the package was a 4-pack of the Rosé and a 4-pack of the Pinot Grigio! I had just whipped up these Easy Hummingbird Cake Bars you see here and figured I would try the each of the wines with these bars. Well, Francis Ford Coppola's Pinot Grigio paired so incredibly well with these picnic-friendly, snackalicious, Easy Hummingbird Cake Bars, that I figured I'd write this post!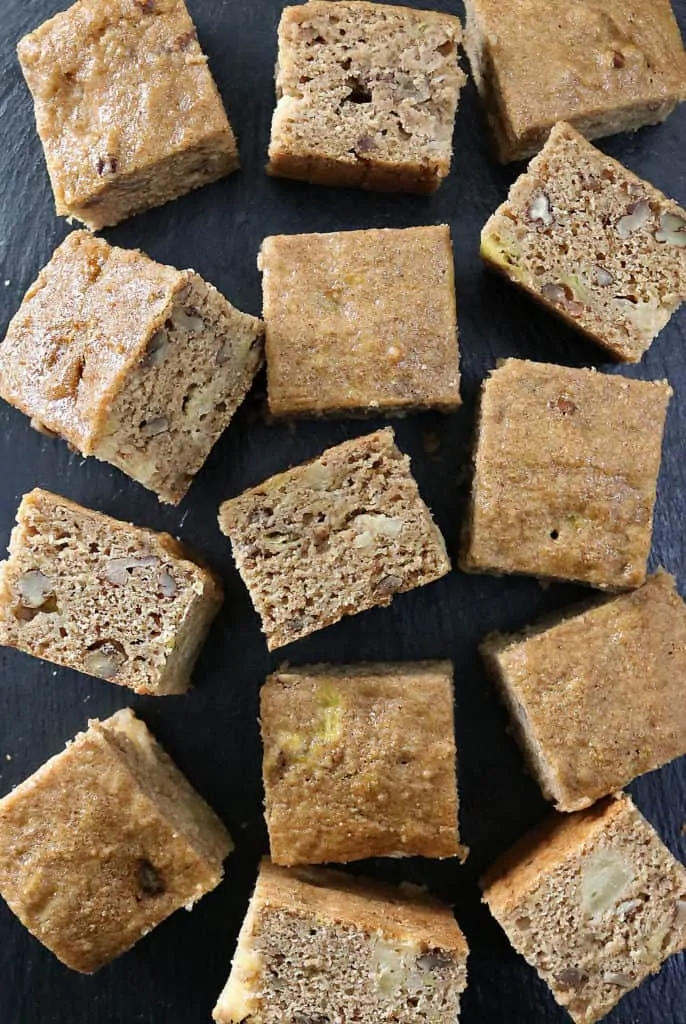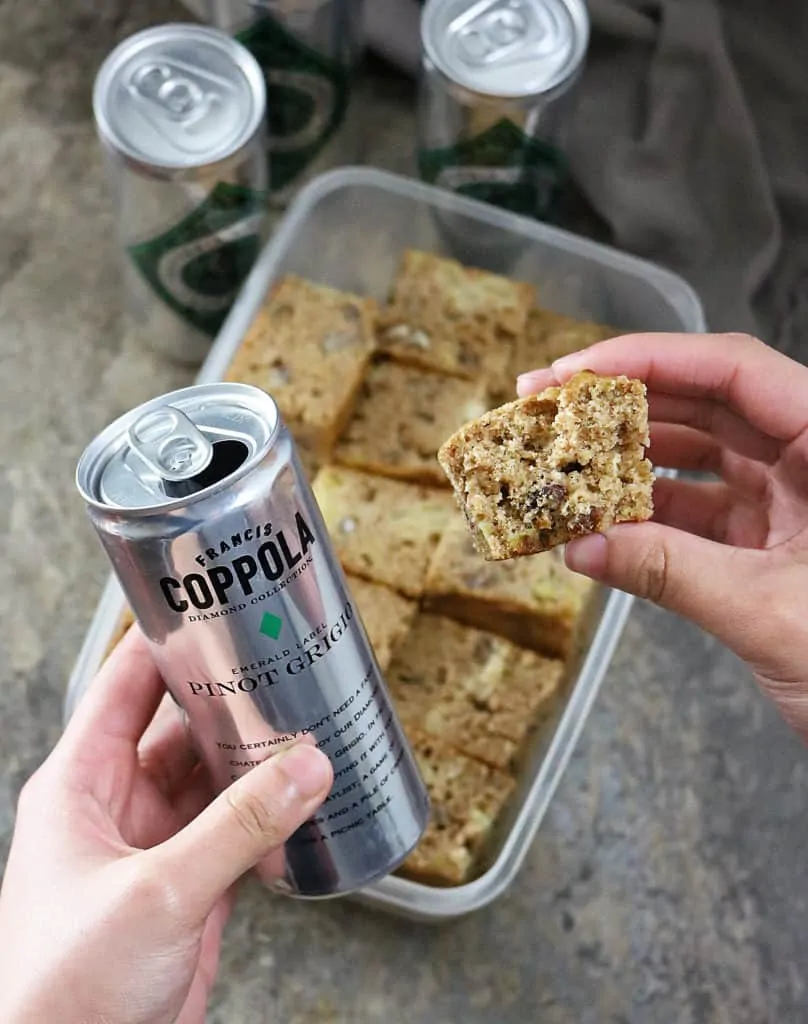 These Hummingbird Cake Bars (like these Hummingbird Cookies I made awhile back) have the elements of Southern Hummingbird Cake – which was first introduced to me by a friend and coworker when she whipped one up for my birthday, many moons ago. These bars are firmer than the cake but not as firm as the cookies were. Hummingbird Cake unites some of my favorite flavors and while I cannot justify eating Hummingbird Cake everyday (though I'd LOVE to), I can justify eating some form of the combo of ingredients, most days (helloooo Hummingbird waffles and pancakes and bars). So, if you happen to have a can of crushed pineapple, some pecans and some ripe bananas hanging out in your kitchen, you might not even need to make a trip to the grocery store to whip up these – and I sure hope you do whip up these!
It's warming up nicely here in Georgia – which means picnic time is right around the corner and you bet I'll be packing some of these Easy Hummingbird Cake Bars and a few packs of Francis Ford Coppola's Pinot Grigio to accompany them! Happy FriYAY, y'all! I hope y'all have a wonderfully delicious weekend!
Disclosure: While my trip to the Unified Wine and Grape Symposium was sponsored by the Unified Wine and Grape Symposium, this blog post is not sponsored by them or the Francis Ford Coppola Winery. I enjoy quite a few varietals of Francis Ford Coppola's Wine and decided to include it in a post that would express my sentiments best.