This warm, healthy potato salad is deliciously spiced and mayo free. Packed with dandelion greens, this unconventional potato salad makes a delicious side dish to any meal.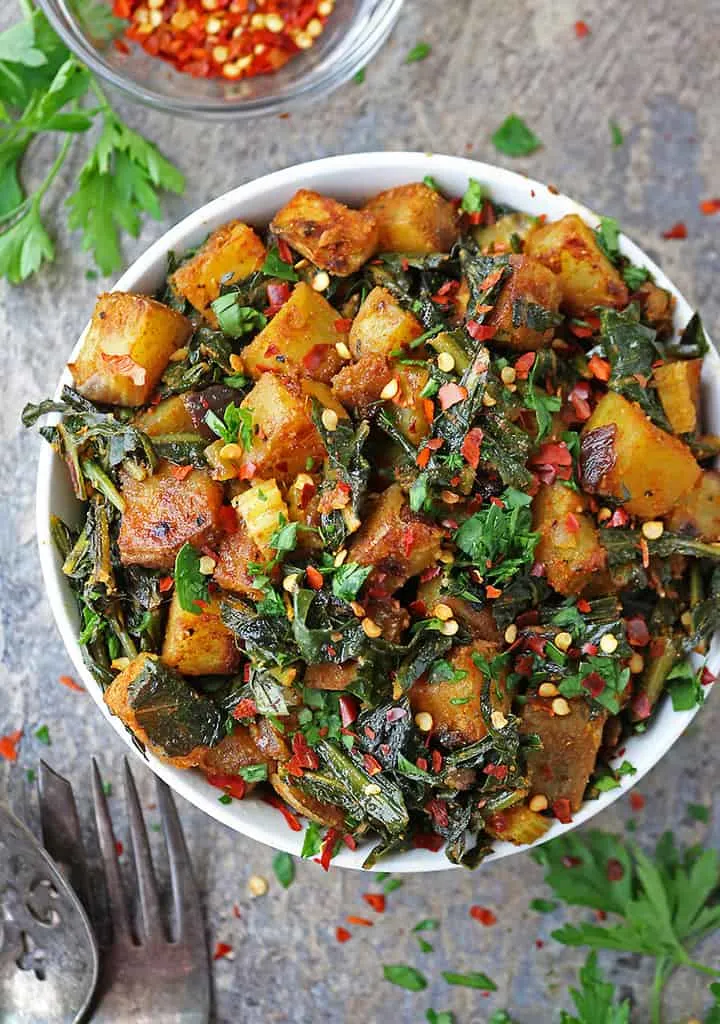 This is not your typical potato salad. For starters, this potato salad is a sauteed salad. It is delicious both warm and cold. I used one large Idaho potato in this but you can use a couple of medium red potatoes or any other potatoes you prefer.
Totally mayo-free, this potato salad is deliciously flavored with a tantalizing array of spices such as coriander, cumin, garlic, ginger, and turmeric. To me, this potato salad like this is comfort food. My daughter likes to call it a hug in a bowl. She says that phrase often when referring to food ~ especially food that involves any sort of potatoes.
This Potato Salad with Dandelion Greens is:
• Mayo- free
• Gluten Free
• Flavored with spices
• Healthy
I used to be able to find dandelion greens at a few farmers markets or specialty health food stores. But, these days I have been running into dandelion greens everywhere from Sprouts to Kroger.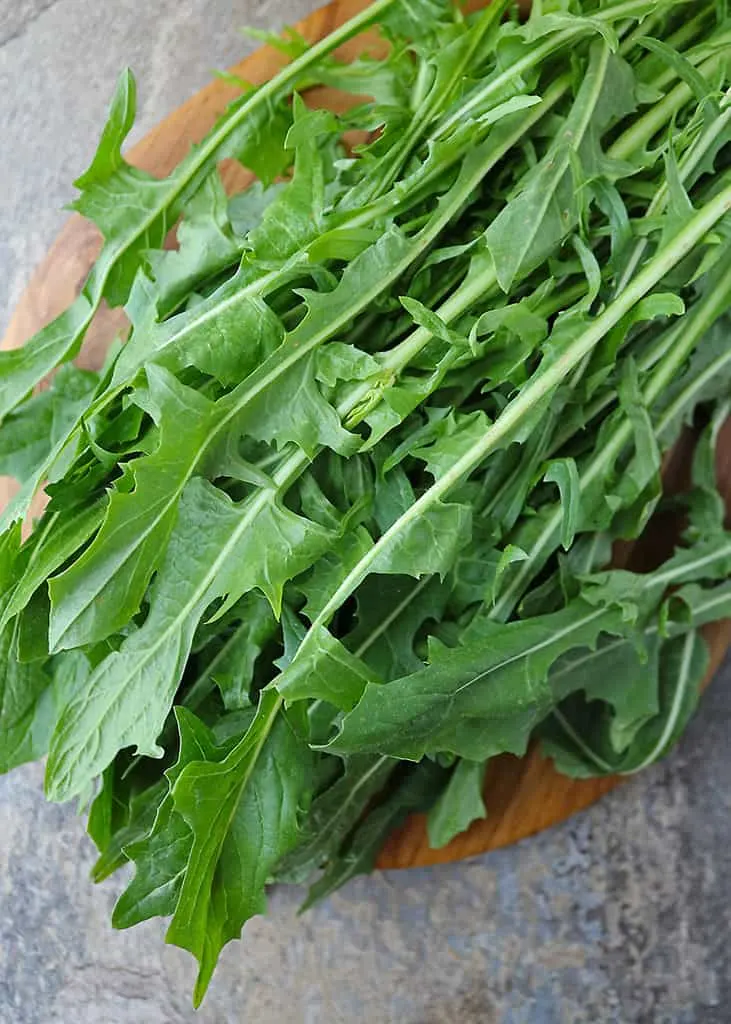 Slightly comparable to arugala, dandelion greens can be quite bitter and peppery, almost. But, I've found that letting them sit in some cold water with lemon slices in it or blanching them, tones down there bittery nature.
For this recipe, I simply submerged them in cold water with lemon before I dried them off and chopped them up. I sauteed them with garlic, onion, and ginger which added so much flavor to these greens.
This was my bowl of comfort food after a few crazy weeks of house hunting as well as working on an ebook. Unlike house hunting, the ebook is finally done and ready for download. If you are a subscriber to my blog posts, then you have been sent a copy of "5 Lunches, 5 Dinners, 500 calories or less."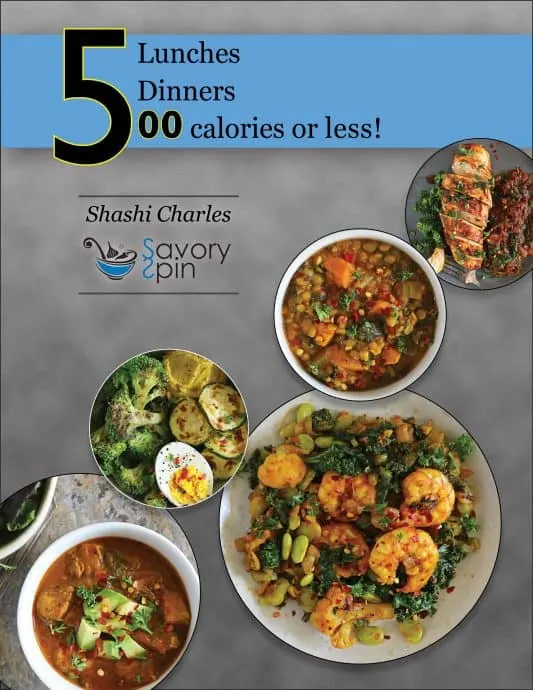 If you are new here, simply subscribe and you will get your FREE version of the 5 Lunches, 5 Dinners, 500 calories or less ebook in your inbox. This ebook came into fruition when a former classmate, who is currently a personal trainer and nutritionist, approached me about doing an ebook of low carb, spicy recipes, she could hand to her clients.
5 Lunches, 5 Dinners, 500 calories or less is a collection of 10 recipes. Each recipe is low carb and has a healthy dose of greens and proteins or plant based proteins. Each recipe relies on a combination of spices for flavor and taste. And, each recipe is easy to make with ingredients that you can find at your local grocery store.
Working on that ebook was a lot of fun – especially when it came to dining on the recipes in it!
Now that that ebook is done, I have been trying to focus more on house hunting and I am hoping the latest offer sticks, unlike the past three.
But, coming back to this recipe for Healthy Potato Salad with Dandelion Greens…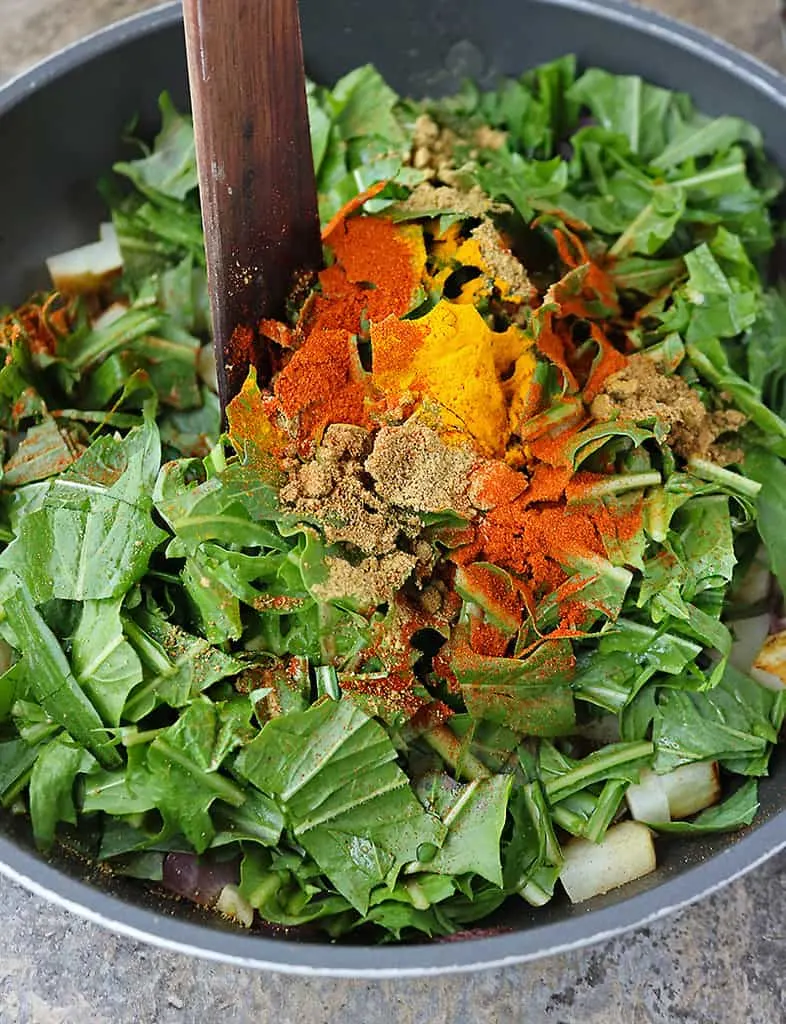 How to make Healthy Potato Salad with Dandelion Greens?
First off, submerge the dandelion greens in some cold water. Add a few lemon slices to the cold water and let this sit for about 5 minutes. Dry off the dandelion leaves and chop them up.
Also peel and chop up an onion and 4 garlic cloves. Peel and grate a 1 inch piece of ginger as well. And clean and chop up a couple stalks of celery. Wash off and chop up a potato as well.
Saute the onion in some olive oil.
Add in the garlic and ginger.
Then add in the potato and saute for about 10 minutes.
Add in the chopped celery and dandelion along with the coriander, turmeric, cumin, and smoked paprika. Saute about 10 more minutes, stirring often so all spices mix well.
Finally season with salt and pepper. Garnish with parsley and chili flakes and enjoy warm, at room temperature, or even cold.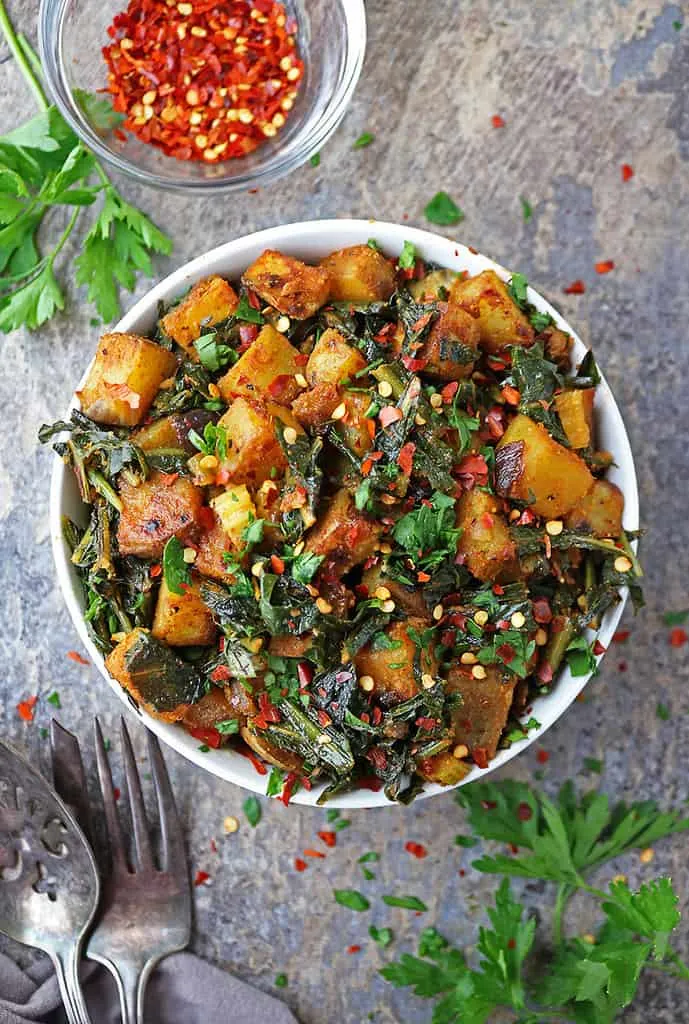 What does this Healthy Potato Salad with Dandelion Greens Pair with?
Serve this healthy potato salad with:
• Easy Chicken & Baby Bok Choy,
• Easy Air Fryer Honey Salmon,
• Za'atar Ras-el-hanout Chicken Spinach Dinner,
• Spicy-Sweet Air Fryer Chicken Tenders,
• Easy Sweet Spicy Air Fryer Salmon, and…
• Cilantro Lime Chicken.