Heavily flavored with garlic and ginger, this low carb, Easy Chicken & Baby Bok Choy Recipe is such a tasty and light dinner on a weeknight when you don't have a lot of time to spend in the kitchen.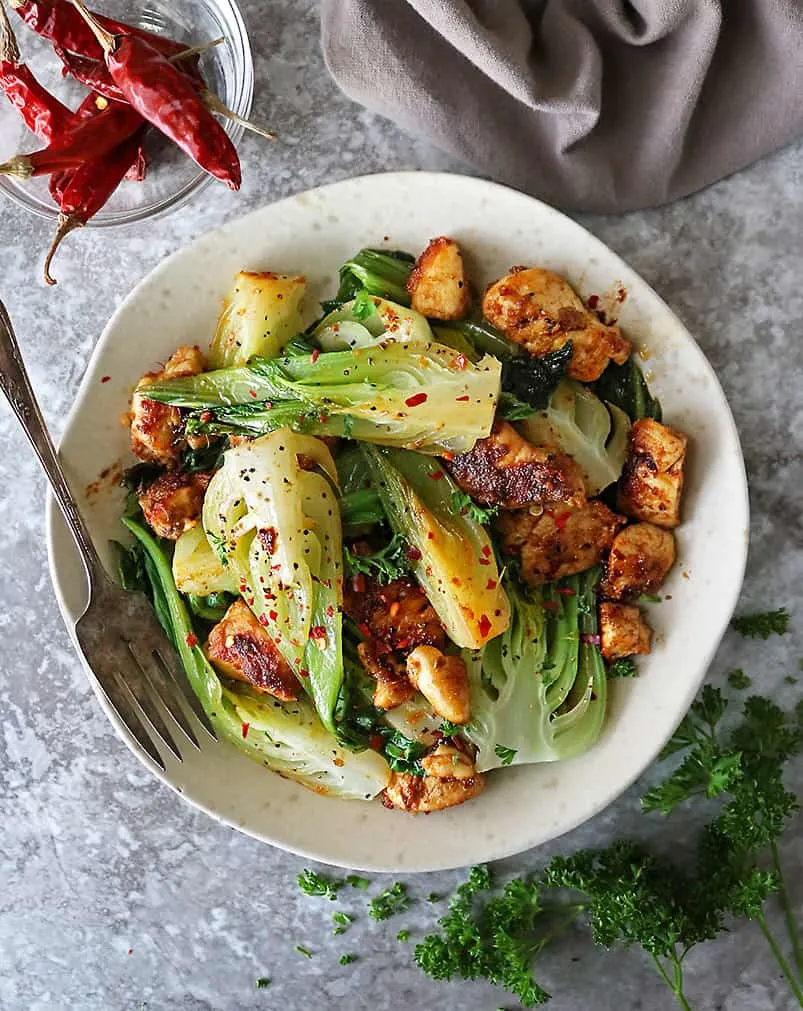 This past weekend, we spent a lot of time looking at houses near the Dekalb Farmers Market. If you live in Atlanta, you have probably been to, or heard of, this foodie landmark. If you don't live here – gosh, this place is worth the move!

I kid, I kid.
Seriously though, the Dekalb Farmers Market is a mecca for foodies like you and me. They have everything from fresh produce to spices to wine to a restaurant ~ all under one roof!
Over the years, I've spent an absurd amount of time perusing their aisles filled with new fruits, unique veggies, fresh fish, and insanely cheap spices. Even these days I manage to find something there I had not tried before.
Speaking of foods that have not been tried, when my daughter was a toddler, we used to play a foodie-game. I'd take her to a grocery store or the Dekalb Farmers Market and have her pick out a new-to-her fruit or veggie for us to bring home and try together.

Yes, I hid avocado in chocolate cupcakes and beets in pizza dough, but, I also wanted her to make food-related choices and enjoy trying out her choices.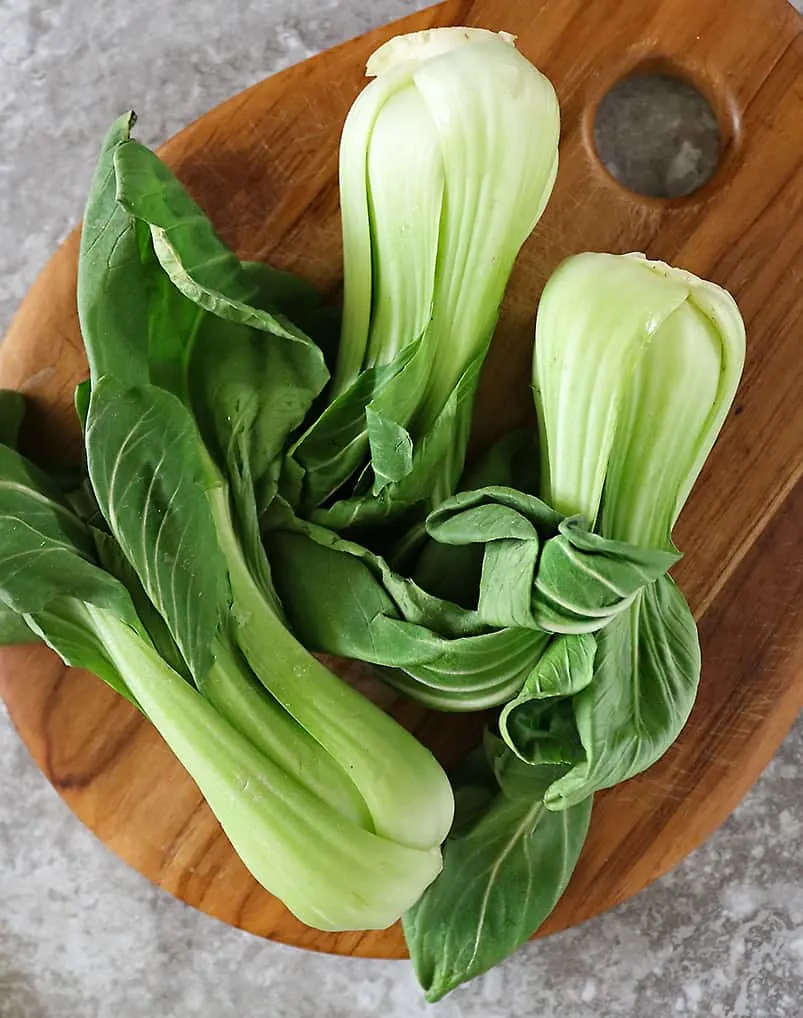 Well, this weekend, after our last house tour, we headed to the Dekalb Farmers Market to de-stress. And, it was here that we spotted some fresh baby bok choy.

Neither of us had tried baby bok choy before, so we both figured we would relive the game of her youth and bring some home to try.
We got home late and I really wasn't in the mood to cook. But, after my daughter put away all the veggies and fruits, there was no room for the baby bok choy and a package of chicken. So, I decided I would whip up a super quick dinner with them.
After consulting Google, I realized that baby bok choy cooks super fast. So, I decided to chop up the chicken and saute it along with some grated fresh ginger and grated fresh garlic, first.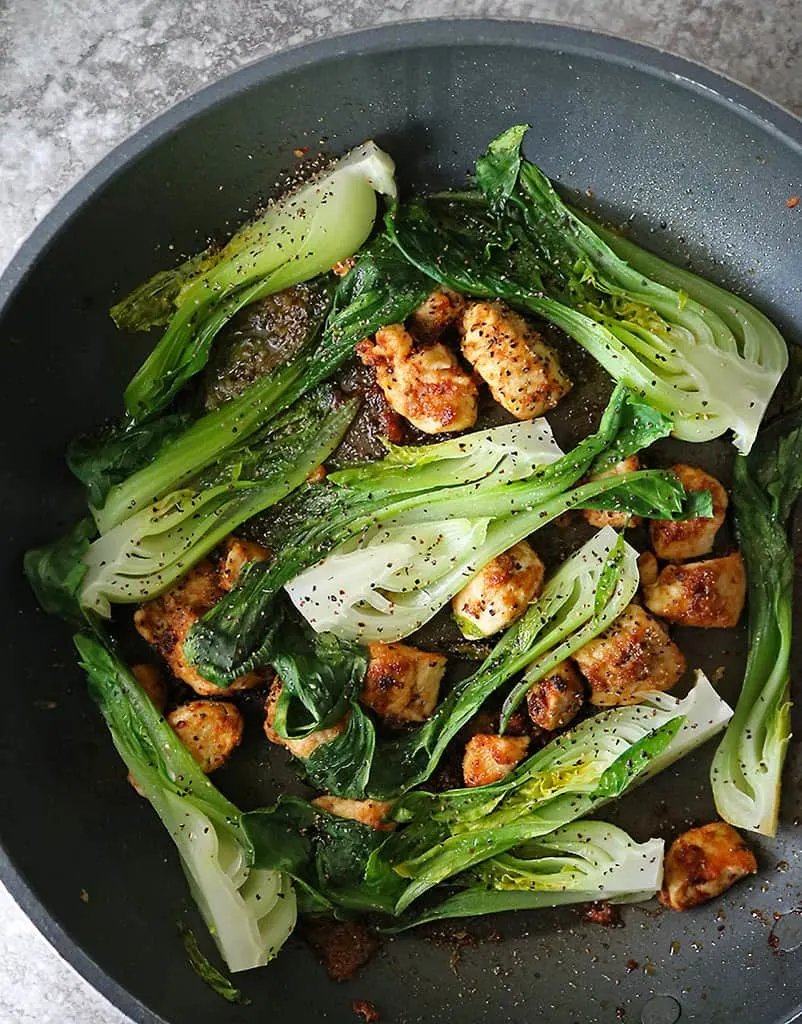 Grating garlic can be tricky ~ but grated garlic ads so much flavor to this. The trick is to find garlic with extra large garlic cloves.
How to make this easy chicken & baby bok choy dinner?
I started off this dish by sauteing the chicken with some grated garlic and grated ginger. I also added in some coriander and smoked paprika to flavor the chicken. Then, I added in the baby bok choy. As the chicken and baby bok choy sauteed, the ginger and garlic started to brown a bit. I figured I would just serve the chicken and baby bok choy and leave the bits of browned ginger and garlic in the pan.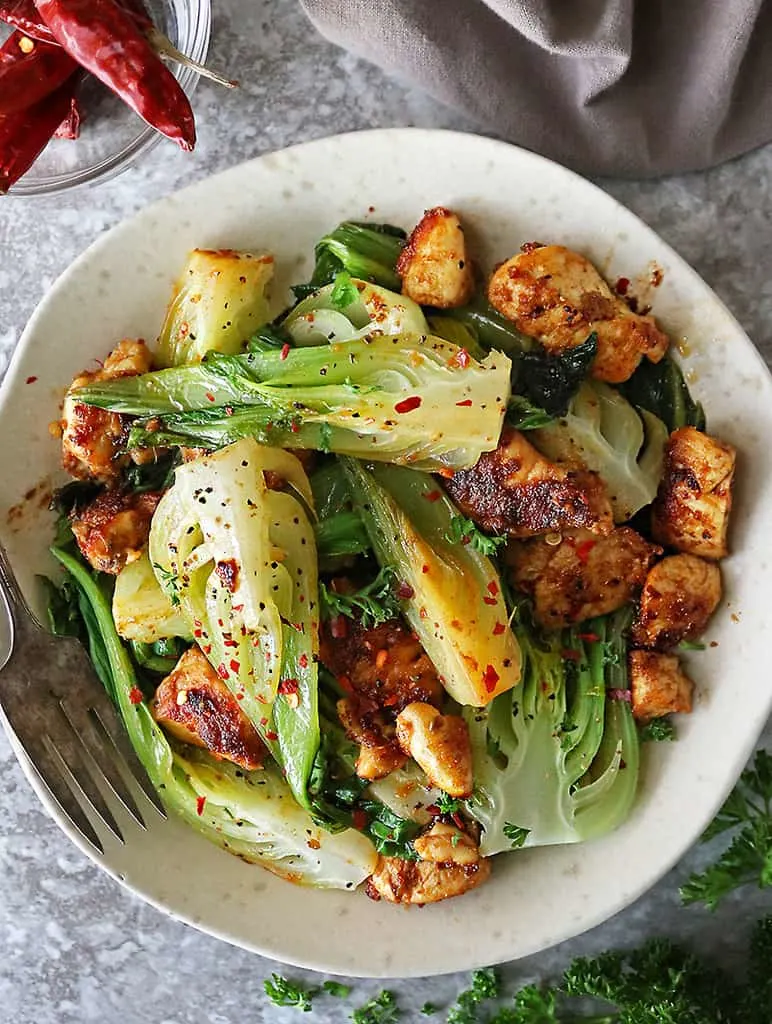 It was then that my daughter grabbed a spoon to start her taste testing. She grabbed some of those browned bits of ginger and garlic and started swooning. She insisted that those bits were incredibly flavor packed and had to make it onto the plate.
And I gotta say, she was right! Those browned bits and pieces of ginger and garlic made this chicken and baby bok choy dinner one heck of a tasty meal. And, it doesn't hurt that from preparation to plating, this easy, tasty recipe took less than 25 minutes!
Pair this chicken and boy choy recipe with some vanilla-infused rice, or some hummus biscuits, and follow it up with some of these caramel popsicles for a delicious and filling meal.