This one-pot Za'atar Cacio e Pepe Recipe with chicken and olives is a spin on traditional Cacio e Pepe. Inspired by Yotam Ottolenghi, this recipe gets a flavor boost from za'atar and garlic and is a quick and easy family favorite in our home.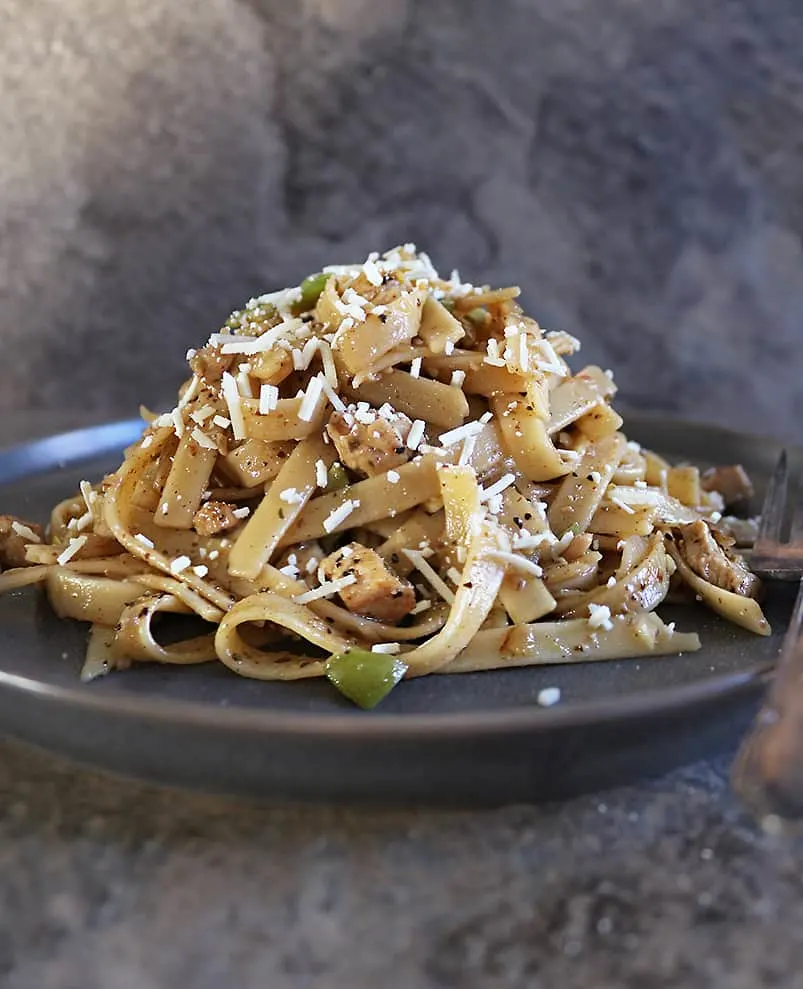 My daughter loves Cacio e Pepe. When we had the good fortune to vacation in Rome, she enjoyed Cacio e Pepe like I enjoyed Crema di Limoncello. And, ever since, she has been churning out silky smooth Cacio e Pepe whenever I put her in charge of making a side dish to dishes like this sweet-spicy air fryer salmon or this cilantro lime chicken.
Recently, when I asked her to whip up some Cacio e Pepe to accompany this Miso Glazed Cod, she surprised me with Ottolenghi's jazzed up Za'atar Cacio e Pepe recipe.
Now, I love my pasta with an extra dose of spices, so I had to have seconds of this tangy, herbally version.
Traditional Cacio e Pepe is usually made by tossing prepared pasta in a creamy pepper sauce that consists of pasta cooking water, butter, pepper, and Pecorino Romano.
However, Yotam Ottolenghi added a generous helping of za'atar along with pepper to his version. I have come to understand that adding other ingredients to traditional Cacio e Pepe can be frowned on, with some saying that Cacio e Pepe just isn't Cacio e Pepe if the traditional recipe is altered.
But, I found it hard not to share this dish which is a delightful fusion of Italian and Middle Eastern cuisines – especially since I added my own spin and turned it into a one-pot meal with the addition of garlic, onion, chicken, and olives. I know, I know, this just might be blasphemy! But, it is well worth a try.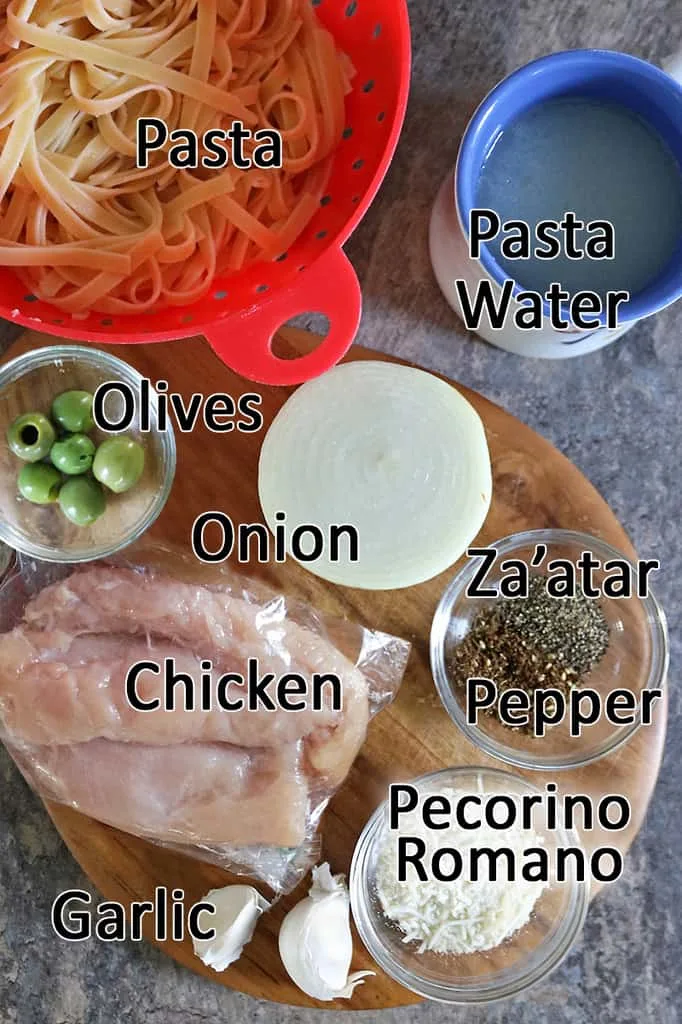 We love this Za'atar Cacio e Pepe Recipe because:
✔️ It is SO flavorful,
✔️ It is So easy,
✔️ It is a one-pot meal,
✔️ It requires ONLY 9 pantry-staple ingredients,
✔️ And, did I mention – it is SO incredibly tasty!
Wondering what is Za'atar?
Za'atar is a highly aromatic herb and spice mix, usually consisting of sumac, sesame seed, and herbs. It is popular in Middle Eastern and Mediterranean cuisine. I love using za'atar in chicken dishes as well as in pasta dishes like this one.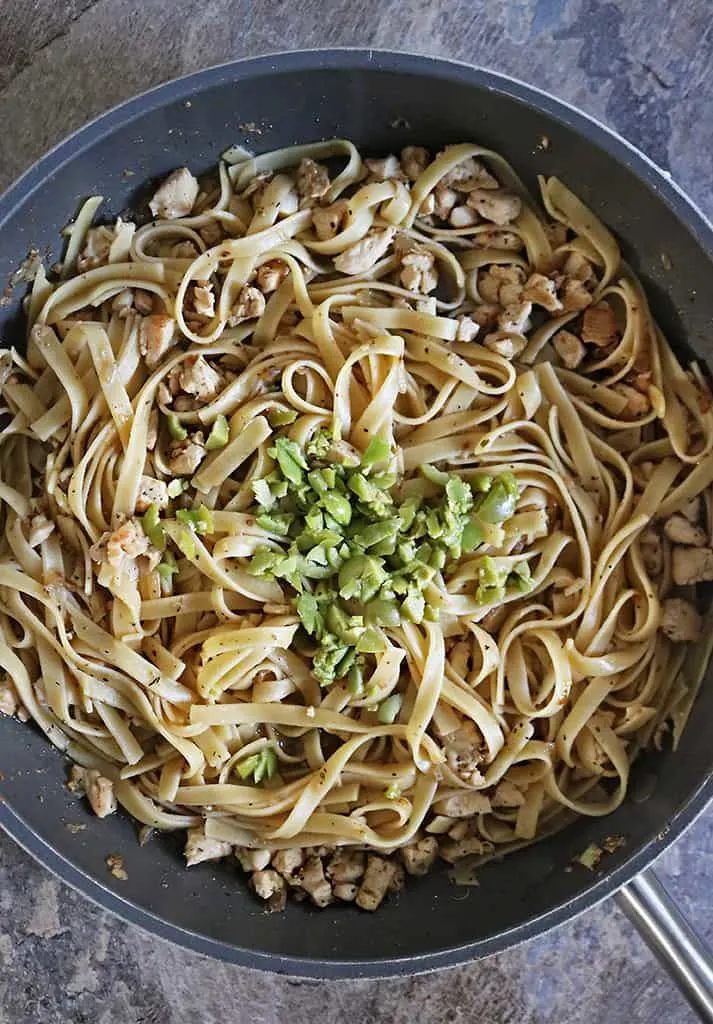 How to make this Za'atar Cacio e Pepe:
Start by bringing the water to a boil.
Add the pasta to the water along with a bit of salt. Let pasta boil until it is barely al-dente (about 2 minutes less than package specifies to boil it for), stirring often so the pasta does not stick.
When done, drain the pasta water into a container and set pasta and pasta cooking water aside.
Add oil or butter to a large pan.
Add in the za'atar and pepper and stir so the spices toast.
Add in the chopped onion and garlic and stir well.
Then add in the finely diced chicken and stir well.
Add in the cooked pasta and pasta water
Stir in the Pecorino Romano
Add in the olives if you are using them.
After this Za'atar Cacio e Pepe has rested for a few minutes, dig in and enjoy!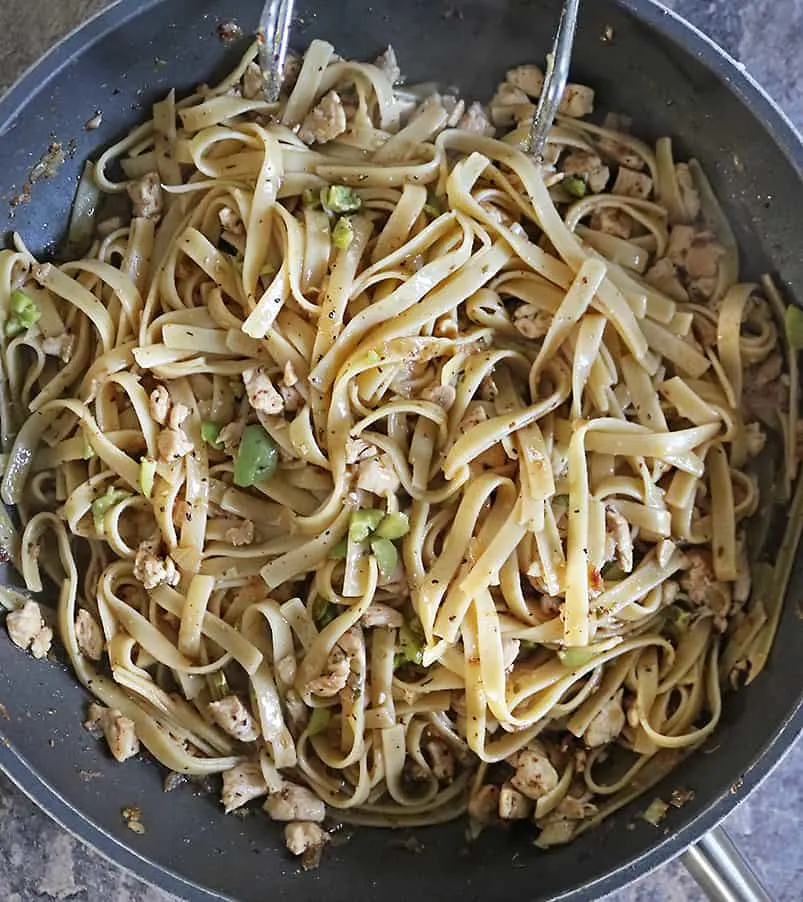 Tips:
These are a few tips that I found handy when making this easy one-pot Za'atar Cacio e Pepe Recipe:
Salting the water the pasta is cooking in infuses the pasta and the water with flavor which means a more flavorful Cacio e Pepe.
Stirring the pasta frequently while it cooks keeps it from sticking together – especially since it is boiling in less water than normal.
Cooking the pasta until it is barely al dente – usually, a couple of minutes before the package says to cook it for. The pasta will continue to cook when it is added to the pan with the pepper, za'atar, and chicken so best it is undercooked and not overcooked as that could lead to a mushy Za'atar Cacio e Pepe.
Using a pan that is large enough to hold all of the ingredients.
Adding pepper and za'atar to the pan in the beginning part of making the "sauce" so they can toast up a bit and impart so much more flavor to this dish.
Letting the pasta rest for just a few minutes before serving so the sauce can thicken up a bit and the flavors can develop further.