With a whole plethora of taste-bud tingling abilities, this tangy, spicy, sweet pineapple and mango marinade/sauce made with El-Yucateco sauces, will have you craving more with each taste! It elevated these Spicy Pineapple Mango Chicken Packets to a whole other level.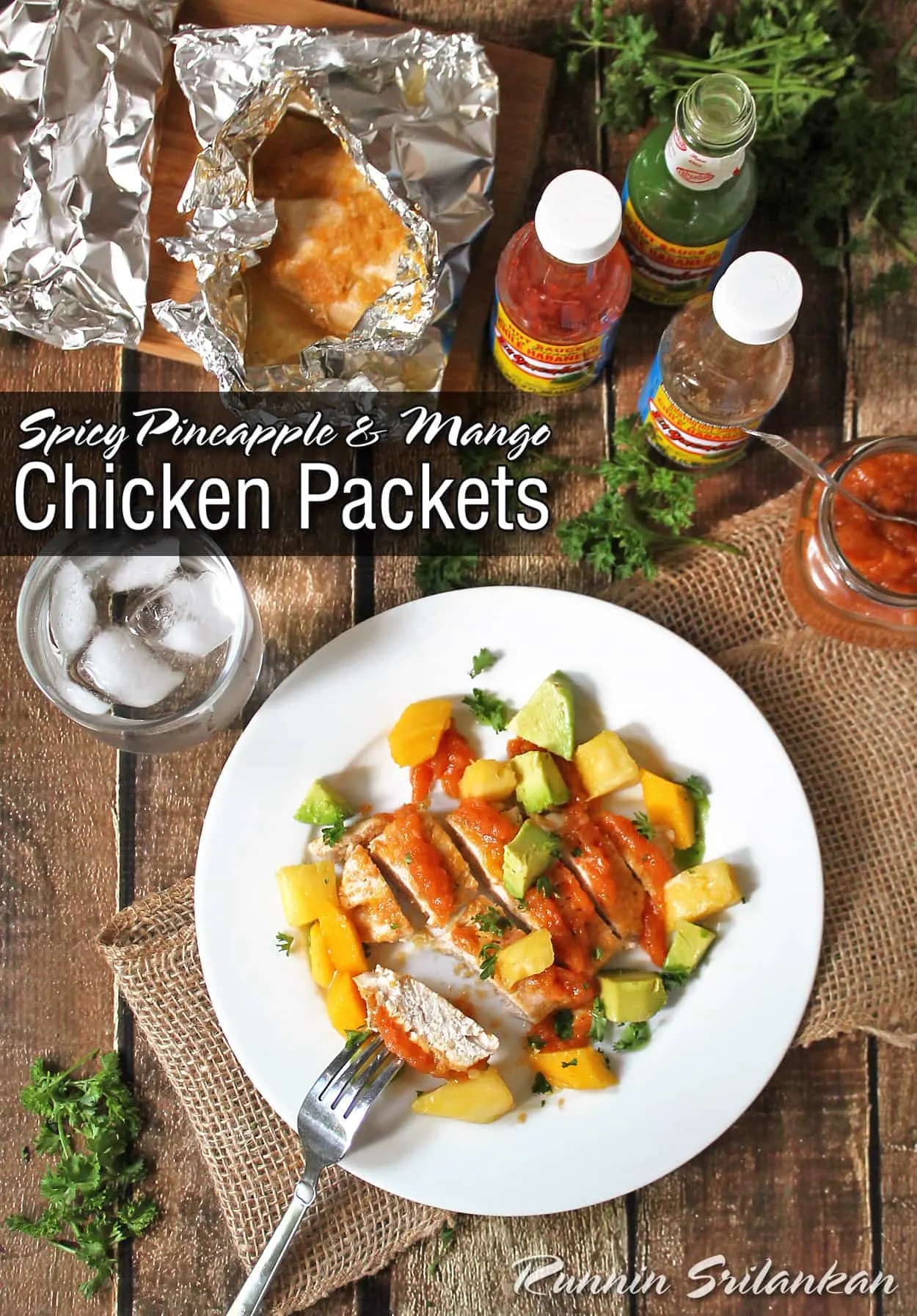 If you and I were to take a gastronomical tour of Sri Lanka, we would have to travel with two kegs!
One filled with iced water and another one filled with iced water!
You see, Sri Lankan cuisine is spicy!
Super spicy!
It is the feisty and bolder cousin to Indian cuisine.
At one point in time, Sri Lanka was said to have had 60 different types of chili peppers growing there. Spices are added to balance off just about everything, even traditional favorite fruits like mangoes and pineapples.
Any combination of chili peppers with fenugreek, or cardamom, cumin, fennel seed, coriander, garlic, ginger, turmeric, or even Ceylon cinnamon (Ceylon is the old name for Sri Lanka), is sure to tingle your tastebuds, and, leave you (like an adrenaline junky) longing for that spicy tingle again.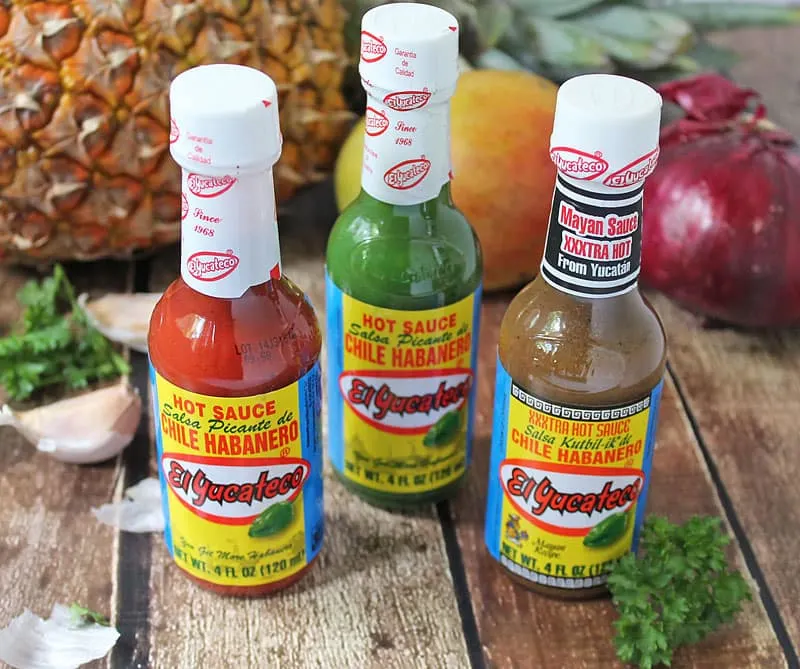 When I was younger, I thought I had had enough of sweating my way through a spicy Sri Lankan meal.
Then we moved, and, that's when I begin to miss that spicy tingle.
In my adult years, I've been chasing that spicy tingle for a while. In Atlanta, we don't seem to have any Sri Lankan restaurants, and so I am always looking for sauces and spices that pack a punch of spice and flavor, so I can make my own version of SriLankan–fusion–type–cuisine at home.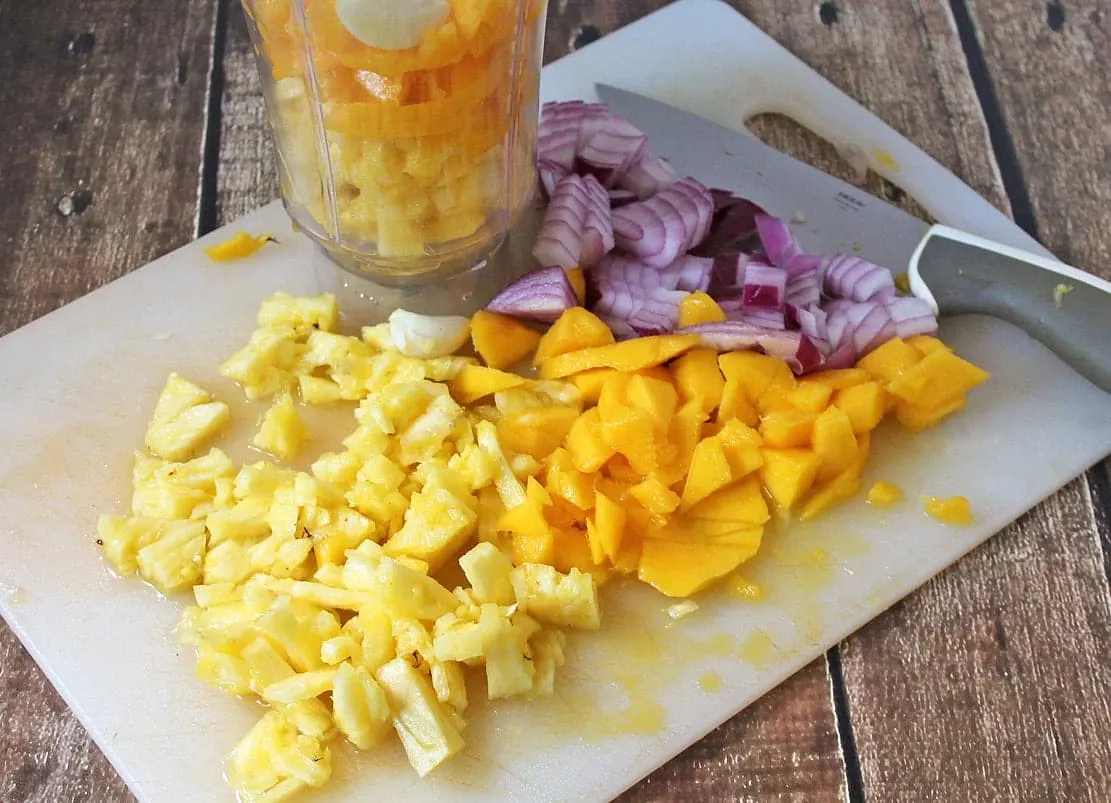 Recently, when I was wandering down the Ethnic Foods Aisle at my neighborhood Publix, I stumbled on El Yucateco Red Habanero Hot Sauce, El Yucateco Green Habanero Hot Sauce and El Yucateco XXX Habanero Hot Sauce (Kutbilik) sauces; and, I figured I would bring them home and try adding them to a marinade of pineapple and mangoes I'd been working on. I had tried using jaggery and habanero peppers with the pureed mangoes and pineapples but was just not getting the effect I desired.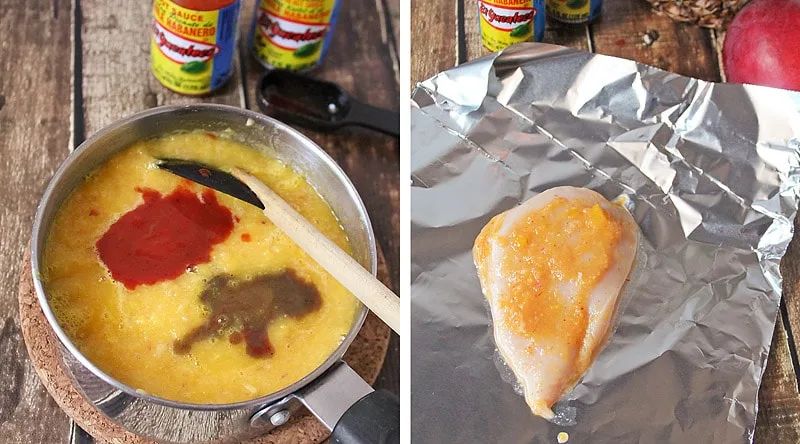 When I got home, I went about recreating that marinade/sauce:

• First, I cut up and pureed some pineapple and mango in a blender,
• I then threw in half a red onion and some garlic into the blender
• And, added a generous amount of El Yucateco Red Habanero Hot Sauce and El Yucateco XXX Habanero Hot Sauce (Kutbilik) to this.
I am not sure if it was the fresh habaneros that El Yucateco Red and XXX Hot Sauces are said to be made with, or the fact that they have less vinegar than some other hot sauces, but, the resulting marinade was so deep in flavor – rustic and earthy with a major flavor punch and spicy kick.
• I then added half of this sauce to a ziplock bag along with some chicken and let it marinate for a couple of hours.
• I added the remaining half to a saucepan and let it simmer down for about 30 minutes on a very low heat – stirring it occasionally.
• Then, I wrapped the marinated chicken in foil packets
The foil not only helped lock in the flavor of the marinade but, it made the chicken incredibly tender as well.
• And grilled them for about 25 minutes
• I then topped the chicken with some mangoes and pineapple and avocados – and thoroughly enjoyed it!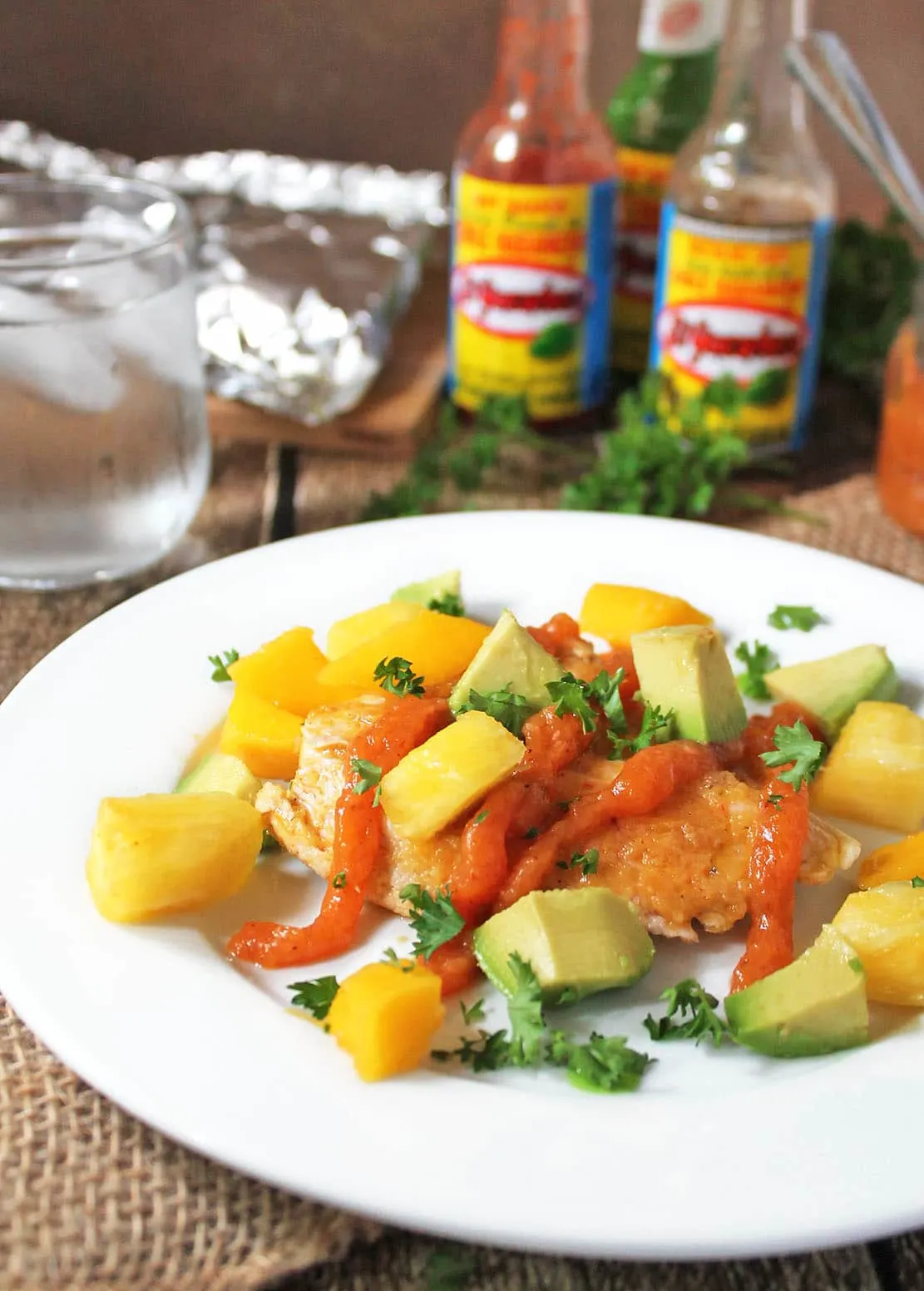 The spicy pineapple and mango sauce is definitely is a must-try! I have made and remade this sauce/marinade and used it on veggie burgers and salmon and it has been such a wonderful flavor boost! And, it seems to get better when it sits in the fridge for a while – that is if you can make it last.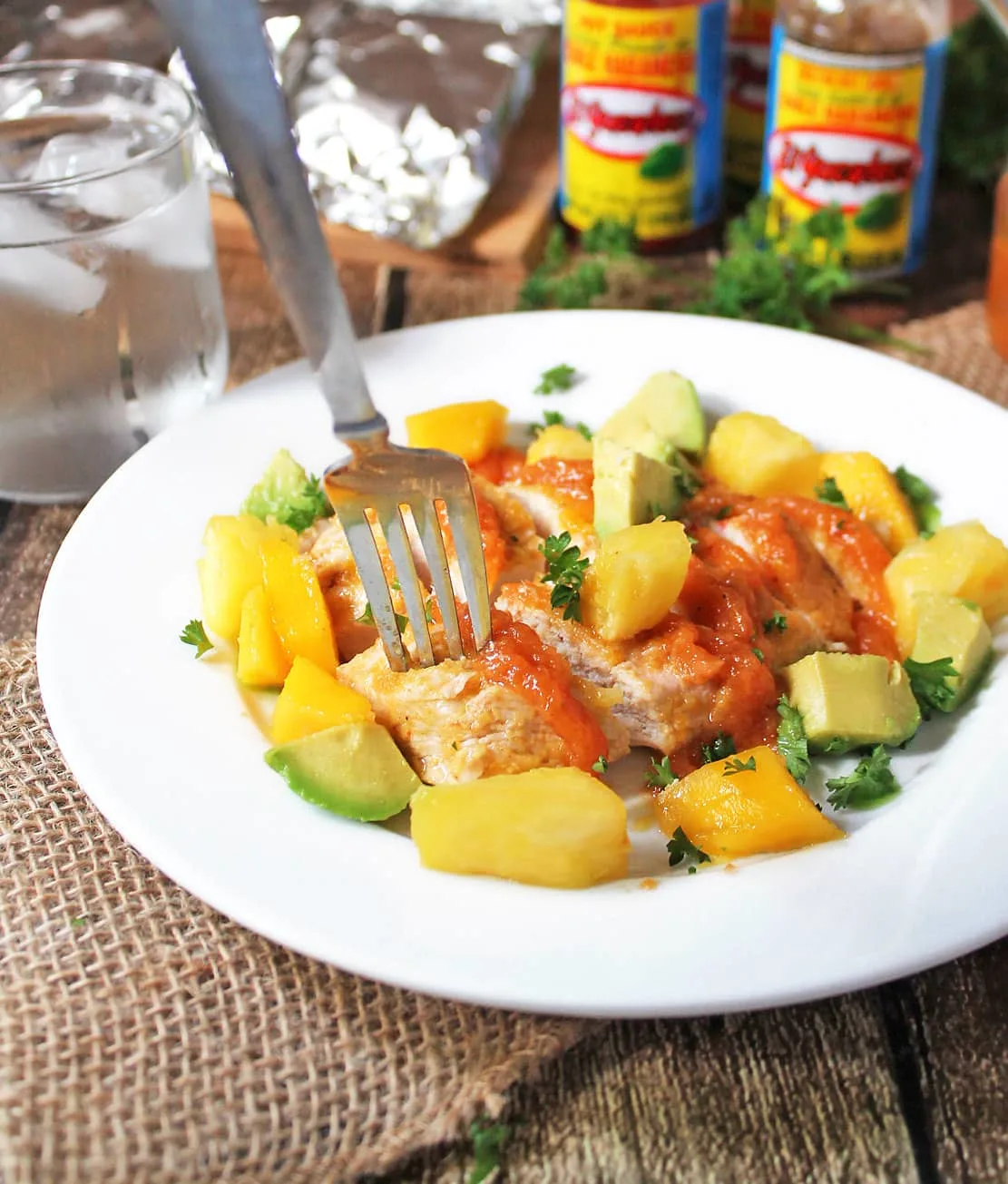 Would you like to add an incredible grill, a cooler full of Yucateco, and grilling tools to your patio this summer? Well – then – El Yucateco has got you covered! Enter their giveaway to win a "Deluxe grilling package" now!