This pumpkin curry consists of baked fresh pumpkin that is served in a deliciously spiced coconut sauce. It is an easy recipe that results in a delicious vegetarian curry that has been a crowd-pleaser every time it has been served.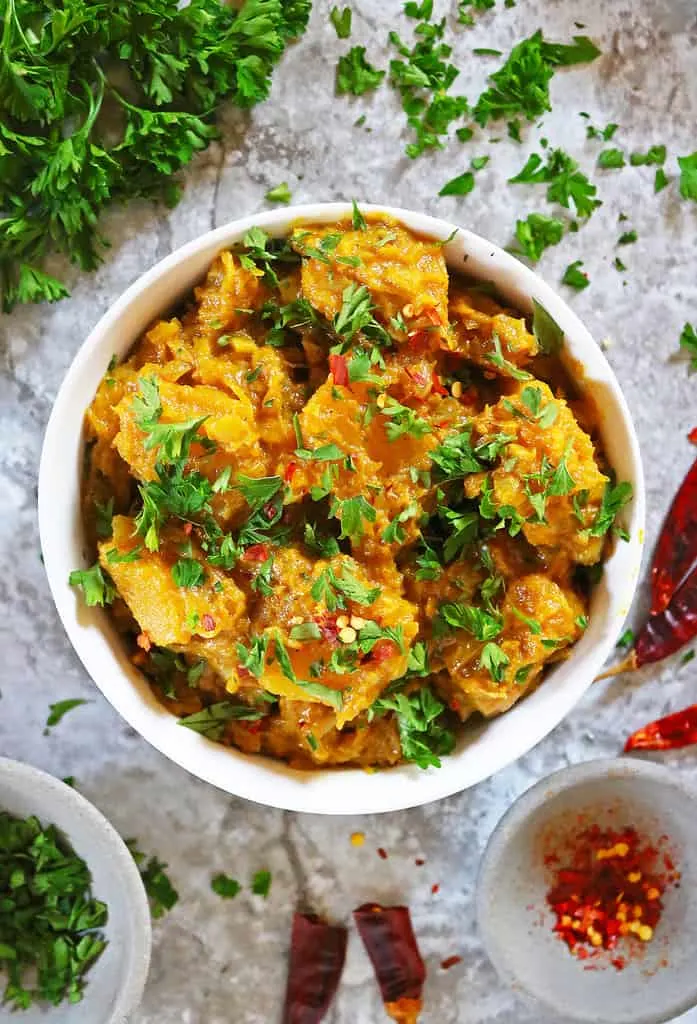 This is one of those curry recipes that you simply cannot mess up. It is ridiculously easy and so quick to make.
This pumpkin curry is an adapted version of the pumpkin curry my mom used to make when my sister and I were young. She would add string beans to her curry for texture and color. I remember it was always a deliriously delicious blend of sweet pumpkin suspended in a thick, spicy curry sauce.
This pumpkin curry is not as spicy as the pumpkin curry of my youth. And, this is made with half as many spices as well.
You will need a fresh pie pumpkin, also known as sugar pumpkin, sugar pie pumpkin, or sweet pumpkin, for this curry.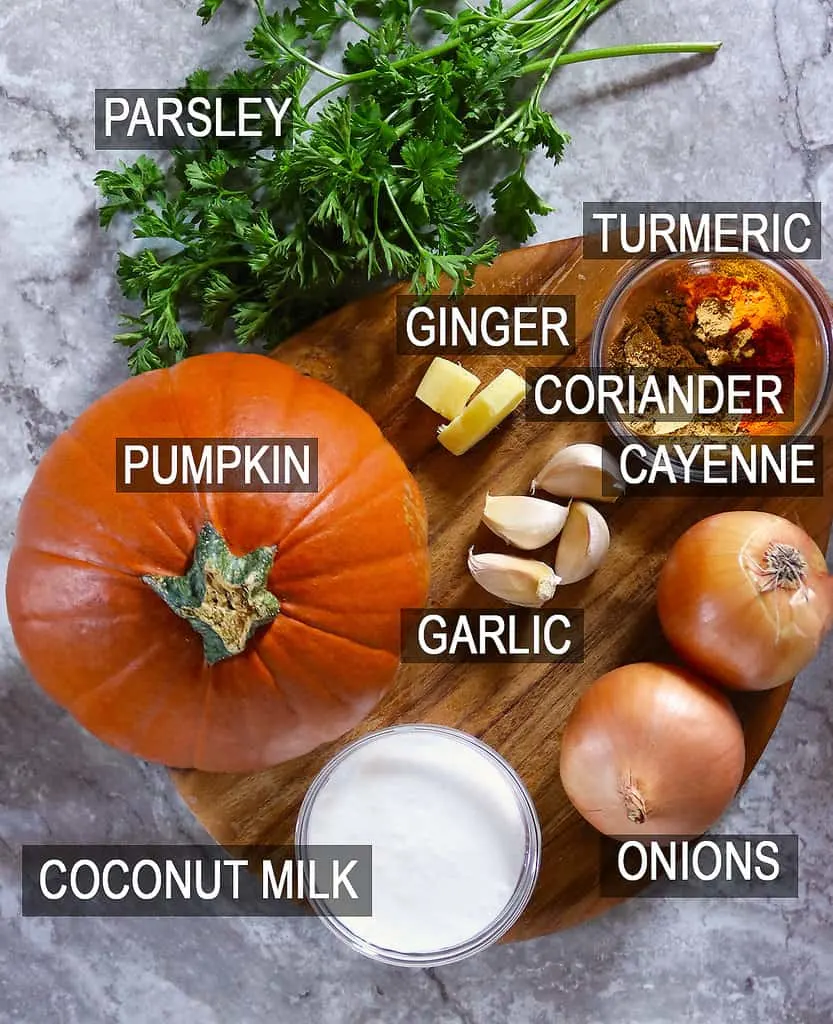 What is a pie pumpkin?
Pie pumpkins are usually smaller, sweeter, firmer, less fibrous, and denser than carving pumpkins. In texture, they resemble butternut squash and kabocha. If you want to read more about pie pumpkins, check out this article. They are usually a great option for pumpkin pies and other baked items such as cookies and bars ~ and, this curry.
Seeing we are still in pumpkin season, it should be fairly easy to get your hands on one.
In addition to fresh pumpkin, you will need only 7 other ingredients.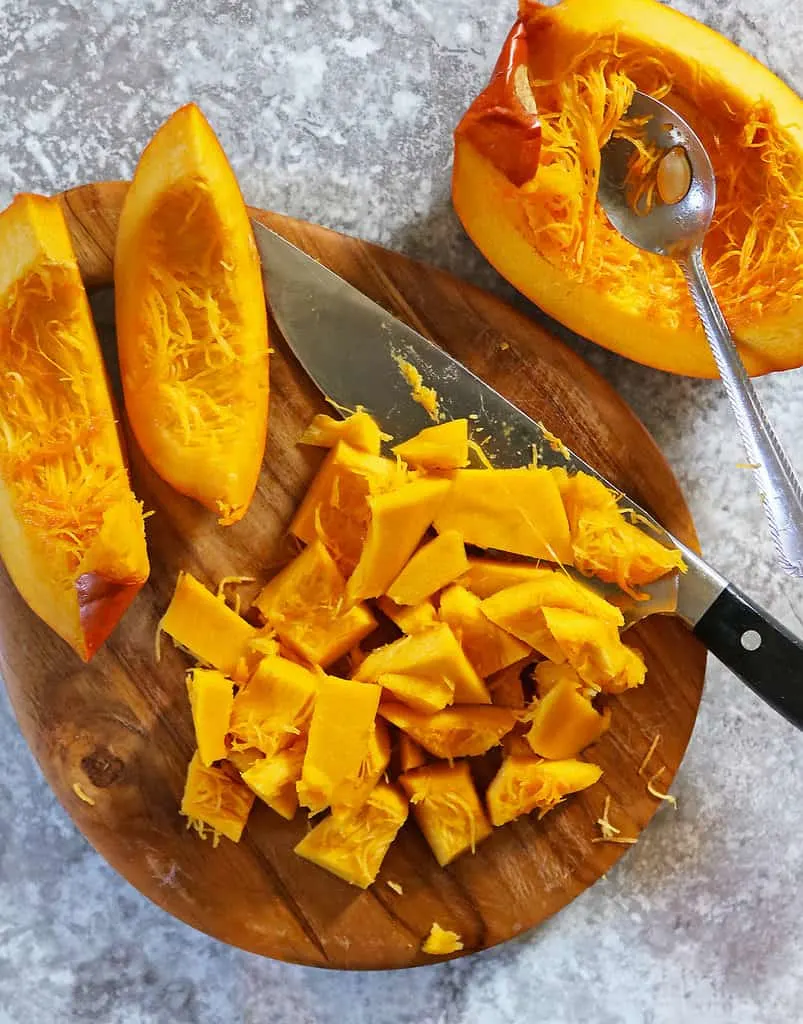 What are all the ingredients to make this pumpkin curry?
You will need the following 8 main ingredients along with some water, salt, and pepper. These ingredients are:
Onions
Fresh yellow onions were what I used. If you are not a fan of peeling and dicing onions, then there are usually peeled and diced onions sold in the produce section of most grocery stores.

Garlic
Make sure to use fresh garlic in this curry, as garlic powder would drastically alter the flavor of this curry. Just as with the onion, you can get peeled and diced garlic in the produce section of most grocery stores.

Ginger
Fresh ginger, along with fresh onion and fresh garlic, makes up the base of this curry. As with the onion and garlic, make sure to use fresh ginger and not powdered ginger in this recipe.

Coriander
I used ground coriander in this recipe. You should be able to find coriander in most grocery stores.

Cayenne
I used ground cayenne in this recipe to add a bit of a punch to it. And, to balance off the sweet pumpkin.

Turmeric
Ground turmeric was the last of the ground spices used in this recipe. With turmeric, a little goes a long way.

Pie pumpkin
As mentioned earlier, I used pie pumpkin, also known as sugar pie pumpkin, sugar pumpkin, or sweet pumpkin.

Coconut milk
Full fat coconut milk rounds off this curry, uniting all the spices beautifully. But, you could also use light coconut milk or any milk of your choice. As the full-fat coconut milk I had on hand was so thick, I opted to thin it out with some water. You could also use vegetable stock instead of water if you prefer.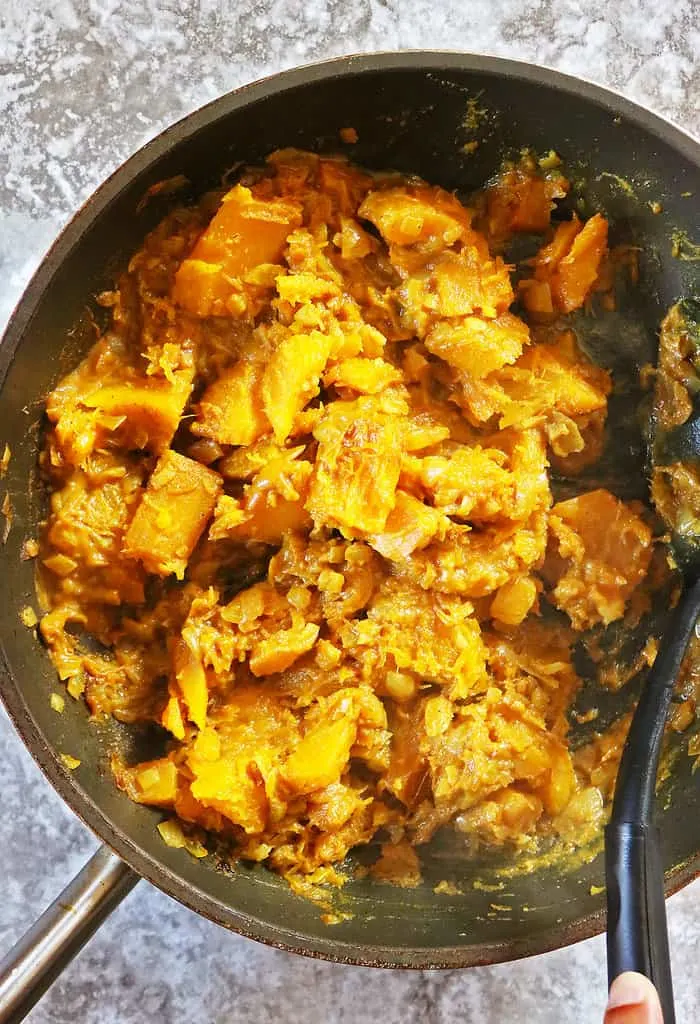 Tips to making this curry
When prepping the pie pumpkin to bake, poke it with a fork before popping it into the oven.
Ideally, the pie pumpkin should be baked for 20-25 minutes, so it is not too soft. However, if by chance you happen to overbake it slightly and the resulting pumpkin is a tad bit too soft, don't fret, you can still use it in this curry. Just make sure to scoop out the pumpkin seeds before cutting it up to use in this recipe.
Sauté the onions, ginger, and garlic for about 10 minutes over medium-high heat or until they are ever so slightly golden. This adds so much flavor to this pumpkin curry.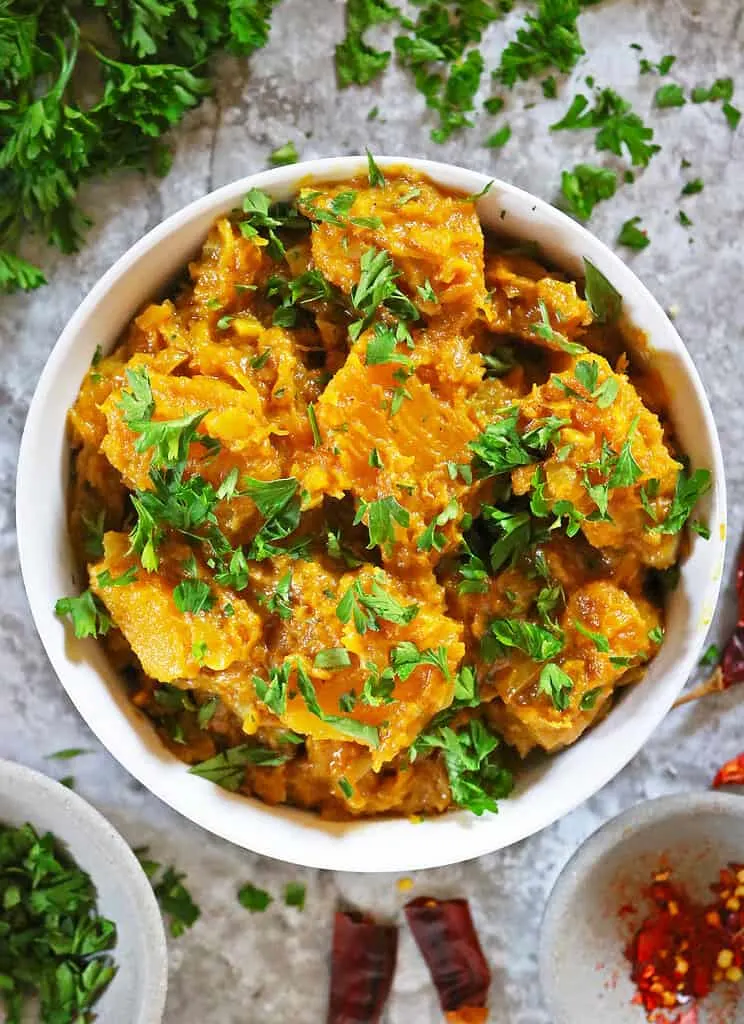 How do you serve this curry?
You can serve this curry with some black bean curry and some roti, white rice, cauliflower rice, or turmeric quinoa for a delicious and wholesome, plant-based meal.
Or, you can serve this as a side dish in a glorious feast along with cashew curry, broccoli croquettes, potato puff pastry baskets, three-bean curry, and some mango or pineapple chutney.
How do you store leftovers of this recipe?
You can store leftovers of this curry in an airtight container in your fridge for up to 5-7 days. To serve, you can heat up a portion in the microwave or in a saucepan over medium heat.