Made with only eleven ingredients, this slightly spicy, easy sweet potato curry recipe results in a dairy-free, healthy, and delicious curry. Serve it with some naan or rice for a satisfying weeknight meal.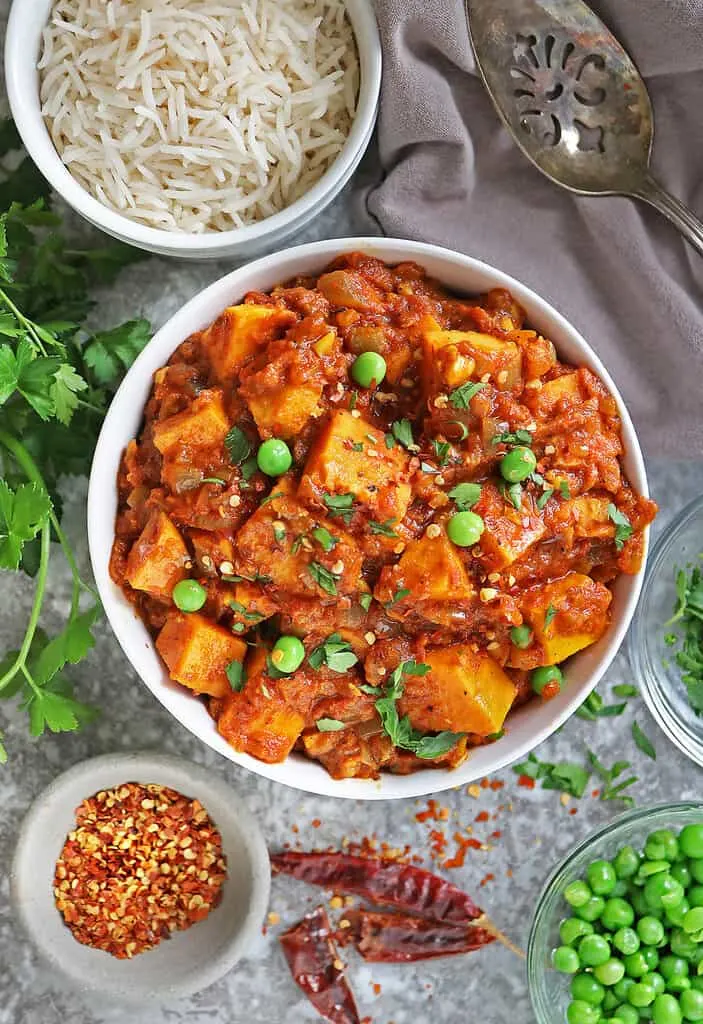 In my quest to curryfy ALL the things, I figured I would make sweet potatoes my next victim in this easy curry.
This delicious curry is creamy and comforting. It is a harmonious blend of ever so lightly caramelized onions, ginger, and garlic, tossed with sweet potatoes and simmered in a well-spiced, creamy sauce.
On curry night, this sweet potato curry is a fantastic vegan option. Wait, you do have a curry night, right? Maybe it's on your calendar after taco night?
Now, let's dive into the recipe for this easy curry…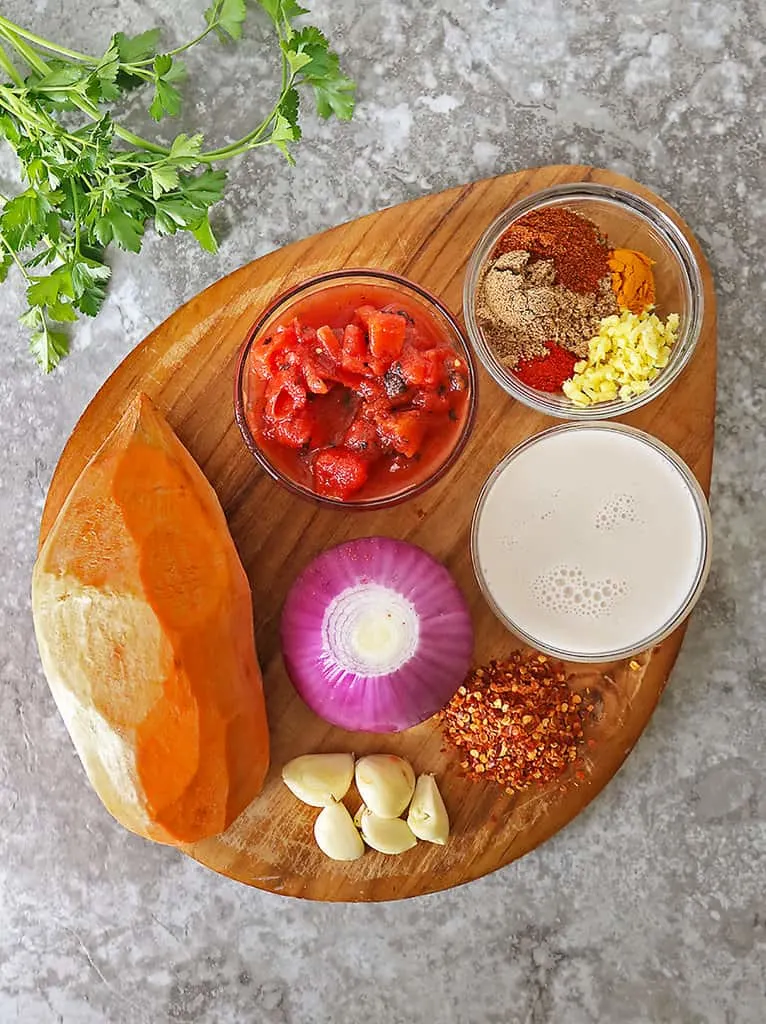 What are the ingredients needed to make this sweet potato curry?
This sweet potato curry can be made with only 11 ingredients that you can find at most grocery stores. Most of these are pantry staples for me for when those curry cravings hit. And those 11 ingredients are:
Sweet potato
I used one large sweet potato. As the skin on it was not very appealing, I peeled it off with a vegetable peeler, before chopping up the potato into bite-sized pieces.

Onion
I used a red onion. If you have a yellow onion on hand, feel free to use that. I have not noticed a big difference in taste between these two when they are sautéed. If chopping onions is the bane of your existence, most grocery stores have containers of pre-chopped onions in the produce section. These are a less budget-friendly option, but they are a convenient option.

Ginger
I like to use fresh ginger in the curries I make. I have found that curry made with ginger powder tastes a lot different and has a less robust flavor than a curry made with fresh ginger.

Garlic
As with fresh ginger, fresh garlic cloves are a must for this recipe. You could also use minced garlic, but not garlic powder.

Red Pepper Flakes
This is one of 2 optional ingredients. I like to balance out the sweet potato with a bit of spicy heat from red pepper flakes and cayenne. However, if you prefer a mild curry, leave out the chili flakes completely.

Coriander
I used coriander powder in this recipe. Coriander powder can be found in the spice section of most grocery stores these days. If your store does not have it, there is always Amazon.

Turmeric
Just a pinch of turmeric rounds off the coriander and smoked paprika so beautifully in this dish.

Smoked paprika
Make sure to use smoked paprika and not paprika, as I have found that smoked paprika adds more flavor.

Cayenne
This is the second of two ingredients that are optional. If you prefer a mild curry, then leave out the cayenne. However, if you prefer a milder curry, then feel free to add in less cayenne to suit your preference.

Fire roasted tomatoes
I like using a can of fire-roasted tomatoes in most curries, as these add just another layer of delightful flavor.

Coconut milk
I like to use full-fat coconut milk in this. But you could use light coconut milk if you prefer. If you don't have coconut milk on hand, you could use vegetable broth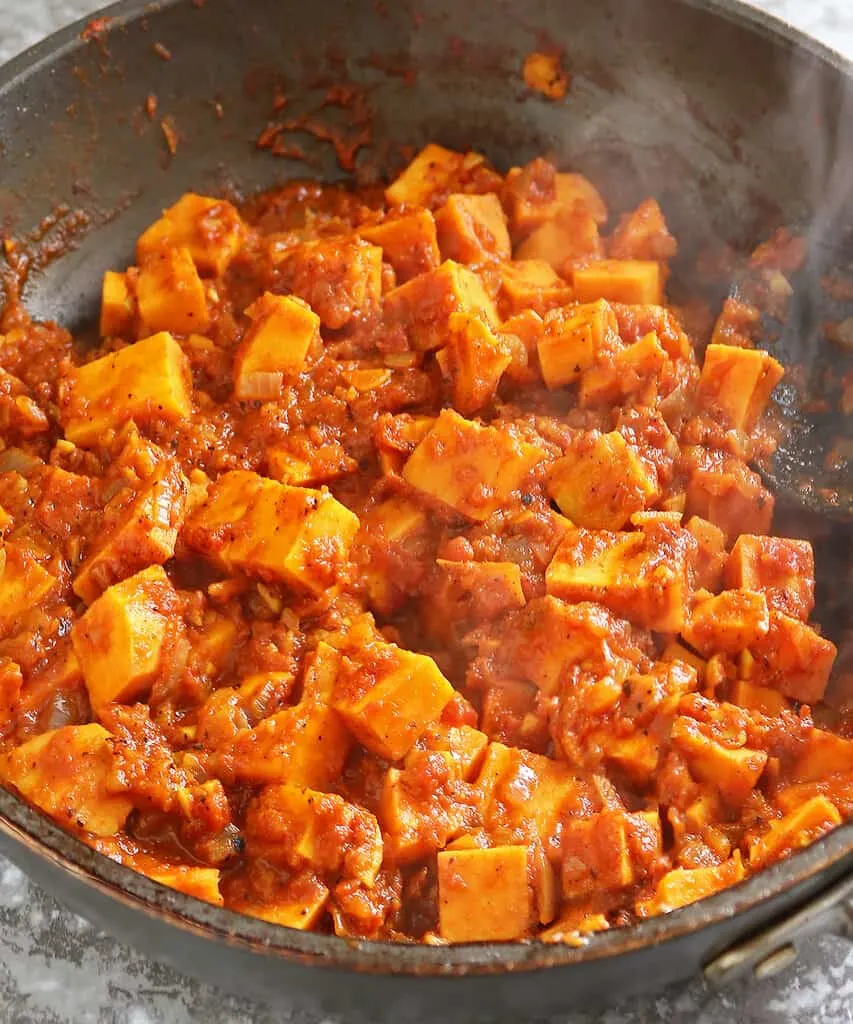 Notes about this recipe…
In addition to the 11 ingredients mentioned above, I also used olive oil to sauté the onions, ginger, and garlic. You could also use coconut oil for this. I have found that sautéing the onions, ginger, and garlic until they are lightly caramelized adds just another layer of divine flavor to this curry.
I also used green peas and parsley as garnish. But, cilantro would also work well instead of parsley.
This easy sweet potato curry is perfect as part of a weeknight meal or a more elaborate weekend meal.
This recipe, like most of the recipes on here, is one I hope you will play around with and have fun making.
If you have a nose and sense for spices, then feel free to lessen the amount of coriander used and use a bit of curry powder and/or garam masala. If you do not like canned fire-roasted tomatoes, then use tomato paste instead.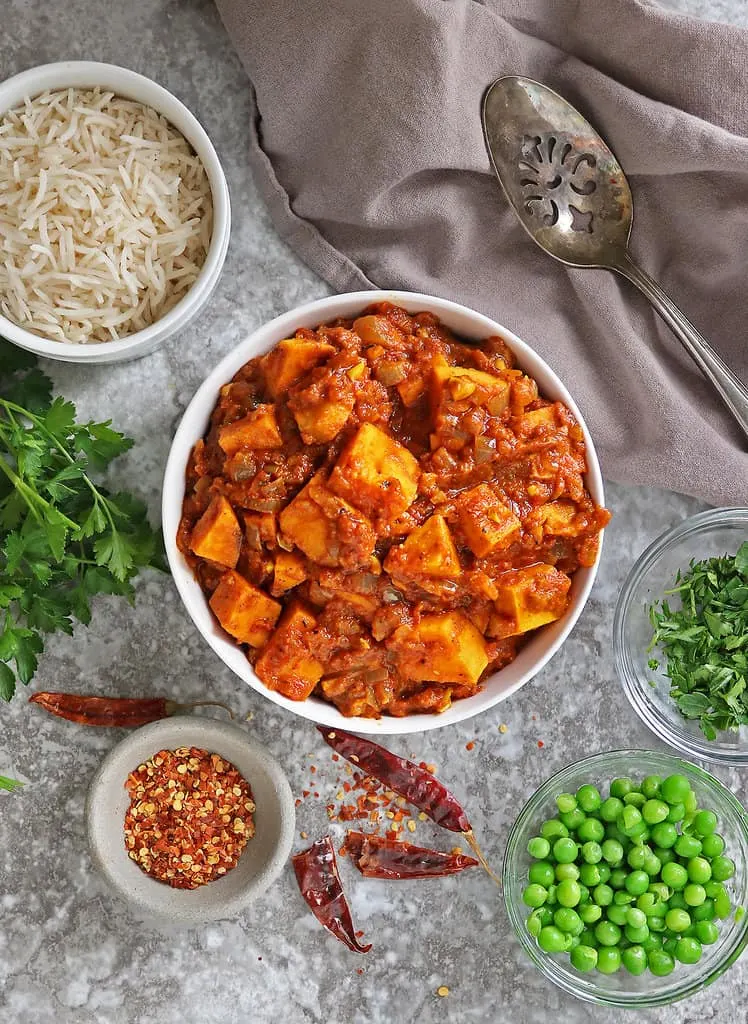 Serving Suggestions
I like to enjoy this sweet potato curry with some white rice, roti, or naan. But this curry is also delicious when served with some yellow rice or cauliflower rice as well. By the way, if you want to make your own riced cauliflower, this recipe has been a fail-proof one for me!
To round off a meal, this sweet potato curry can be served alongside other curries like this broccoli curry, this cashew curry, chickpea curry, some mango chutney, and some croquettes, in addition to rice, roti, or naan, for a well-balanced meal.
How to store leftovers of this curry?
Leftovers of this curry can be stored refrigerated, in an airtight container, for up to 5 days. This is one of those curries that always seem to taste better the next day.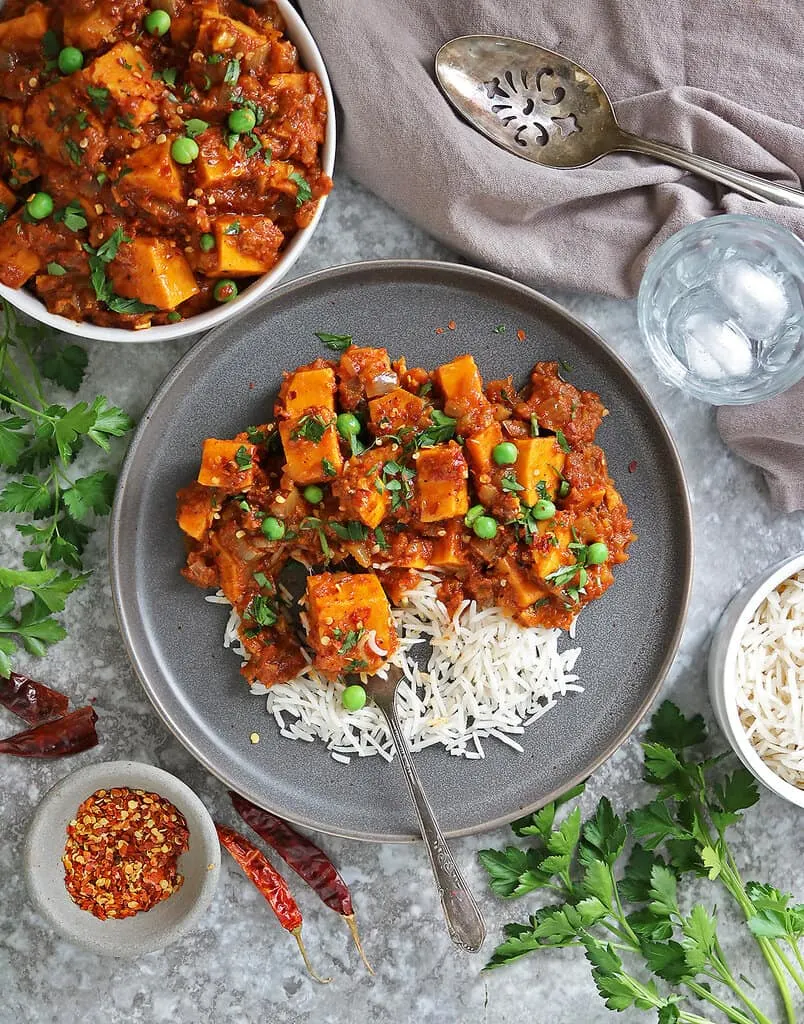 Thanks so much for stopping by. If you make this recipe, please let me know in the comments below what you think of it. For more fusion, spice-filled, recipe ideas, please subscribe and follow me on Instagram, Mastodon, and/or Pinterest!