This Grilled Sweet Potato Salad is an easy, delicious, and healthy salad made by grilling sweet potatoes, avocado, and onions and tossing them with some celery, chickpeas, walnuts, and your favorite greens.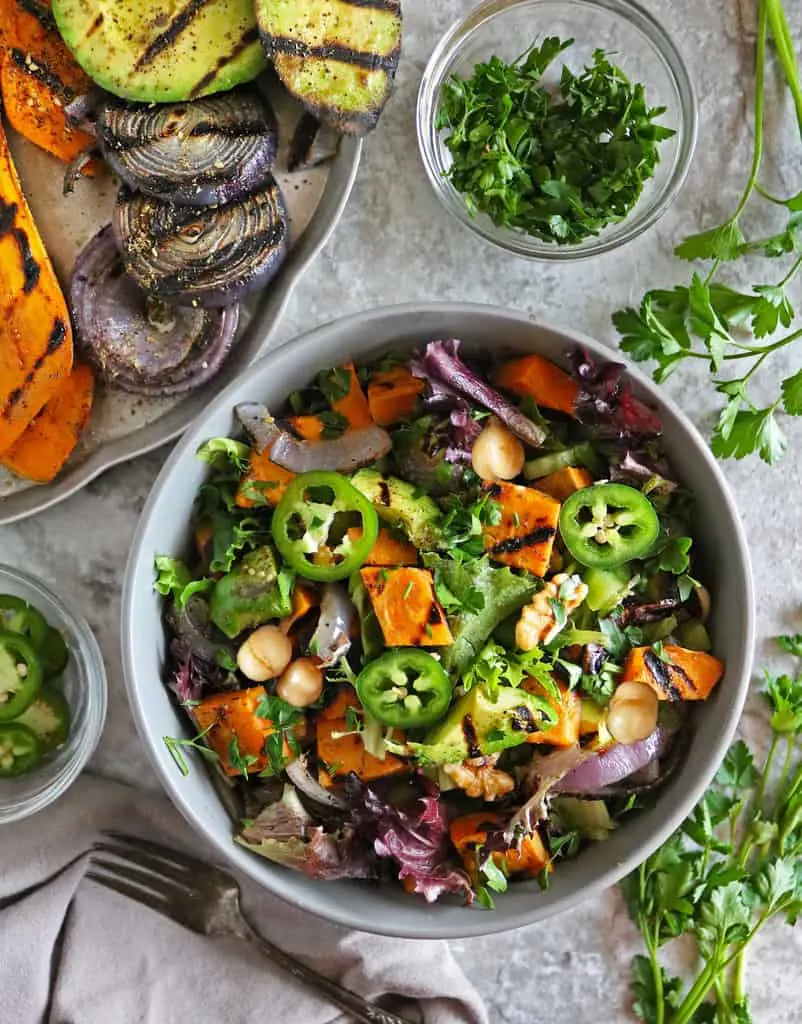 If you have not had the pleasure of enjoying grilled avocado, grilled onion, and grilled sweet potato, then, this Grilled Sweet Potato Salad is your excuse to do so.
Other than introducing your taste buds to the intoxicating flavors of grilled goodness, this salad is one heck of an easy, fuss-free, salad to make and enjoy. To me, this salad is more of a main dish than a side dish.
What are the ingredients to make this Grilled Sweet Potato Salad?
I sued the following 10 ingredients to make this salad:
Sweet potato
Avocado
Onion
Celery
Mixed greens
Chickpeas
Jalapeño
Walnuts
Parsley
Za'atar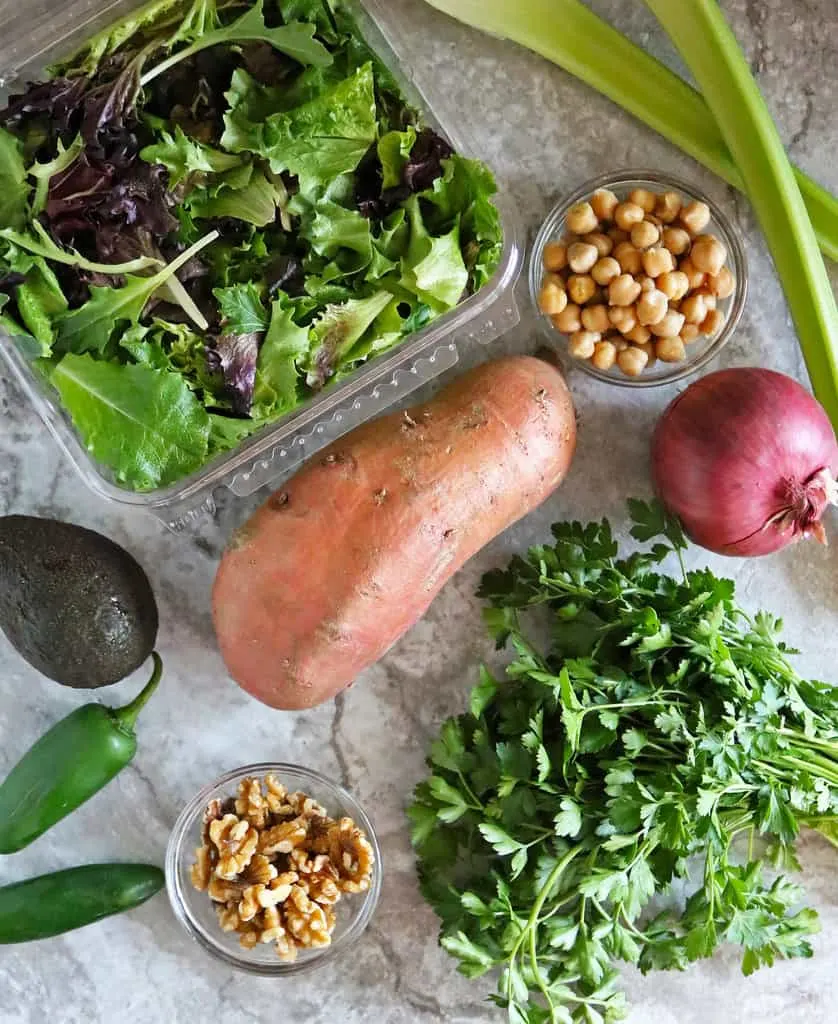 I must say that other than the grilled avocado, grilled sweet potato, and grilled onion, you do not have to strictly follow the quantities of, or ingredients in, this salad to a tee.
This Grilled Sweet Potato Salad Recipe is one of those recipes that, hopefully, will inspire you to have fun in the kitchen while experimenting with flavors and textures of ingredients that would pair well with the main grilled ingredients.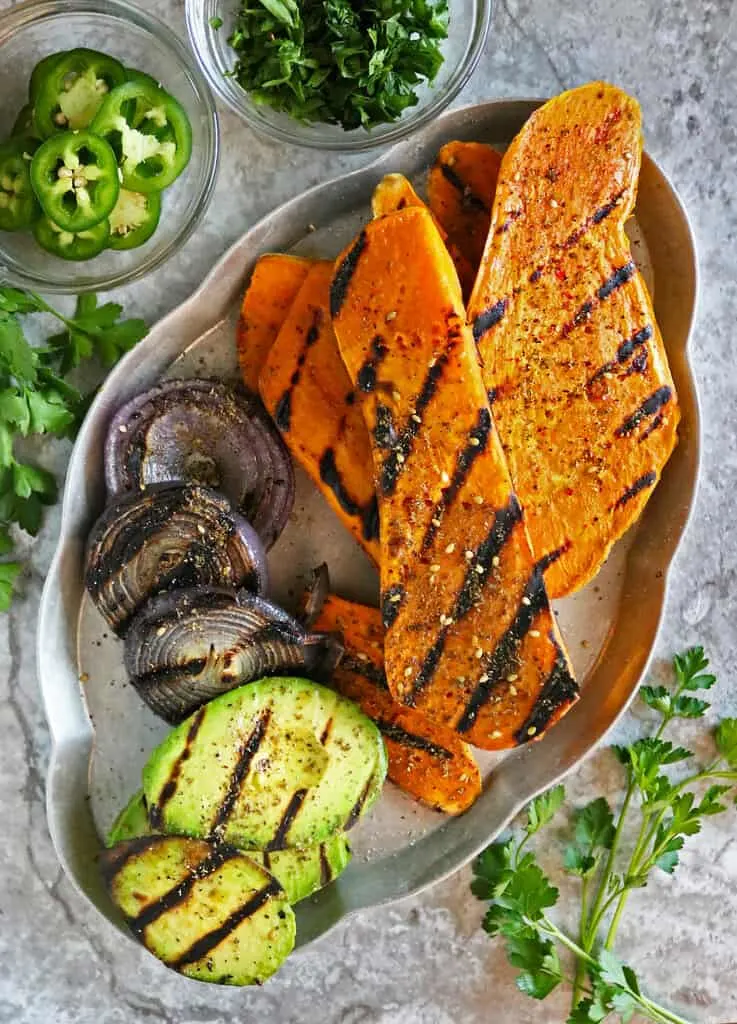 Substitutions…
If you do not care for celery, you could use green bell peppers, red pepper, or even green onions instead.
In case mixed greens get you rattled, then use some baby spinach or arugula instead.
If you prefer red kidney beans, black beans, or navy beans to chickpeas, by all means, use any of these instead.
In case you happen to prefer a mild salad, then leave out the jalapeño. However, if you prefer a bit of a bite, then double the jalapeño or use some green or red chili instead.
If walnuts are not your favorite nut, then use almonds, pecans, pistachios, or peanuts instead.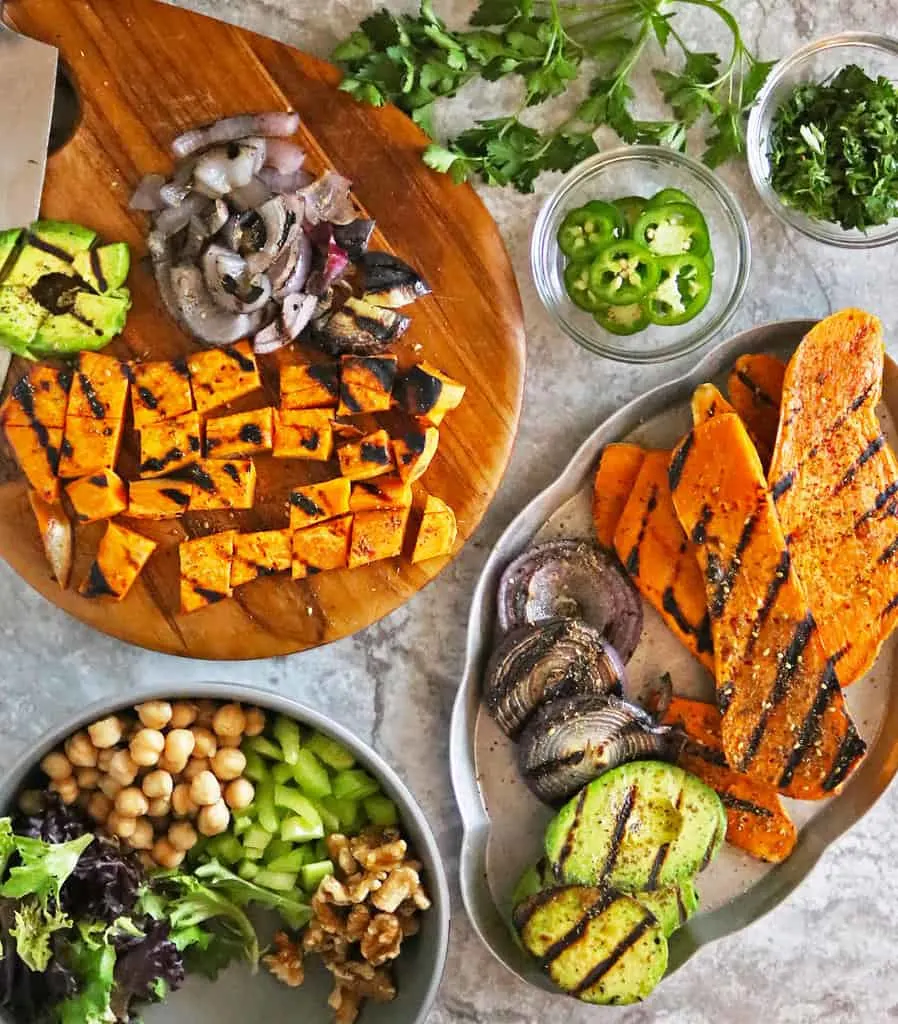 If you would like to add another layer of flavor to this dish, leave out the parsley and add in some cilantro instead.
As for the za'atar, I used it to flavor the grilled avocado, grilled sweet potato, and grilled onion. But, if you do not have za'atar on hand or prefer to skip it, then by all means do so. Grilling these veggies adds so much flavor to them, they are just as tasty in this salad, seasoned with salt and black pepper.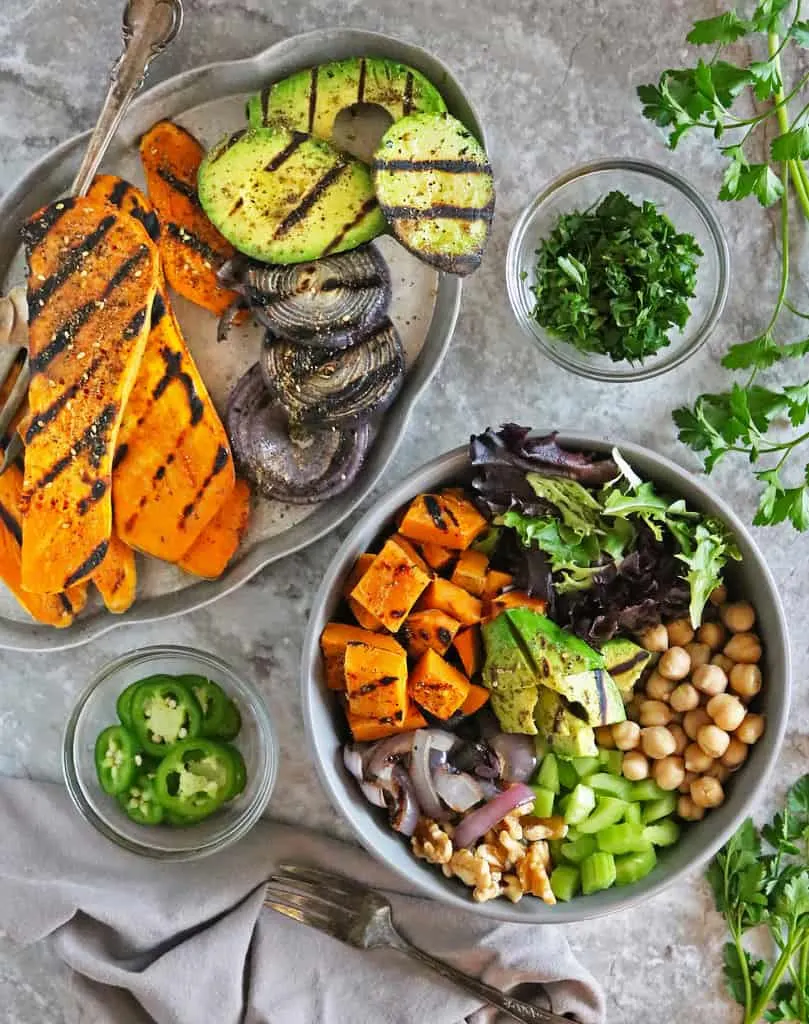 How to serve this salad?
This Grilled Sweet Potato Salad is best served at room temperature.
While I didn't use any dressing with this salad, this would be quite tasty with a garlic ginger balsamic vinaigrette like this one, or a flavored balsamic.
Olive oil and Balsamic Tastings?
Speaking of flavored balsamic, there is this inviting store called Town Square Olive Oil & Balsamic Vinegars located in my neighborhood of Covington, GA.
I've been here a couple of times, and I am always greeted by the friendliest people. These folks not only walk me through the many different olives oils and balsamic vinegar, but they also mix oils and vinegar together for a taste bud extravaganza!
If you happen to find yourself in Covington, pop on into Town Square Olive Oil & Balsamic Vinegar – your taste buds will thank you! By the way, there are over 65 varieties of olive oil and balsamic vinegar from Italy, Spain, Greece, Chile, Australia, and more at this store.
Over my last 2 trips, I have grabbed blueberry balsamic vinegar, harissa olive oil, and green chili olive oil. And, have been using the blueberry balsamic on just about every salad, grilled veggie, or bowl of oatmeal. Yes – it even pairs so well with oatmeal!
Which brings me back to this Grilled Sweet Potato Salad…
This salad does not need much of a dressing, in my humble opinion. But then again, I didn't grow up with any sort of dressing on my salad. So, you might want to take that statement with a grain of salt. However, I must say that a drizzle of that blueberry balsamic marries together all the flavors in this salad beautifully!
A Grilling Hack…
Now, if you do not have a grill, please do not write this recipe off. You can pan-roast the sweet potato slices, avocado slices, and onion with a little bit of oil.
Or, you can use a grilling pan that will impart beautiful grill marks onto the veggies.
Now, you might miss out on the smoky flavor that grilling imparts, but these are a couple more options for you to still enjoy this salad!
If I still haven't convinced you to try this recipe, then maybe you might like these oven-roasted sweet potatoes.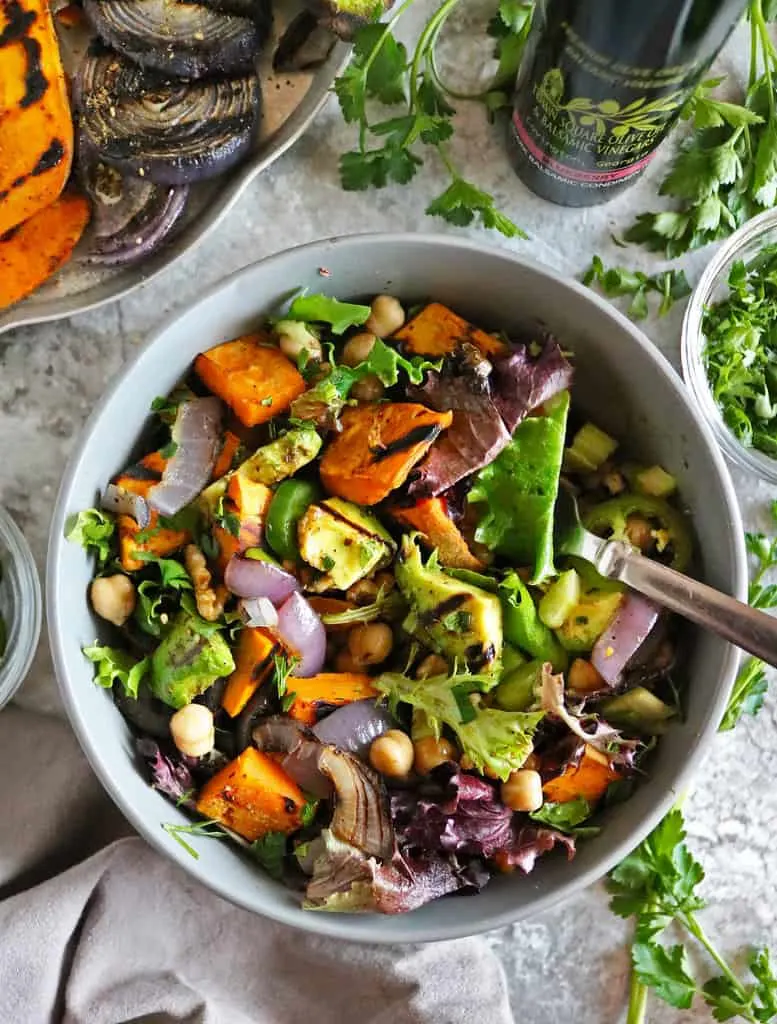 Thanks so much for stopping by. If you make this recipe, please let me know in the comments below what you think of it. For more fusion, spice-filled, recipe ideas, please subscribe and follow me on Instagram, Mastodon, and/or Pinterest!