This post was sponsored by Blue Diamond® Nut-Thins, as always, all opinions expressed in my post are my own.
With just 6 ingredients – this is one delicious, vegan, Black Bean Dip that is a healthy option for your family and friends at your next gathering!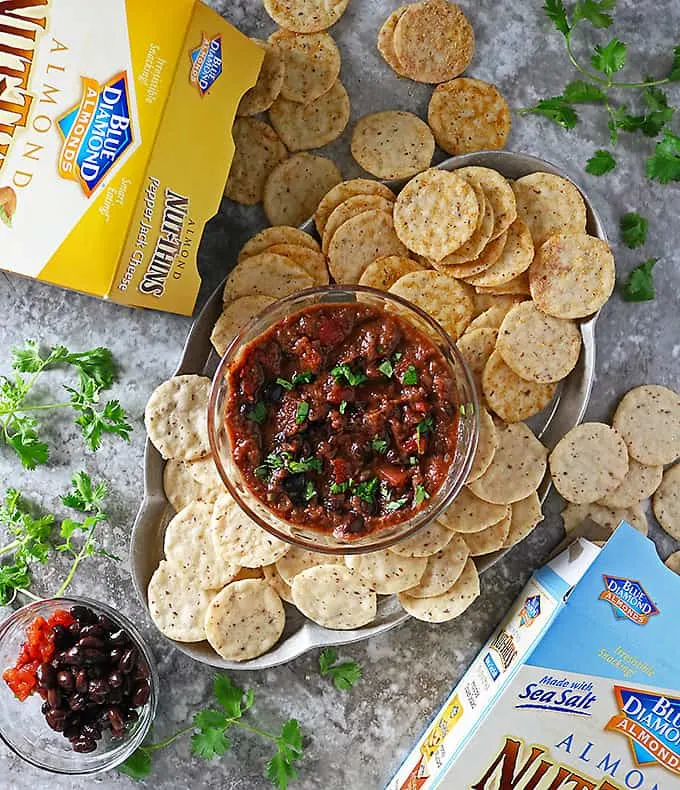 Last night my daughter and I were snacking on Blue Diamond® Nut-Thins and this 6 Ingredient Black Bean Dip, while trying to figure out how old our dog, Oliver, really was.You see, for the past 3 years my daughter has had us celebrating his 3rd birthday. But, I had to know exactly how old our always sassy, playful, tv-watching, Oliver was. While my daughter tried to convince me (yet again) that he was 3, I ended up turning to Facebook memories for the facts. And, FB told me that Ollie came into our lives 6 years and 3 months ago, at a little over a month old – where'd the time go???
He had been part of a litter of 3 that had been abandoned at a park. Someone else had adopted his 2 sisters, but he was left behind. He connected instantly with my daughter. And, I, very, very reluctantly agreed to bring him home with the condition that she would be in charge of him.
And, in charge of him she was. She trained him, cleaned up his many messes, doted on him and even started an Instagram Page for him. And, as much as I didn't want to, I ended up loving that dog more than I thought possible. These days, our lives wouldn't be the same without his "comments" at the tv or people walking along the stairs outside our condo. And, we share the same love language – the love language of food, that is.
Yes, yes, I know it isn't one of the five love languages – but, around here, we luuurrrrvvve food! Eating it and making it and eating it and maybe sharing it and eating it …FOOD is such a beautiful thing to us.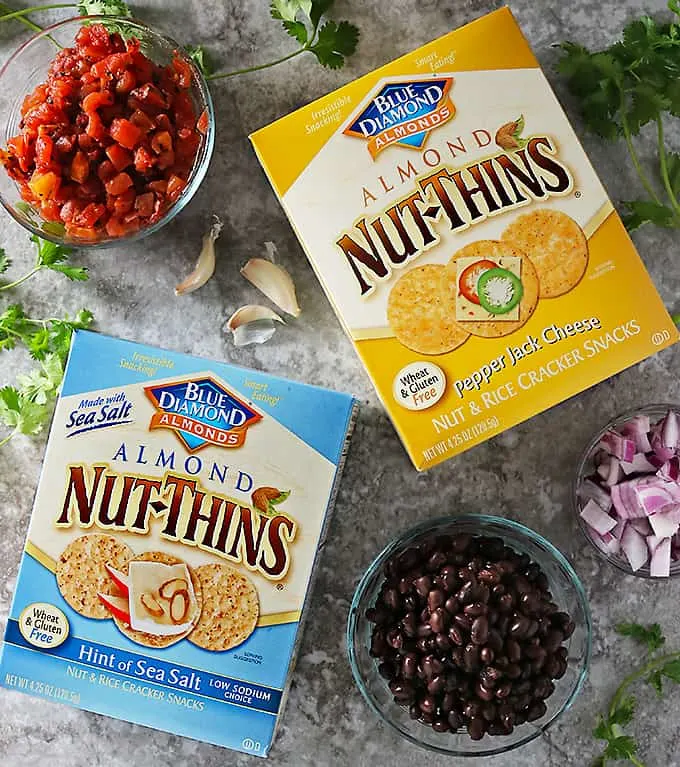 And speaking of foods we love, Blue Diamond® Nut-Thins have been a pantry staple since they came into our lives in the summer of 2015. In addition to snacking on them straight out of the package, back then, I also used them to make these delicious turkey burgers!
These days, we usually stock up on a couple of flavors of Blue Diamond® Nut-Thins when we are at Kroger. And, in addition to snacking on them straight out of the package, we also pair them with some of our favorite dips like this easy 6 Ingredient Black Bean Dip!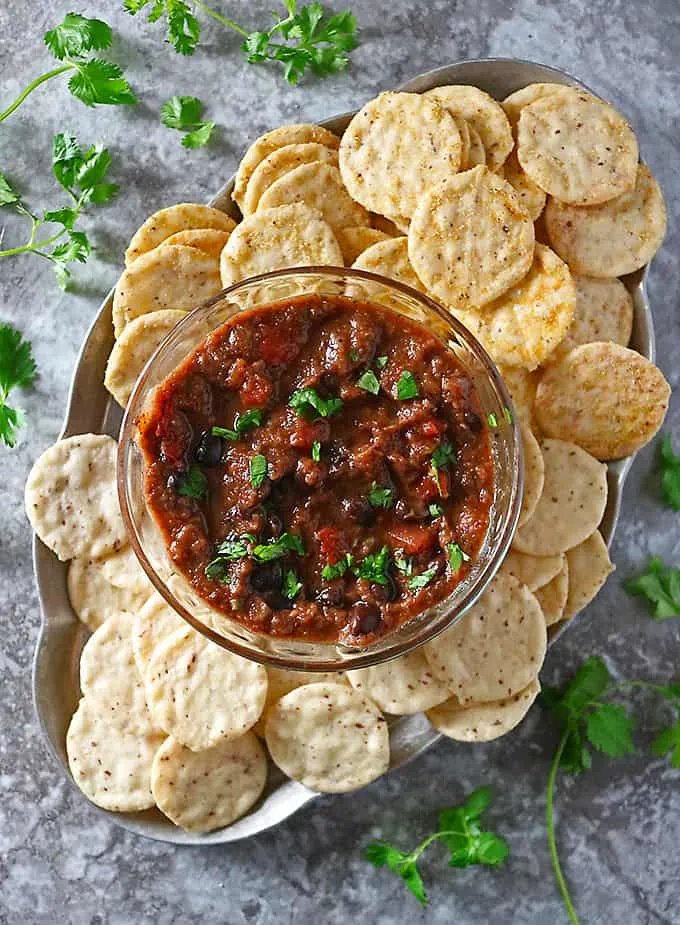 To my daughter and I, Blue Diamond
®
Nut-Thins are a delightfully delicious snack that is crunchy and crispy like a potato chip, but sturdy enough for dips and toppings.
They are made with Real Blue Diamond
®
Almonds, contain no artificial flavors, and are wheat & gluten Free!
By the way, Blue Diamond® Nut-Thins are giving away $3,000 in prizes
in the Nut-Thins 2 Win Scavenger Hunt and Nut-Thins 2 Win Sweepstakes!
The rules are as follows…
Nut-Thins 2 Win Scavenger Hunt:
For the chance to win a $1,000 gift card, just find Nut-Thins in any grocery store, take a selfie with the product on the shelf, and post it on your public Instagram or Twitter account using the hashtag #NutThinsContest, OR upload it to NutThins2win.com!
Nut-Thins 2 Win Sweepstakes:
For the chance to win a $500 gift card to either Ahold, Kroger, Safeway, or Target, enter your information at NutThins2Win.com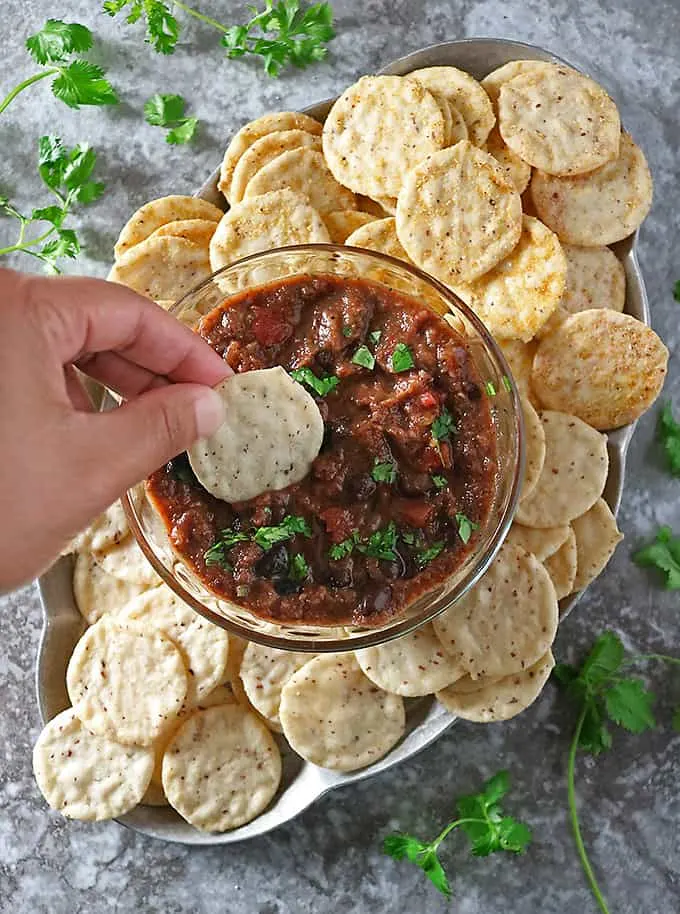 Now, back to this 6-Ingredient Black Bean Dip!
With just onion, garlic, fire roasted tomatoes, cilantro, smoked paprika and black beans, this is one healthy, vegan, dip. Now, if you are looking to add just another layer of flavor, just use some caramelized onion instead of the raw onion I used. But, if you are short on time and looking for a healthier dip to enjoy, whip this up with the raw onion and serve it at your next get together! I'm hoping you and your friends and family will enjoy it as much as we have!
If you happen to fancy this recipe, let me know what you think by leaving a comment and rating below. If you make this recipe, please post a pic on INSTAGRAM -tagging @savoryspin so I can see! For more recipes and ramblings, like us on FACEBOOK and follow along on PINTEREST!
Make sure you are following Blue Diamond® on Instagram and Facebook so you will be the first to know of any upcoming promos and recipe inspiration!