Delightfully aromatic, these artichoke cupcakes are spiced with cardamom, ginger, and cinnamon and topped with a creamy faux-cream cheese frosting.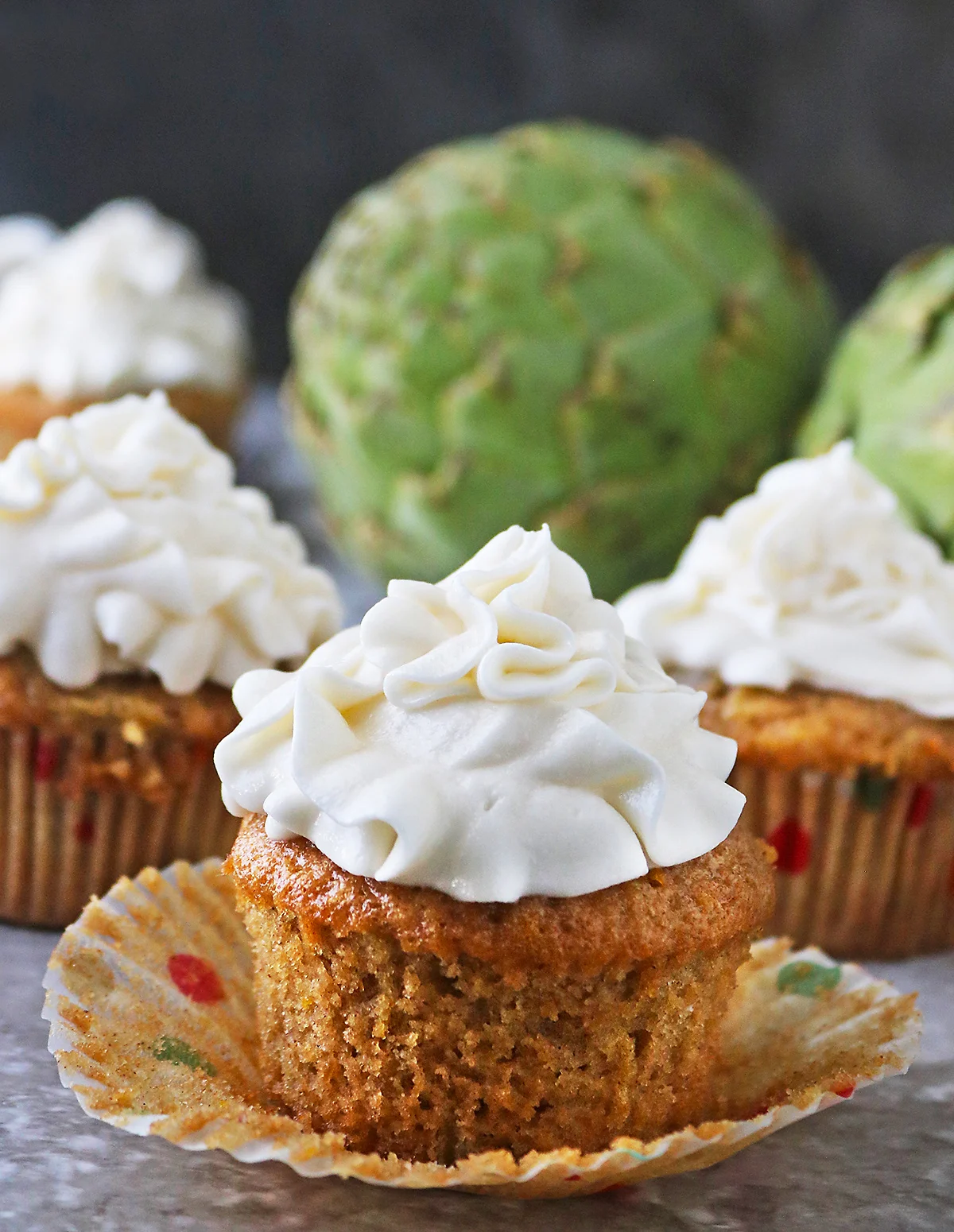 About a month ago, my daughter and I stumbled on artichoke cupcakes at Tidal, a little coffeehouse in Monterey, California. At first, we were not sure if they were savory or sweet, and were reluctant to try them.
But, then the sweet ladies who worked behind the counter included us in a sampling session of these artichoke cupcakes, and I was hooked.
Very similar to zucchini cupcakes, but just a tad moister, those artichoke cupcakes hit the spot as we were taking a break between whale-watching tours, on our short vacation to Central California.
I was seriously enamored with those artichoke cupcakes, so when I got back to Atlanta, I tried to find a place here that sold them. Alas, all my searching was unfounded. So, I decided I would try and make some myself.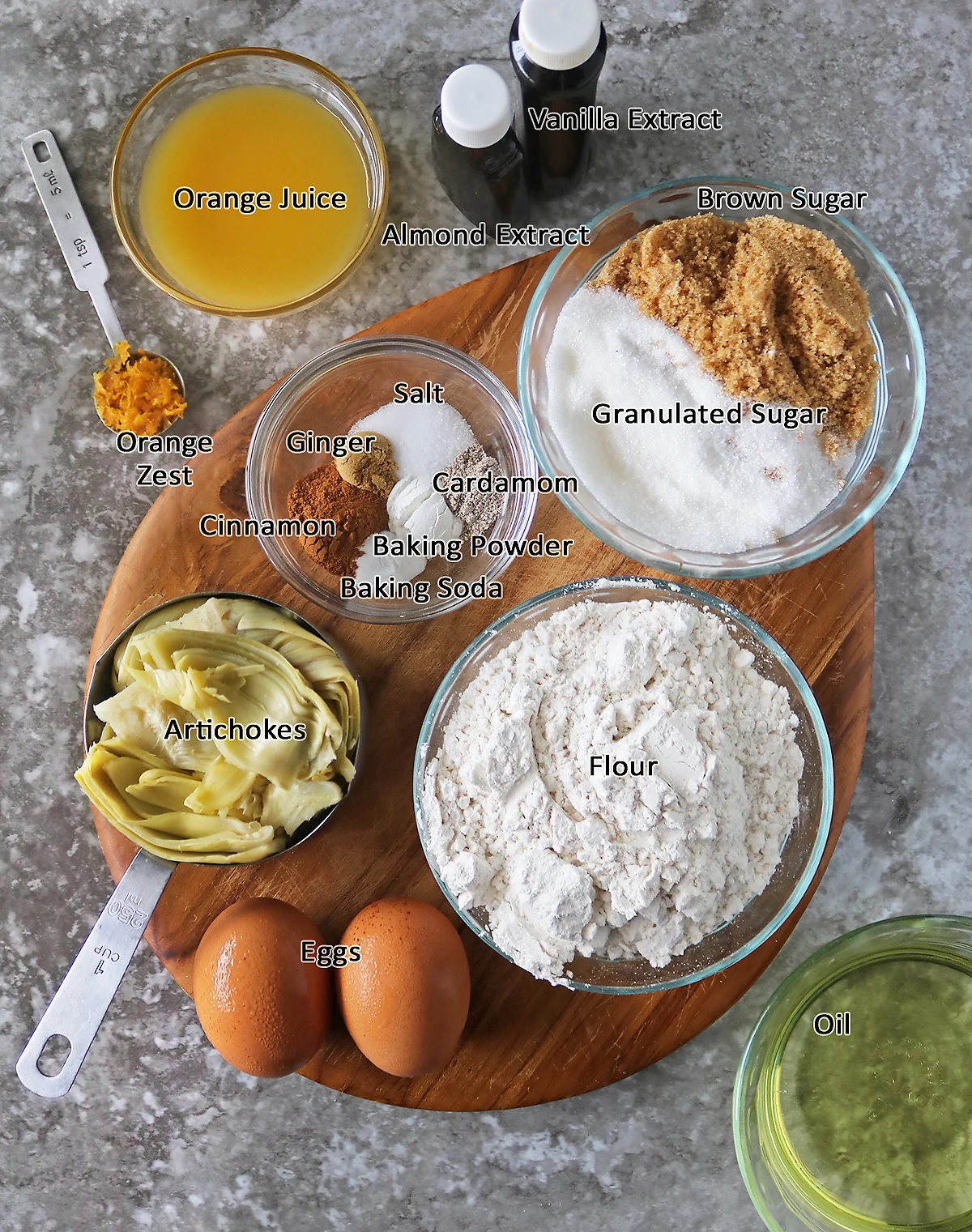 What are the ingredients needed to make these artichoke cupcakes?
To make these artichoke cupcakes, you will need the following 16 ingredients:
Artichokes
I used artichokes canned in water for this recipe. Make sure you do not use artichokes marinated in oil or canned in oil.

Eggs

Vanilla Extract

Almond Extract

Canola oil

Orange juice
I used pulp-free orange juice.

Orange zest
Make sure the zest is all that is scraped off and not the white part of the orange, which is just under the skin.

Granulated sugar

Light brown sugar
Light brown sugar adds so much flavor to baked goods, so I added some here while making these.

All-purpose flour
If your dietary demands are such, gluten-free flour can be used instead of regular all-purpose flour.

Baking powder

Baking soda

Salt

Cinnamon

Cardamom

Ginger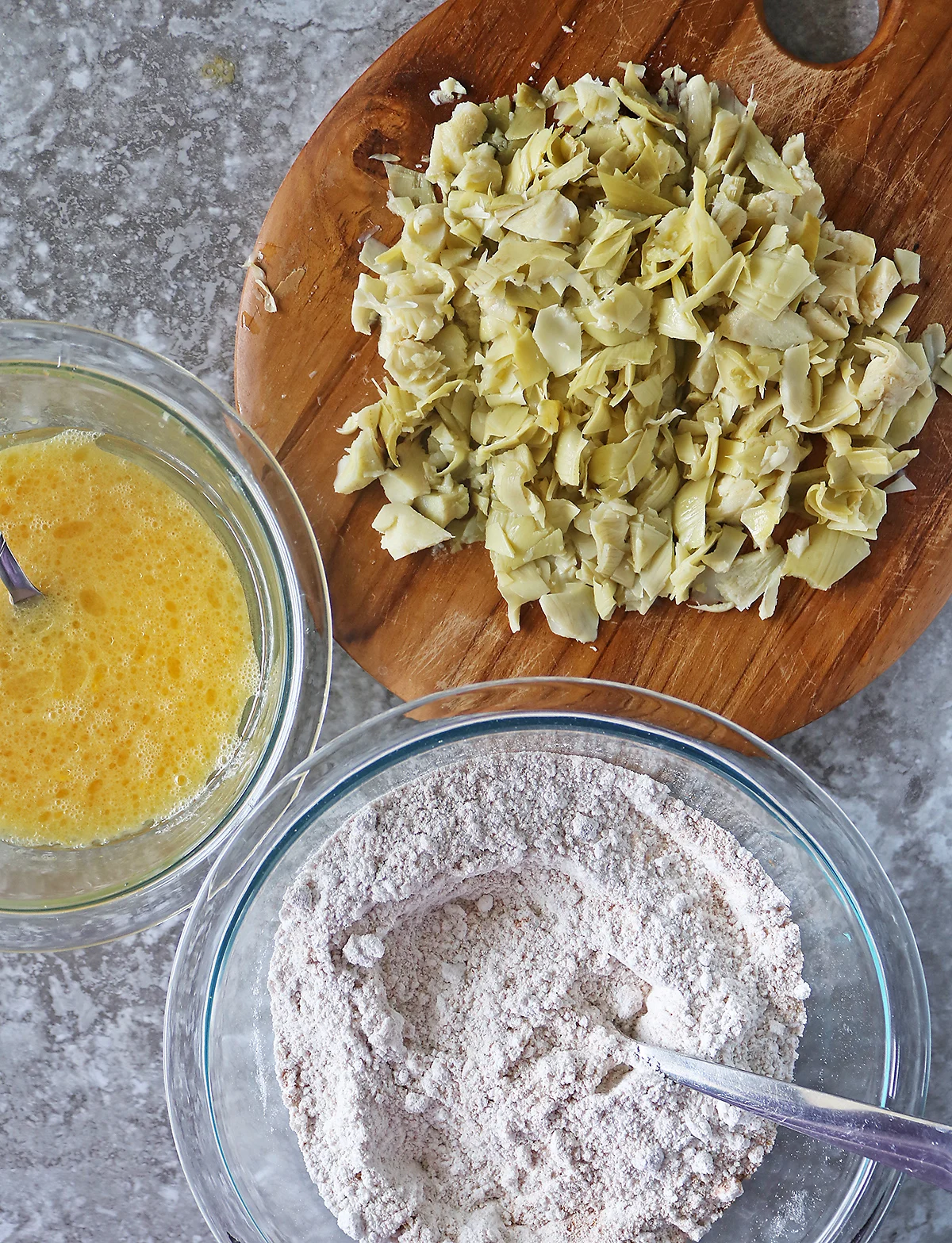 After you gather all your ingredients together, it's just a matter of draining and chopping up the artichokes, mixing together the dry ingredients in one bowl, and the wet ingredients in another.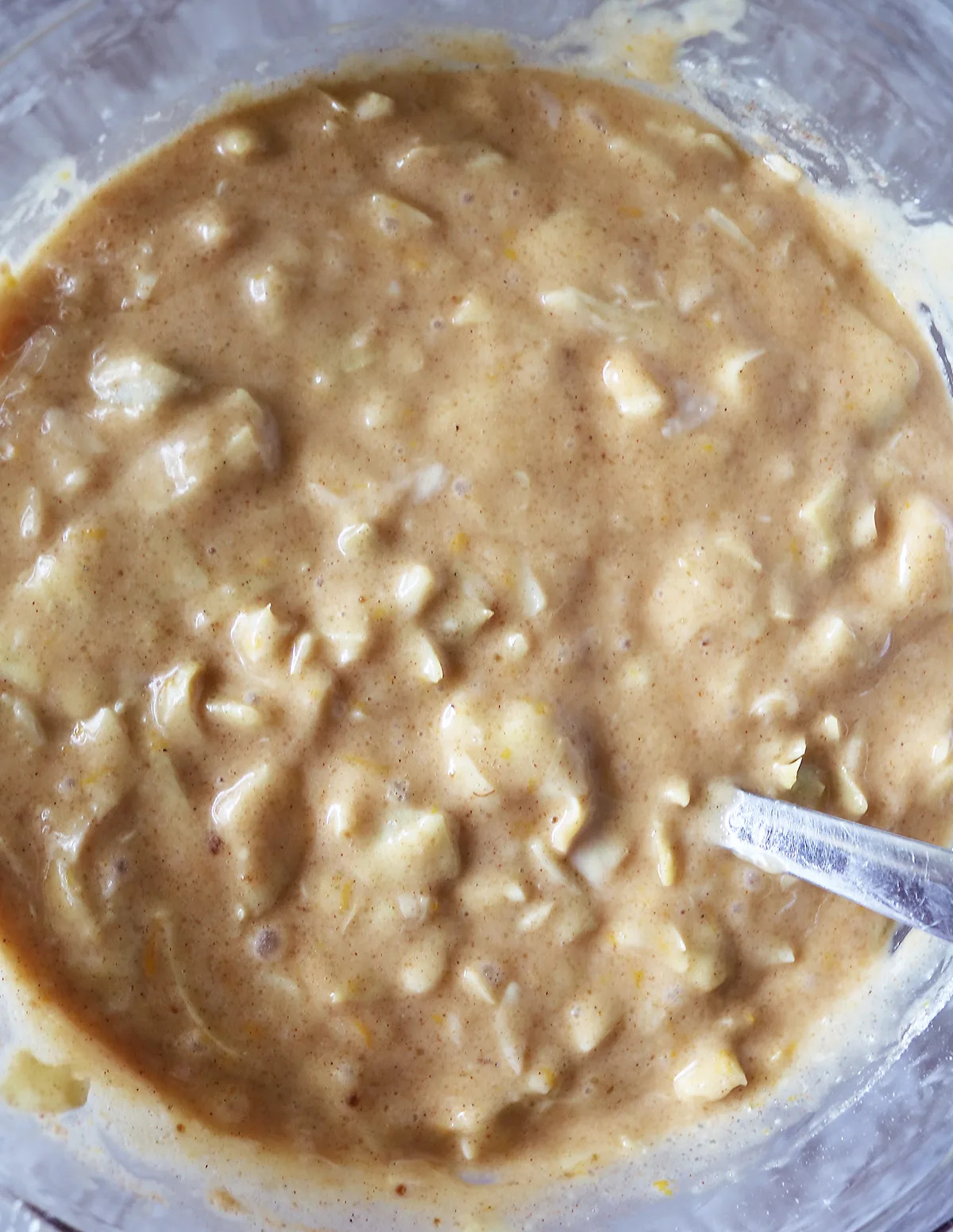 Then combine the wet and dry ingredients and mix in the chopped artichokes. The finer you chop the artichokes, the less chance there is of biting into a large chunk of them.
Scoop handfuls into a lined cupcake pan, bake, cool, frost, and enjoy!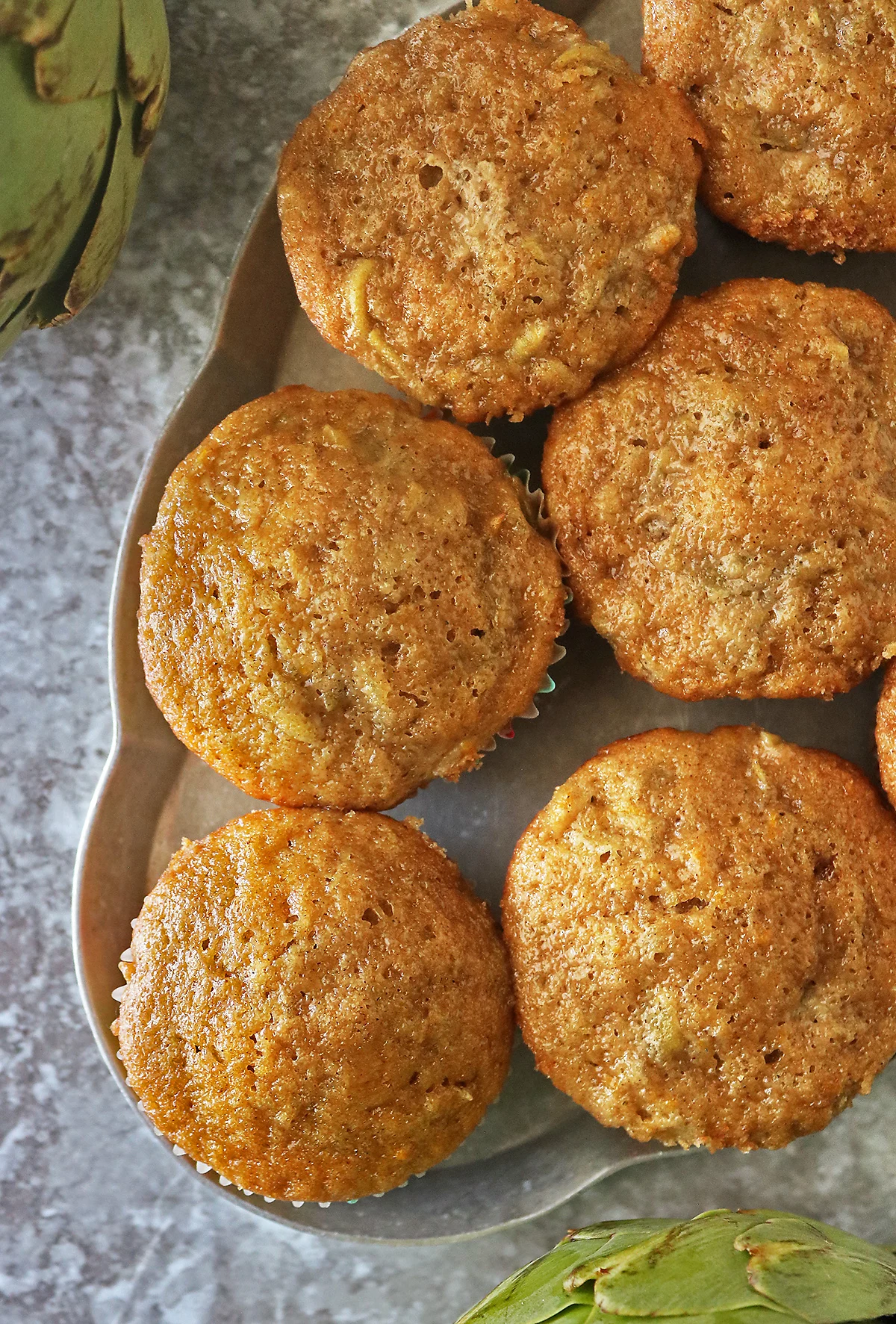 What do artichoke cupcakes taste like?
The artichoke cupcakes we tried in Monterey tasted a lot like well-spiced zucchini cupcakes, minus the zucchini.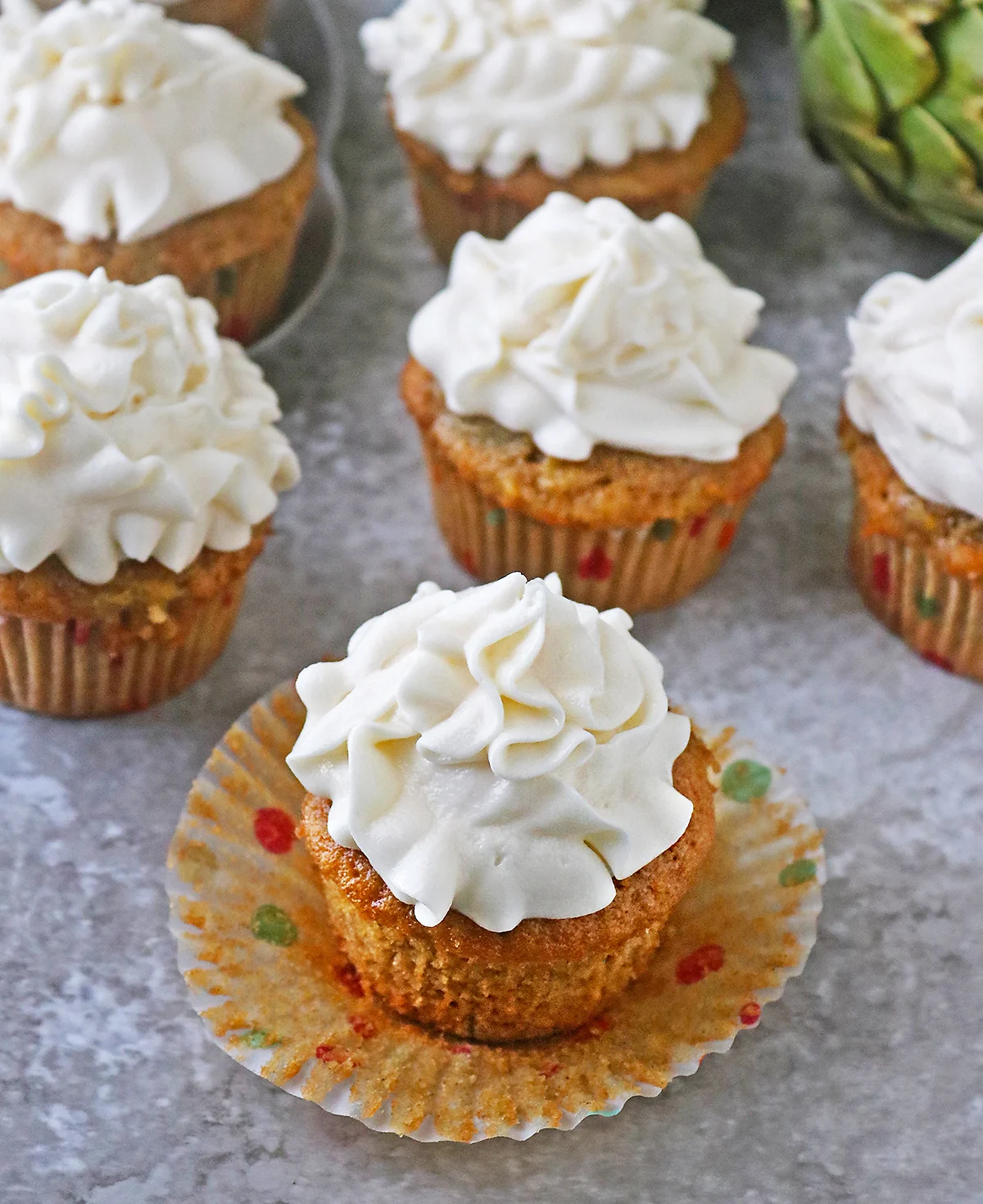 So, I figured I would start with a zucchini cupcake base, and add artichokes canned in water, instead of zucchini.
After a couple of failed attempts, I ended up with the ones you see here today.
These artichoke cupcakes are made with canned artichoke and are so moist and delicious. Topped with a creamy, dairy-free, tangy frosting similar to a cream cheese one, these cupcakes are a welcome treat after a meal or as a snack.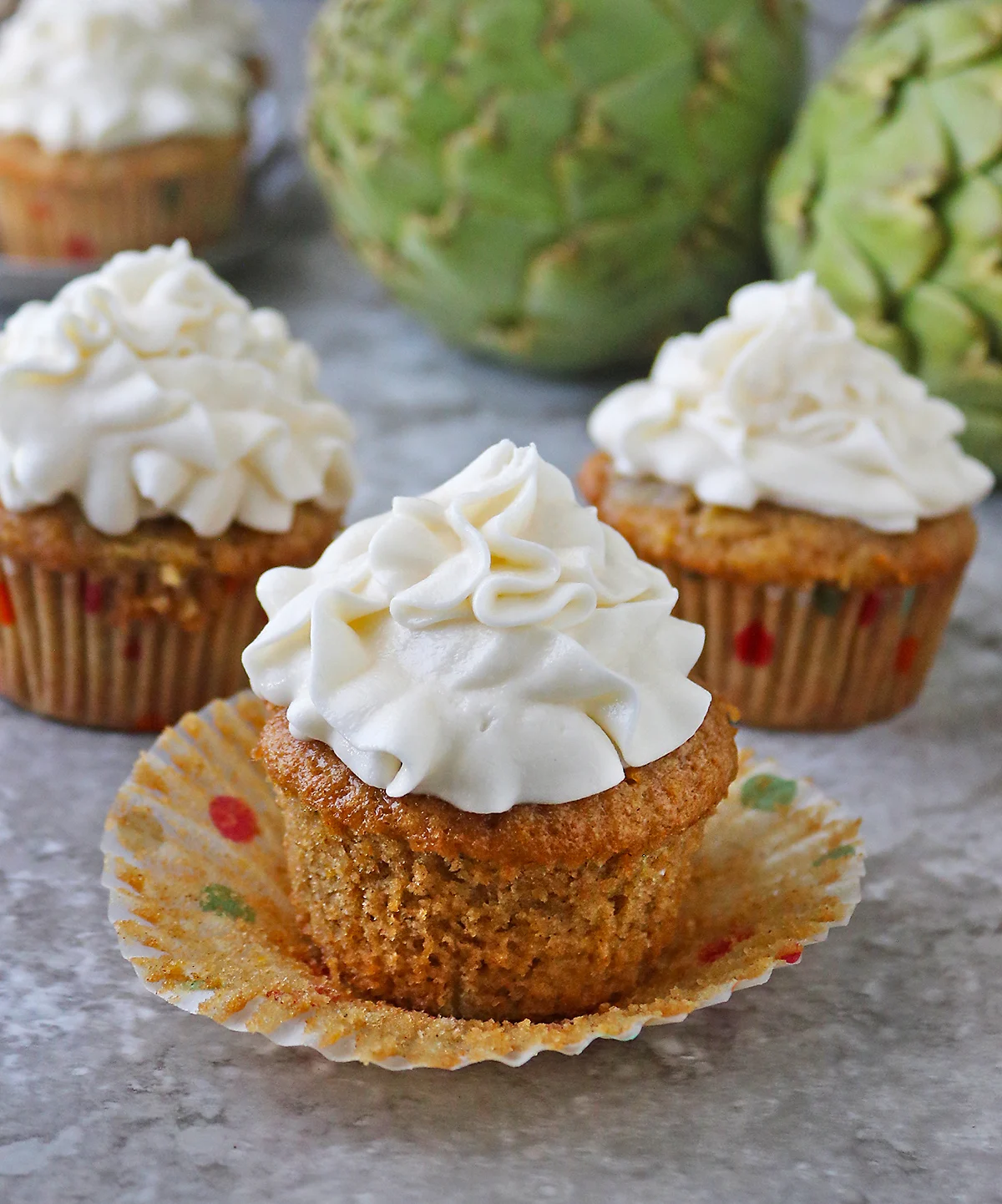 Once made and frosted, these cupcakes are best stored in an airtight container in your fridge. They will stay fresh for about 4-5 days.
Have you ever tried artichoke cupcakes before? If you have not and decide to make these, please do tag Savory Spin on Instagram, Facebook, or Pinterest and let me know your thoughts!