These little flourless, no-bake, plant-based, carrot pecan bliss balls are a delicious and healthy sweet treat. Perfect for an afternoon pick-me-up, snack, or breakfast, these little bites are so incredibly satisfying.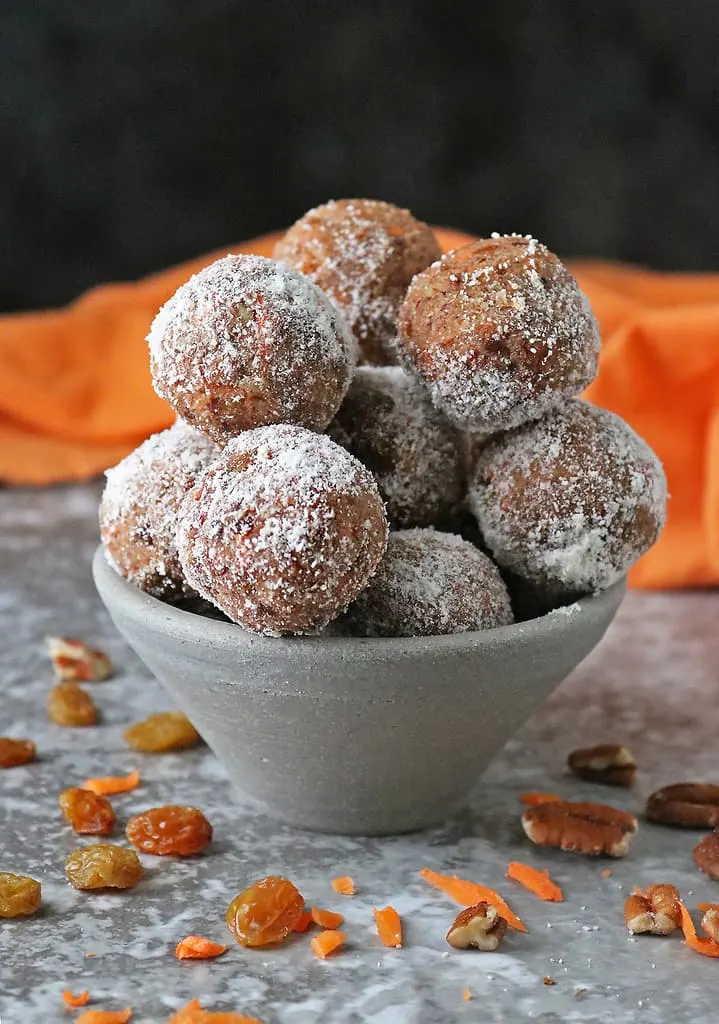 I simply love these little carrot pecan bliss balls. I make a batch and keep them in an airtight container, then when I don't feel like making pancakes or waffles for breakfast, I just grab 2-3 of these.
These are so deliciously satisfying with a hot cup of Partners coffee.
By the way, I am not being paid to profess my love for Partners coffee. My daughter introduced me to the brand and I love how smooth this coffee is. In my humble opinion, it's some of the best coffee I have ever had!
These little carrot-cake-like balls are perfect whenever you need a pick-me-up or a quick, easy, portable dessert.
What are the ingredients needed to make these carrot pecan bliss balls?
Now, you do need 12 ingredients to make them. To some, that might be a lot. But, it is well worth it.
And, after you gather all the ingredients, then it is just a matter of throwing them in a blender and blending them up. After that, all you have to do is form them into balls, chill them, and enjoy!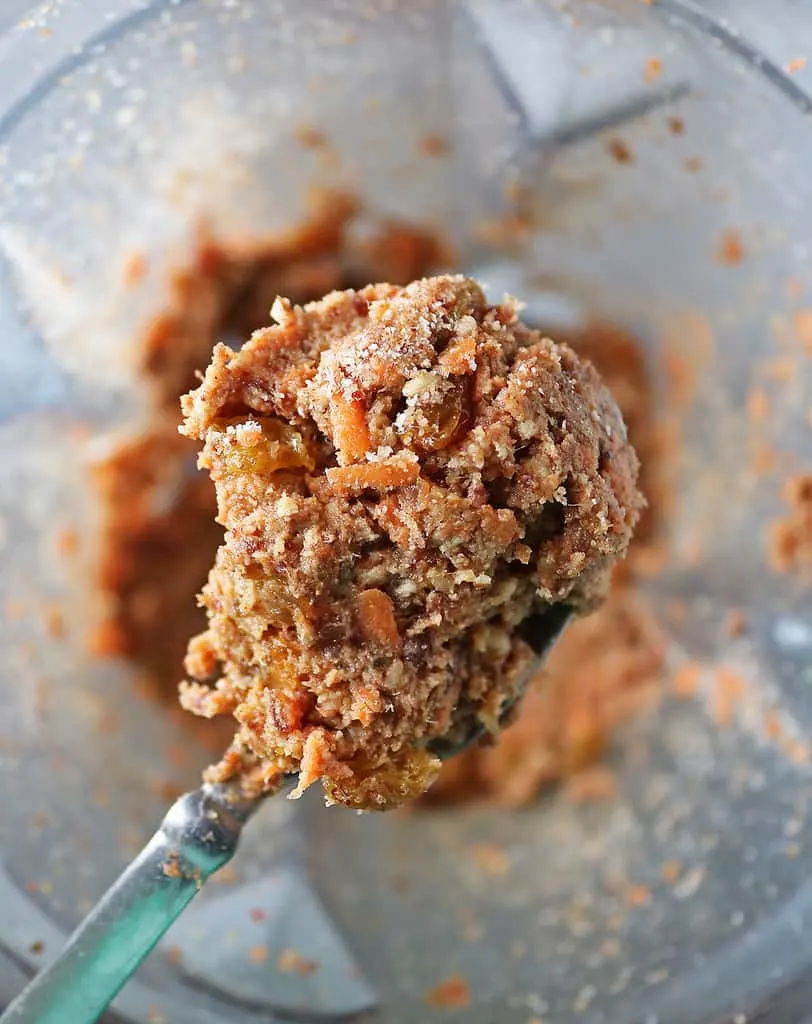 Those 12 ingredients are:
Pecans
I used simple raw pecans for this recipe. But, you can use roasted pecans too.

Carrots
Nothing fancy here – just plain old, large carrots. I grated them before adding them to the blender as I didn't want to have to blend this mixture for too long as I thought it might end up more like a paste.

Dates
Soak the dates for 1-2 hours in a bowl of warm water before adding them to the blender. This softens up the dates, and they blend easier, imparting their delicious sweetness rampantly through each of these carrot pecan bliss balls.

Cinnamon
Ceylon cinnamon is my first option. Though, if you have regular cinnamon on hand, that works too.

Nutmeg
Just a pinch of nutmeg goes a long way.

Cardamom
And, the same can be said of cardamom. Now, all powdered cardamom is not created equal. Look for powdered cardamom that has tawny and dark brown teensy tiny granules, instead of those that are a more uniform beige color.

Cloves
Cloves, along with the other spices, make these bliss balls so aromatic.

Ginger
I used a bit of grated fresh ginger in this recipe. You can use powdered ginger if you have it on hand. Fresh ginger makes these so gut-friendly, so that was my reasoning behind adding it in.

Vanilla extract
Make sure to use pure vanilla extract and not imitation vanilla.

Maple Syrup
I added in a tad bit of dark amber maple syrup to complement the dates and amp up the sweetness of these balls.

Coconut flour
Coconut flour was the binder and gave these balls firmness.

Raisins
I added in raisins for a bit of texture.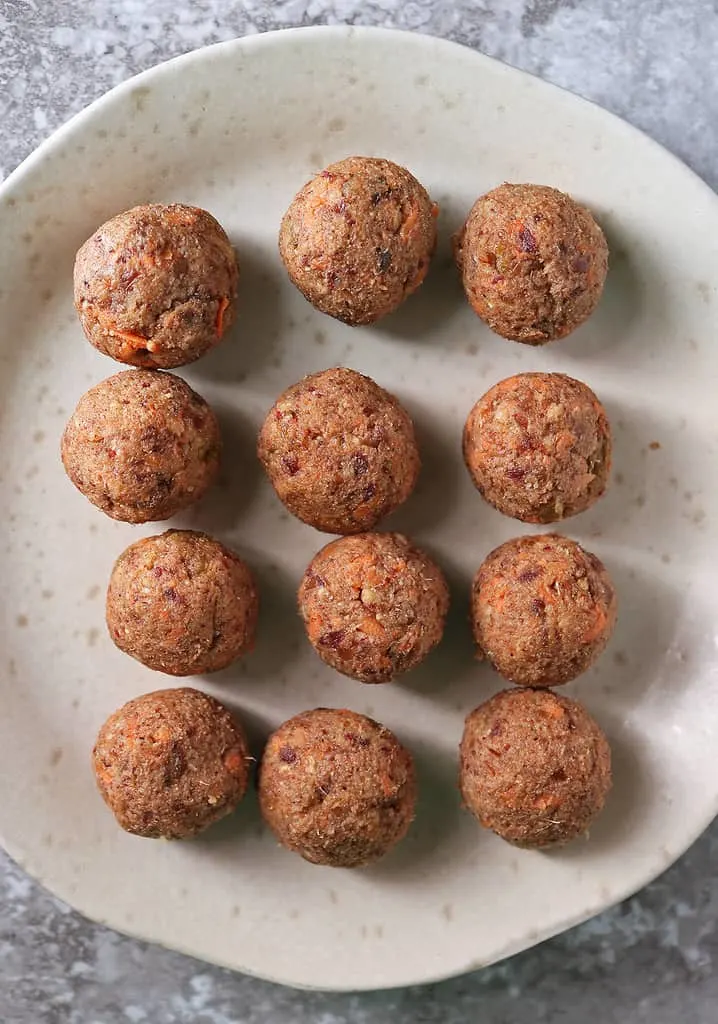 These carrot pecan bliss balls are high in fiber content, nutrients, and taste. They are a healthy, vegan option that is perfect for those times when you are trying to make better-for-you-options.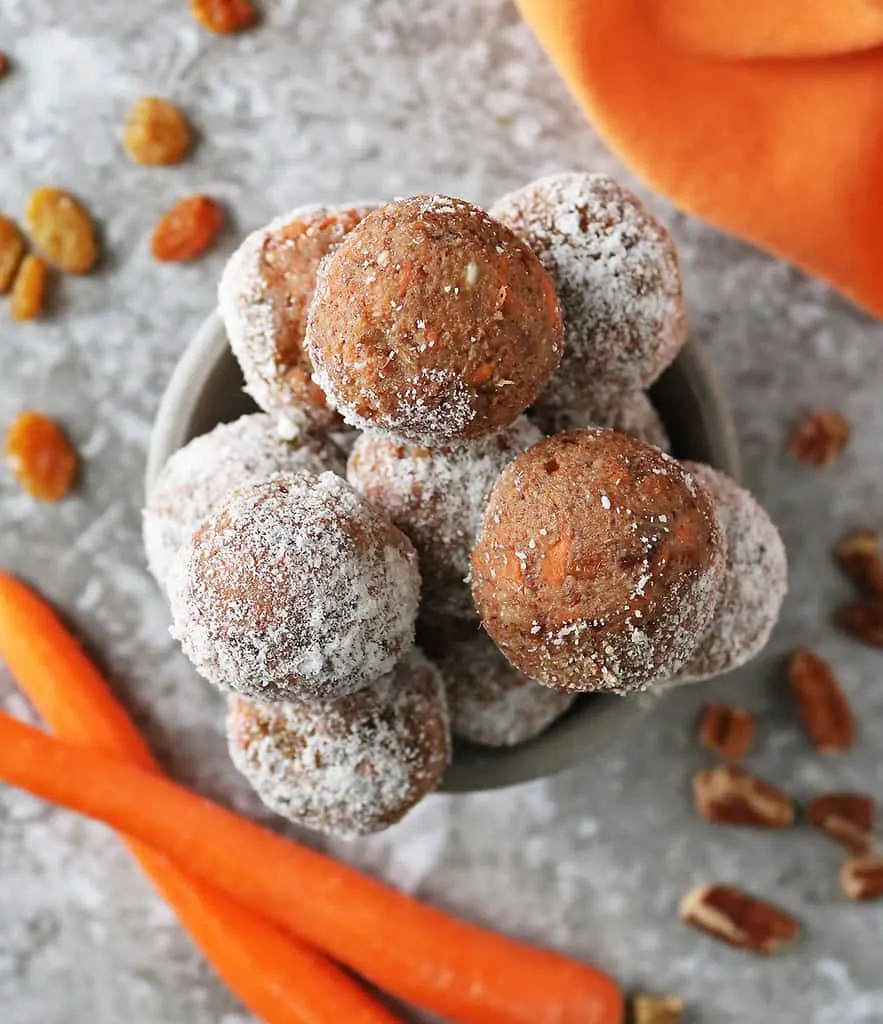 Thanks so much for stopping by. If you make this recipe, please let me know in the comments below what you think of it, or tag your creation on social media with @savoryspin or #savoryspin. For more fusion, spice-filled, recipe ideas, please subscribe and follow me on Facebook, Instagram, and/or Pinterest!