This healthy Christmas Quinoa Salad is packed with a plethora of flavors, textures, and colors! And you can have this vegan side dish ready in about 15-20 minutes.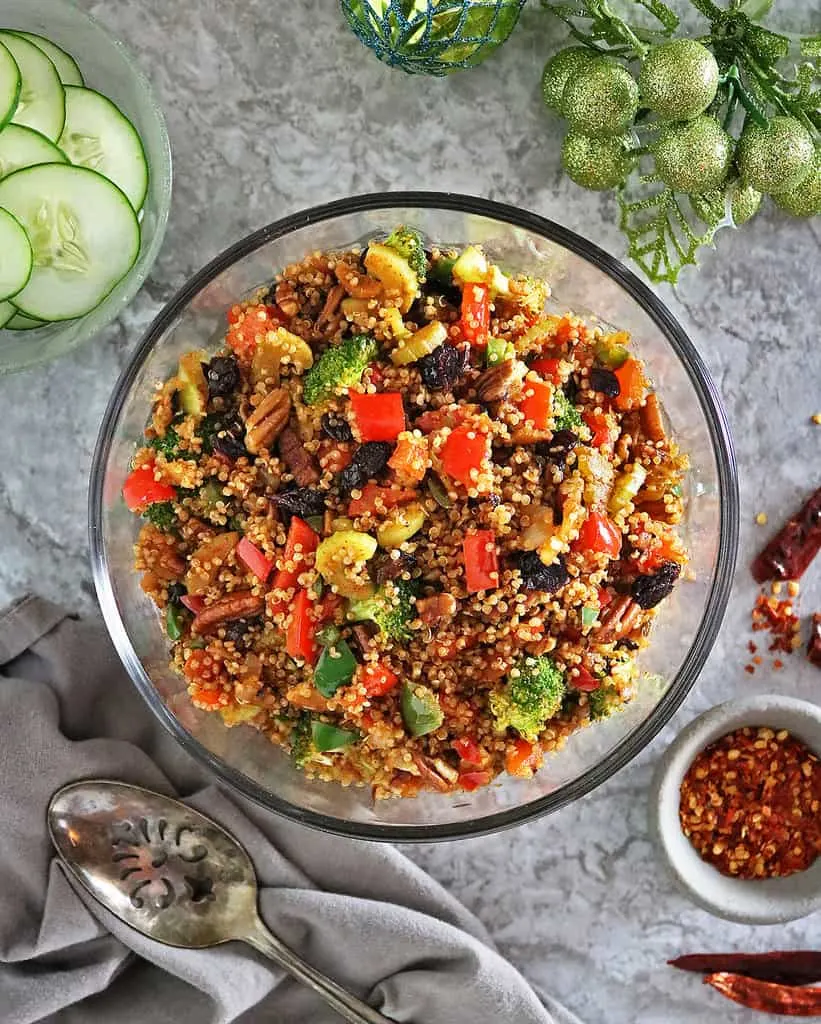 At this point in my life, quinoa seems to have worked its way into every meal from breakfast to dinner. So, it's only natural that it is a part of my holiday table too.
And, I am hoping that this recipe will convince you to make it part of yours as well.
This Christmas Quinoa Salad is heavy on flavor from sautéed onions, ginger, garlic, coriander powder, and smoked paprika. If like me, you like some heat to your quinoa salad, you can add in some cayenne in addition to the jalapeño as well.
After reading that last line, I hope you are not thinking that I am serving this Christmas Quinoa Salad up to those people I like to torture.
But, I come from a family of chili pepper and cayenne lovers. Besides, the jalapeño and cayenne (if you choose to add the latter in) are harmoniously balanced off by sweet, dried cranberries.
If you love a side dish with texture, then this will not disappoint you.
You have the crunch from lightly sautéed celery and pecans. Dried cranberries add in a nice chew. Sautéed bell pepper and broccoli add yet more texture ~ and color. And cooked quinoa is soft and great at uniting all the ingredients that go into this healthy holiday side dish.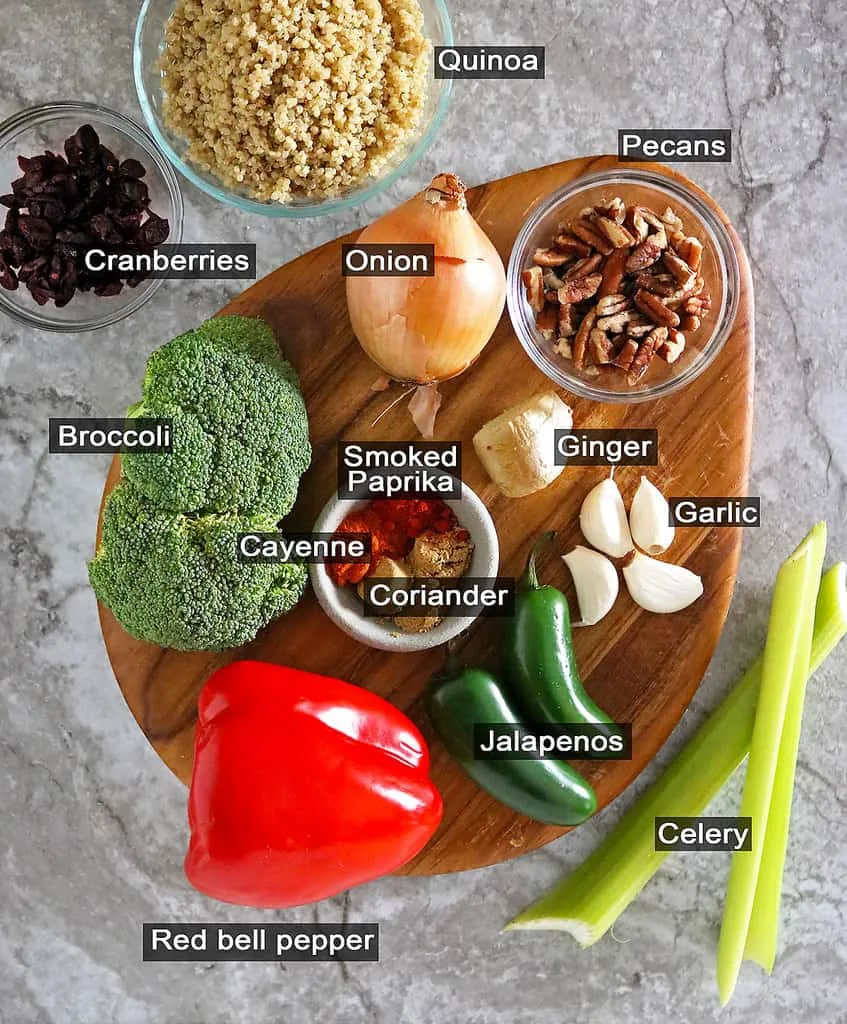 What are the ingredients in this Christmas Quinoa Salad?
You will need the following 13 ingredients to make this Christmas Quinoa Salad:
Do note that of the 13 ingredients, 3 of them (the cayenne, coriander, and smoked paprika), are totally optional.
Garlic
Fresh garlic works best in this recipe. If you want to save time, you can purchase and use pre-peeled and crushed garlic from the store. This is usually in the produce section. One clove of garlic equals about a 1/2 teaspoon of crushed garlic (approximately).

Ginger
As with garlic, fresh ginger works best in this recipe. And, this too can be purchased peeled and chopped/crushed.

Onion
I used a medium-sized yellow onion, but, you can use any you may have one hand. And, it does not have to be a medium. Feel free to use a large red or a small Vidalia one either.

Celery
Fresh celery adds such a hint of flavor and a nice crunch to this. A little off topic, if you have celery stalk scarps, do not throw them away, instead, try this method to regrow them.

Jalapeños
When it comes to jalapeño, you can scrape out as much of the seeds inside as you like. That way, you can tailor the heat level of this Christmas Quinoa to fit your preference, while enjoying the flavor of fresh jalapeño.

Red bell pepper
I chose red bell pepper just for the color. You can use any bell pepper you prefer.

Broccoli
Another ingredient that adds some color and texture to this side dish.

Coriander
I used ground coriander powder for yet another level of flavor. But, it is optional. If you do not have it on hand, then this Christmas Quinoa Salad has tons of flavor from the other ingredients in it.

Smoked paprika
Another ingredient that is optional. I used it for a hint of smokey flavor.

Cayenne
Cayenne powder added some heat to this dish, but if you prefer a milder quinoa side dish, feel free to use it sparingly or leave it out altogether.

Pecans
Pecan pieces add a nice crunch. But, they can be substituted for walnuts or almonds or pistachios, or your nut of choice.

Cranberries
Sweet and ever so slightly tart, cranberries are a must for this simple and easy holiday salad.

Quinoa
I had some leftover cooked plain/white quinoa that I used for this. Tri-color quinoa works well too!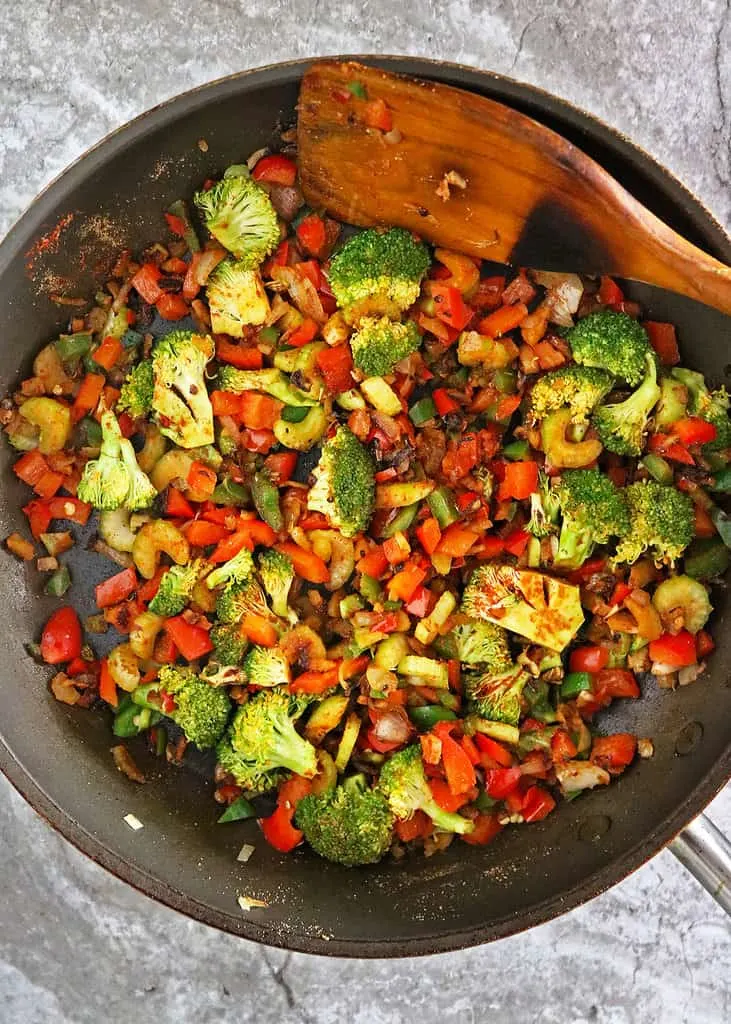 Is this quinoa salad supposed to be served hot or cold?
This Christmas Quinoa Salad is delicious served hot. However, this is a versatile dish. And, you can serve this cold, tossed with a couple of cups of torn kale or lettuce, or this Holiday Salad.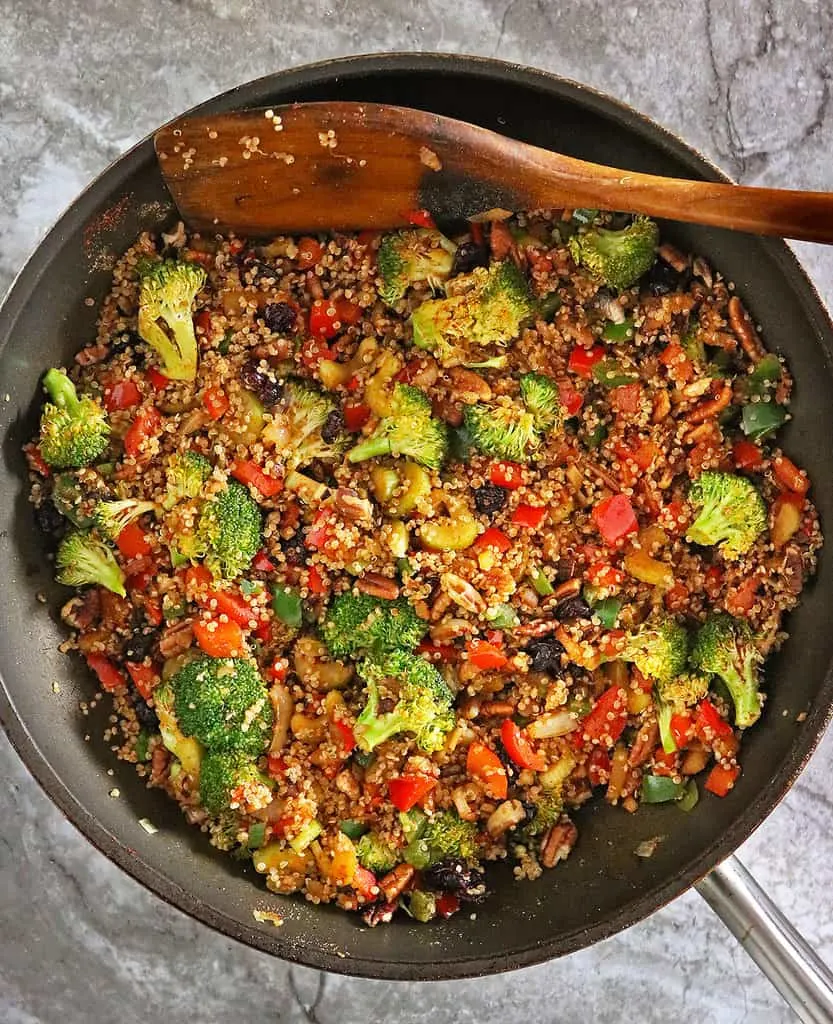 How long can this quinoa salad last?
You can store this quinoa salad in an airtight container, in a refrigerator, for up to 5 days, after making it. So, you could prepare this healthy side dish about 1-2 days ahead of any holiday dinner you have planned. You could serve this Christmas Quinoa Salad cold or at room temperature, tossed with some greens. Or, heat it up and serve it warm.
Which leads to…
What's the best way to warm this salad up?
I prefer to warm this Christmas Quinoa Salad up by placing the contents in a large frying pan and sauteing it over medium heat for about 4-5 minutes. Stirring it often is necessary so it doesn't burn. You can also heat this salad up by placing it in a microwave dish and microwaving it on high for about 2 minutes. Stir it well before serving.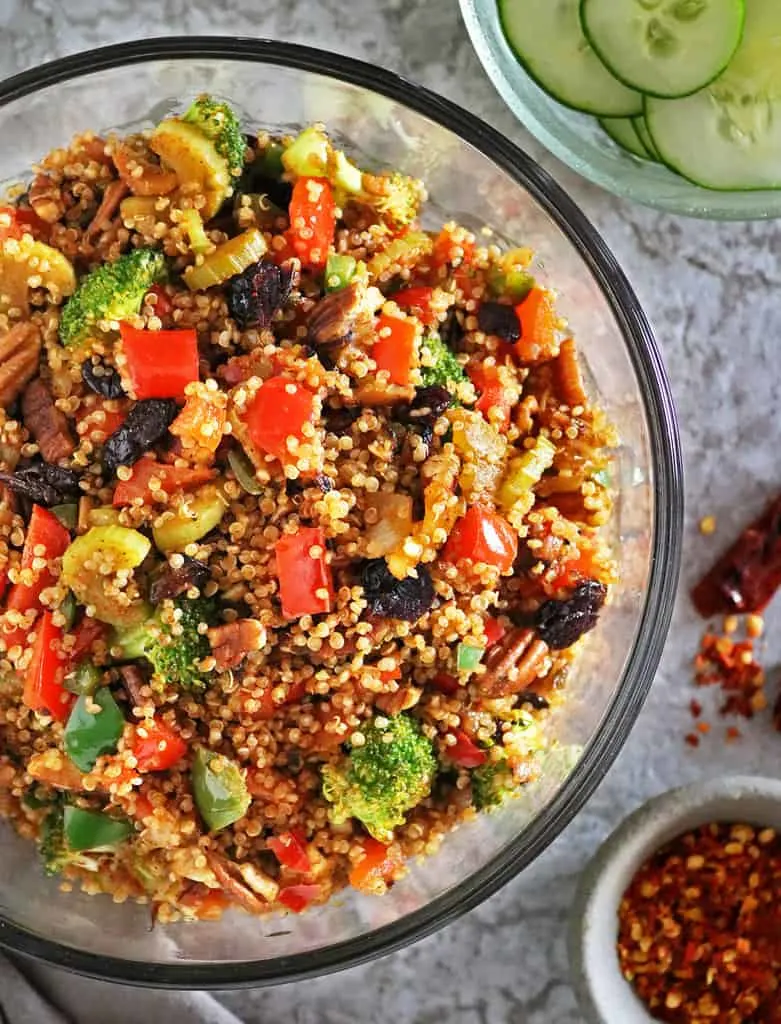 Thanks so much for stopping by. If you make this dish and ENJOY It, please let me know in the comments below. If you DO NOT enjoy it, then bugger off ~ I kid, I kid! All jokes aside, please do subscribe and follow me on Instagram and Pinterest for more easy fusion recipe ideas!