This One-pot Marry Me Tofu is made by pan-frying tofu and then simmering it in a flavorful and creamy, sundried tomato sauce. Easy, tasty, and quick, this dish is a vegan version of the ever-so-popular Marry Me Chicken.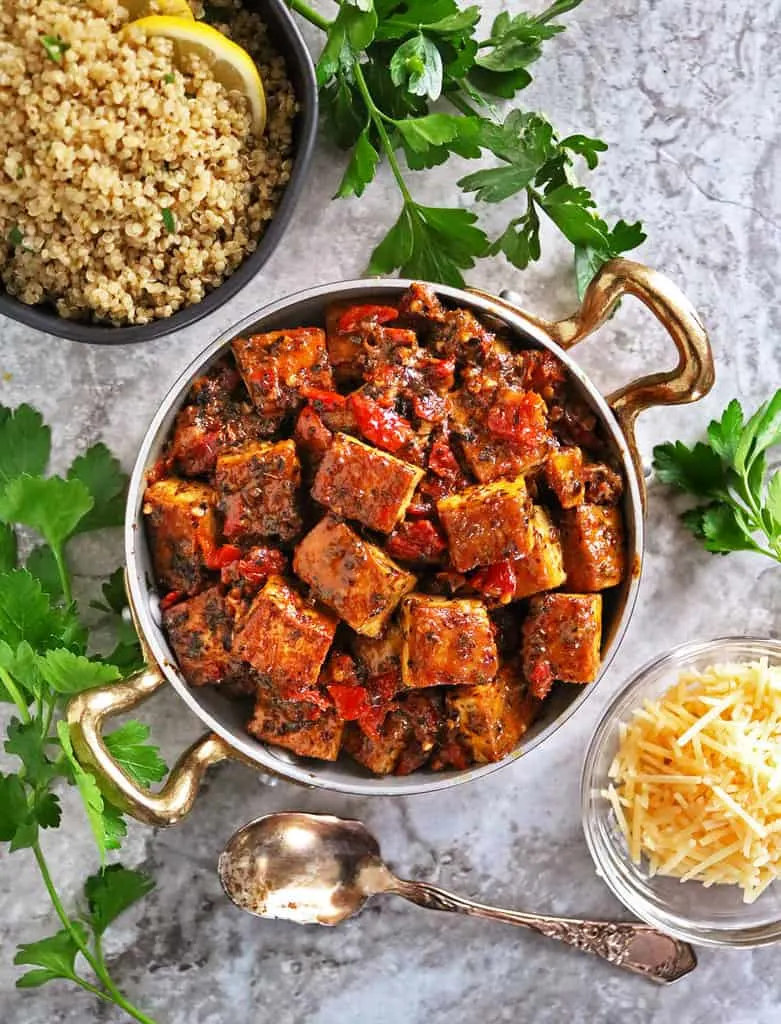 "I made this tonight and it was literally the best tofu dish I've ever had! 10/10…would recommend"

Christy Gossett from Insanity Is Not An Option
I am in no way trying to garner any proposals with this One-pot Marry Me Tofu.

However, I will say that if this dish were a man, I would probably get over my shyness and ask "him" out. Maybe even marry "him."

I kid, I kid.
On a serious note, this One-pot Marry Me Tofu is sinfully scrumptious.

I based this dish on the popular Marry Me Chicken recipes that have been circulating around.
A little history…
Currently, there are several versions of Marry Me Chicken around. In general, Marry Me Chicken is made by pan-frying skin-on chicken thighs until crispy, then simmering them in a savory, garlic-infused, sun-dried tomato-herb cream sauce.
Marry Me Chicken came to be in a Delish kitchen. It is said to have earned its name when a few Delish editors taste-tested it and exclaimed "I'd marry you for that chicken" and "Oh my God that's marriage material." Some even said that this "Marry Me Chicken" was better than the then-infamous "Engagement Chicken."
In case you thought we were done with the history lesson… psych… it continues…
Engagement Chicken was a roast chicken recipe developed by a fashion editor at Glamour Magazine. It is said that she passed the recipe onto a coworker who served it to her boyfriend who proposed. The recipe was passed around in the office and several other women in the office had marriage proposals soon after making the dish for their boyfriends.
Were the proposals and the dish related? Maybe. Maybe not. Who's to say?
One thing I can definitely say is that this vegetarian version of that Marry Me Chicken is one heck of a tasty dish. It is so tasty, that even though I have fallen off the vegetarian bandwagon, I will gladly eat this One-pot Marry Me Tofu seven nights a week!
What are the ingredients to make this One-pot Marry Me Tofu?
You will need the following 11 ingredients to make this One-pot Marry Me Tofu, and they are:
Tofu
I used extra firm tofu

Vegan Butter
I am not being paid to say this, but I love using Earth-balance vegan butter in most of my recipes.

Garlic
Minced garlic can be used, though I used fresh garlic that I grated.

Oregano
Dried oregano worked well in this dish.

Smoked paprika
Adds a smoky delicious flavor to this dish.

Za'atar
Along with smoked paprika, za'atar adds so much flavor to this.

Chili flakes
For a very slight hint of heat. You can leave it out if you prefer.

Vegetable Broth
You could use water, but the vegetable broth is just another way to add flavor to this.

Coconut Milk
I used full-fat, unsweetened coconut milk.

Sundried tomatoes
This is one of the major ingredients and is not to be subbed out or left out.

Parmesan cheese
I used a little bit as a garnish.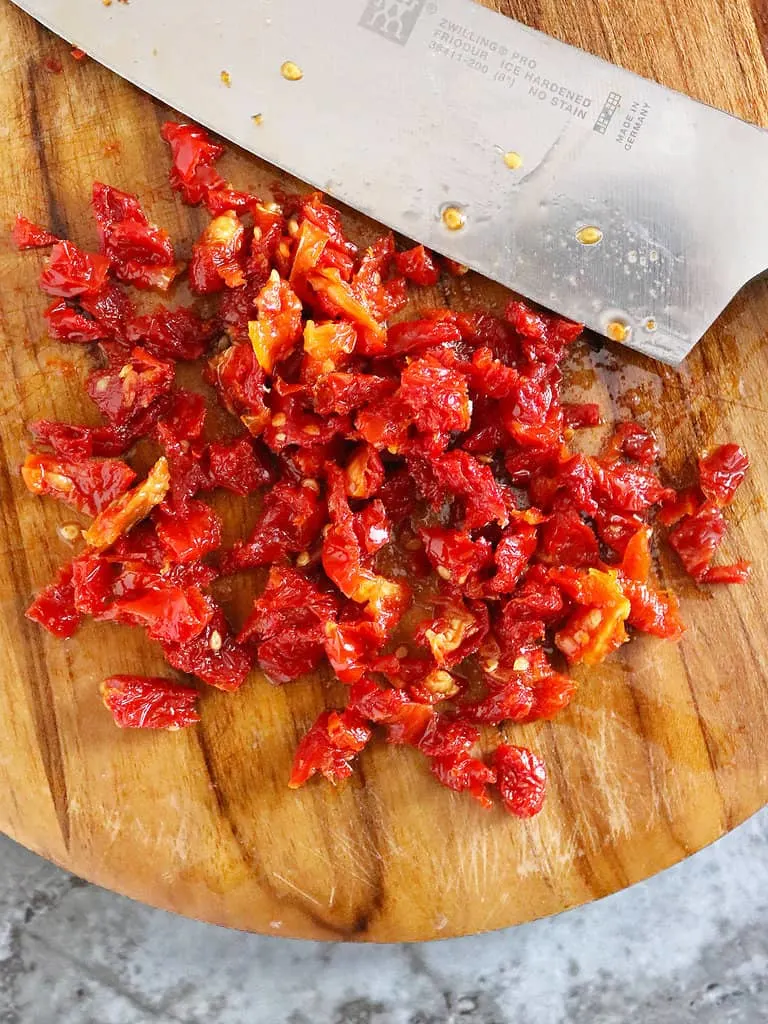 I based this One-pot Marry Me Tofu recipe on this Marry me chicken recipe, with a bunch of substitutions.
Substitutions:
I substituted tofu for chicken, coconut milk for heavy cream, vegan butter for butter, and chicken broth for vegetable broth.
I left out the bacon and added smoked paprika and za'atar for a flavor-packed spin to this dish.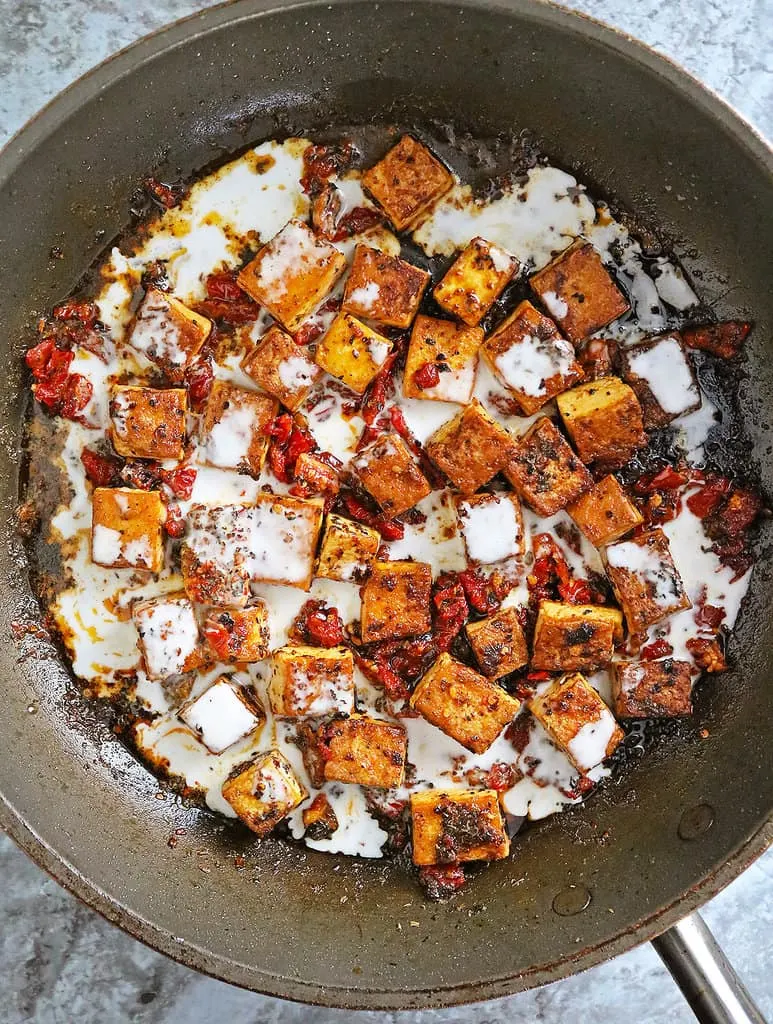 From the time I drained the tofu to add a garnish of parsley to this One-pot Marry Me Tofu, this dish took less than 30 minutes to make. It is perfect for a weeknight meal or a more elaborate weekend dinner.
This dish is so tasty, vegetarians and non-vegetarians alike are sure to love this dish!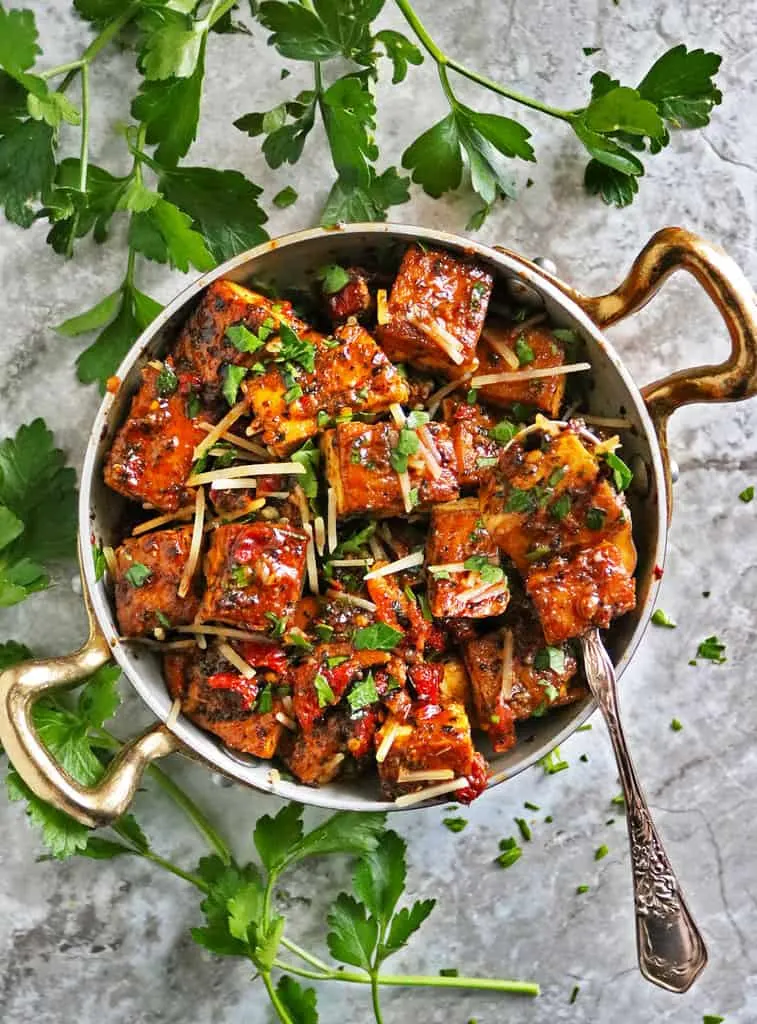 This One-pot Marry Me Tofu dish is a versatile vegetarian side dish that can be served with some roti, some rice, or even some pasta.
For a healthier spin, the other night, I enjoyed this One-pot Marry Me Tofu with some Lemon Za'atar Quinoa and licked the plate clean!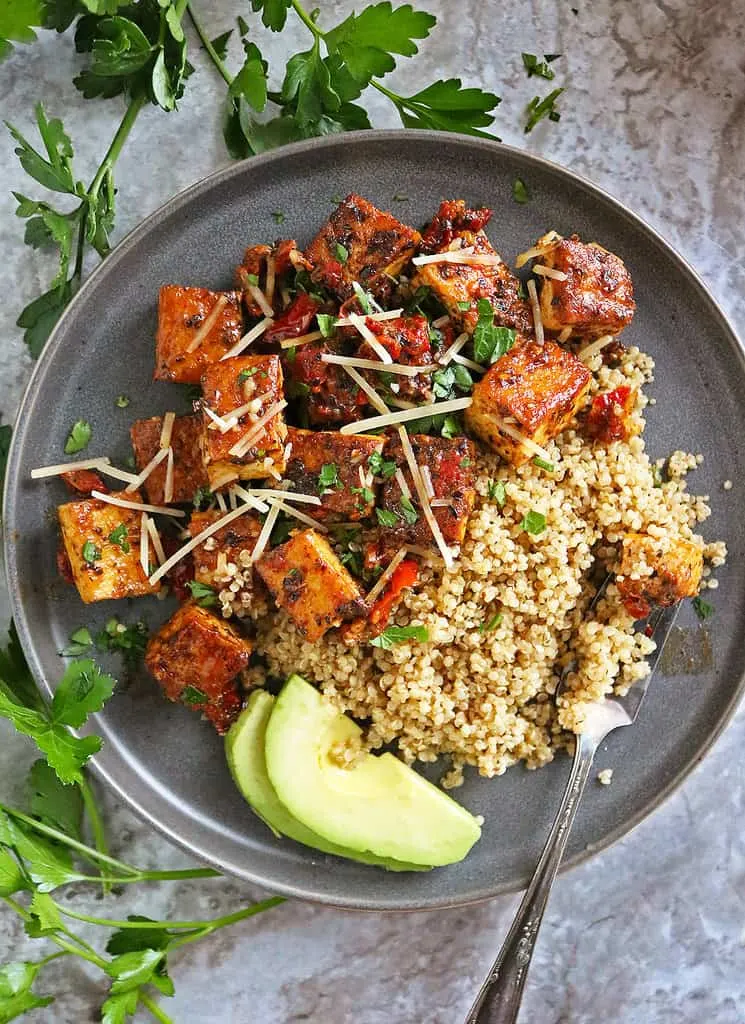 Thanks so much for stopping by. If you make this recipe, please let me know in the comments below what you think of it. If you prefer a version with chicken, make sure to check this recipe out. For more fusion, spice-filled, recipe ideas, please subscribe and follow me on Instagram and Pinterest!