Chickpeas, tomatoes, red onion, and cucumber are enveloped in a garlic zata'ar vinaigrette in this tasty and easy vegan chickpea salad. Whip up a double batch of this salad for your next get-together. Or, prep it on Sunday and have a healthy side salad to enjoy at lunch for a couple of days.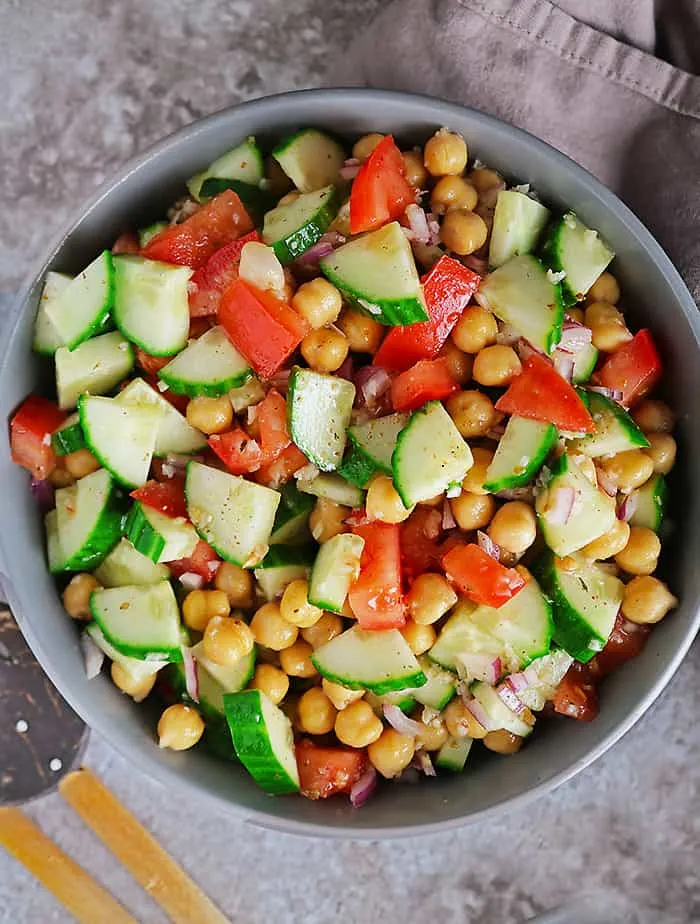 This chickpea salad is one of our summer favorites. I love making a batch of this salad and having it on hand for a quick and light lunch. This tasty plant-based salad is delicious and filling.
Packed with plant-based protein, a serving of this makes for a satisfying lunch when I am in the mood for a light afternoon meal. This versatile salad can also be served as a side dish at a summer gathering or your evening meal.
We love this easy chickpea salad and consider it our version of good-mood-food because:
• It is so tasty,
• It is incredibly versatile,
• It is nutritious,
• It is plant-based,
• It is pleasantly filling, and
• It can be made with only 9 ingredients!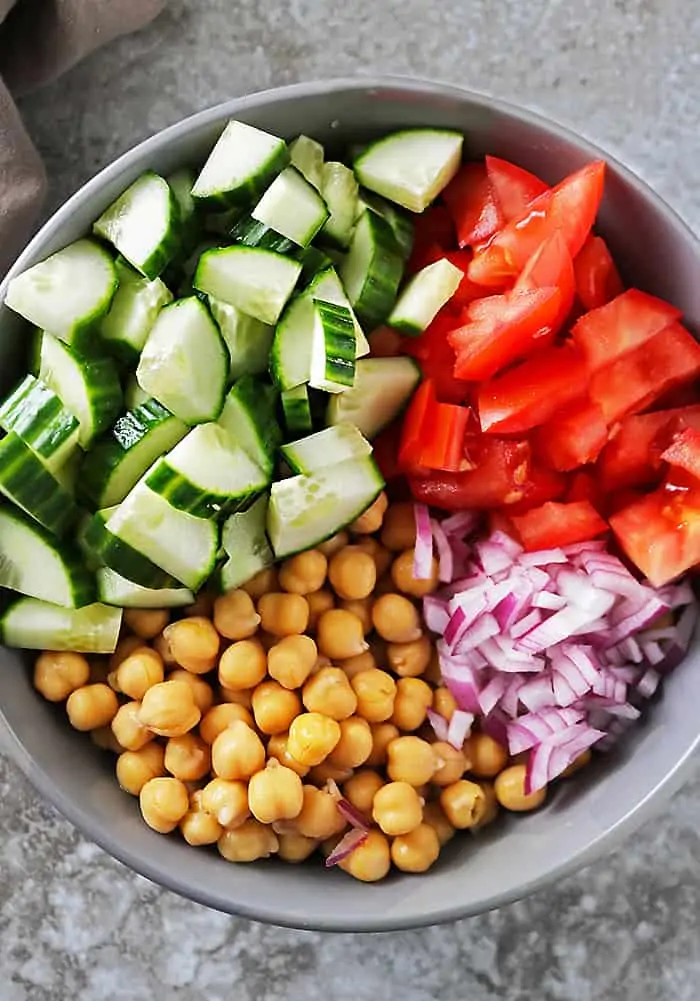 What are the 9 ingredients needed to make this salad and the garlic zata'ar vinaigrette?
You will need the following:
Garlic
Salt (kosher salt preferably)
Lemon juice
Olive oil
Zata'ar
Cucumber
Tomaro
Red onion
Chickpeas (I used canned chickpeas)
The first five ingredients on the list, (garlic, salt, lemon, olive oil, and zata'ar) are needed to make the tasty vinaigrette. Though the remaining 4 ingredients are the building blocks of this salad, they can be substituted.
While this is a chickpea salad, if you are not fond of chickpeas, then you can use black beans or navy beans instead. If tomatoes are not your jam – then use some bell pepper. If you like you can add some chopped lettuce, ribboned carrots, and/or some nuts to this salad to amp it up.
My daughter and I have enjoyed many versions of this salad, but our favorite is the simple chickpea salad you see here. Just chickpeas, tomatoes, red onion and diced cucumber tossed in a garlic zata'ar vinaigrette.
How do you make the garlic zata'ar dressing for this vegan chickpea salad?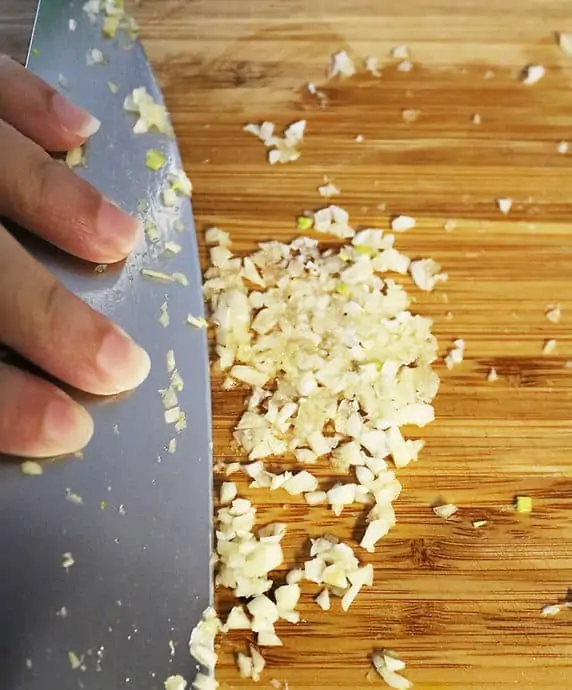 This vinaigrette is so easy to make. I like to chop up the garlic as small as possible. Then, I add a bit of kosher salt to it. And, using my knife blade at an angle, I like to smoosh it up so the garlic is crushed and releases all its flavor. The coarse kosher salt helps in breaking down the garlic so it is easier to crush. I then add in some fresh lemon juice, some zata'ar, and then I whisk in some olive oil.
This is a simple vinaigrette that you can make in 5-10 minutes with the garlic crushing being the most time-consuming part.
And, this vinaigrette manages to enhance the flavor of the cucumber and tomato while it complements the red onion and chickpeas, adding so many layers of flavor to this salad. By the way, you can double or triple this vinaigrette recipe and use it with all your other summer salads too.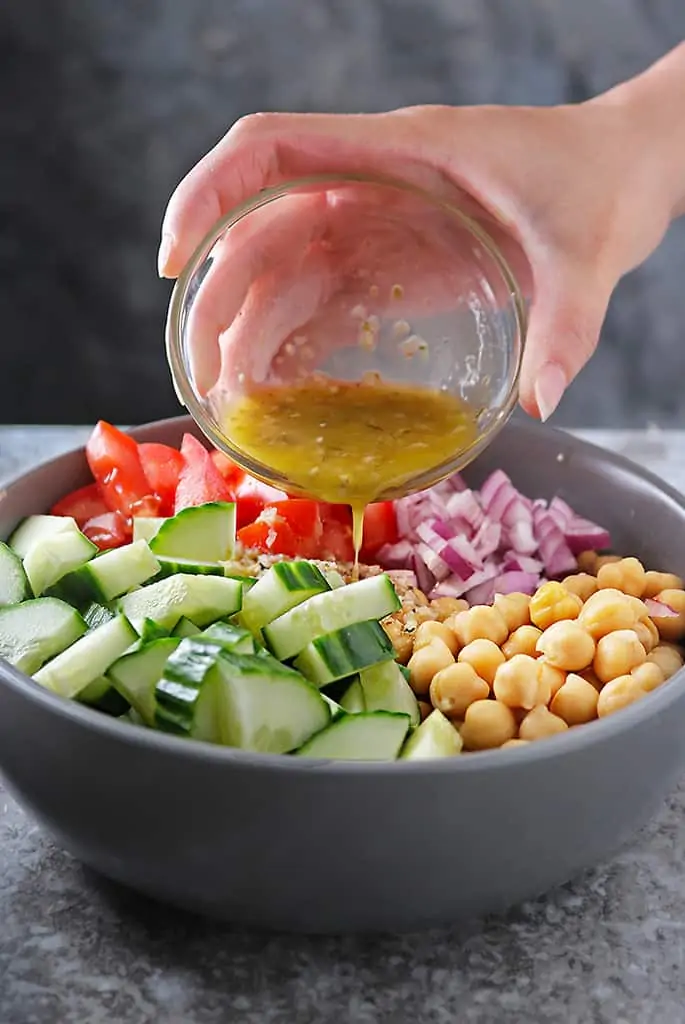 FAQ's
Do the canned chickpeas need to be washed?
If you are using canned chickpeas in this dish, they need to be drained and rinsed. Not only does this help the chickpeas absorb the flavors they are surrounded by, but this also helps cut down on the salt content.
How long will this chickpea salad last in the fridge?
You can store this chickpea salad in an air-tight container in the refrigerator for 2-3 days.
Can you make the vinaigrette for this salad without the zata'ar?
You can make this vinaigrette without the zata'ar – but that cuts out on so much of the flavor the zata'ar brings t this dish. Zata'ar can be found at most local grocery stores. however, if you would like to leave it out, you can add in some chopped fresh herbs to this salad.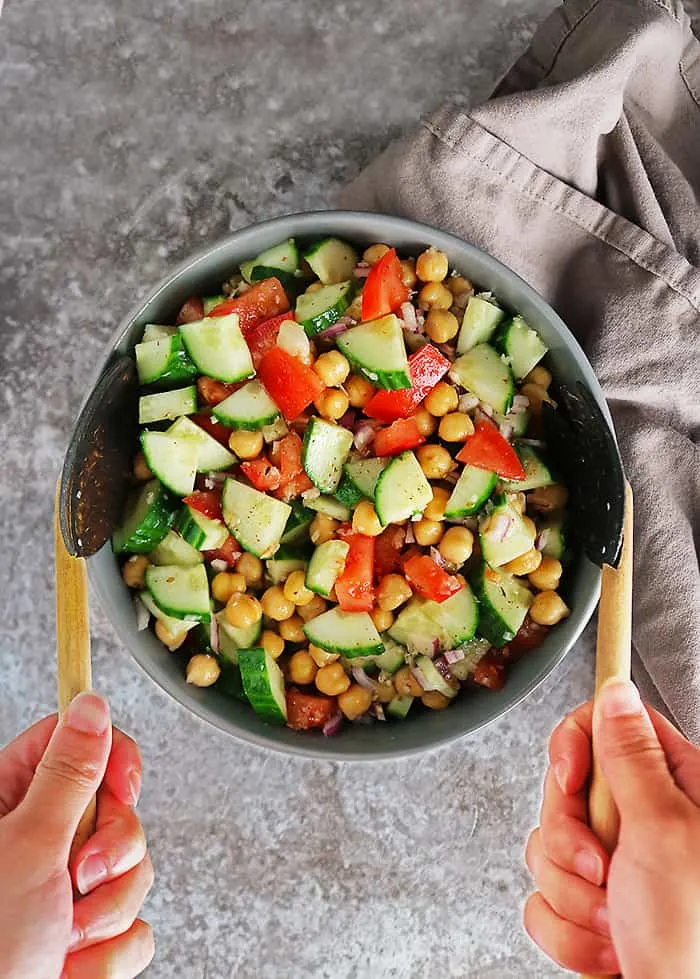 I hope you and your family enjoy this salad as much as my daughter and I do.
Let me know in the comments below if you make this salad – tag @savoryspin on Instagram, Facebook, or Pinterest so your creation can be featured.
Love salads this time of the year?
Then check these out…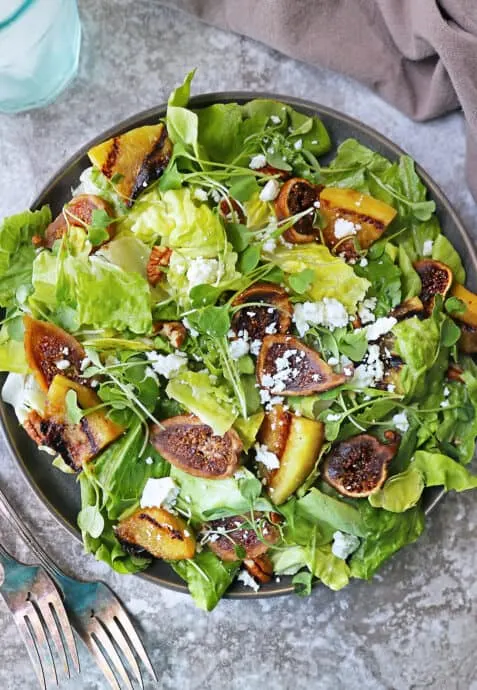 This Melon Salad with Feta is such a tantalizing variety of textures and flavors. Refreshingly sweet and salty, crunchy and creamy, this salad is perfect for summer!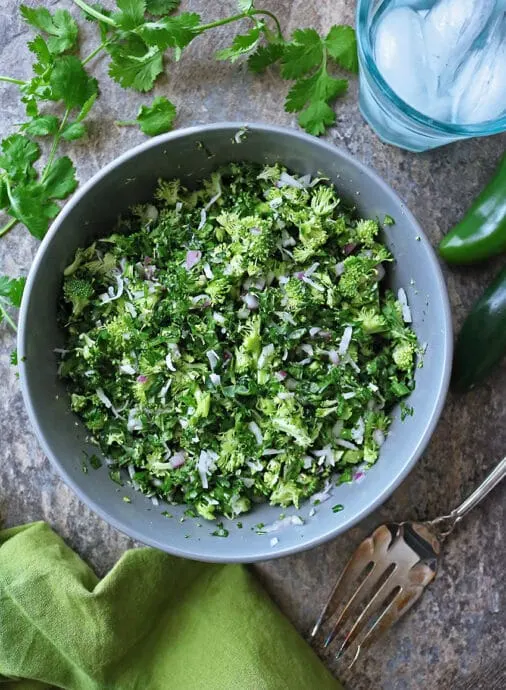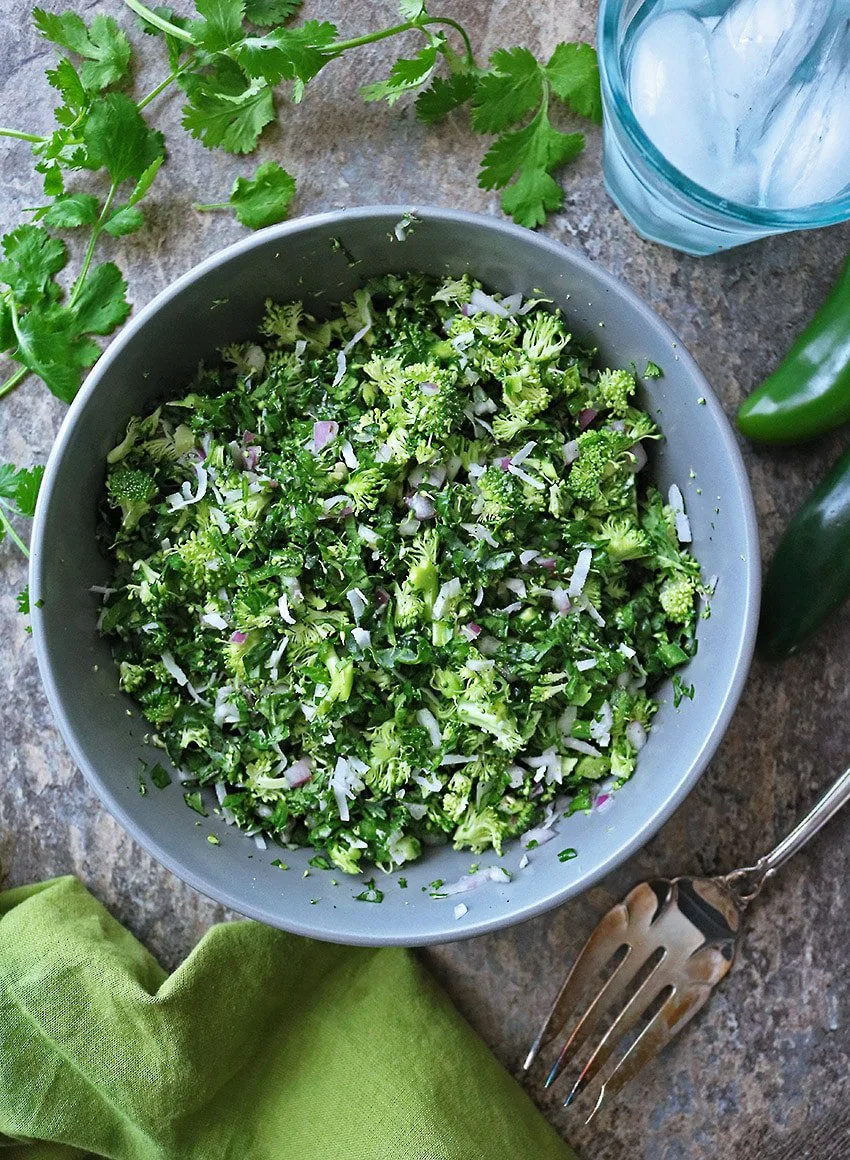 Cilantro, broccoli, and kale are the stars of this delicious Broccoli Kale Cilantro Sambol (Salad). It pairs well with curries and rice just as well as it would pair with burgers and fries.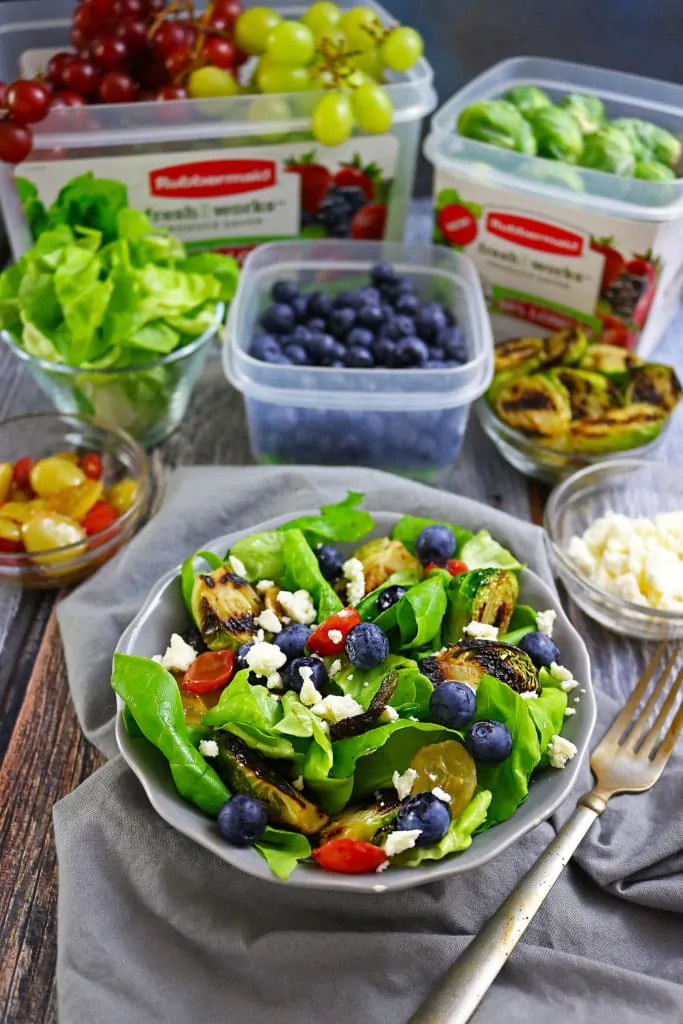 This Easy Grilled Brussels Sprouts & Summer Berry Salad has charred Brussels Sprouts and grapes mingling with crispy butter lettuce, sweet blueberries and salty and tangy feta for one heck of a taste-sensation in your pie hole!