This shop has been compensated by Collective Bias, Inc. and its advertiser. All opinions are mine alone. #SeeHowFreshWorks #CollectiveBias
This Easy Grilled Brussels Sprouts & Summer Berry Salad has charred Brussels Sprouts and grapes mingling with crispy butter lettuce, sweet blueberries and salty and tangy feta for one heck of a taste-sensation in your pie hole!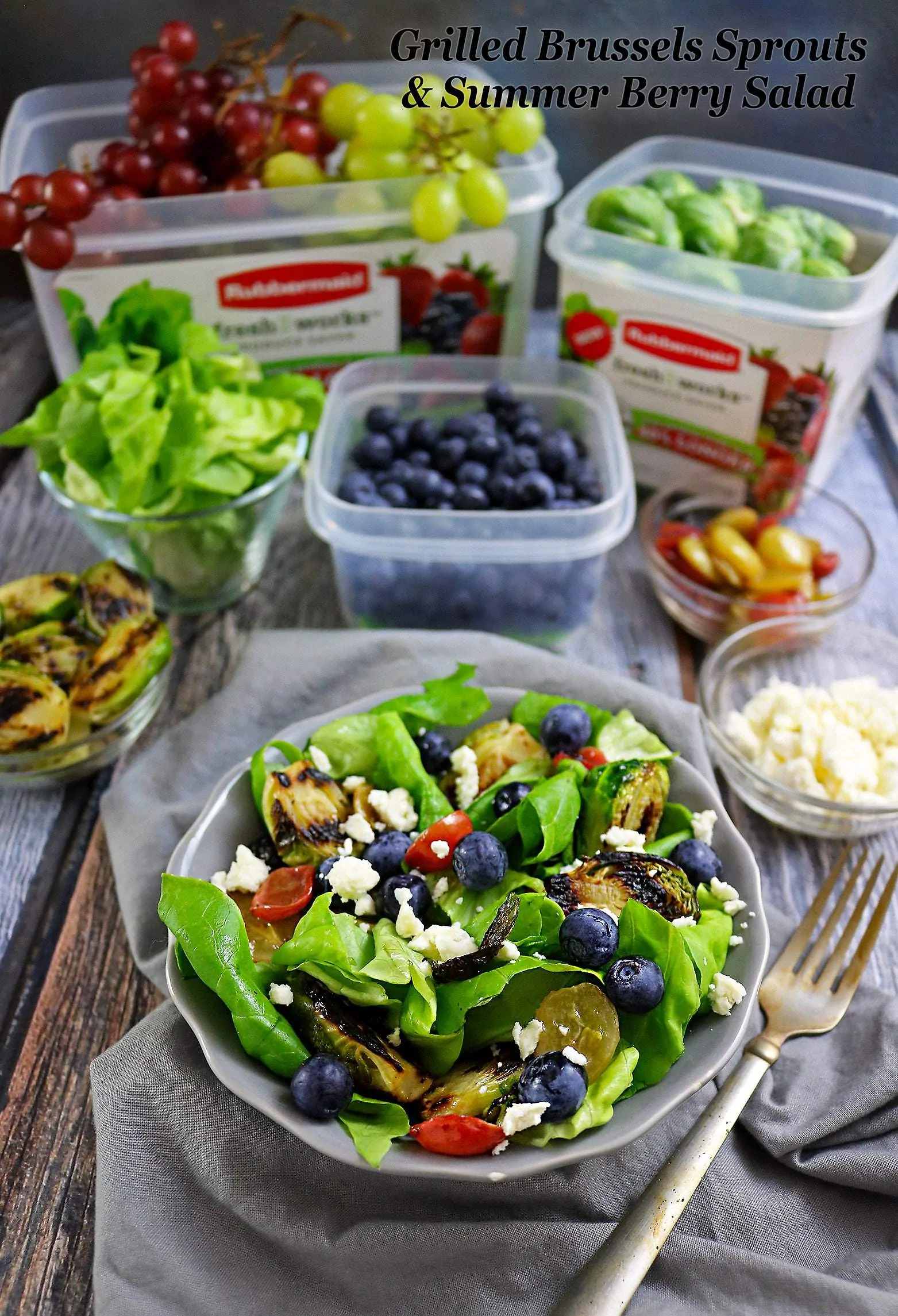 Eight months ago, my daughter's decision to become a vegetarian had me bumfuzzled!
I mean, she worked for a large fast food chain that had chicken all across their menu… and… what was to become of our bacon brunches!?
To be honest, I took comfort in assuming that this phase wouldn't last.
Just like her googly-eyed infatuation with Nick Lachey, I figured her flirtation with vegetarianism would also be over in a blink and a sneeze.
But, alas, I was wrong.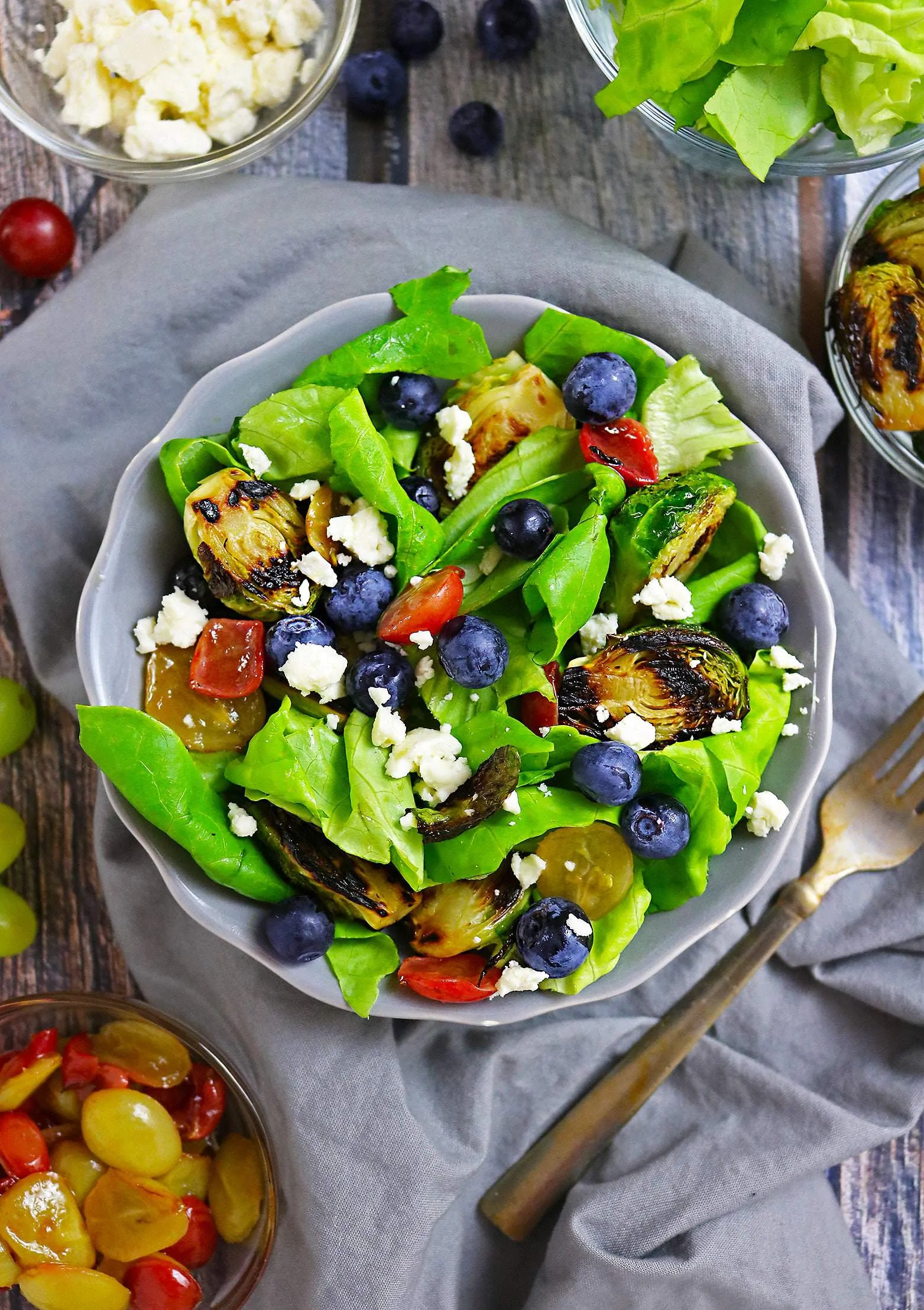 Eight months in and she still follows me around the grocery store and points out the fact that meat is murder every time I try to pick up my favorite sausage or eye some bacon.
Which usually ends with me walking away from said product and stocking up on ALL the fruits and veggies that happen to be on sale at my neighborhood Kroger store.
Of course, while I maybe getting a deal – I've had a hard time trying to come up with ways to store all that produce before it goes bad.
At least – that was until I came across Rubbermaid® FreshWorks™ produce containers in the food storage aisle at Kroger.
The Patented FreshVent™ Technology that is the trademark of Rubbermaid® FreshWorks™ produce containers, helps keep produce fresh up to 80% longer* as it allows excess CO2 to escape, delaying produce spoilage while allowing additional O2 in, creating the optimal environment to keep your produce fresh. The Patented membrane, which naturally regulates the flow of O2 and CO2, never requires replacement. The Crisp Tray™ elevates produce away from moisture and promotes proper airflow to help prevent spoilage. And, the lid, container, and tray are dishwasher safe and BPA free. FreshWorks™ is only for produce and not for leftovers or other food items.
*Based on strawberries in FreshWorks™ containers vs. store packaging. Results may vary depending upon produce and use.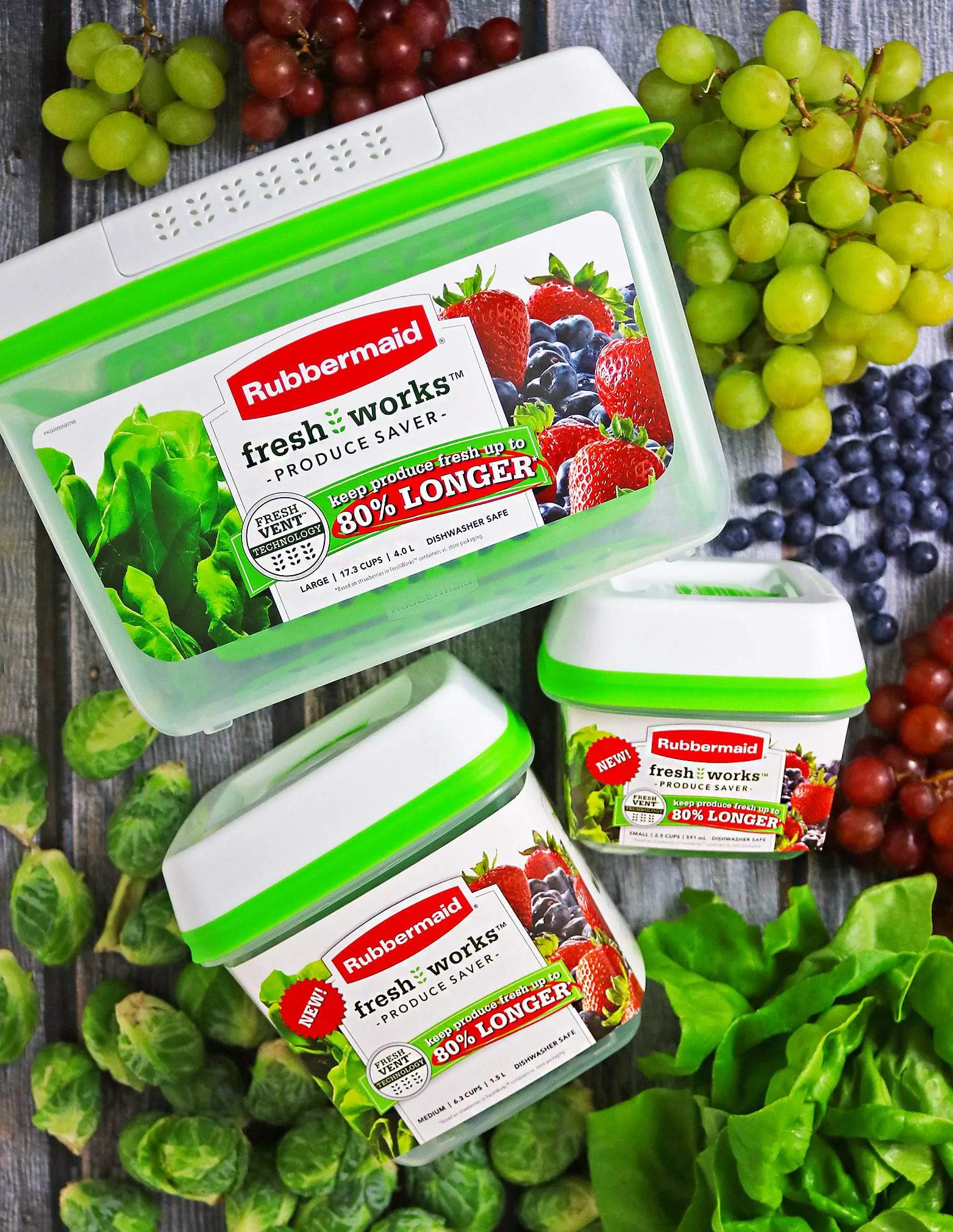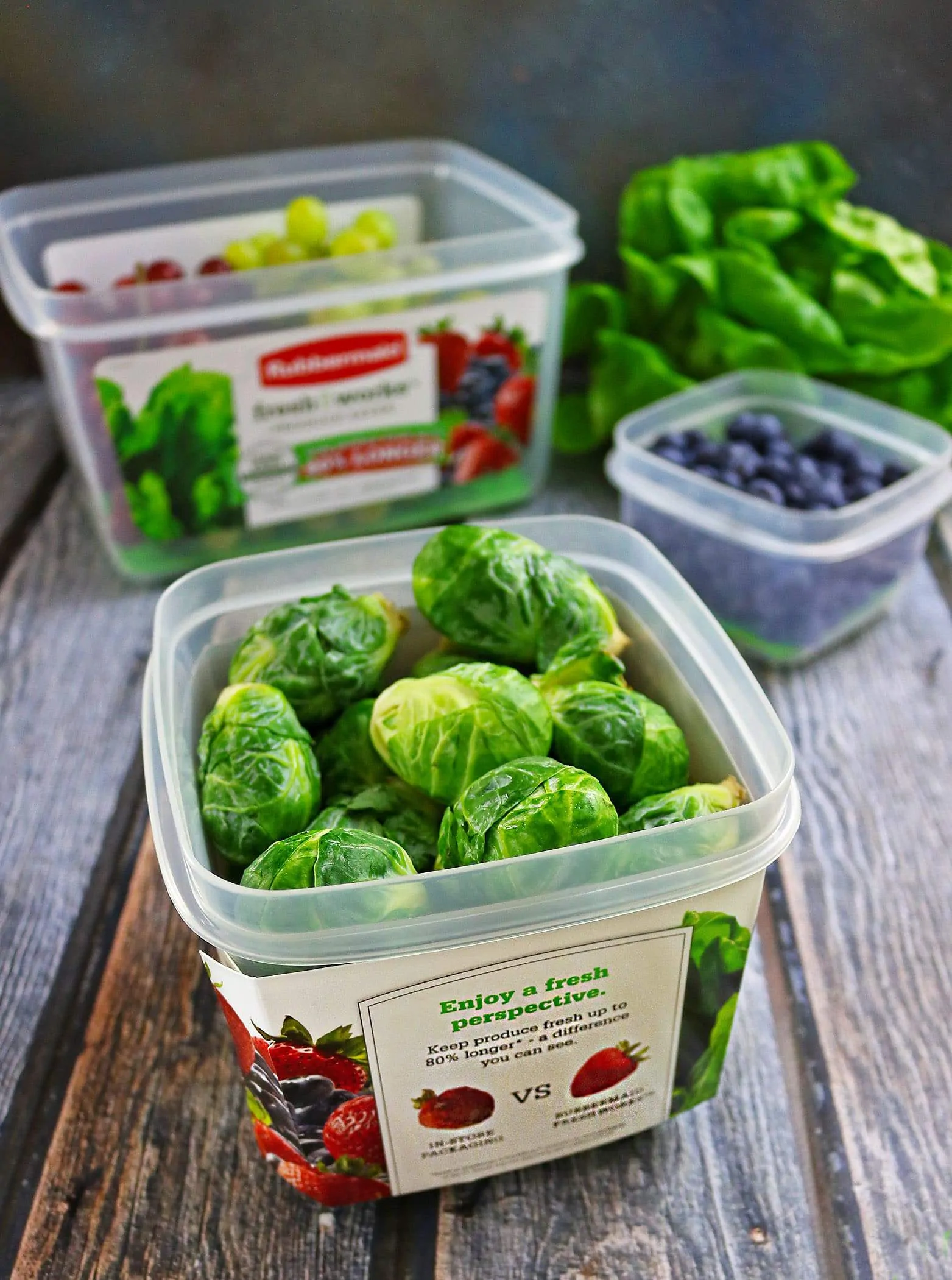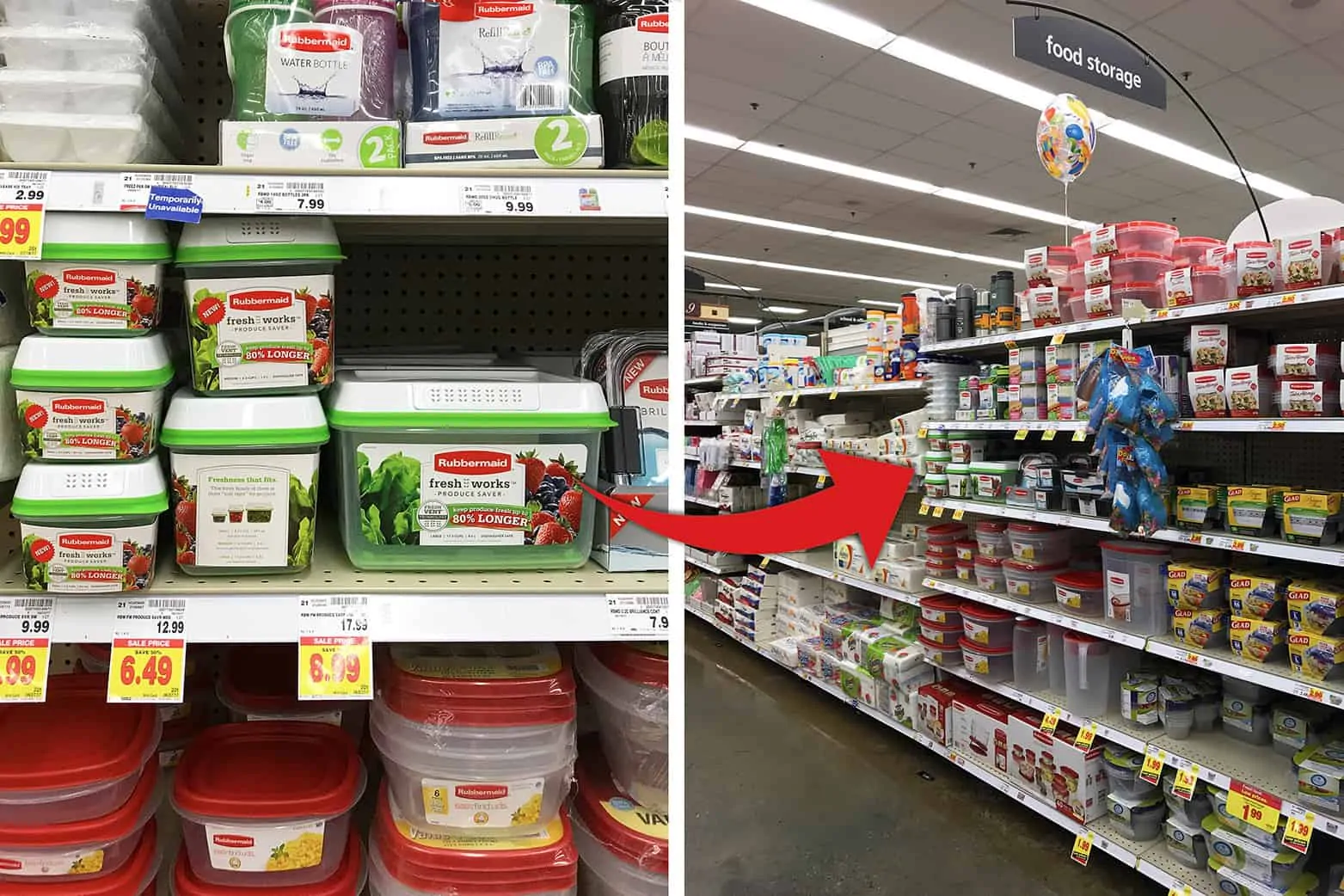 After my last produce run, I've been thrilled to store my loot of BS (Brussels Sprouts), grapes and blueberries in Rubbermaid® FreshWorks™ produce containers and not have to cook the whole lot. Recently, my daughter and I were both craving a salad AND some grilled Brussels Sprouts …hard to resist charred up BS eh?! Well, I figured why not put the two together and grill up some grapes too and throw in some blueberries and feta with some crisp butter lettuce and call it an Easy Grilled Brussels Sprouts & Summer Berry Salad – or like my daughter called it, an Easy Grilled BS Summer Berry Salad!
We didn't need any dressing with this salad – but, if you need one, a light balsamic would be wonderful. There's really no exotic spices included – I simply grilled the Brussels sprouts with some olive oil, salt and pepper. The grapes I added onto some foil and placed them on the grill as well, which gave them such a unique depth of flavor. Again – simply salt and pepper with the grapes as well. But – it was the mingling of the grilled Brussels sprouts, roasted/grilled grapes, feta, blueberries and butter lettuce that was magical!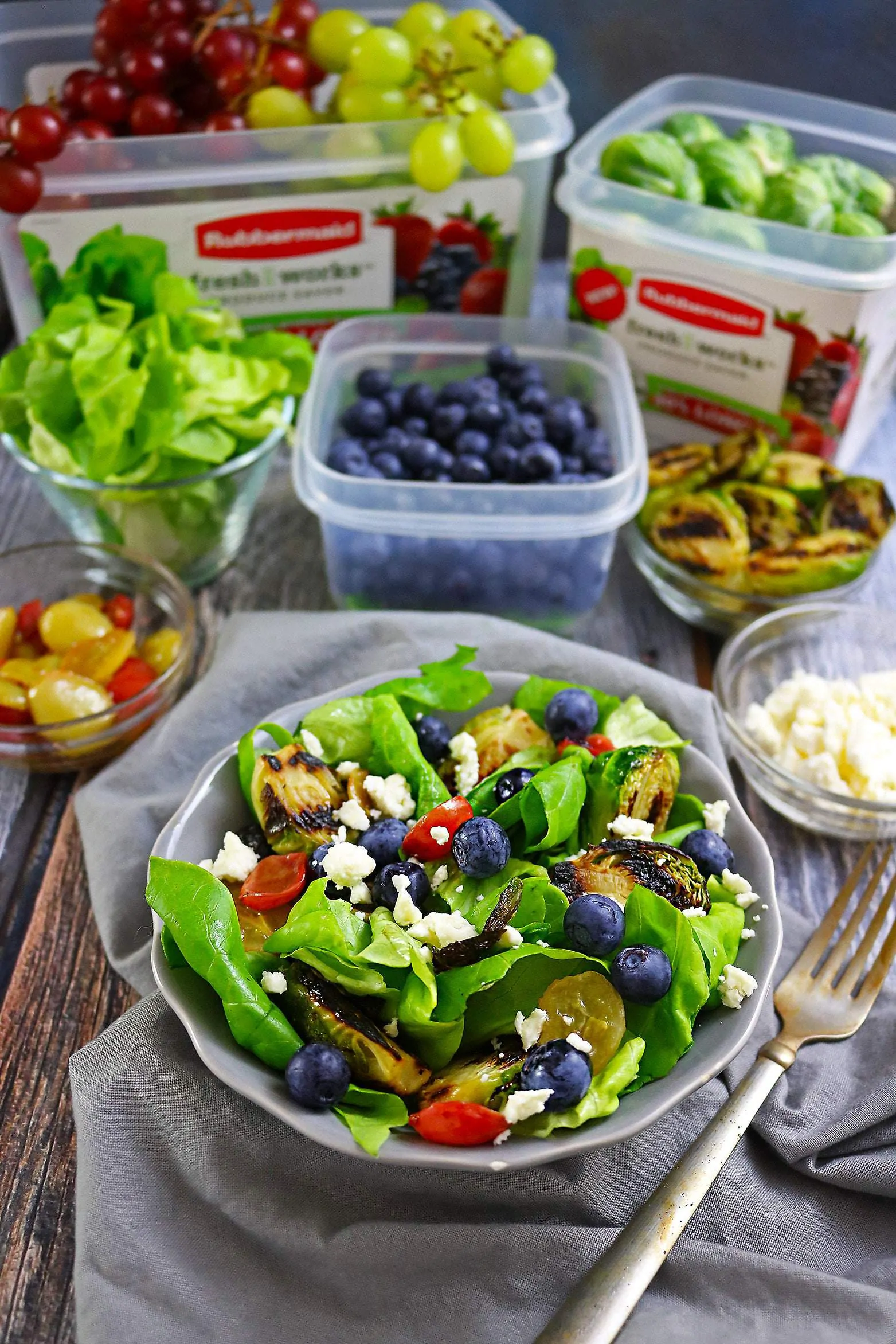 By the way, you can find more Rubbermaid® FreshWorks™ inspiration and learn about how the product works here.
And, while supplies last, you can Get $2 Off FreshWorks™ with This Ibotta Offer!
[Tweet "Easy Grilled Brussels Sprouts & Summer Berry Salad #SeeHowFreshWorks #ad"]