This Bean Pumpkin Curry is so easy to make and with pumpkin puree in the curry base, it is so hearty and filling with naan or paratha – and it's ready in less than 20 minutes!
As the time draws closer to when my daughter will be leaving for college, I find that it's not just me that's having a hard time letting go. Like Manny in the last episode of Modern Family, my daughter is starting to feel the pull of home more. And, I guess I should take some sort of comfort from that, but my heart aches just a tad more because of it.
So much sap this morning – eh?!
But, bear with me, as this weekend, this sentimental sap and her sentimental daughter indulged in a game that began way, way back in the day which lead to this hearty and easy Pumpkin Bean Curry that you see here today!
When my daughter was a toddler, I started playing this game with her where she would pick up a new fruit or veggie once a week. We would eat it raw or cook it as need be. The fact that she picked it made her more apt to eat and enjoy it than if I had. And, sometimes, she ended up picking something I hadn't ever had or cooked before – those were fun times indeed.
This past weekend, when my daughter and I were gallivanting around the city of Decatur, we went into a South Asian store we used to frequent (called Cherians) and ended up bringing home a bundle of these scraggly-looking, extra long beans. Now, we've both had these beans before at my mom's. But, I've never brought them home and attempted to cook them. And, I have no clue what they are supposed to be called other than "extra long beans!"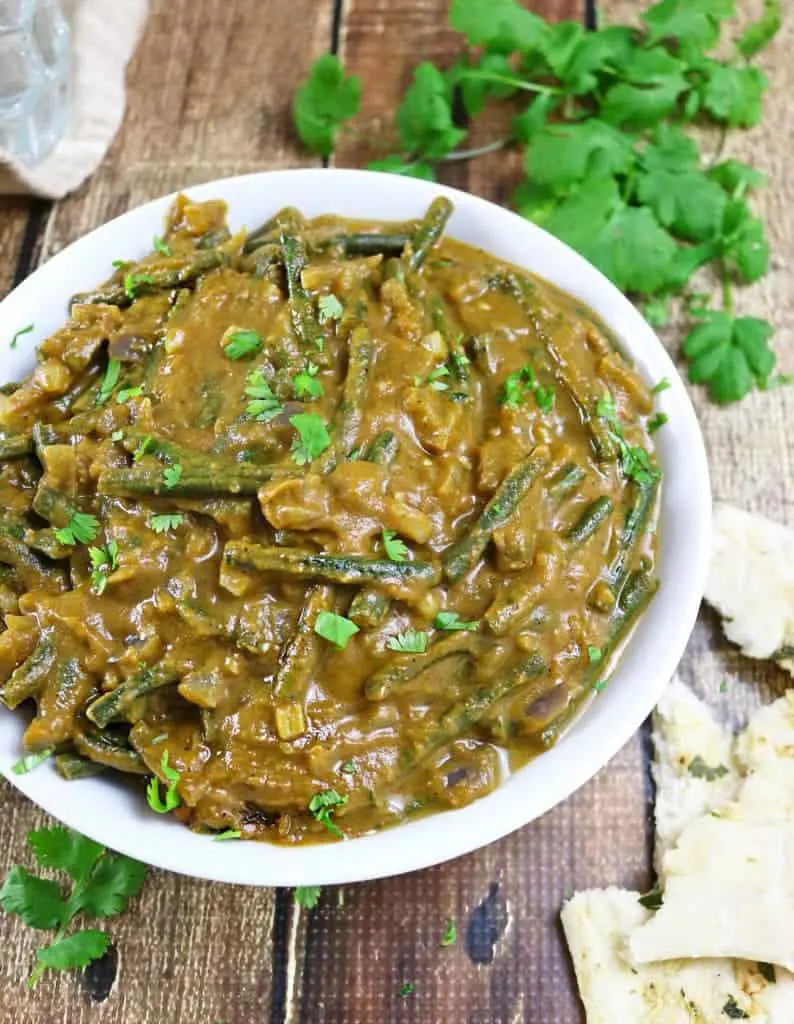 At first, I figured I would just stir fry them. Stir frying is my easy way out when I have something new to cook. But, my daughter suggested I make a curry instead as we also brought home some naan and paratha that she wanted to try with a curry.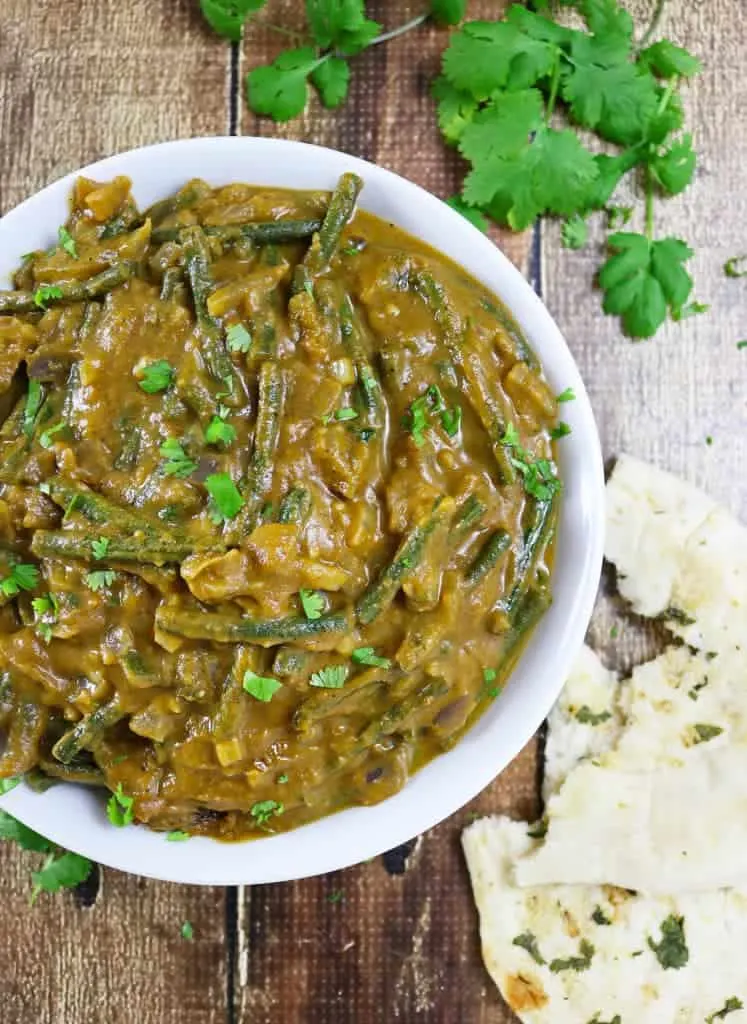 As I had some pumpkin puree hanging out in my pantry, I figured I would use it as a curry base instead of tomato paste like I normally do.
And, we were truly delighted with the outcome. That pumpkin puree mixed up with some coconut milk, vegetable stock, garam masala and cumin was such a wonderful base for these extra long beans. And, this curry came together in less than 20 minutes! We sopped up the beans and pumpkin gravy with some naan and paratha and were quite happy with how hearty this simple, vegetarian Bean Pumpkin Curry was.
Here's hoping y'all give this Simple and Easy Bean Pumpkin Curry a try and here's hoping y'alls first day of Spring is simply lovely!
[Tweet "Bean Pumpkin Curry #Easy #Vegetarian"]