Thank you The Fresh Market for sponsoring this post. Visit a store near you to get everything you need for a memorable and delicious holiday!
Packed full of carrots, spinach, beans, potatoes and a boatload of aromatic spices, these Easy Meatless Veggie Balls are a hit in our house – hoping they will be one in y'alls too!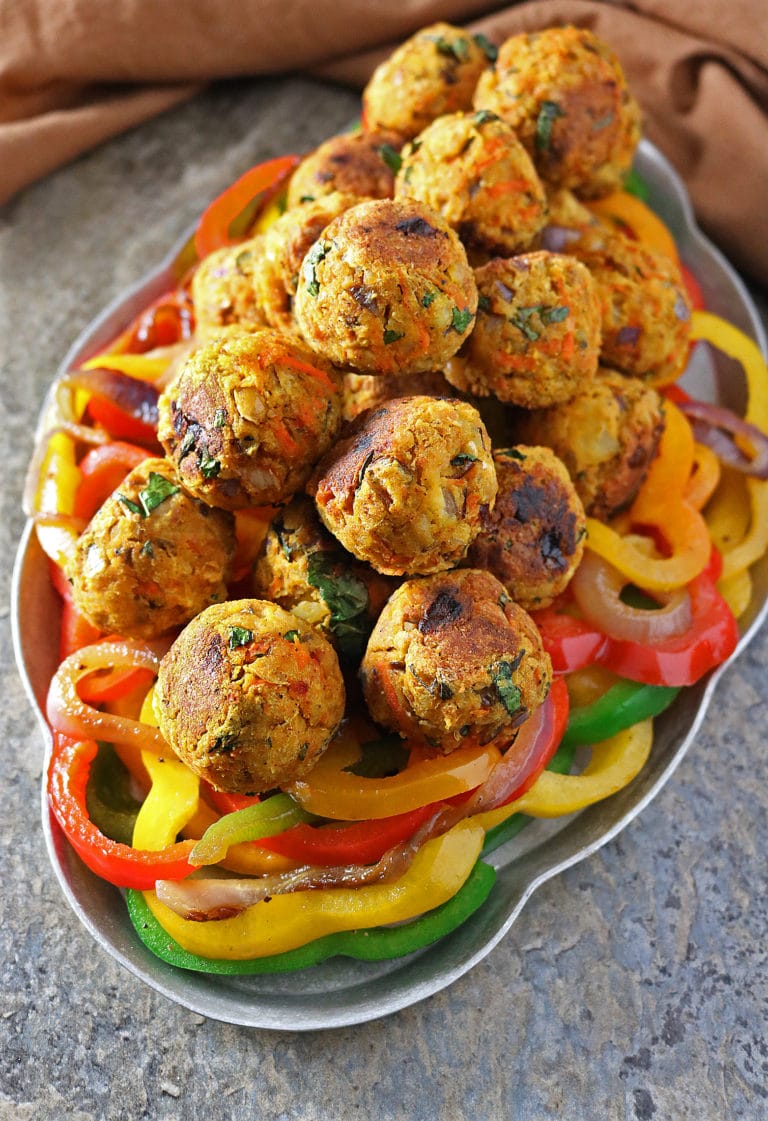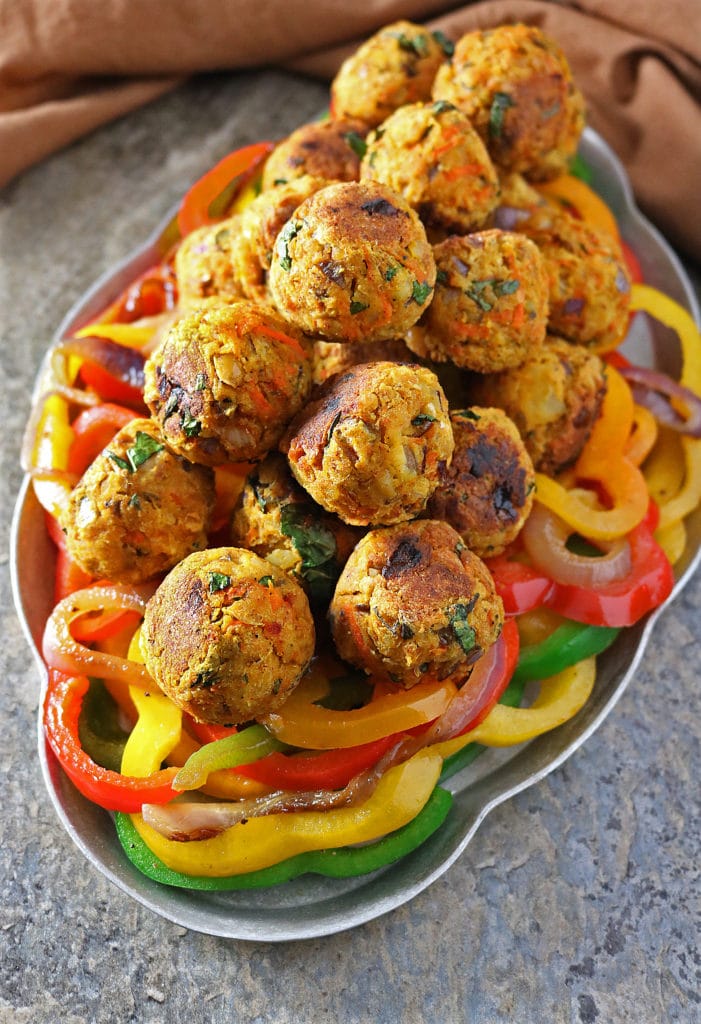 And so it dawns! My favorite month of the year! The month when I don't mind being so busy I forget what I went to the bathroom for! Yes, December 2017 is here and I'm so pumped! I'm looking forward to juggling holiday parties, cookie exchanges, package mailing, holiday menu shopping, my daughter's month-long birthday celebrations and work!
You see, to me, all of these things have one thing in common – and that is food! Holiday parties = homemade cake! Cookie exchanges = homemade cookies! Mailed packages = more homemade cookies! Christmas Dinner = me cooking food for it! And – well, my daughter says her month long birthday celebrations wouldn't be celebrations if not for food! As for work – yeah, the first part of one of my job descriptions begins with "food"…
So… when I first moved to this little college town two months ago, I was wondering how I was going to juggle all this month brings with hour long drives to some of my favorite produce markets to stock up on foods I will need. Then, as fate would have it, recently, I was wondering around by the gym I frequent and turned a corner and low and behold – there was The Fresh Market! Now, I hadn't been into The Fresh Market since my college days! And here was one – less than a 10 minute drive from my condo! By the way, you can check this store locator to see if The Fresh Market has a branch in your neighborhood.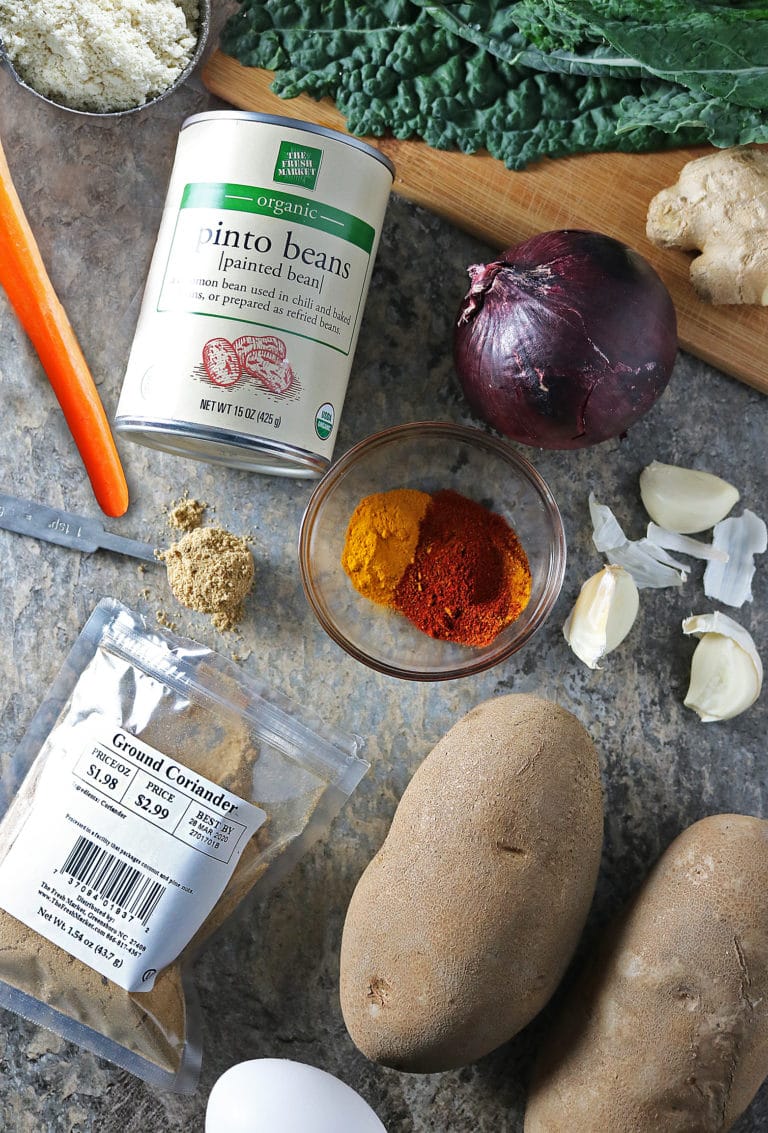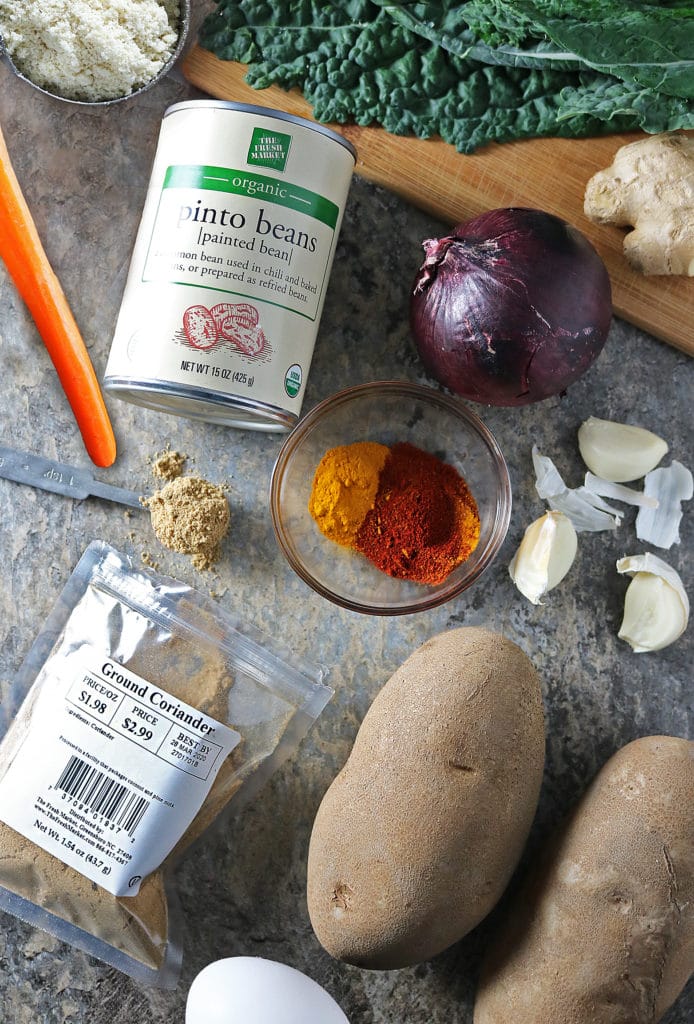 If y'all haven't had a chance to check out The Fresh Market, it is a specialty grocer known for providing a curated product selection of specialty foods with exceptional quality and the finest ingredients. From seasonally fresh produce to exceptional quality meat and seafood, signature baked goods and carefully curated organics with friendly service in a warm and inviting atmosphere. The Fresh Market also has meal solutions that deliver a thoughtful and innovative range of options for any dining occasion or cooking ability, while helping guests discover new flavors.
This Holiday season, The Fresh Market is committed to being your one-stop shop for holiday entertaining. Visit your neighborhood store for gorgeous gifts, stand-out sides, inspiring ingredients and more. And, feel free to impress your guests with their exquisite Premium Choice Standing Rib Roast – this tender, juicy and beautiful yuletide favorite will be on sale for only $7.99/lb from December 13-26. The Fresh Market's certified butchers will make sure your standing rib roast is flavorful, elegant and simple to prepare and serve. The Fresh Market also plans on making your holiday season more spectacular (and less stressful) with their exceptional selection of prepared dishes to share with friends and family – check out some of these right here. Hosting a party? From jumbo cocktail shrimp and ready-to-cook crab cakes to savory cheese straws, their holiday starters deliver maximum flavor with minimal effort. Find all these and more ideas and inspiration in The Fresh Market's Christmas Brochure.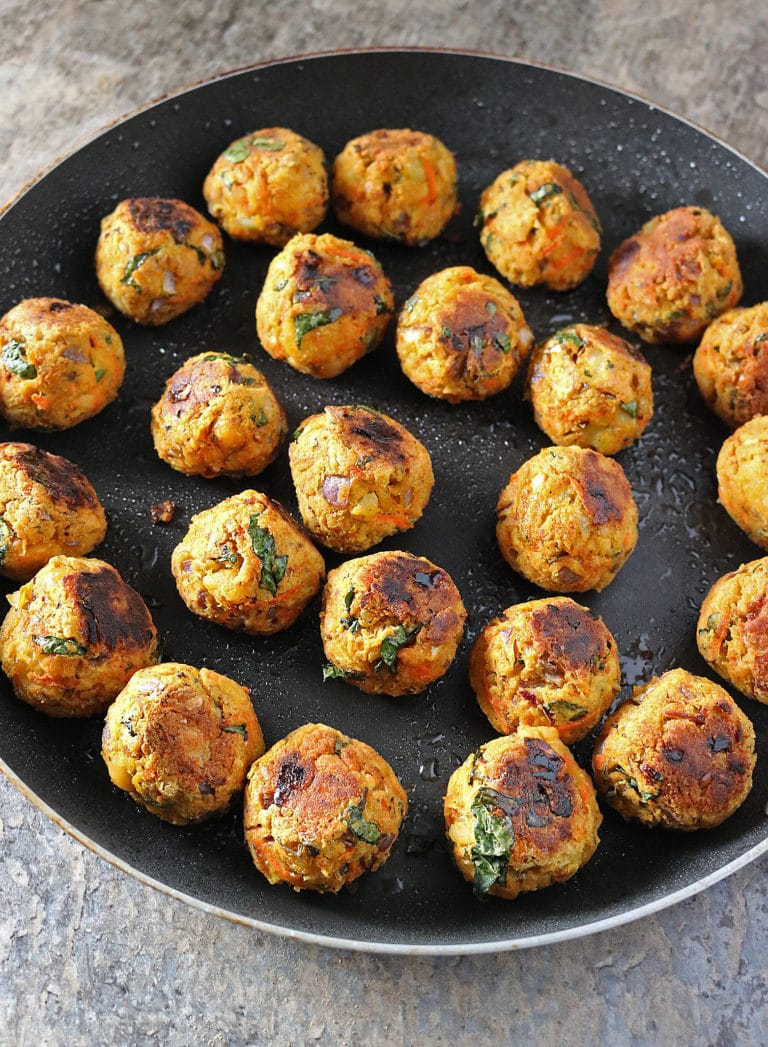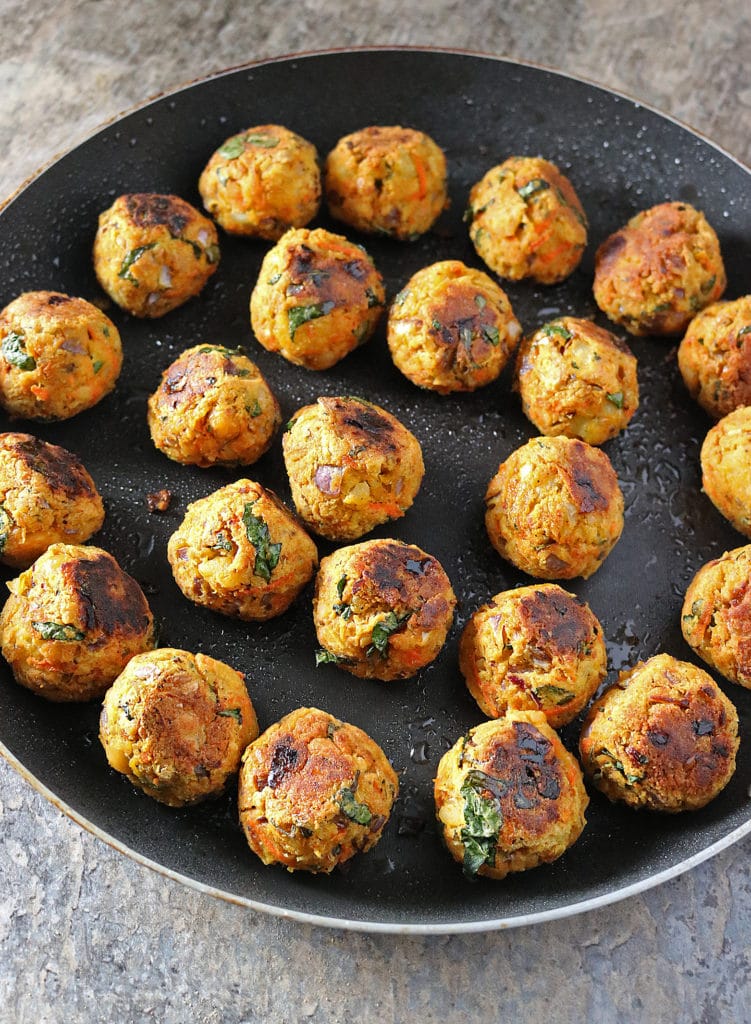 This year for our Christmas dinner, I planned on making some veggie meatless balls. On my first couple of attempts, I ended up blending the ingredients for too long and ended up with veggie meatless pancakes instead of balls! Then, I changed up the process and only blended up the chickpeas a tad bit and mixed them with the other ingredients I purchased from The Fresh Market and voila – these Easy Meatless Veggie Balls were the result! For our holiday dinner, I plan on serving these on a colorful bed of sauteed peppers and onions – just like you see here, as my daughter has managed to convince my mom to also go vegetarian. So, check out the recipe below and maybe you will add this to your holiday menu for those vegetarian guests that will be there to celebrate with you?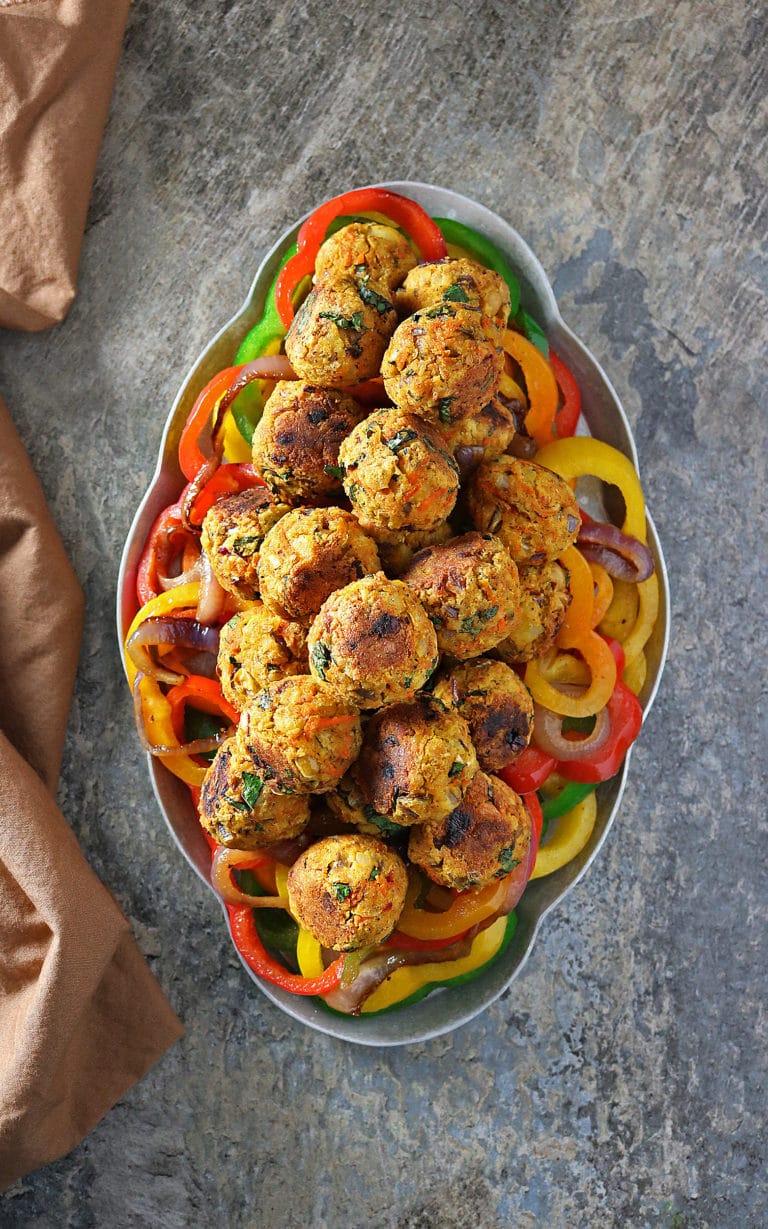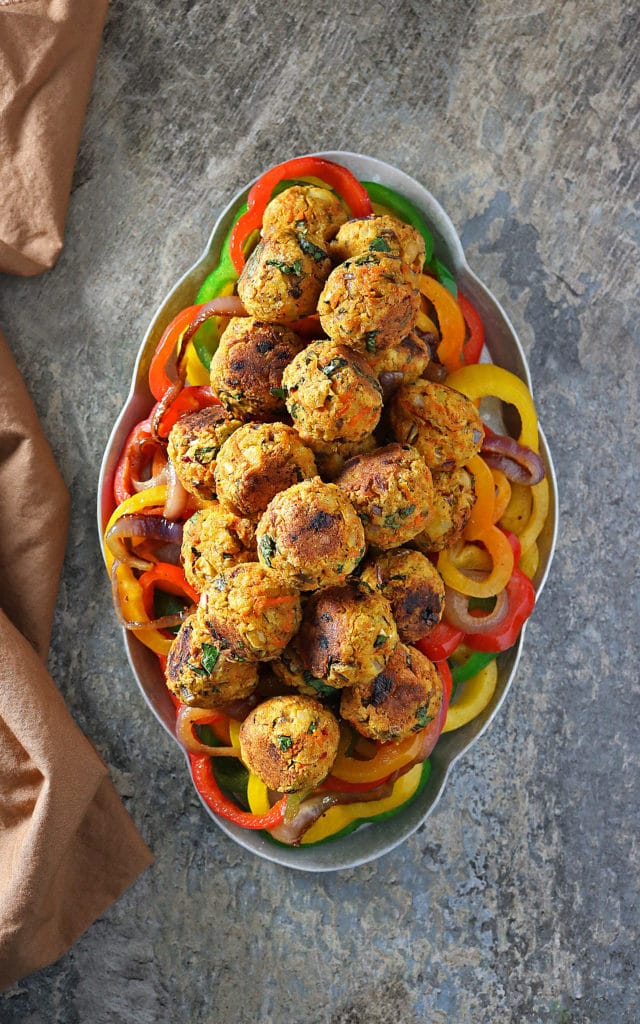 Thanks so much for reading, y'all – here's hoping y'all have a wonderful first of December!


I was selected for this opportunity as a member of CLEVER and the content and opinions expressed here are all my own.