This shop has been compensated by Inmar Intelligence and its advertiser. All opinions are mine alone. #FranksRedHotTailgate
Sneak veggies into tailgating season with these 7-ingredient Spicy Veggie Fritters. These fritters are a quick and easy, portable snack that is gluten-free and dairy-free.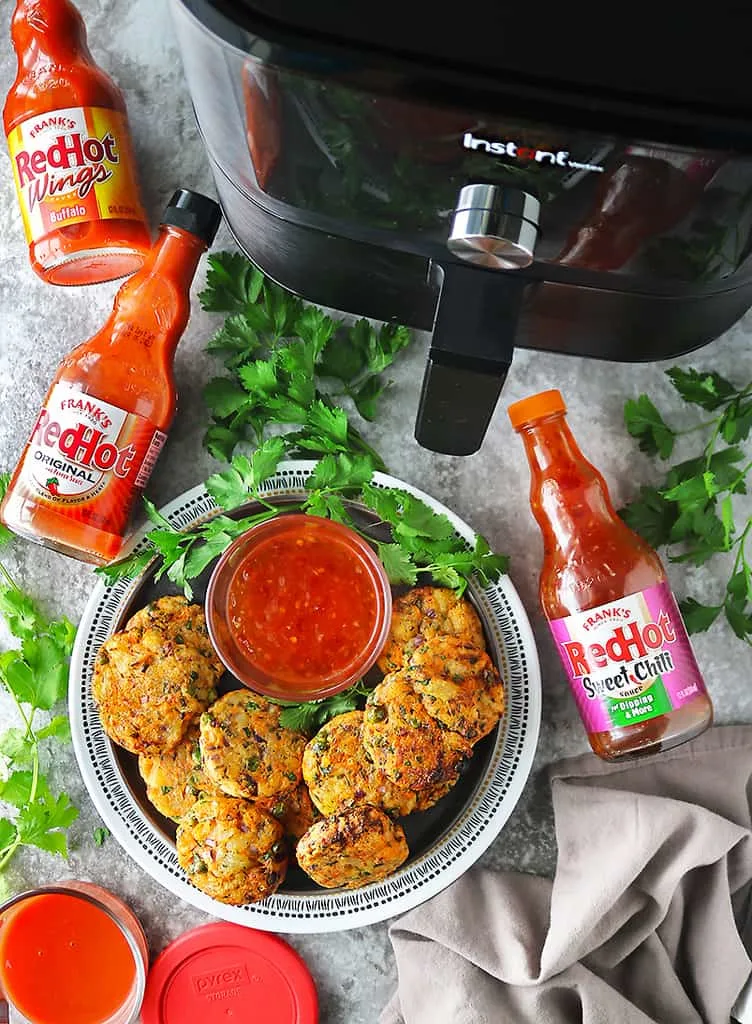 The star of these Spicy Veggie Fritters is Frank's RedHot® Original Cayenne Pepper Sauce. Frank's RedHot is the perfect combination of flavor & heat and adds some serious pizzazz to these delicious fritters.
Speaking of Frank's RedHot, did you know it was one of the ingredients used to make the first-ever Buffalo Chicken Wing in 1964? Frank's RedHot was created by Adam Estilette & Jacob Frank in the bayou in 1918. Ever since it has grown in popularity and is now regarded as the #1 brand of hot sauce in America that keeps us coming back for more. Crafted from real, select, aged red cayenne peppers, Frank's RedHot Sauces deliver The Perfect Blend of Flavor and Heat every time.
As the ad said, it can truly be put on everything!
Just the other night, I brushed some eggplant slices with Frank's RedHot and air-fried them in my Instant™ Vortex™ Air Fryer until they were crispy.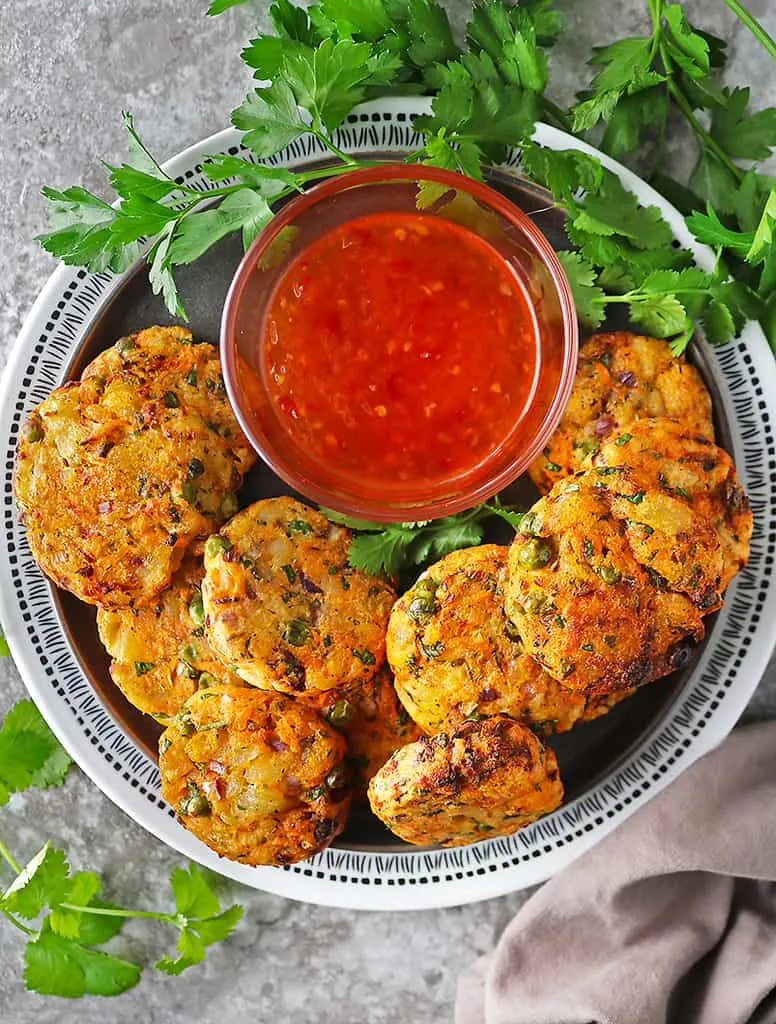 Then, today, I decided to air-fry some veggie fritters using Frank's RedHot Original Cayenne Pepper Sauce instead of the usual spice blend I use.
My daughter and I love these Easy Spicy Veggie Fritters
✔️ They are highly aromatic,
✔️ They are crisp on the outside and tender on the inside,
✔️ They are gluten-free,
✔️ They are dairy-free,
✔️ They are a portable snack both vegans and non-vegans love,
✔️ They are so incredibly tasty, and
✔️ They are made with only 7 ingredients!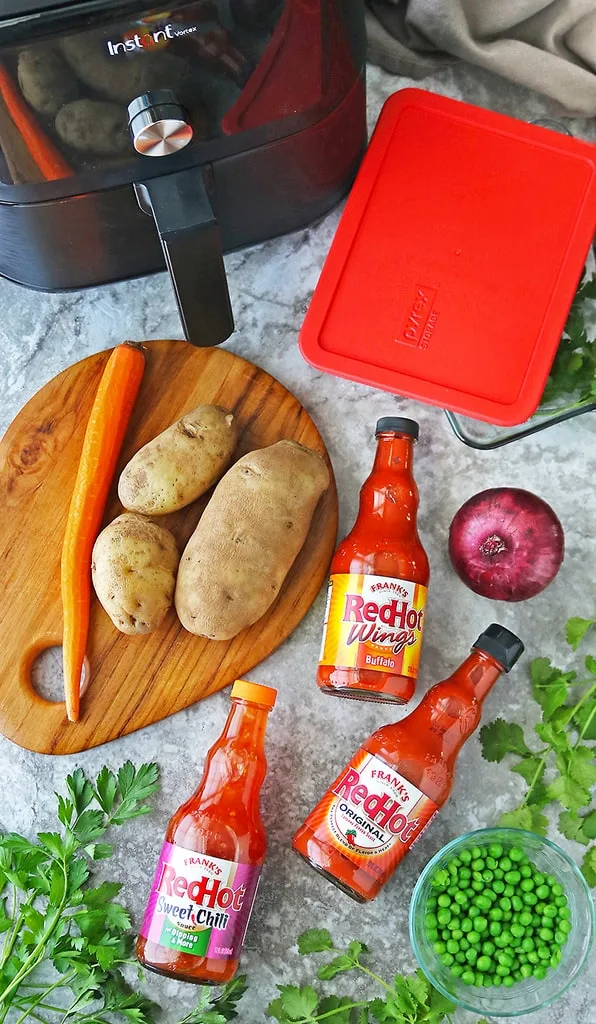 What are the 7 ingredients used to make these easy vegetable fritters?
The 7 ingredients used to make these fritters are:
potatoes,
frozen peas,
carrot,
red onion,
fresh parsley,
fresh cilantro, and
Frank's RedHot Original Cayenne Pepper Sauce.
With a smidge of salt and pepper to taste.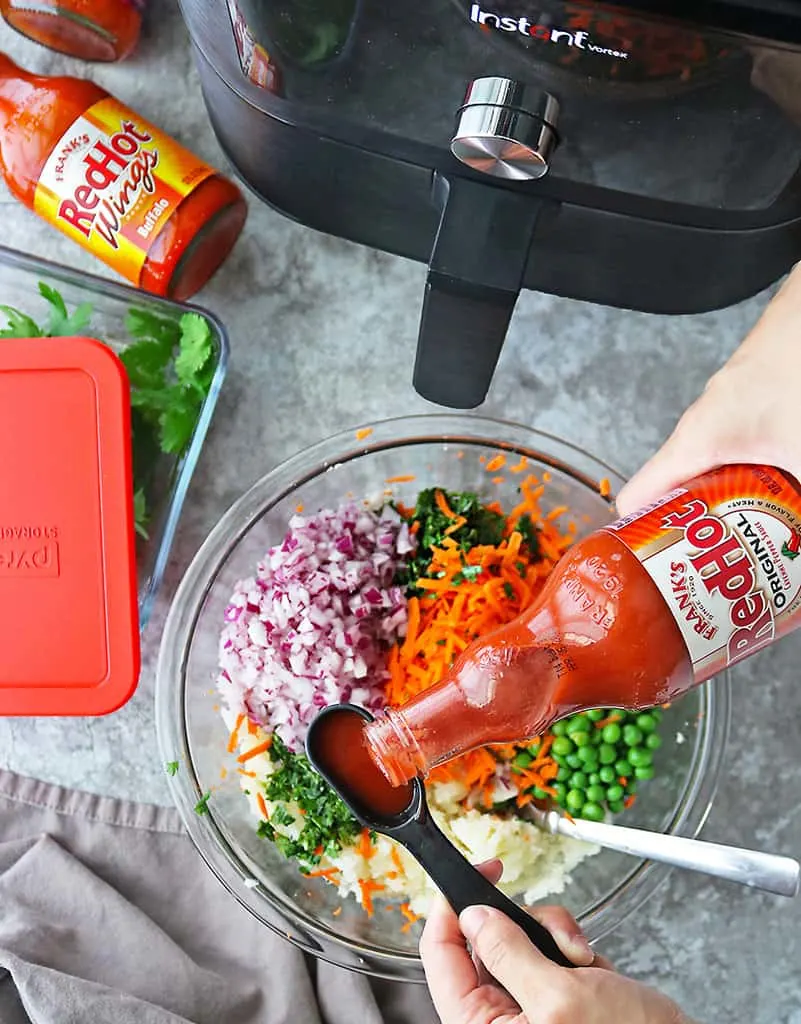 How do you make these fritters?
These fritters are so easy to make. If you happen to have some boiled potatoes on hand or grab a couple of baked potatoes from a Kroger store, you can have these air-fried veggie fritters ready in less than 30 minutes!
I started off this recipe by removing the skin off some boiled potatoes. I then added the potatoes to a Pyrex® dish and mashed them up.
I then diced onion and added it to the dish with the potatoes.
I also grated up a carrot and added it to the bowl as well.
This was followed by some thawed-out frozen peas. (By the way, I defrost frozen peas by placing them in a microwave-safe bowl of water and microwaving them on high for a minute or so. Then, I drain them and use them).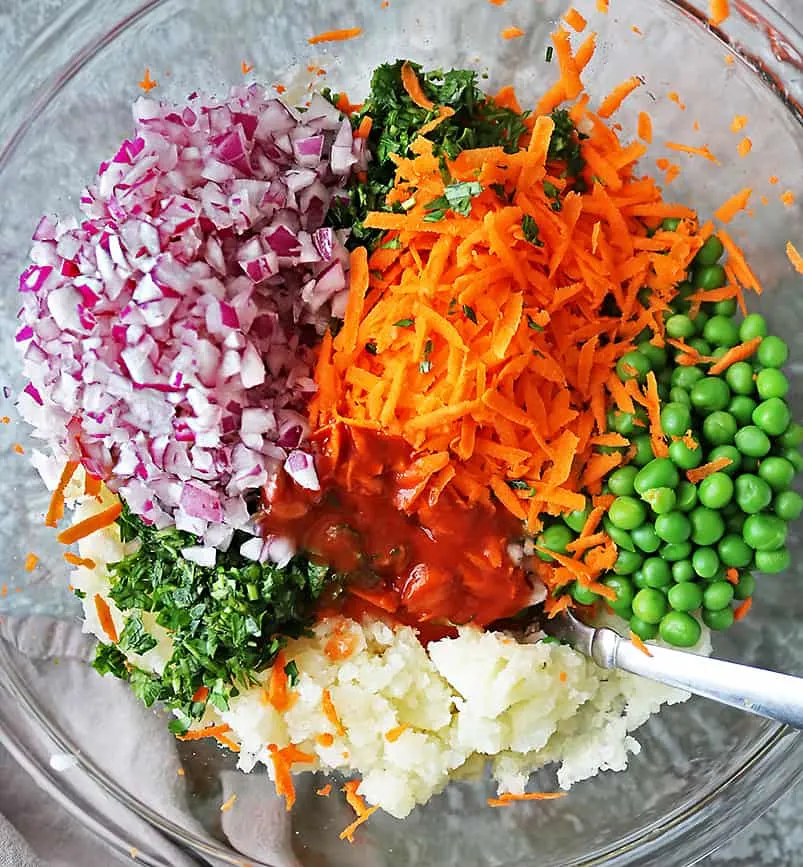 Next, I chopped up some parsley and cilantro and added them to the bowl along with a generous amount of Frank's RedHot Original Cayenne Pepper Sauce and some salt and pepper to taste.
After a good mixing, I gathered up a large spoonful of this mixture and formed it into patties.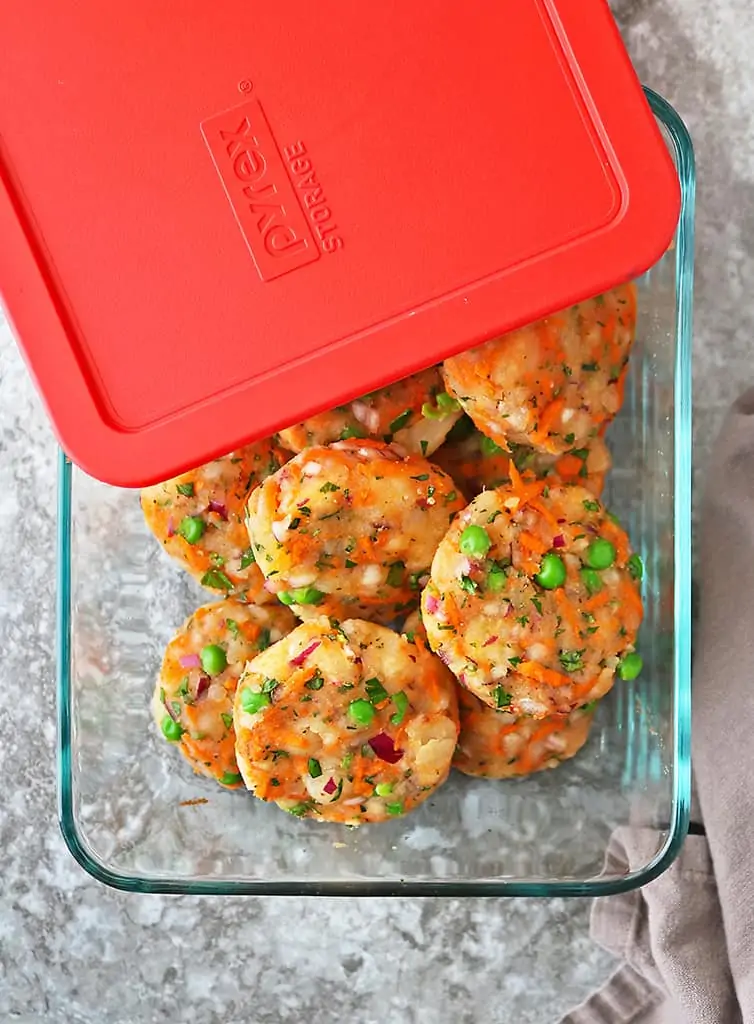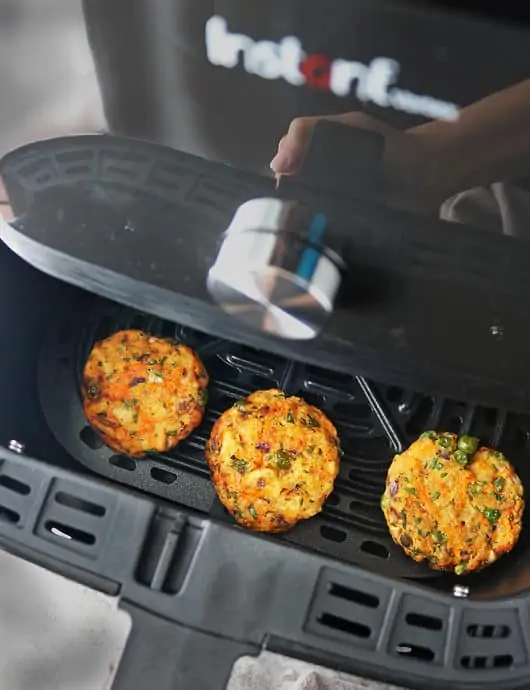 At this point, you can store your formed patties in an air-tight dish to air-fry them when needed. Or, you can pre-heat your Instant Pot Vortex to 425 degrees and air-fry these fritters for 10 minutes on each side or until they are crisp.
Once I had a plateful of these ready, my daughter and I enjoyed dipping them into some Frank's RedHot Original Cayenne Pepper Sauce, Frank's RedHot Buffalo Wings Sauce, and Frank's RedHot Sweet Chili Sauce.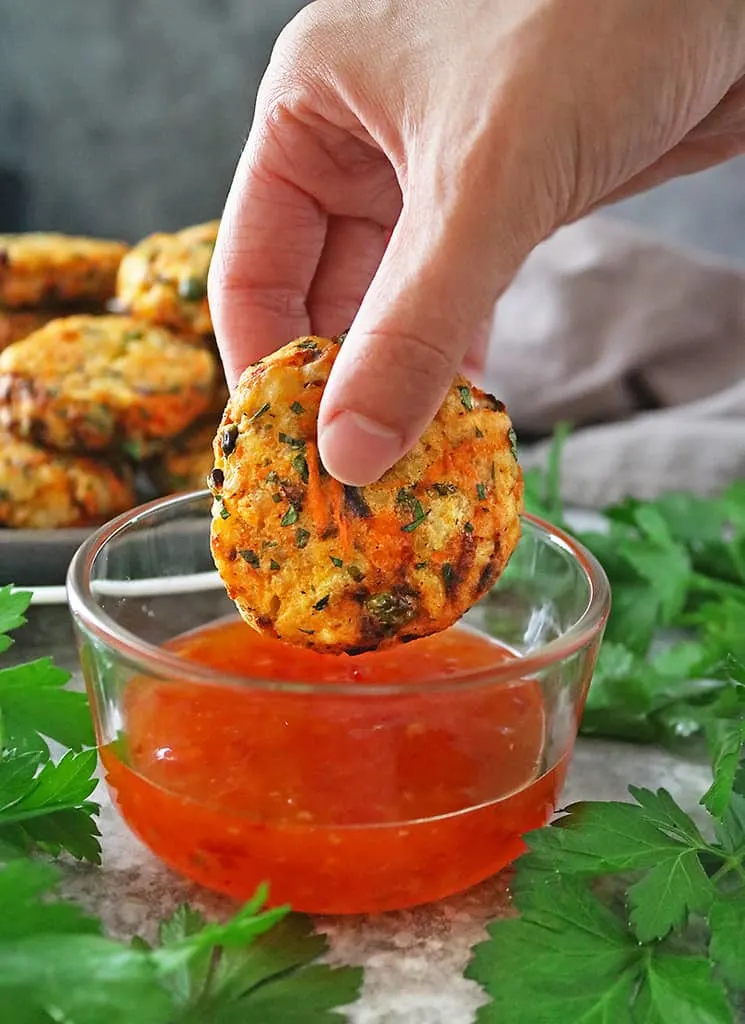 In years past, I have always been about the food at tailgating and homegating get-togethers. I gotta admit, I rarely have a clue as to what sport is being played. But, I know to fill my plate up with a sample of all the good food there! This year, our get-togethers will be few and limited, but this year I know I will be making multiple trips to my neighborhood Kroger store so I can make multiple batches of these Easy Spicy Veggie Fritters!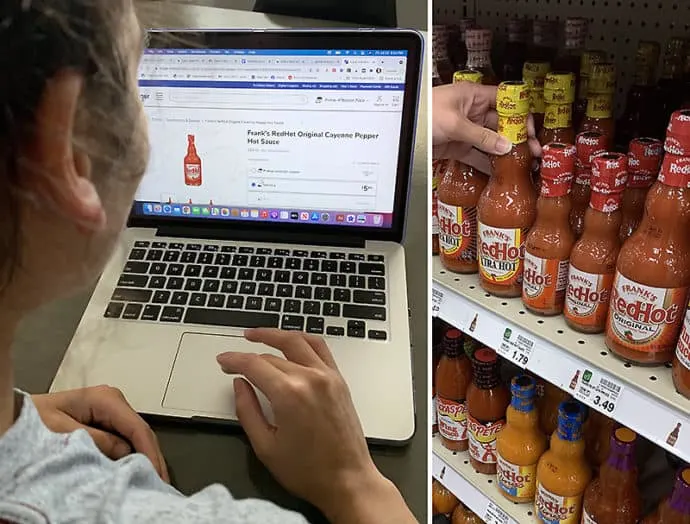 You can click here and easily shop online at Kroger for all your ingredients for these and pick them up curbside or shop in-store.
So, will you join me in making a touchdown this 2021 tailgating season by making a batch of these spicy veggie fritters with Frank's RedHot products and Pyrex + Instant Pot?