These tasty yeast-free vegan pumpkin cinnamon rolls are so easy to make. Simply roll the dough, fill it, bake it and enjoy on a laid back Saturday morning.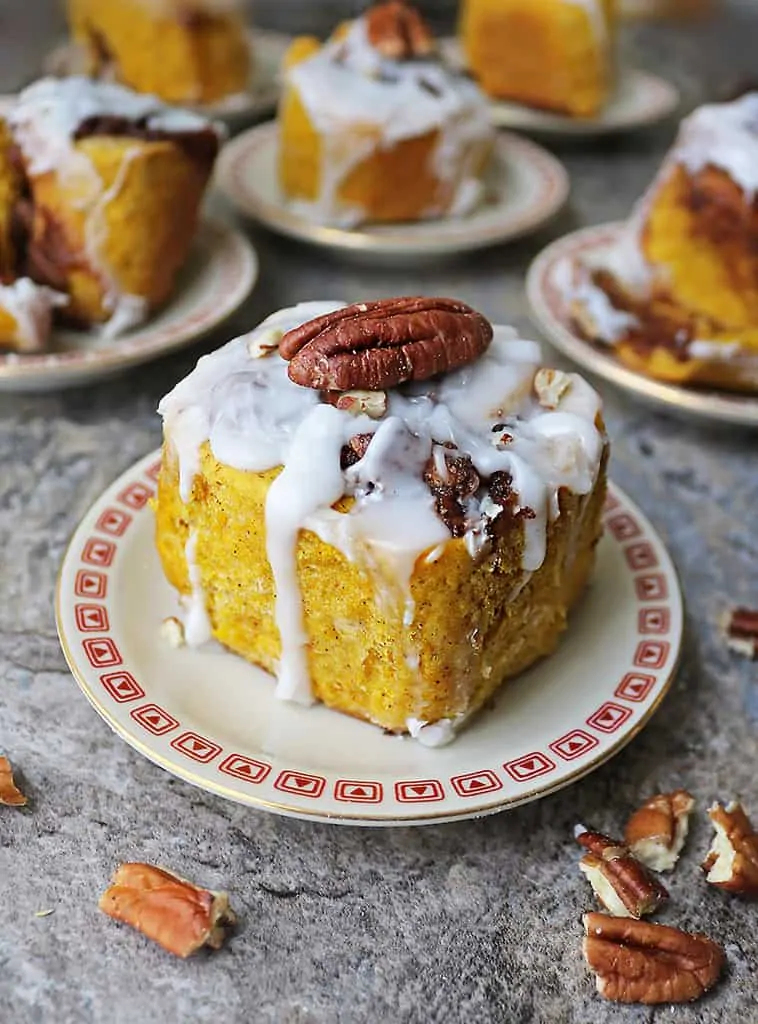 Warm, gooey, sweet, homemade cinnamon rolls are such a treat on a weekend morning. And, if you are looking for a tasty, homemade, cinnamon roll recipe that takes less than an hour to prepare, you've come to the right spot!
This cinnamon roll recipe does not use yeast so there's no need to wait while the yeast does its thing. In other words, you won't need to proof this cinnamon roll dough.
This recipe also does not use any eggs or milk – so, if you happen to be out of eggs or milk, you don't have to rush to the store on Saturday morning before making these.
I love an indulgent cinnamon roll, but I tried to keep these on the healthier side by using pumpkin purée to cut down on the amount of butter I used to make these.
Fresh out of the oven, these are ever so slightly crisp on the outside and soft on the inside. Let these pumpkin cinnamon rolls cool down a bit and slather them with icing. As these were loosely rolled before they baked, that icing wound its way down the nooks and crannies, resulting in a ooey gooey center that makes cinnamon rolls irresistible – at least, to me.
The very first cinnamon roll I had was as a college sophomore. My roommates at the time insisted I hadn't lived until I had had a Cinnabon cinnamon roll – and they weren't quite wrong. That first Cinnabon cinnamon roll was glorious!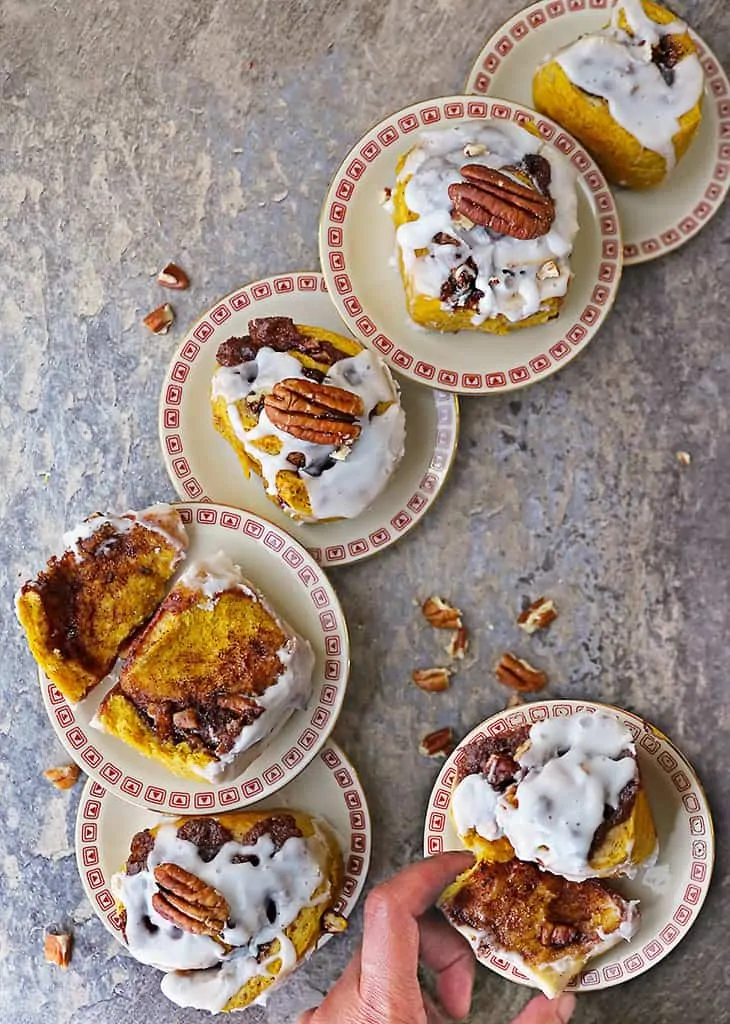 Now, I'm not saying these egg free pumpkin cinnamon rolls can be compared to those infamous Cinnabon cinnamon rolls. But, these are seriously scrumptious in their own egg-free, dairy free, healthyish, way.
Overall, my daughter and I found these egg free pumpkin cinnamon rolls to be deliriously delicious even though they were made without eggs ~ the perfect treat to kick off Saturday.
And they were ready in less than an hour! If you have a cup or two of coffee in you and gather up the ingredients for these quickly, you could probably get these ready in about 45 minutes as they don't require any proofing and they need to be baked for 25-30 minutes.
This recipe resulted in 6 cinnamon rolls. If you would like to make more, this recipe can easily be doubled or tripled.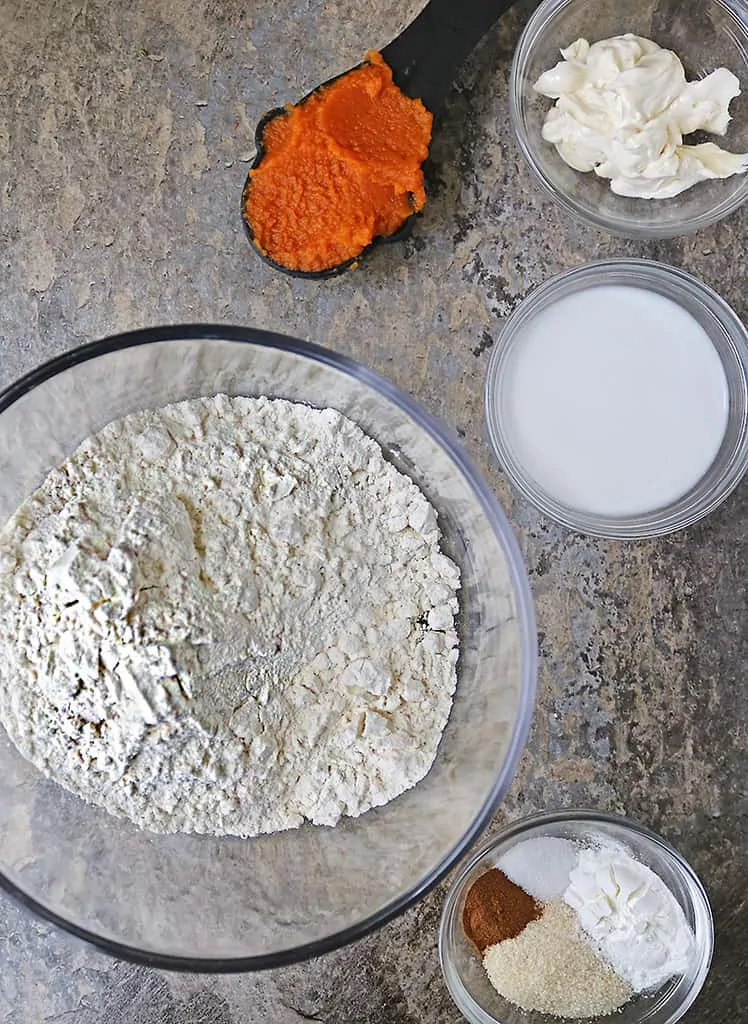 10 pantry staple ingredients needed to make pumpkin cinnamon rolls…
In making these pumpkin cinnamon rolls, I used the following 10 pantry staple ingredients such as:
• All purpose flour*
• Cane sugar
• Brown sugar
• Baking powder
• Cinnamon
• Salt
• Vegan butter
• Coconut milk (shelf stable / canned works if you don't have anything else)
• 100% pure pumpkin puree
• Pecans

*Gluten free option: I've made these cinnamon rolls with a combination of Cup4Cup' GF flour blend + almond meal (affiliate link).
I add in the almond meal as it seems to add so much texture to these cinnamon rolls and keeps them from being "gummy."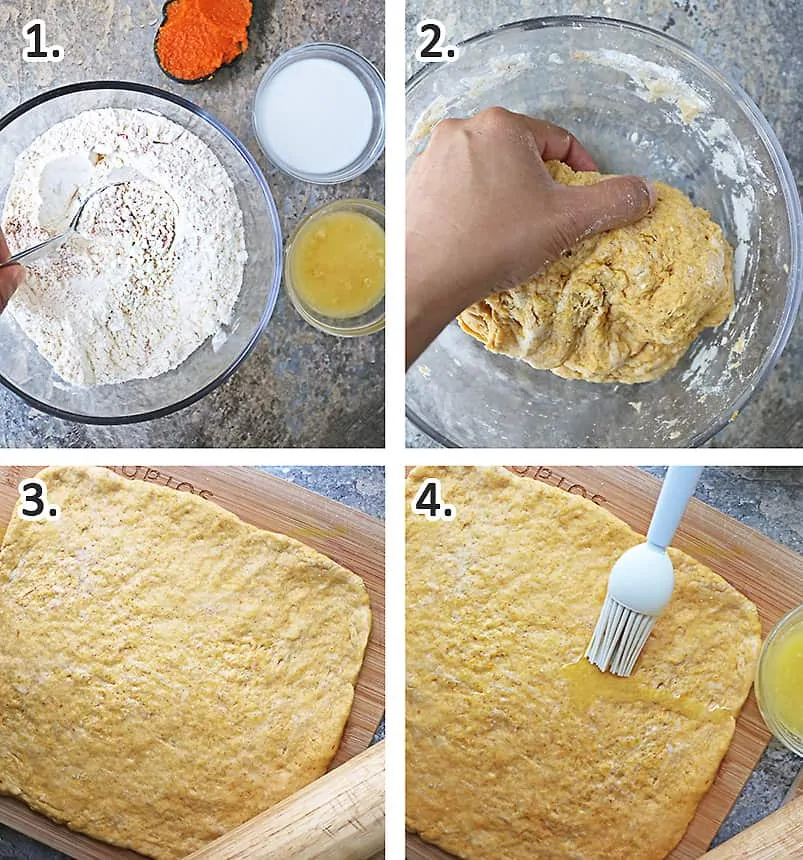 How to make eggless pumpkin cinnamon rolls?
After you have gathered your ingredients together, you are going to mix the dry ingredients together such as AP flour, cane sugar, cinnamon, salt, baking powder.
Then mix in the pumpkin purée, coconut milk and melted vegan butter using a spoon. When the liquid has been incorporated, I used my hands to knead the dough just a bit.
Then, using a rolling pin and your hands, roll and press the dough into a rough rectangle.
Brush the rectangular piece of dough with some melted butter.
Then make the filling by mixing together the brown sugar, pecans, cinnamon, and melted butter.
Using a spoon, distribute the filling into the rectangular piece of dough.
Make sure filling is evenly distributed
Gently roll the dough up
After the dough is rolled, you can chill it for 15 minutes or so, or cut & bake it straight away – which is what I do most of the time.
Cut the dough into 6 cinnamon rolls.
Place cut pumpkin cinnamon rolls in a parchment lined baking tray and bake for 25-30 minutes at 350 degrees.
When done, remove from oven and let cool for about 5-10 minutes. Then make an icing with coconut milk and icing sugar and spoon icing over the cinnamon rolls and enjoy!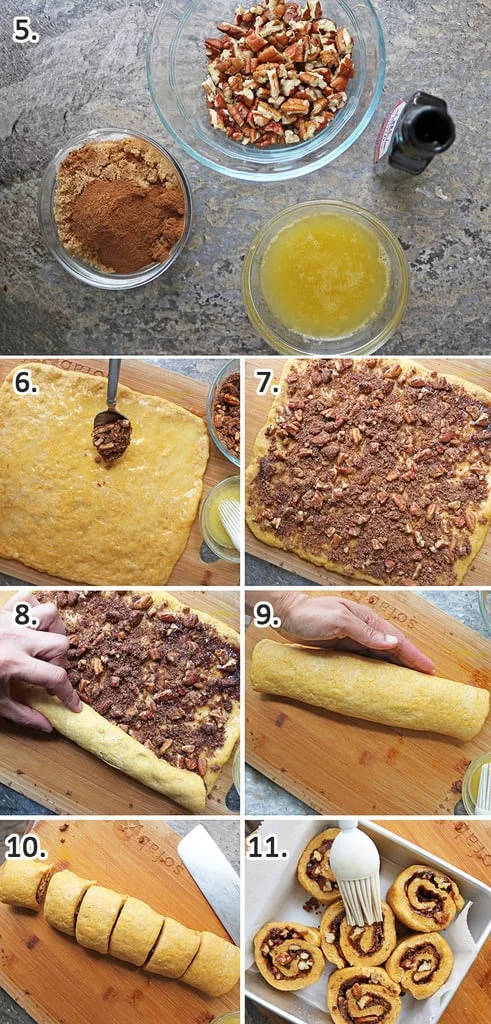 These are some of our favorite cinnamon rolls because they are so quick, easy, and tasty. I've made several variations of this recipe and one of them are the cardamom cinnamon rolls.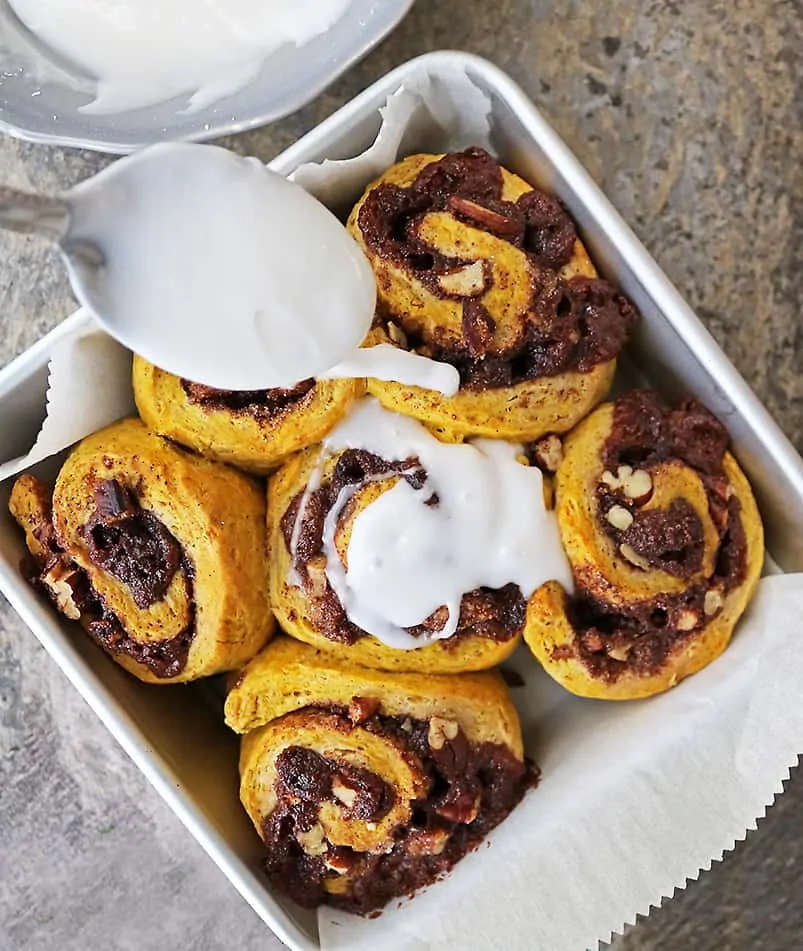 If you are looking for a tasty and easy way to treat yourself and your family this weekend, whip up these dairy-free, egg-free, pumpkin cinnamon rolls and please don't forget to let me know what you think by tagging @savoryspin on Instagram, Facebook, or Pinterest.