Take advantage of all the zucchini around and whip up this tasty, lusciously creamy, 11-ingredient, vegan Zucchini Curry. Pair it with some roti for a meal your family is sure to love.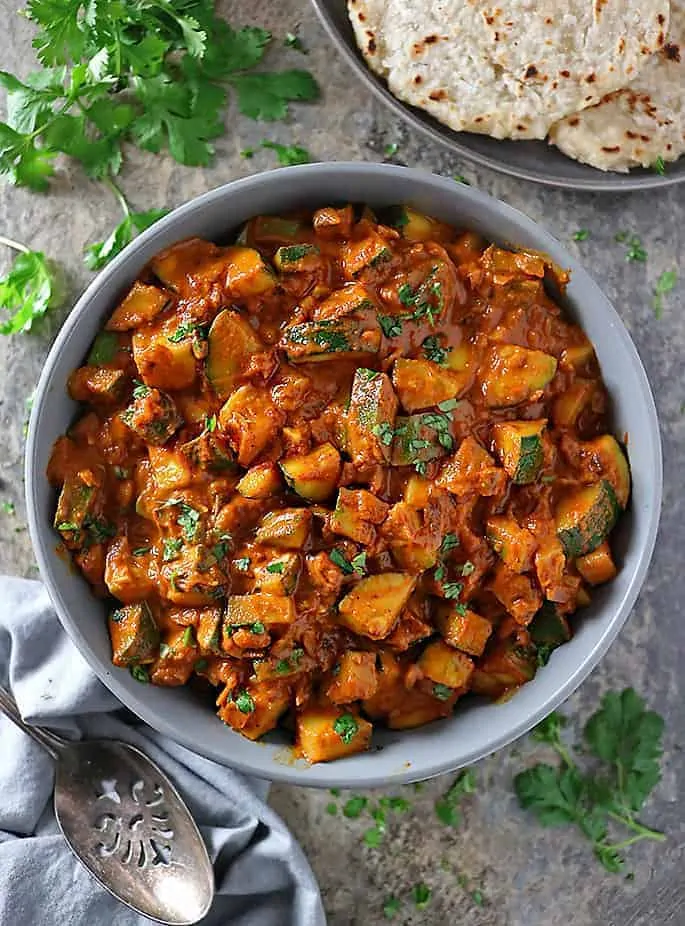 *This post was first published in August of 2018. I have made changes to it and it is being republished today.
This zucchini curry is a flavorful plant-based recipe that calls for 11 ingredients that you can easily find at just about any grocery store.
Serve this curry up with some riced cauliflower for a low-carb plant-based dish. Or, add in some cilantro lime chicken for a low-carb and satisfying protein-packed meal.
What are the 11 ingredients needed to make this zucchini curry?
red onion
garlic
ginger
coriander
smoked paprika
turmeric
cumin
zucchini
can tomato paste
vegetable stock
coconut milk
---
Our little family of four consists of 2 homo sapiens and 2 Canis lupus familiaris, aka dogs.
Of our two dogs, Oliver, our youngest, loves to watch TV – especially shows with animals. Lately, he has graduated to Youtube videos of pups.
But, watch them isn't all he does.
If he sees a barking or whimpering doggo either on my computer or on my phone, he goes into a frenzy.
He will jump up on my lap and try to paw at the screen like he is trying to get to the other dog. Then, he will try to look behind the screen as if he wants to jump in or wants the other dog to jump out.
The irony of all of this is when my daughter and I take him to a dog park, he acts more like the humans there, than the other dogs!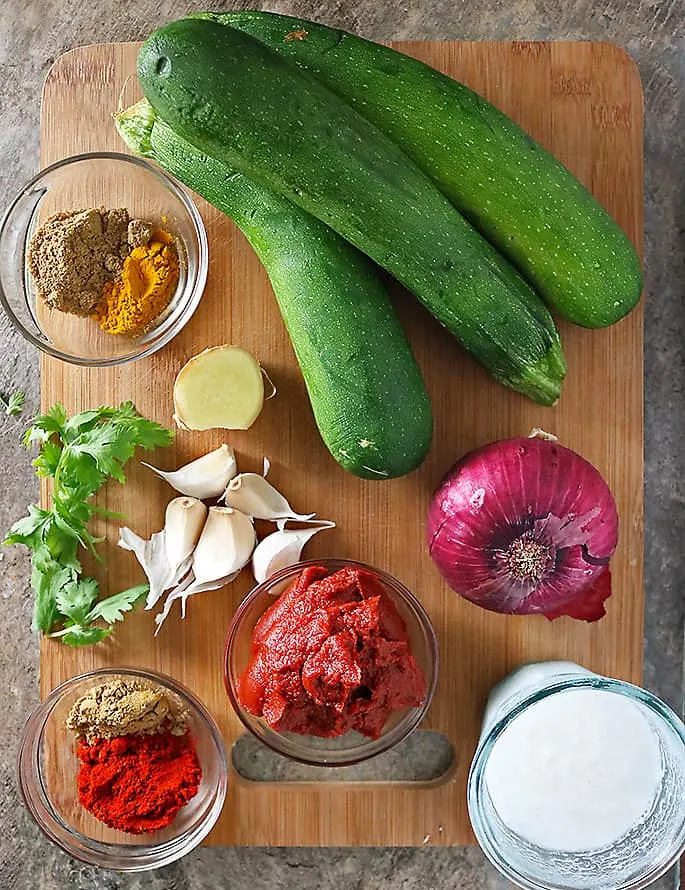 Hmmm… if only my dog could speak… am thinking he'd be one heck of an amusing conversationalist…
But… you might be wondering why I am yammering on about my dog in a post with zucchini…
Well….
The way Ollie tries to get to the dogs he sees on screens is exactly how I have felt while visiting my fellow bloggers' sites featuring zucchini chocolate chip bread or zucchini chocolate cake!
Something about that green and brown combo just sends my salivary glands into overdrive! But, while I have stolen enjoyed several slices of friend's zucchini chocolate chip bread or zucchini chocolate cake, I have never ventured to make my own – of either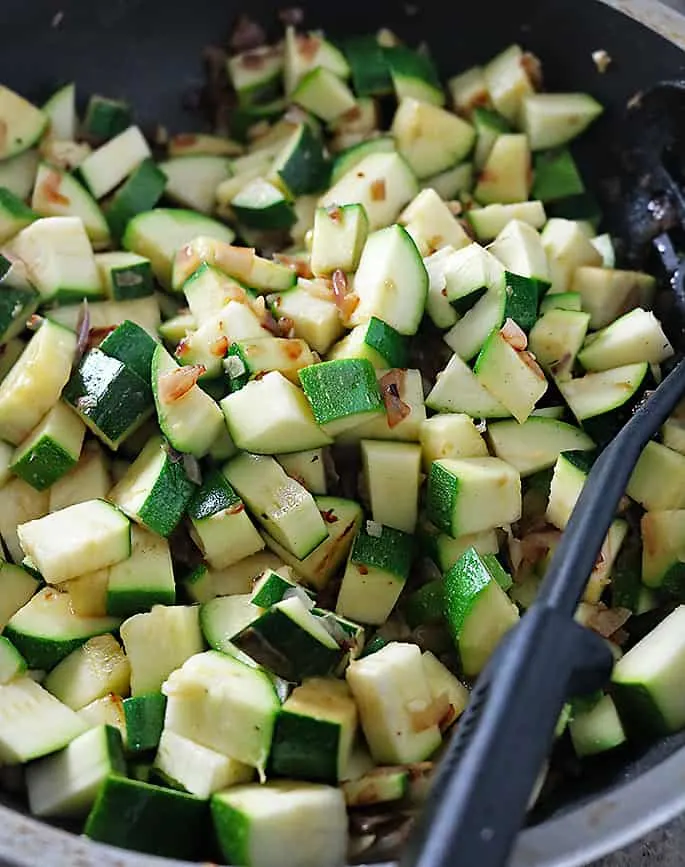 Here in the south, August seems to be the month for zucchini. Grocery store bins are overflowing with them so I figure it's time I jump on that zucchini bandwagon, eh?!
However, instead of any of those glorious breads and cakes with zucchini, I have a savory, spiced but not spicy (unless you like it like that), zucchini curry for you!
How to make this easy curry?
I started off with the holy trinity of South Asian cooking: onions, ginger and garlic. Then I added in the zucchini and sauteed it a bit to get rid of any extra water in it.
By the way, did you know that when it comes to zucchini, bigger isn't always better? Apparently, the smaller the zucchini or zucca, the more flavorful they are.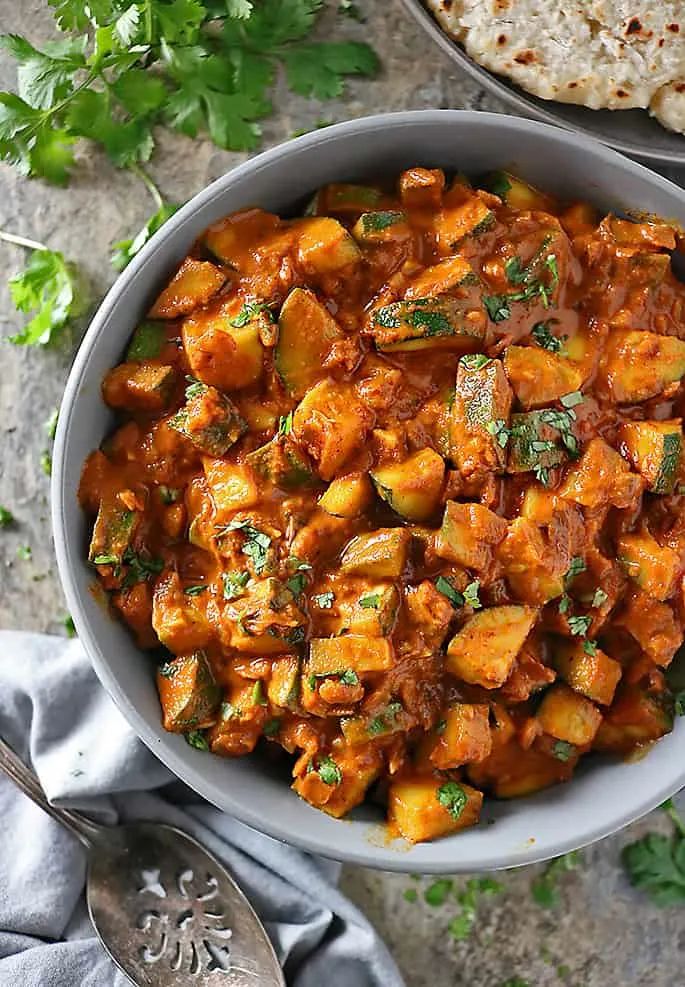 Anyhoot, back to this curry…
I used coconut milk, tomato paste and a smidge of vegetable stock as the "curry" part. This is quite similar to this Chickpea and Spinach Curry I shared on here not too long ago.
Only, this curry is a bit thicker – you could add more vegetable stock int, to thin it out some. I wanted a thick curry as it's perfect to scoop up with this roti or this naan. With roti, this is a satisfying plant-based dish.
I am hoping you give this savory Zucchini Curry recipe a try. However, if you are not in the mood for curry, then why not try this Charred Zucchini Salad instead?

Or, if you happen to have some zucchini chocolate chip bread or zucchini chocolate cake lying around, I'll drone you some of this curry in exchange?
Meanwhile, if you happen to fancy this recipe, let me know what you think by leaving a comment and rating below. If you make this recipe, please post a pic on INSTAGRAM -tagging @savoryspin so I can see! For more recipes and ramblings, like us on FACEBOOK and follow along on PINTEREST!