A fresh, well-spiced tomato sauce envelops The Little Potato Company Creamer potatoes and eggs in this tasty, one-pan dish.
I've partnered with The Little Potato Company on this recipe for Potato Shakshuka. All opinions herein are my own. Thank you for supporting the brands that keep this blog spinning.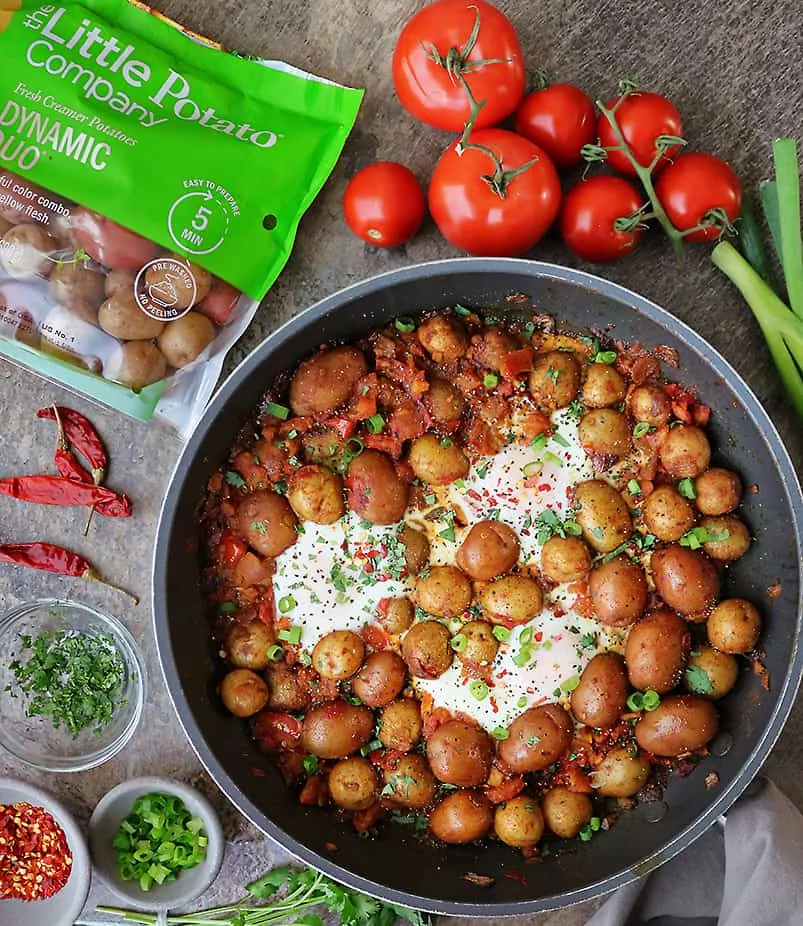 For me, when it comes to carbs, potatoes reign supreme. I simply adore them. To me, they are comfort, fuel, and joy – all rolled into one.
These days, with all our adventures in house hunting, there's been many a night when all I want to do is plop down on the couch with a big bowl of roasted potatoes and forget about everything else.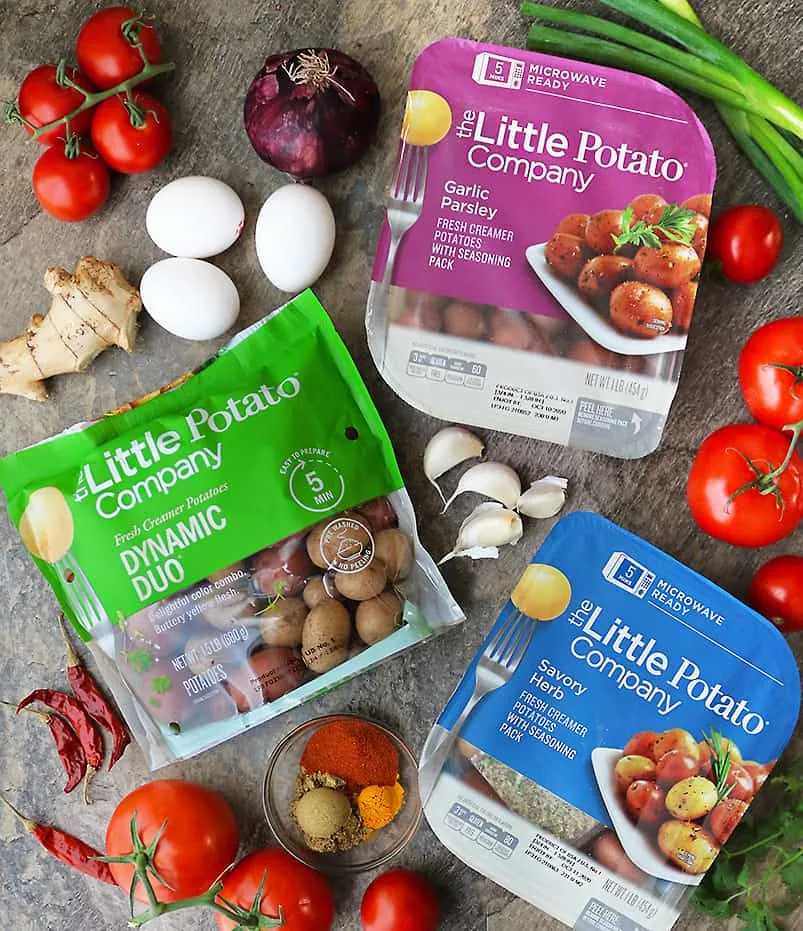 And, guess what?

The Little Potato Company Creamer potatoes sure do come in handy on those nights!
These little guys are ready to eat, which means I just have to open the package, toss them in the oven with my favorite spices (or into a dish like today's Potato Shakshuka), and boom! My bowl of comfort is ready in minutes!
If I don't want to turn on my oven – The Little Potato Company's Creamer potatoes are available in Microwave Ready kits – WITH a seasoning mix! In this case, all I do is open the microwavable tray, heat for five minutes and then toss in the seasoning pack! Yup! It can be that easy to enjoy Little potatoes!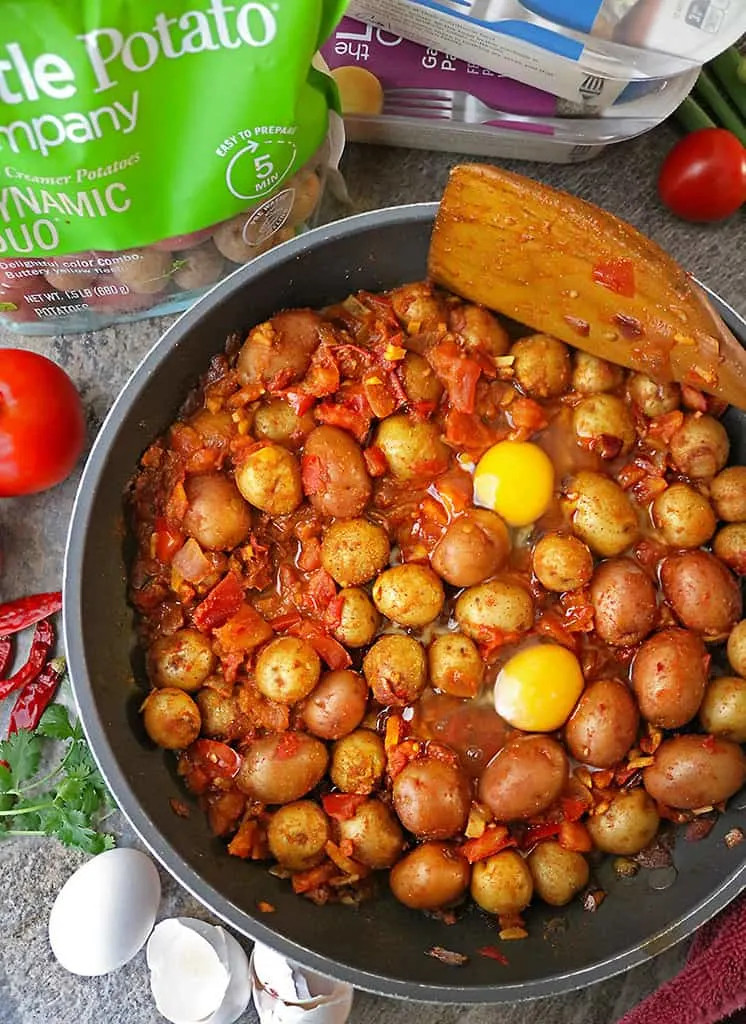 The Little Potato Company Creamer potatoes are not only ready-to-eat, but they are versatile enough to be cooked in a variety of ways from baked to pan-sautéed to air fried to microwaved!
3 Fun Facts about The Little Potato Company Creamer potatoes:
They aren't high in calories or fat – they are only 20 calories each (fully dressed). That's about 120 calories per serving of fat-free, gluten-free, and cholesterol-free goodness!
They contain more potassium than a banana – providing about 19% of the potassium our body needs every day.
They are a good source of fiber. Fiber helps our digestive systems stay on track, helps lower our risk of diabetes and heart disease, and keeps us fuller longer.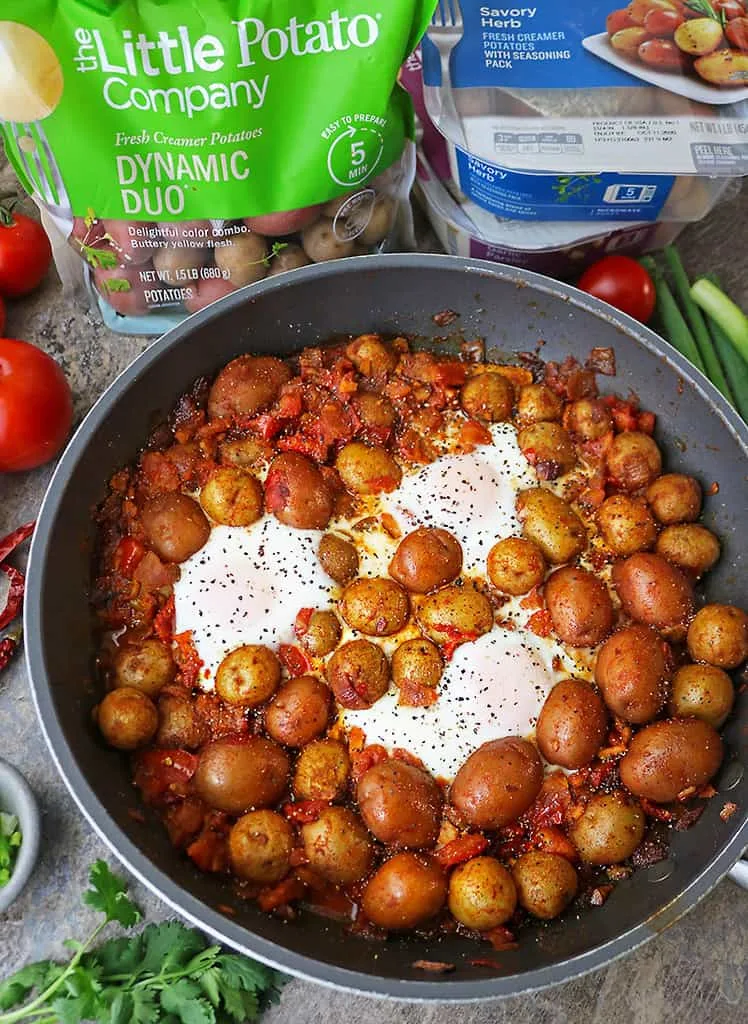 Now let's get back to today's easy recipe for this tasty Potato Shakshuka.

This recipe relies heavily on the convenience of The Little Potato Company Creamer Potatoes. They cook quickly because of their small size and you don't have to peel or wash The Little Potato Company Dynamic Duo bagged Creamer potatoes before adding them to the delicious tomato spiced sauce that is the base of this Potato Shakshuka.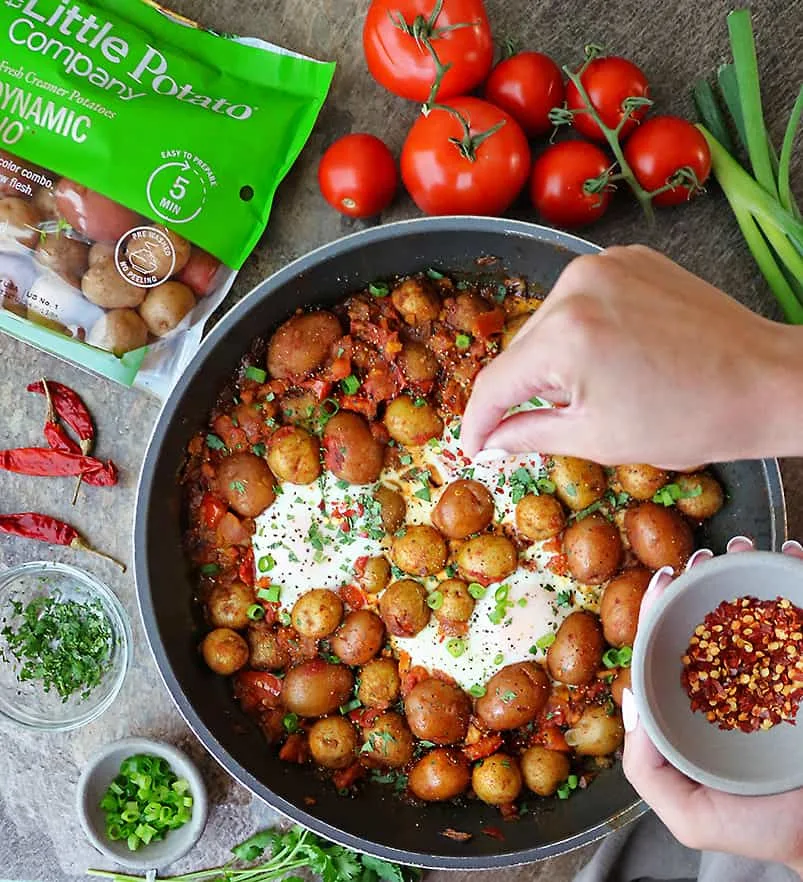 It does involve a little bit of prep work in slicing and dicing tomatoes, onions, ginger, and garlic – for the tasty sauce. But the resulting dish is well worth it.
What are the ingredients to make this potato shakshuka?
Minus salt and pepper, you need only 9 ingredients to make this dish, and they are:
Olive oil,
Red onion,
Garlic cloves,
Piece of ginger,
Large tomatoes,
Coriander,
Smoked paprika,
Turmeric, &
Eggs.
And an optional garnish of Cilantro and chili flakes.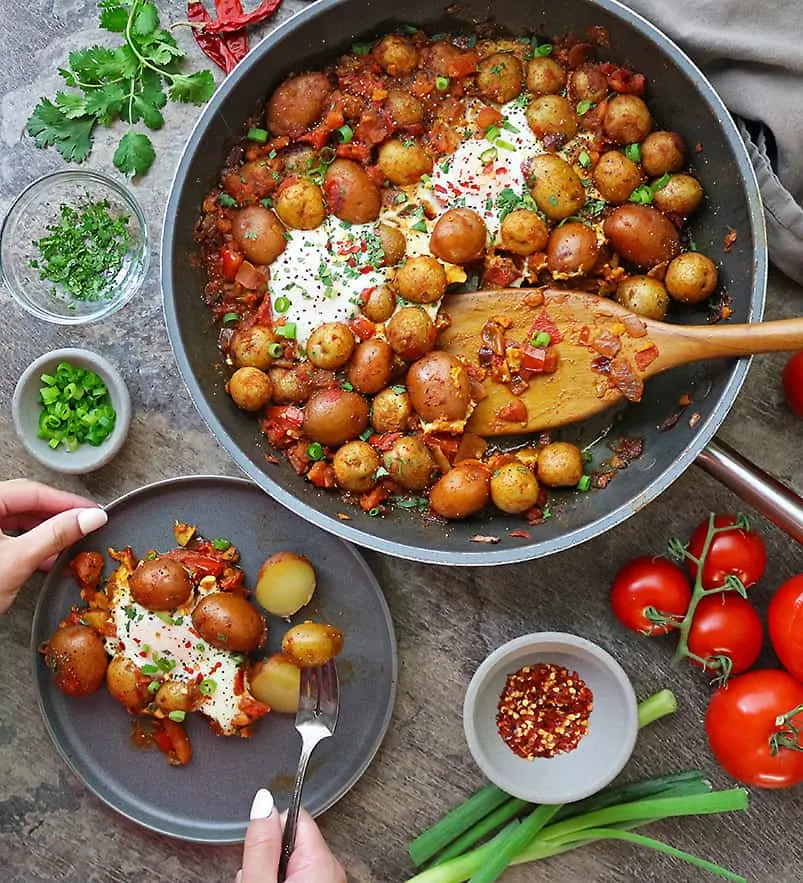 This potato shakshuka can be enjoyed for breakfast, lunch, or dinner. I woke up late one Sunday and made this potato shakshuka for a late brunch. And, then we had the leftovers for dinner.
Hoping you get to try this recipe out soon. And, if you haven't already, I'm hoping you get to enjoy The Little Potato Company Creamer potatoes soon.
On some hectic nights we like to pair The Little Potato Company Garlic Parsley or Savory Herb Microwave Ready kit with some salmon and asparagus for a tasty, filling, and quick dinner.
Visit your local Wal-Mart to buy Little Potatoes or visit The Little Potato Company's store locator to find a Wal-Mart store near you.