Five ingredients is all you need to have this delicious and super easy Air Fryer Honey Salmon on your dinner table! Pair it with a light salad for a quick and tasty weeknight dinner.
By the way, oven-baking instructions are also included below.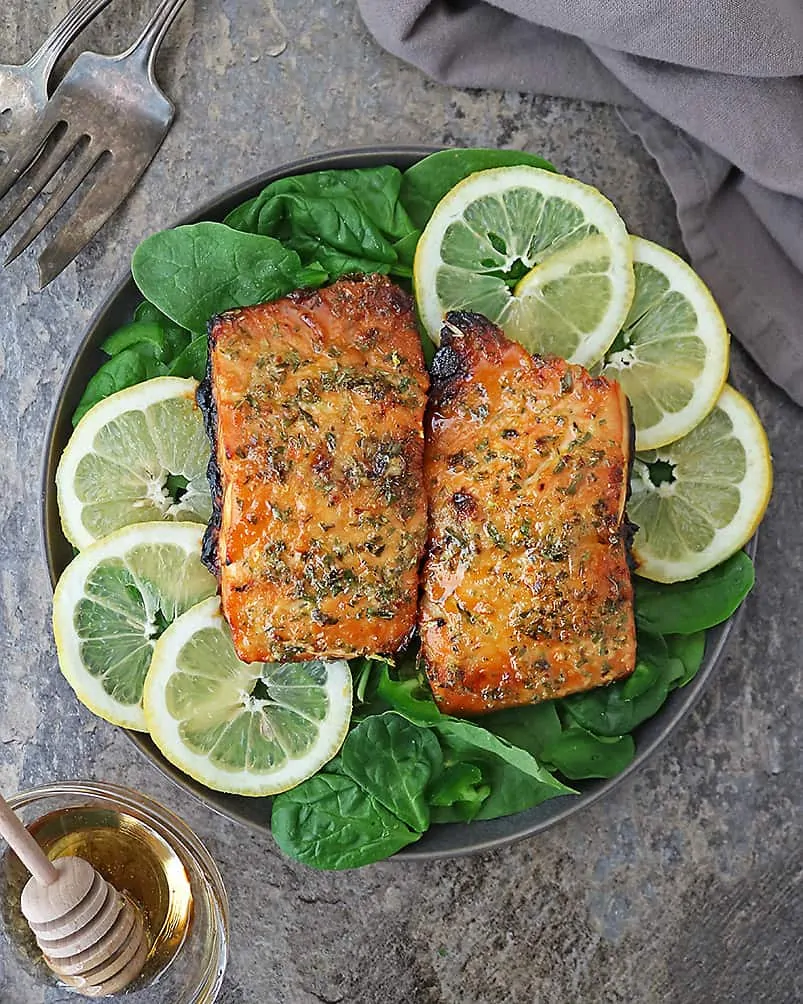 This Air Fryer Honey Salmon recipe is:
> Delicious
> Quick
> Easy
> Healthy
> Needs only 5 ingredients
The 5 ingredients for this Air Fryer Honey Salmon are:
Two Individual Salmon Fillets
Garlic
Honey
Lemon
Tarragon
I know tarragon might sound like an odd addition, but it added such a lovely flavor spin to the honey + lemon combo.
---
Ever since I stumbled on frozen skinless salmon fillets, my daughter and I have been enjoying a lot of salmon for dinner. I'm not a huge fan of salmon skin – even when it's air fried to a crisp.
This recipe today makes use of salmon without skin. Not having to remove the skin helps me save a lot of time. So, these skinless salmon fillets are a Godsend!
These skinless fillets have greatly reduced the amount of time I spend on a salmon dinner ~ along with the Ninja air fryer I received a few years ago.

However, if you would rather use salmon with the skin on, this recipe would work as well.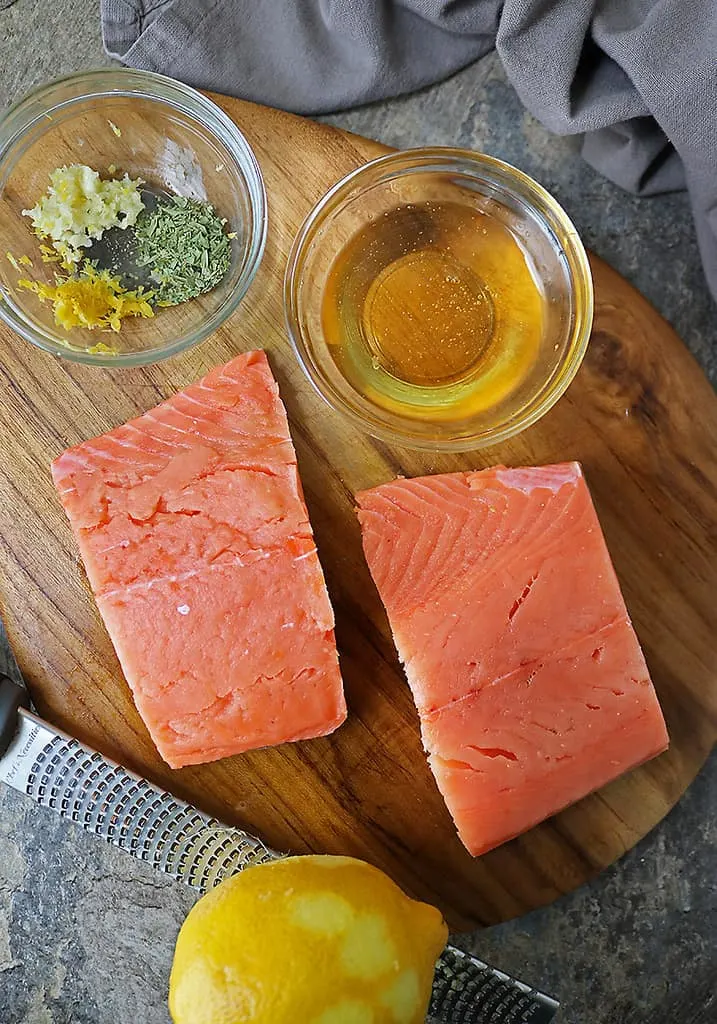 How to make this easy Air Fryer Honey Salmon?
As frozen salmon fillets were used for this recipe, the first step is to thaw them.

Then, place the honey in a microwave-safe dish and heat it in the microwave for 10 seconds until slightly warm and runny.

Using a Microplane grater, gently grate the lemon, making sure to only grate the zest (the yellow part) and not the pith (the dense white part). Gather a ¼ tsp of the grated lemon zest and add it into the warmed honey and mix very well until well incorporated.

Peel the garlic and using the same grater, grate the garlic as well and mix it in with the honey and lemon.

Add the tarragon into the honey + lemon combo and mix well too.

Using paper towels, dry the salmon fillets well. When salmon fillets are dry, spoon on the honey + lemon + tarragon mixture onto each, making sure to coat the sides as well. By the way, this is when things can get messy!

Then, place the salmon fillets in an air fryer, set the temperature to 400 degrees, and set the time to 10 minutes. If the salmon fillets are thick, then set the timer to 12 minutes. When time is up, remove salmon fillets and make sure they are cooked through. If the fillets are thick, they will need longer to cook.

Season with salt and pepper and enjoy!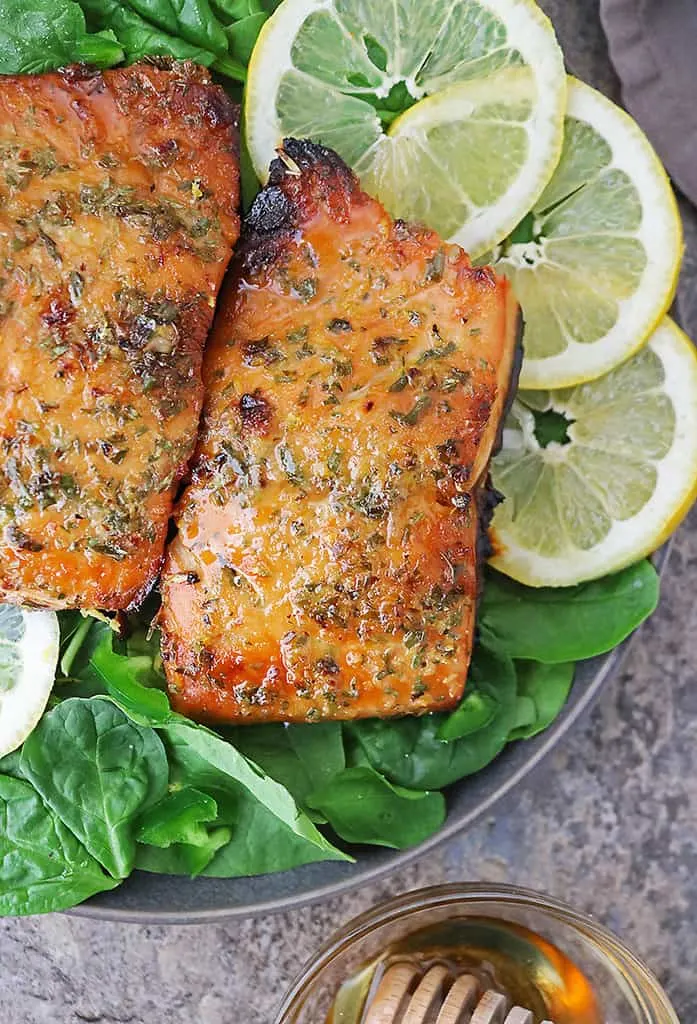 Wondering what to pair these Air Fryer Honey Salmon fillets with?
If you want a light and healthy dinner, pair this Air Fryer Honey Salmon with:

This fig melon salmon,

This charred zucchini salad,

This broccoli salad, or

This Sautéed Asparagus Egg Salad

If you want a heavier meal, then pair this Air Fryer Honey Salmon with:

These cast iron potatoes and this ginger cardamom carrot sauté,

These turmeric potatoes and this Brussels Sprouts apple salad,

These miso glazed sweet potatoes and some roasted broccoli, or

This creamy butternut squash pasta.
Oven-baked option:
If you don't have an air fryer, no worries.
You can still enjoy this Honey Salmon recipe. After you coat the salmon fillets with the mixture of honey + lemon + tarragon, place them on a parchment-lined baking tray.
Preheat the oven to 425 degrees F and bake the salmon for 15-20 minutes – until the internal temperature at the thickest part of the salmon fillet reaches 145 degrees F.
Looking for an air-fryer? Then check out the ones below (affiliate link)