Disclosure: This shop has been compensated by Collective Bias, Inc. and its advertiser. All opinions are mine alone.
#KingofFlavor #FlavorRocksPX #CollectiveBias
These Pan Fried Tofu And Waffle Skewers are a fun, portable, vegetarian take on the popular Southern dish of Chicken and Waffles!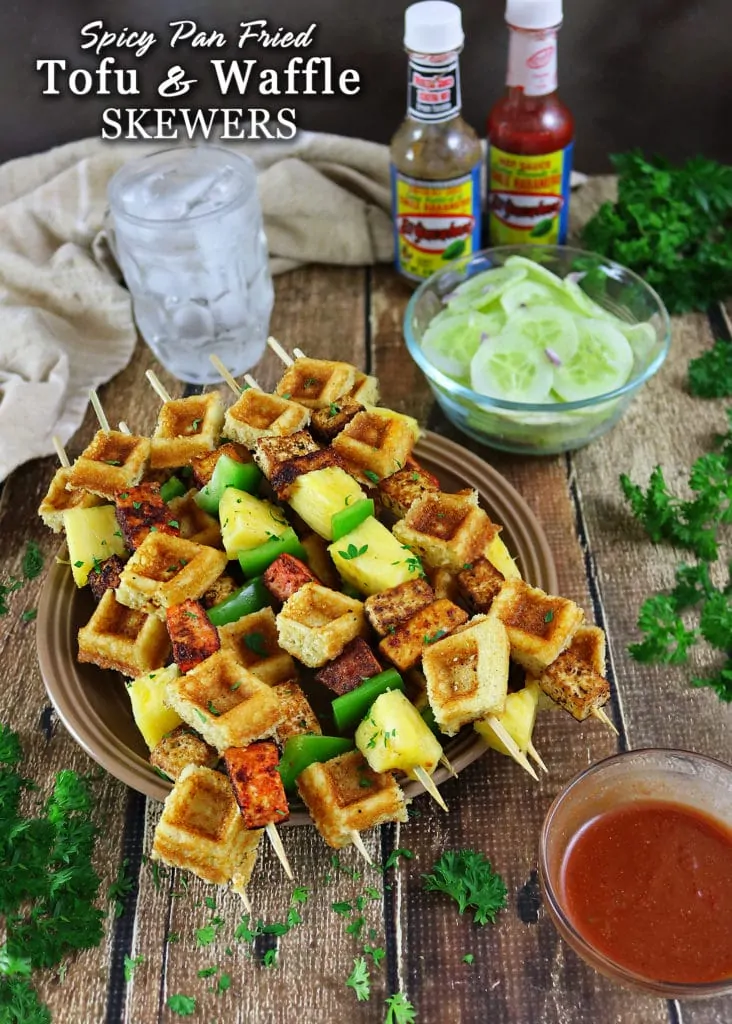 When I first heard about the combo of fried chicken and sweet waffles, I couldn't help thinking why? Until I tried 'em!
In those early days of my intro to the combo of chicken and waffles, I couldn't help marvelling at how well they paired together, so, I had to come up with my spin on them – and that, my friends, is what you see here today. These fun and versatile Pan Fried Tofu And Waffle Skewers rely heavily on the flavor of El Yucateco® XXX Habanero Hot Sauce (Kutbilik) and El Yucateco® Red Habanero Hot Sauce, and can be paired with pineapples or peppers or both, and served up with a cold and refreshing cucumber salad for a picnic or summer get-together.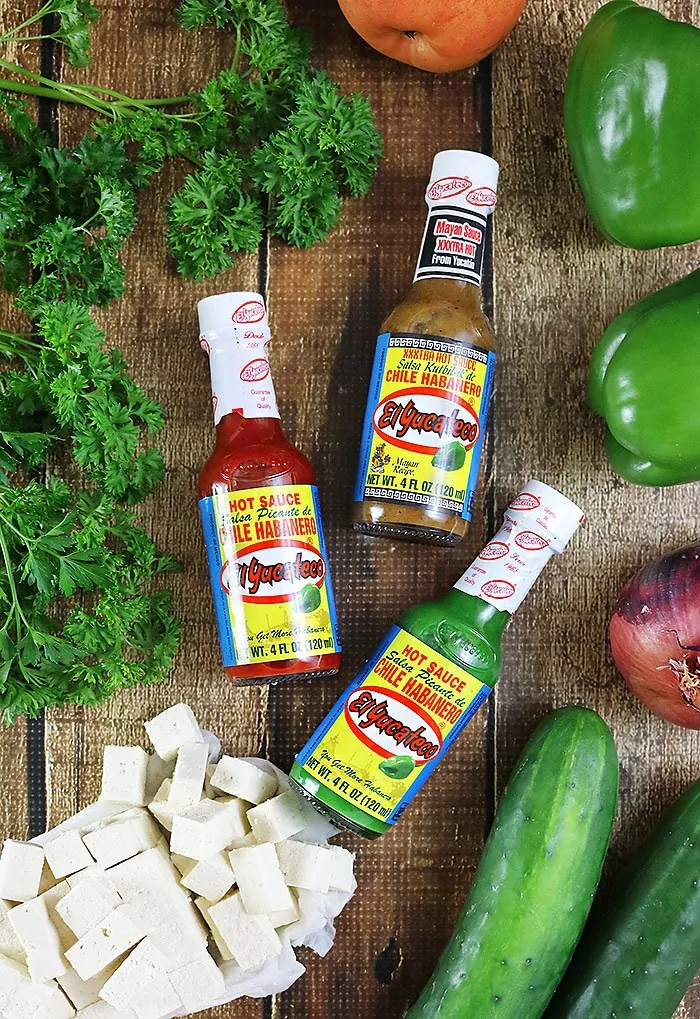 Speaking of El Yucateco®, El Yucateco® hot sauce will now be available at select stadiums and The House of Blues, AND they want to give YOU the chance to win a once-in-a-lifetime musical experience! In addition to the grand prize, there will be gift cards awarded weekly as well. Make sure you enter the Winning with El Yucateco Sweepstakes here!
#KingofFlavorSweepstakes (5/9 to 7/4)

These Pan Fried Tofu And Waffle Skewers are in no way perfect to look at – the pieces of tofu and waffles are not cut evenly, and neither are the pineapple and green bell pepper chunks. But, these are so rich in flavor, thanks to the El Yucateco® hot sauces which I picked up from Publix.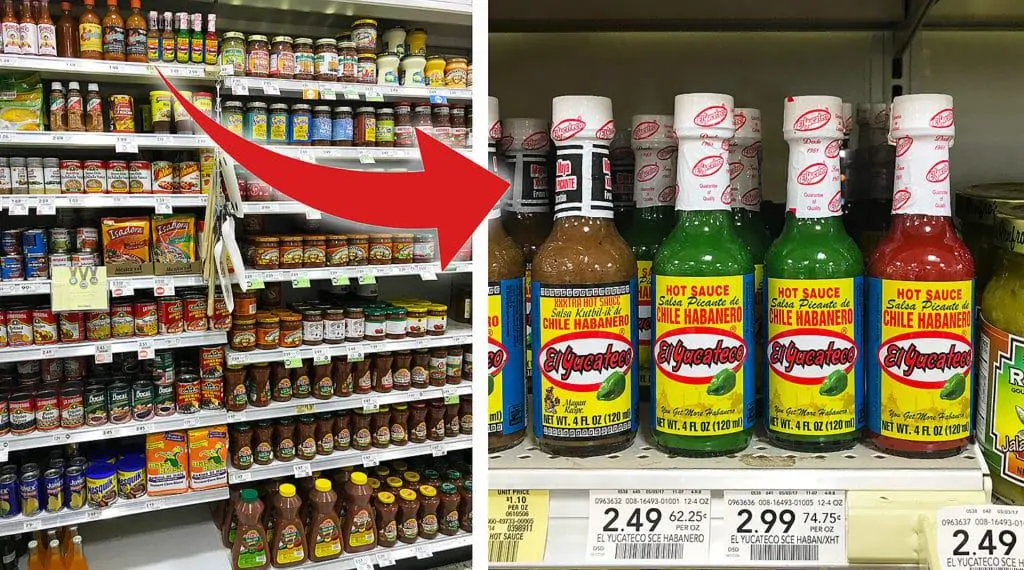 El Yucateco® sauces are handcrafted to deliver rich flavor with just the right amount of heat and are the #1 authentic habanero hot sauce and #1 consumer choice.
Conveniently portable, El Yucateco® sauces often tag along with us on picnics and on road trips!
El Yucateco® Red Habanero Hot Sauce is the perfect "all purpose" sauce. It is made with fresh red habanero peppers, tomato, and select spices and seasonings, and packs a little more kick then the average hot sauce but with far less vinegar, so you get the true flavor of the pepper when you add this sauce to any dish, whether it be a Bloody Mary or Shrimp Cocktail or Wings.
El Yucateco® XXX Habanero Hot Sauce (Kutbilik) is a rescued recipe from the Mayan vault. This sauce is made from the ripest habaneros giving it a slightly rustic and earthy flavor. Although, this is one of the hottest sauce measuring approx. 12,000 on the Scoville scale, it is favored by all hot sauce lovers and is not so extreme that it can't be used as an everyday sauce either. This is a hearty full flavor sauce so when pairing, make sure to partner this sauce with something equal in flavor to maintain some balance. For example, mix this sauce with raspberry or cherry preserves for a sweet & spicy spread, or pour it on over steaks and ribs when grilling. No artificial coloring added.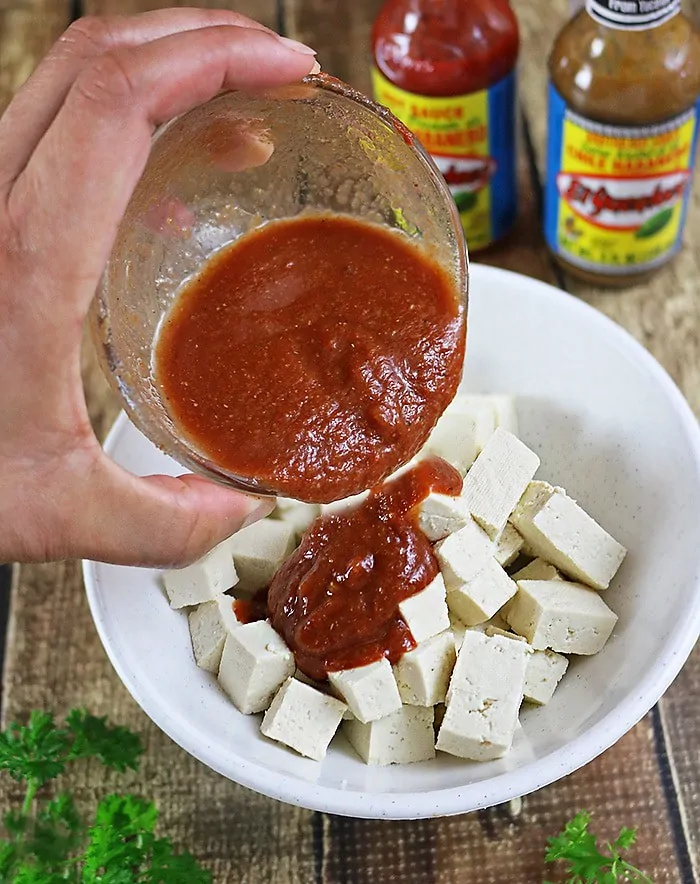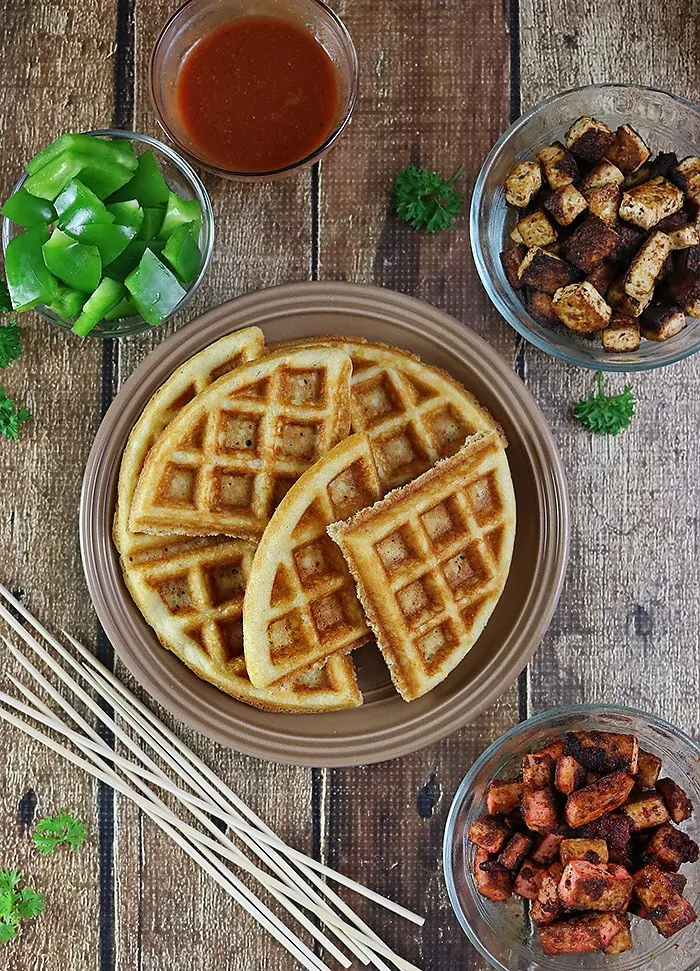 Now, you don't have to cut up the waffles, and can just pile up the pan fried tofu on the waffles and enjoy this dish, like we often do. The only reason I made the skewers is that they are portable and easy to eat at picnics or even while driving.
Last spring, my daughter and I stumbled on "Artisphere" when we drove to Greenville, South Carolina for cake! And, this spring, amidst the weekends of Mother's Day, graduation parties, baccalaureate ceremonies and graduation itself, we are trying our best to squeeze in a quick drive up to Greenville to catch artisphere again as we fell in love with some of the performances by artists and musicians last year. Seeing I had those Blender Chocolate Pretzel Bars lined up for dessert for our road trip, I figured we needed a meal as well. So, I decided to put some Pan Fried Tofu And Waffles onto Skewers! For fun, I threw in some pineapple wedges and bell peppers on some of the skewers and also made this simple and refreshing cucumber salad to pair with the skewers.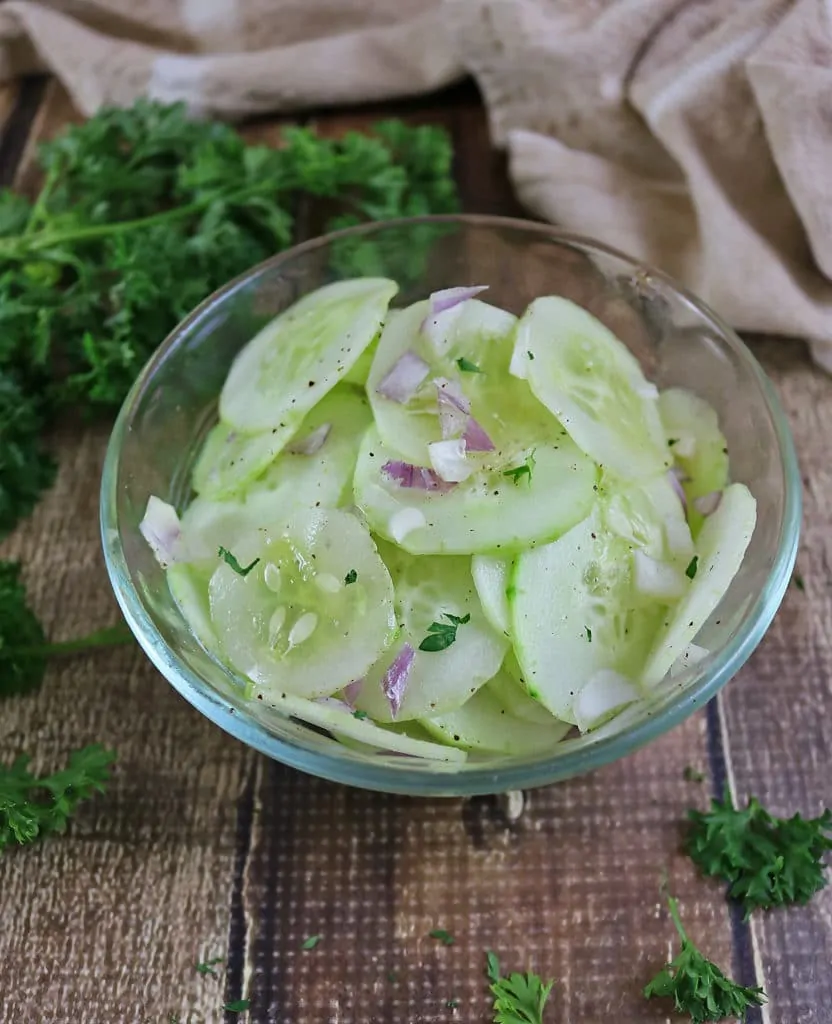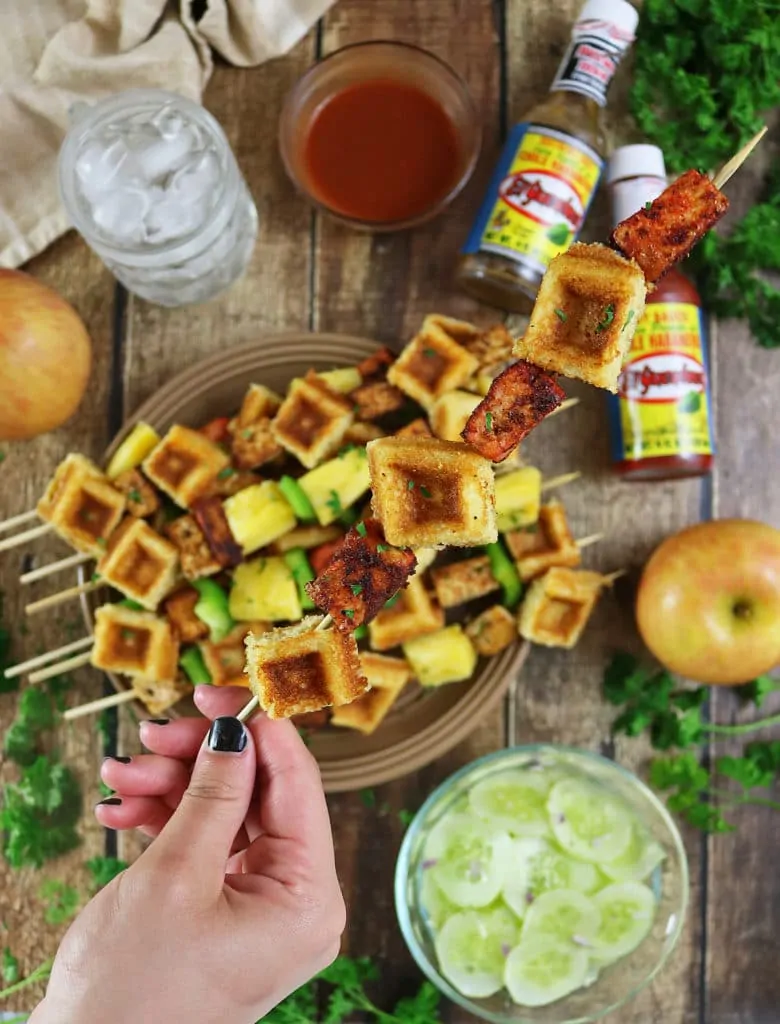 By the way, make sure you grab this Print at Home coupon for El Yucateco® that is valid from 5/9 through July and check out the social hub as well.

Looking for more ways to enjoy the flavor of El Yucateco®? Then check out this El Yucateco® Black Label Reserve Foil Grilling Veggie and Sausage Packets Recipe as well as these El Yucateco® Hot Sauce Chicken Skewers
Also, make sure to check El Yucateco® out on: Facebook • Twitter • Pinterest • Instagram • YouTube

Here are a few more recipes with El Yucateco®…
Spicy & Sweet Pineapple Tofu Skewers