This Grain-Free Chocolate Almond Cake is an adaptation of Paul Hollywood's Chocolate Almond Cake – and only calls for 4 ingredients – yes, that's F.O.U.R. – and none of those 4 are butter or flour?! Go figure – eh?!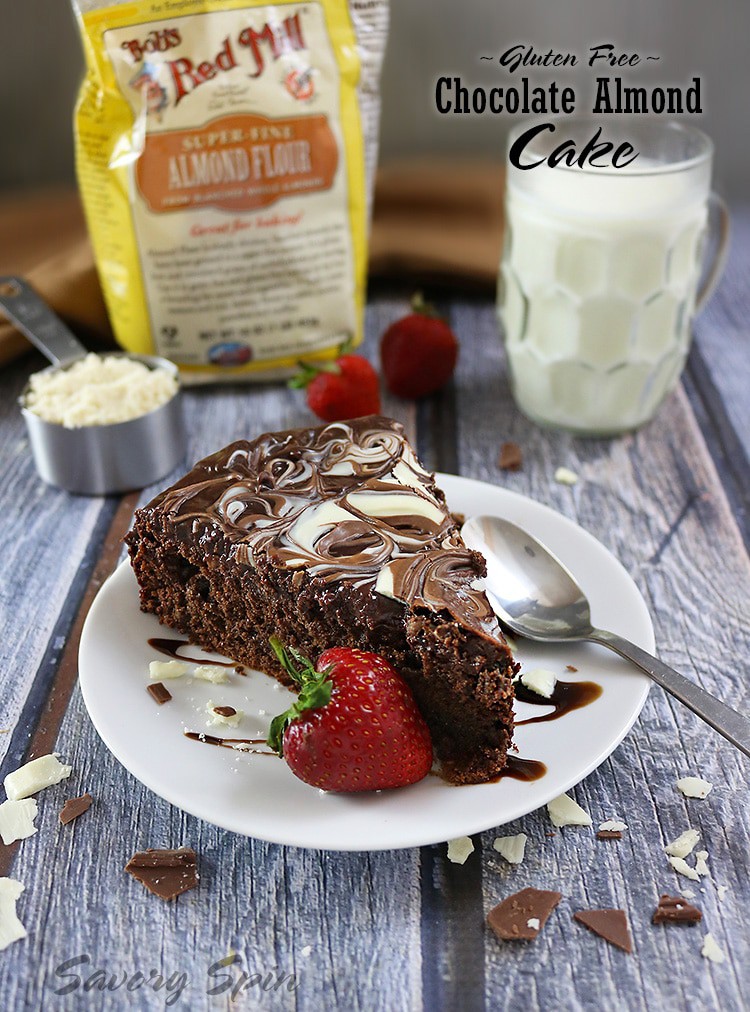 My daughter likes to think she's a night owl.
And, that's fine. We are just different.
But, she has to wake up at 5am every morning to make it to school in time. And, that's where the conundrum lies. You see, she NEEDS her 8 hours of sleep, and going to bed at 11pm keeps that from happening. So, on those days when she skimps on it – she reaches for something sweet to keep her awake during those first early classes. Sometimes, I catch her sneaking a spoon or two of this no churn, ice cream…other times I catch her sneaking a couple of these chocolate pretzel bars (if they are hanging out in the fridge) …then today, I caught her sneaking a slice of this Chocolate Almond Cake!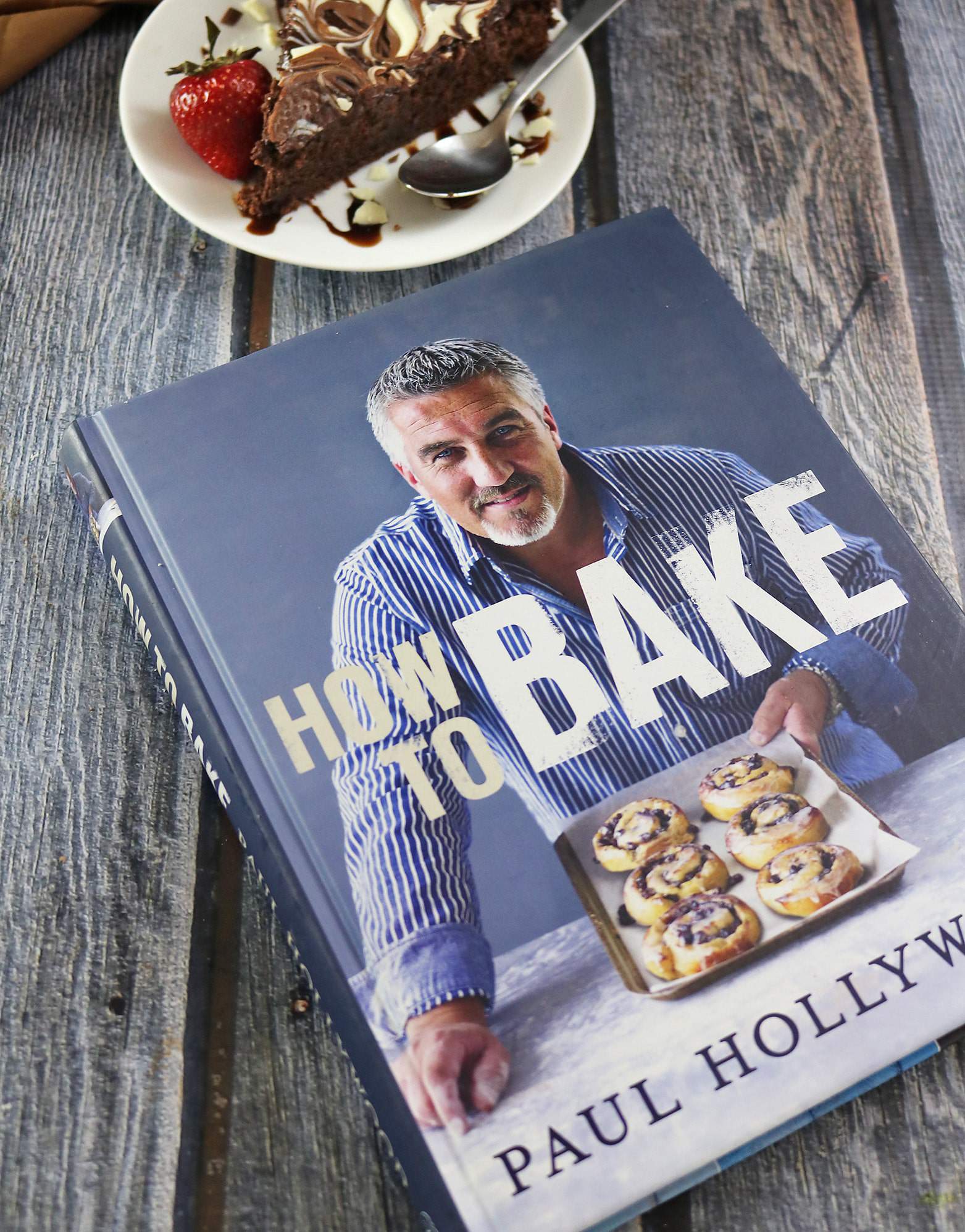 This cake is from Paul Hollywood's "How To Bake" cookbook. After watching two seasons of the Great British Bake Off on Netflix, I was fascinated by Paul Hollywood's take on all things baked. So, when I came across this cookbook of his last Christmas, I couldn't resist ordering it. Ever since I got it, I've been itching to make something from it, but, life got kinda crazy and I put it aside – until this weekend! This weekend, I finally managed to crack it open and dribble chocolate all over it – which means it finally fits in with the other, chocolate and spice stained cookbooks I own 😆 .
When I first got this cookbook, my daughter marked off this Chocolate Almond Cake, along with several other bread recipes (which I will be posting on here as time goes by). Since I am done with that crazy 3-class schedule, I figured we needed a cake to celebrate and my daughter suggested I make this. This recipe is not mine – I've adjusted the almond flour amount and sugar content, and swapped out brown sugar for castor sugar, and brushed the cooled cake with strawberry jam instead of the cherry jam – but, otherwise, I followed the recipe in the cookbook to a T – even using my scale to measure out quantities of Brown Sugar and Bob's Red Mill Super Fine Almond Flour (btw, this is not a sponsored post, I use Bob's Red Mill products in a lot of the things I bake). Going over the ingredient list and the baking time, I thought this would come out rather dry – but, Mr. Hollywood knows his stuff! This cake was so moist – even after sitting in the oven for 45 minutes AND then the fridge AND being reheated the next day!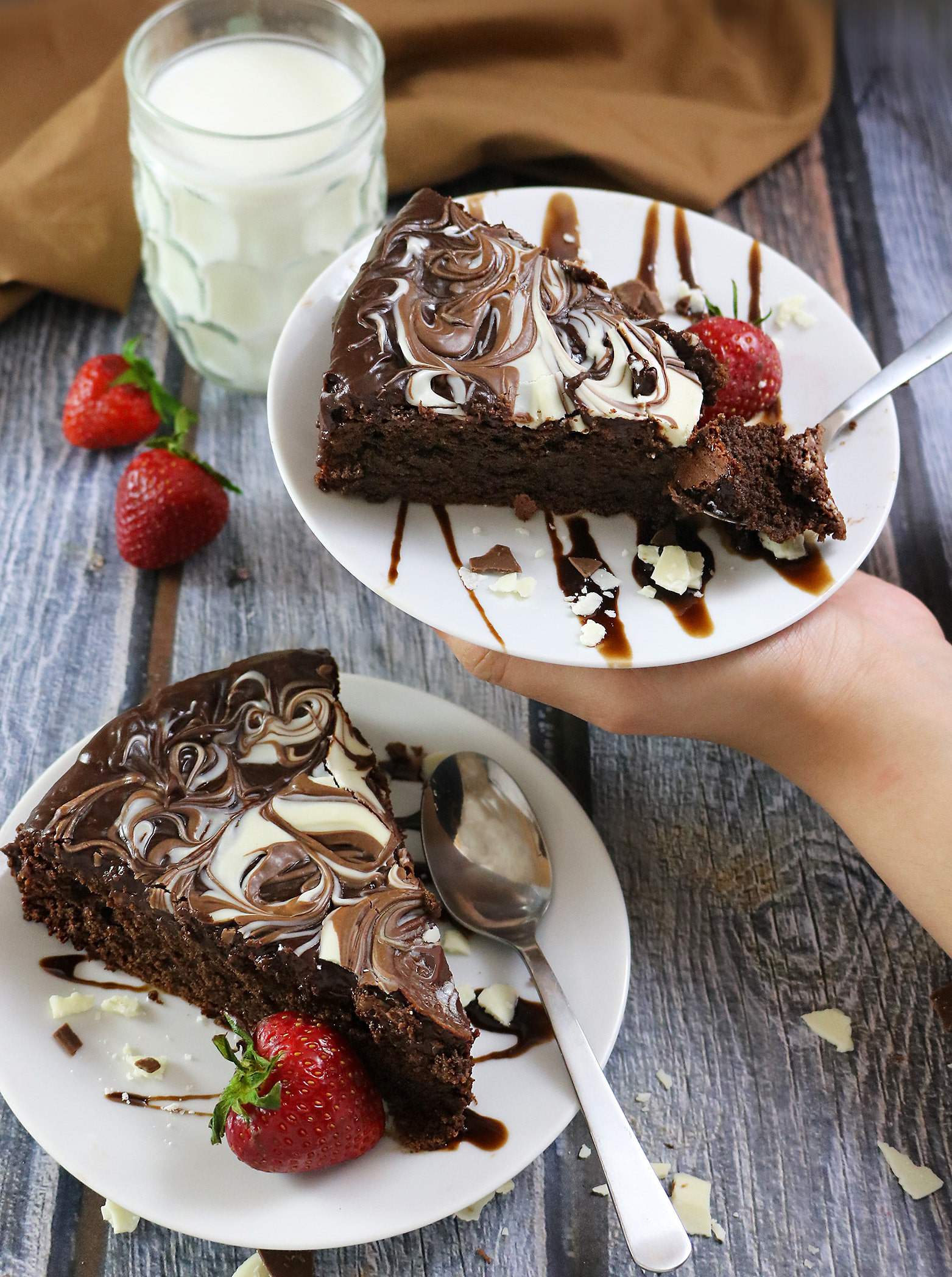 This Grain-Free Chocolate Almond Cake called for a ganache topping – and seeing I can only handle my dairy in very small amounts, I figured I'd make the ganache with coconut milk and chocolate. But then, I poured it over the cake and realized I don't have mad ganache decorating skills so I took the easy route and melted some milk chocolate and white chocolate, gobbed it on top of the ganache topping and swirled the heck out of it. My daughter of course said that it wouldn't have mattered how bad it looked as she would have gobbled it down as it was soo good – only one way for you to know what she means – right? 😆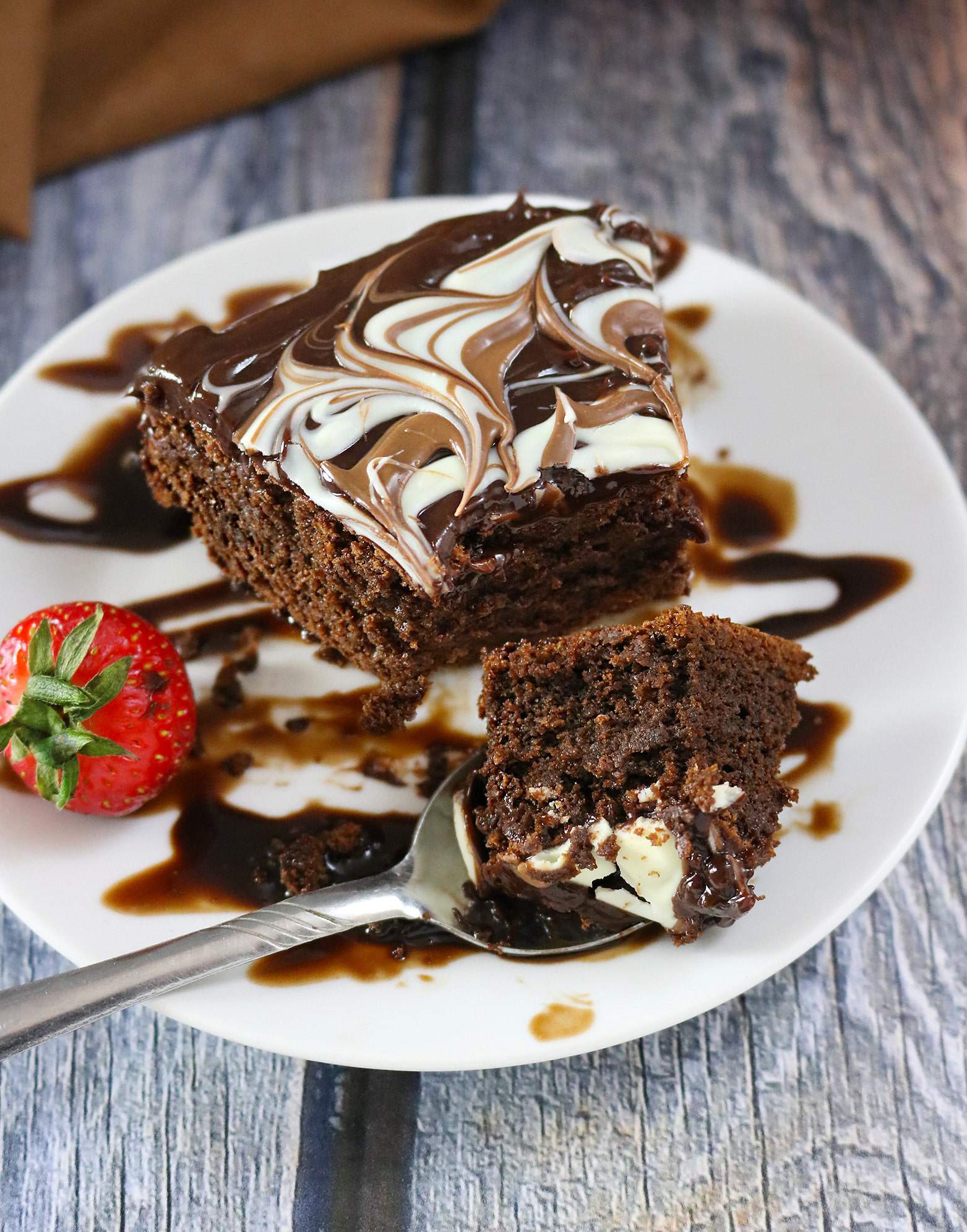 [Tweet "Grain-Free #Chocolate Almond #Cake Adapted from @PaulHollywood with @BobsRedMill #almondflour"]
Happy Tuesday Y'all! I will be taking the rest of this week off so I hope this week is a good one for y'all. In the meantime, I sure hope y'all give this Grain-Free Chocolate Almond Cake a try.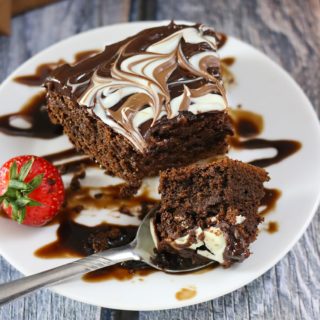 Print Recipe
Grain Free Chocolate Almond Cake
Ingredients
For the Chocolate Almond Cake
226

g

good quality semi sweet chocolate chopped up

(two 4 ounce bars)

6

eggs (5 separated)

200

g

brown sugar

(approx. 1 cup)

75

g

almond flour

(approx. 3/4 cup)
For the ganache & topping
4

tblspoons

strawberry jam (not preserves)

1/2

cup

full fat coconut milk

1/2

cup

good quality semi sweet chocolate

1/4

cup

good quality milk chocolate

1/4

cup

good quality white chocolate
Instructions
For the Chocolate Almond Cake
First off, melt the chopped up chocolate. You can use the double broiler method. But, I used the microwave one, checking and stirring the chocolate in the microwave safe bowl every 25-30 seconds - it took about 70 seconds for it toe melt nicely. Then set it aside to cool a bit.

Then, preheat the oven to 350 degree

Grease an 8/9 inch circular baking tray and line the bottom with parchment paper.

Take five eggs (out of the 6) and separate them. Adding the whites to one bowl and the yolks to another.

Using a handheld electric mixer, beat the whites till fluffy and peaks form and set aside.

Add the single whole egg to the bowl with the five yolks. Also add in the brown sugar. And, using the electric mixer, beat well till the mixture is stiff enough that a trail forms in it (about 2-2.5 minutes).

Add 1 tablespoon of the egg whites to the egg yolks/brown sugar mixture. Also add in the chocolate and almond flour and beat well with the mixer.

Set the mixer aside. Using a spatula, fold in the remaining egg whites into the chocolate/yolks/brown sugar mixture till well incorporated. This is key! Please be gentle with it at this point.

Using the spatula, spoon the mixture into the baking tray and bake for 40-45 minutes till cake has a crust on top and sides pull away from cake pan slightly. Remove from the oven and let cool completely (I very gently coaxed the cake out of the cake pan and let it cool on a wire rack).
For the ganache & topping
Make the ganache by adding the chocolate and coconut milk to a sauce pan and stirring while heating - making sure the chocolate melts and mixture doesn't get too hot or burns. When chocolate is melted and mixture is well blended, set aside to cool some.

Melt the strawberry jam in the microwave for about 20 seconds so it's spreadable and using a brush, brush the cooled cake with the melted strawberry jam.

Then, pour chocolate ganache on top of cake.

I then melted some milk chocolate and white chocolate and using a toothpick, swirled it up but this is optional and you can just go with the ganache topping.


Chasing More Chocolate? Then check out these chocolate recipes: