This shop has been compensated by Collective Bias, Inc. and its advertiser.
All opinions are mine alone. #BTSSpirit #CollectiveBias
Y'all, I have come to the realization that from the get-go, this whole parenting thing has been about letting go. When my daughter was an infant, I carried her around everywhere – only to let her go when she started to crawl… and then to walk… and then to drive! And now she's talking about me letting her go off to college! Quick, someone hit the slow-mo button on that remote that Adam Sandler wielded in Click! Or, better yet – just hit the pause button!
But, since she was a toddler, that is what I have been grooming her for – being independent, seeking advice, making decisions and doing "adulting" by herself and for herself. I just didn't realize that that time spent grooming would fly by so quickly. While I struggle to deal with the whole letting go part of parenting, after 12 years I think I've got a grip on the whole back-to-school part of it – especially when it comes to food.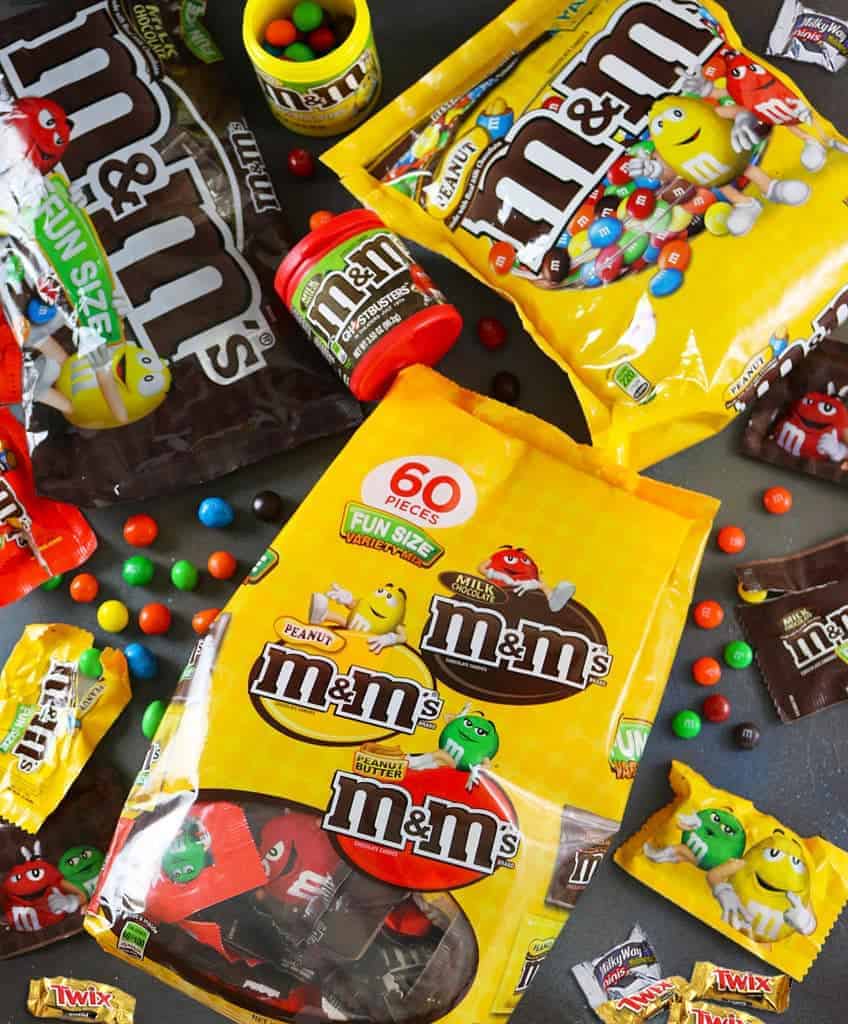 No – I don't meal prep for hours on the weekends nor do I wake up early to do so. Instead, I get my daughter to pack her own lunch and snacks. It all started about 3 years ago when she told me she needed me to pack more chocolate to fuel her brain and something clicked in mine, and I thought, I need to let go of packing her lunches (saw what I did there?) So, she took over and has been doing it diligently since.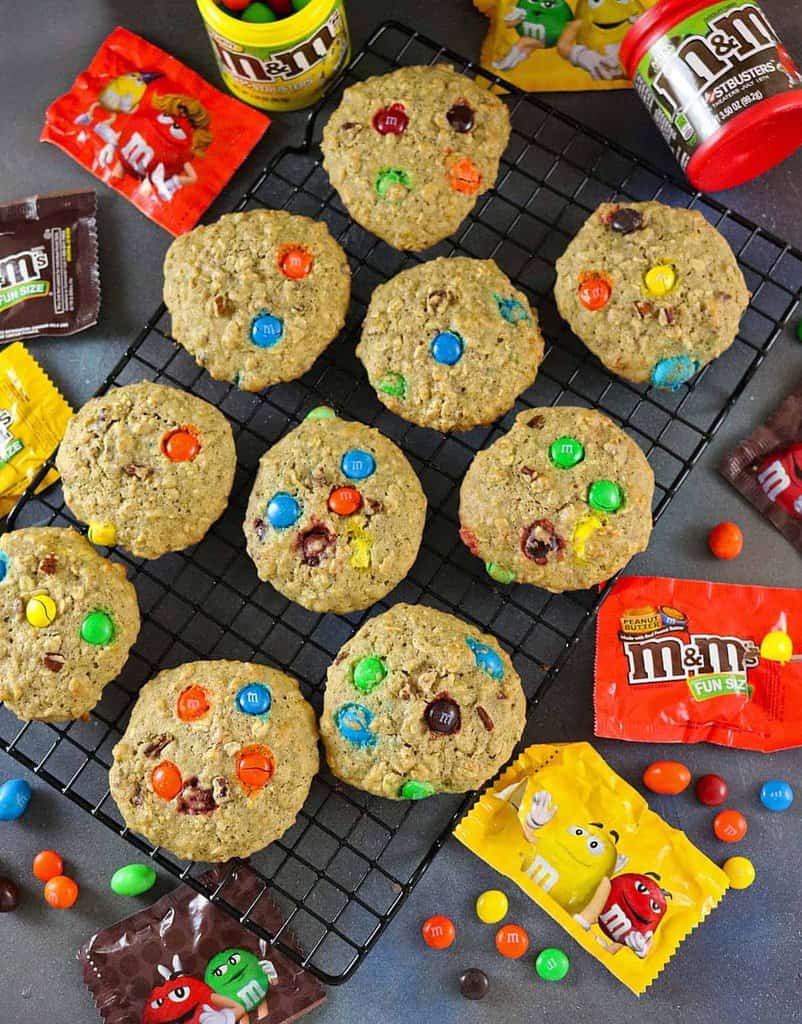 But this year, I've started feeling guilty, feeling that maybe I've expected too much from her (even though she has delivered more than I expected). So, to deal with my guilt, some days, I make her her favorite Coconut Oat Pecan Cookies loaded up with M&M's® Milk Chocolate, M&M's® Peanut, and M&M's® Peanut Butter pieces and sneak them into her backpack.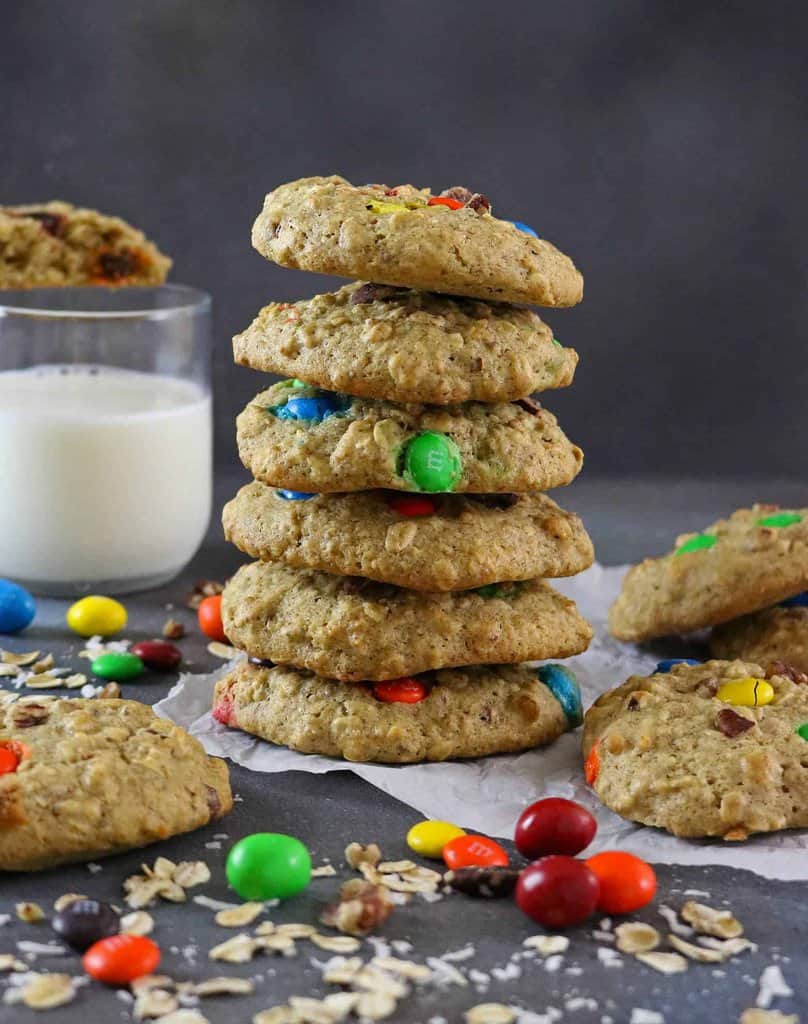 When I was at Walmart trying to pick between the party bags of M&M's® or the Mixed Mini Variety Bag to make these Coconut Oat PecanCookies with, I happened on the Back To School, Ghostbusters themed M&M's® display and took a trip down memory lane to when I watched the Original Ghostbusters. Realizing that the new Ghostbusters is in theaters now, I figured it would be a much-needed break to spend an afternoon at the movie theater with my daughter, armed with bags of M&M's® and a Mixed Mini Variety Bag and these Coconut Oat Pecan Cookies – now to find that remote from Click and freeze this moment!
[Tweet "Coconut Oat Pecan Breakfast Cookies #BTSSpirit #ad @Walmart @mmschocolate"]
If y'all happen to be fans of M&M's® like we are, then please keep an eye out for an in-store coupon with savings of $0.75 off 1 M&M's® Bottle – between July 17 – September 30!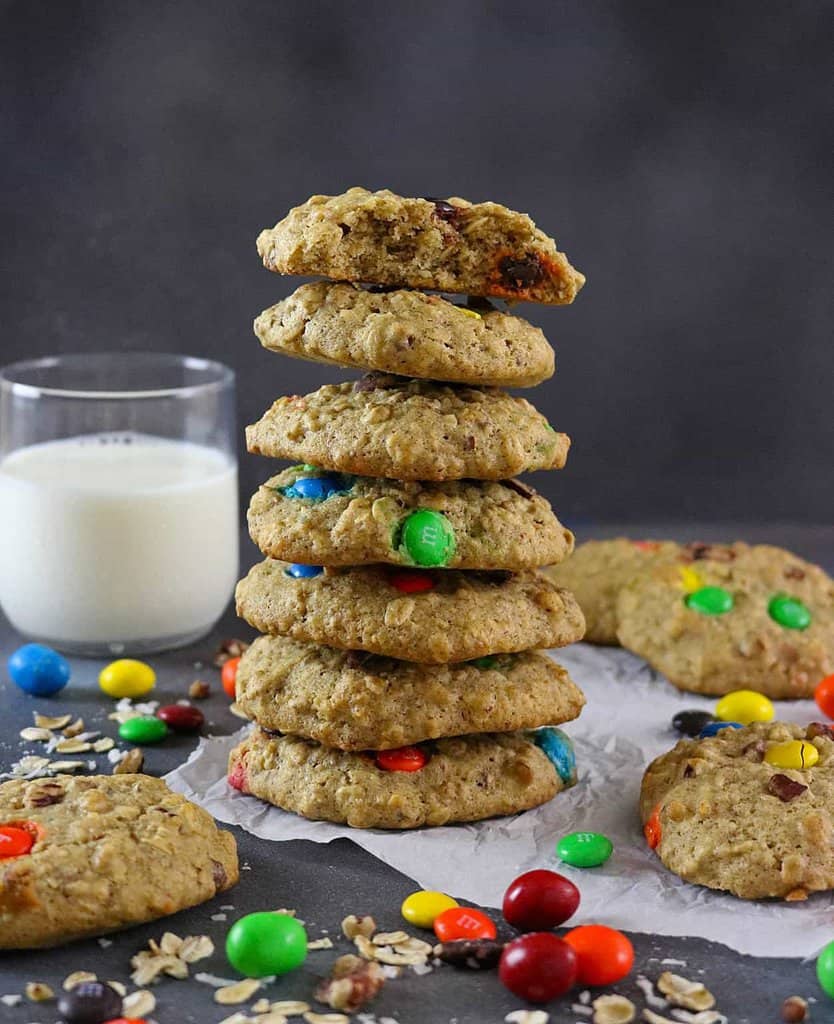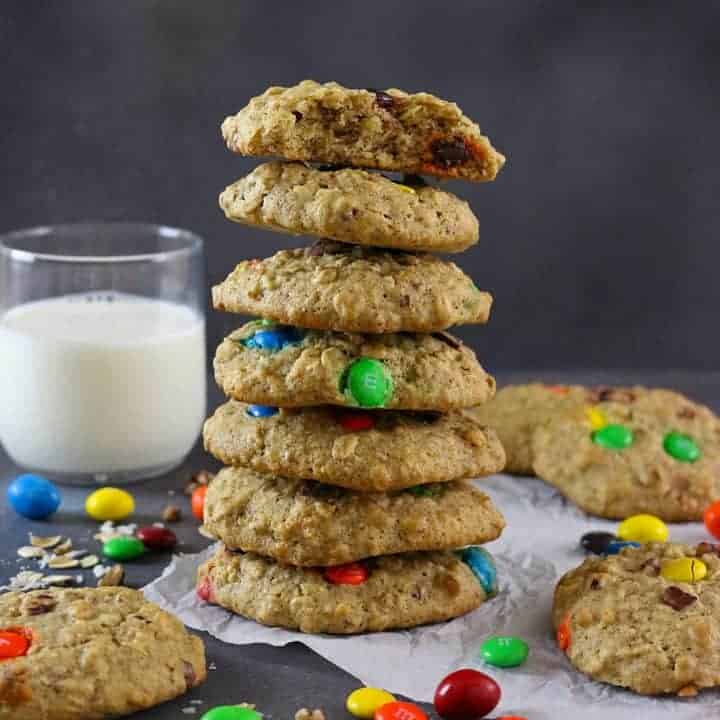 Coconut Oat Pecan Breakfast Cookies
The ingredient list might be long on these cookies, but they are not only delicious, they are also breakfast worthy with a good dose of lignans, fiber and protein and with a variety of M&M's® thrown in - they are just plain fun to snack or breakfast on!
Ingredients
1/4 cup peanut butter
3 tablespoons coconut oil
2 eggs, at room temperature
1/2 cup brown sugar
1 cup rolled oats
1/2 cup rice flour
1/4 cup flax meal
1 1/2 teaspoons baking powder
1/4 teaspoon salt
1 teaspoon vanilla
1/4 cup coconut flakes, unsweetened
1/4 cup pecans
1/4 cup M&M's® Peanut
1/4 cup M&M's® Milk Chocolate
1/4 cup M&M's® peanut butter
Instructions
Preheat oven to 350
Add the peanut butter and coconut oil into a bowl and heat in the microwave for 10 - 15 seconds - just enough for the peanut butter to get runny but don't let the mixture get too warm
Add the brown sugar and eggs and stir well with a spoon
Then add in the oats, rice flour, flax meal, baking powder, salt, vanilla, pecans, and coconut flakes and stir
Toss in the M&M's® Milk Chocolate, M&M's® Peanut, and M&M's® peanut butter
Drop ice cream scoopfuls or spoonfuls of cookie dough onto a parchment lined baking tray
Bake at 350 for 12-14 minutes
Let cool and enjoy

I'd love to know if you happen to make this recipe (or any other on here) so pretty please tag me @RunninSrilankan and #RunninSrilankanon Instagram, Twitter, Pinterest, &/or Facebook. And, if you haven't yet, then please make sure to subscribe to my mailing list to have all sorts of eats and treats delivered to your inbox! Thanks Y'all!