Start your day off with a delicious and sweet tropical Dragon fruit And Mango Smoothie.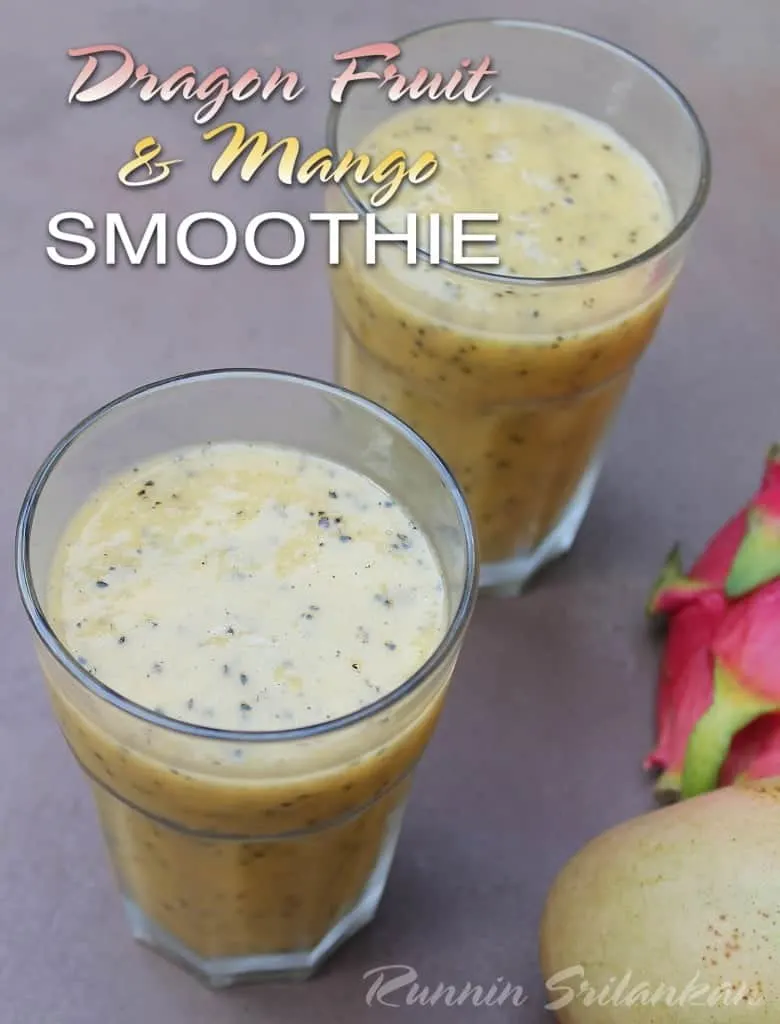 Once upon a time, there was a maintenance company…
…aaaaand this maintenance company was responsible for making sure that all ran well at a building I happened to work in.
However, they were kinda "lackadaisical" in their approach to any and ALL issues and so, on more that one occasion, our HVAC unit backfired! In winter no one seemed to mind too much, but, in summer, oooh – let's just say, you wouldn't find anyone walking around singing the "Happy Song"!
What you would have found instead were people walking around with portable fans in one hand and spray bottles in the other muttering "the heat is on" and threatening to steal spray bottles! But – for me – these were some of the few times when the temperature in the building was finally. Just. Right.
Not too hot, not too cold – but Just. Right.
Having spent my teen years (most of them running track) in 100+ degree weather – I have grown accustomed to the heat! Ooh, in fact, I might even break out the "L" word in describing my feelings towards heat!
Sadly, however…
My daughter has not inherited my love of heat – she definitely does not feel the lure of a hot, scorching evening! The other day, she pelted me with her empty water bottle while we were in the middle of an easy 4 mile run around 5pm as she thought the sun was too high in the sky! I wanted to pull out a "when I was your age…" story but instead … I came home and I made her a smoothie!
Or, rather subjected her to a dragon fruit and mango overload!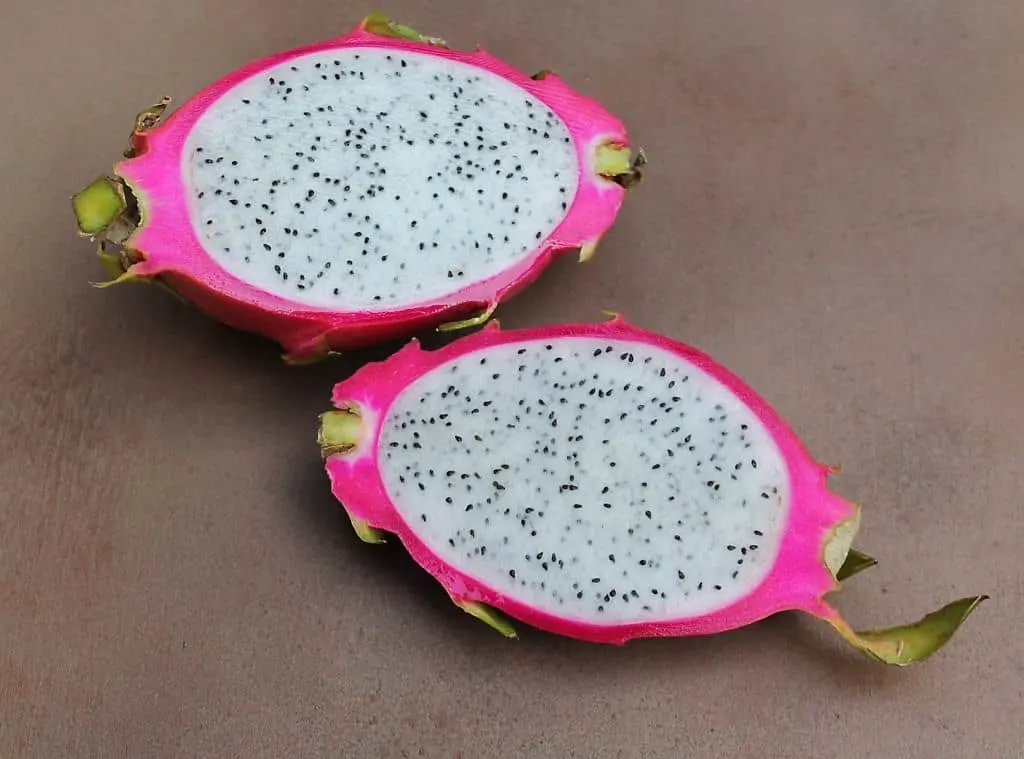 If you haven't tried dragon fruit yet, it is a gorgeous fruit – from cacti – very similar in texture to a kiwi – ripe dragon fruit that is somewhat soft to touch, tastes somewhat like a cross between a sweet pear and a kiwi – it's best ripe and (from my limited experience) the ones with brown blotches tend to have a different aroma and taste – not as pleasant as ripe, blotch free, dragon fruit!
Dragon fruit can be eaten buy cutting the fruit in half and easily scooping out the flesh with a spoon or the flesh can be pulled off the skin and cubed – which is what I did to make this smoothie. Just make sure not to include any of the pink skin as it tends to be a tad bit bitter.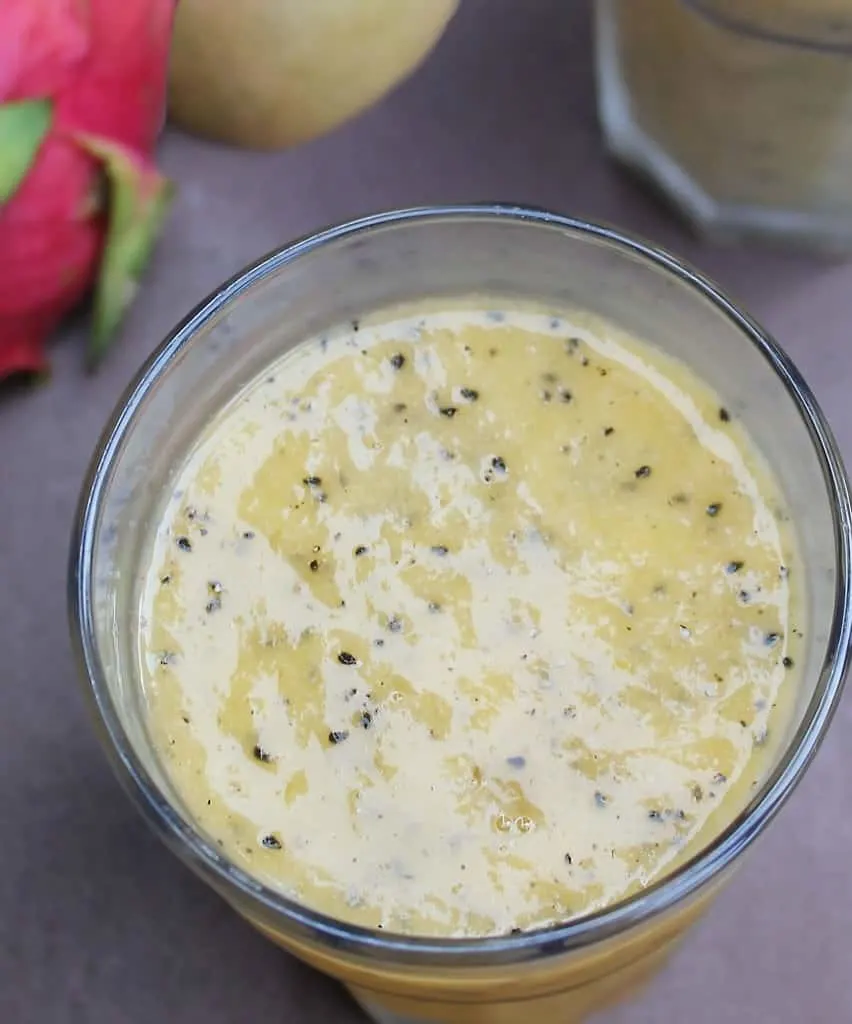 So – I have 3 questions I would love to know your opinions on:
1) What is your "sweating point" – or rather, when is it just too hot for you?
2) Have you tried Dragon fruit before?
3) Would you rather listen to "The Happy Song" or "The Heat Is On" on repeat – ALL day?
Hoping y'alls week is off to a wonderful start!