Made with Lactose-Free Greek Yogurt, ripe mangoes, a hint of cardamom, maple, and lime, this delicious Easy Mango Yogurt Smoothie is a sweet and tangy sip ~ very much like a mango lassi. It makes for a nutritious midday pick-me-up and even a refreshing after-dinner treat.
This post is sponsored by FAGE; however, all thoughts and opinions are my own.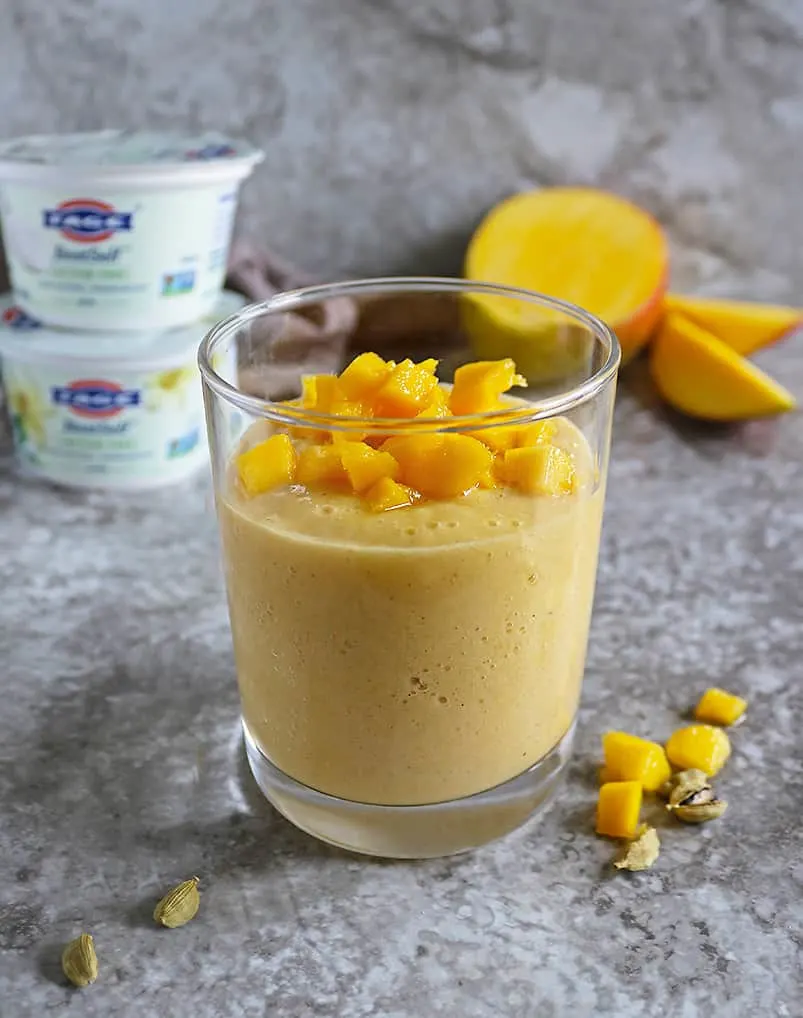 This Easy Mango Yogurt Smoothie is a healthier, more nutritious version of a mango lassi. While it is thick, creamy, sweet, and tangy like mango lassi, it is dairy free and packed with nutrients and protein-rich Greek Yogurt. And it is so easy to make!
It is a delicious afternoon pick-me-up and/or a creamy and rich drinkable dessert!
When my dad was alive, there was an Indian Restaurant in Norcross, Georgia that we frequented. Just about every birthday celebration or holiday get-together drew us to this little place.
The staff there were always friendly. The items on their buffet were always delicious. And they had the best mango lassi I had tasted.
Ever so slightly tangy, invitingly sweet, lusciously creamy, and refreshingly cold, their mango lassi was high on my list of favorite drinks I have ever had.
What is a mango lassi?
If you are not familiar with a mango lassi, it is a drink made with yogurt or buttermilk and rips, sweet mangoes.
I was once informed that the mango lassi this restaurant served was made with a combination of canned sweetened mango pulp and mango nectar, along with milk and yogurt.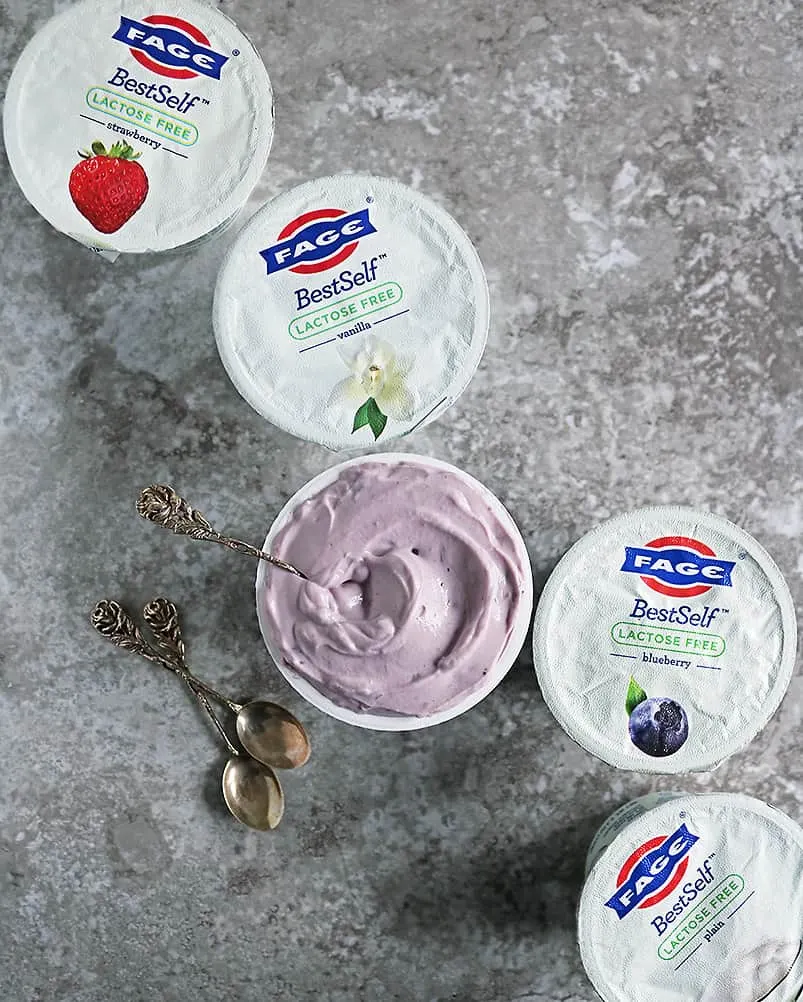 As my gut has trouble with lactose-laden milk, my love for mango lassi needed to be railed in.
Combining that with the fact that that Indian restaurant closed their doors for good a few months after my dad passed, meant that I needed to come up with an alternative.
So, on and off I would whip up a mango smoothie – very similar to a mango lassi.
Most times I would use a combination of fresh mangoes, coconut milk, and my favorite yogurt which is FAGE Greek Yogurt.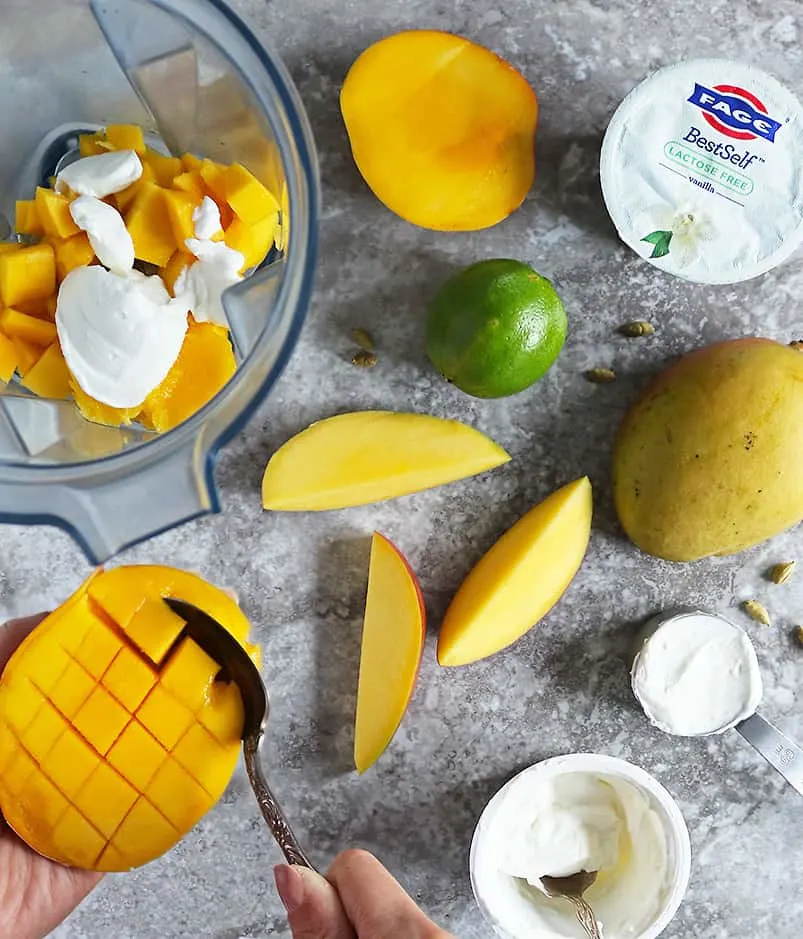 If you have wandered around my blog before, you might have noticed my love for FAGE Greek Yogurt in everything from pancakes, to granola, to tacos, to curry.
FAGE has a variety of delicious dairy products that have helped me fuel my day from sunrise to sunset. From enjoying FAGE Total Split Cup for an energizing snack or adding a dollop of FAGE Total Plain Greek yogurt to tacos or as a key ingredient in pancakes, FAGE has always been a favorite in our home.
So, on a recent trip to Greenville, South Carolina, when I came across FAGE BestSelf Lactose-Free Greek Yogurt at a Harris Teeter store there, I was ecstatic!
I ended up bringing home a bunch to try out with granola as well as in one of my all-time favorite drinks: a more gut-friendly mango yogurt smoothie.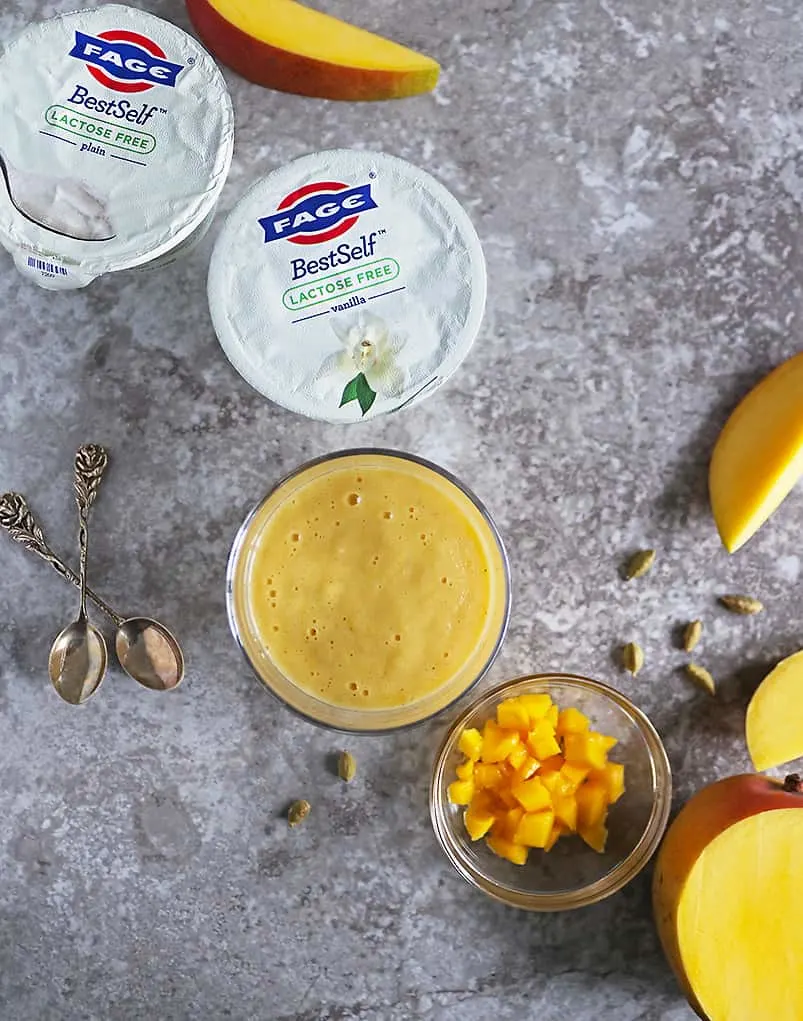 If you prefer a lactose-free Greek yogurt, FAGE BestSelf is made just for you. The New Year is a great time to focus on changes that will help me live my best self. And, as those changes involve being kinder to my gut, I turn to FAGE's new BestSelf Greek yogurt to help me on my quest!
Low-fat, protein-rich, FAGE BestSelf Greek yogurt is made with real dairy without the lactose! It is made with milk from non-GMO fed cows. FAGE BestSelf Greek yogurt is as rich and creamy as all other varieties of FAGE Greek Yogurt. When tasting it, you will be surprised that it is lactose free – but you will be definitely delighted!
It is so incredibly rich, creamy, and delicious; it is the perfect Greek yogurt option for everyone — whether you have a lactose sensitivity or simply want a satisfying snack to power through your busy day.
Made with 100% natural ingredients, FAGE BestSelf comes in sizes from 5.3oz to 32 oz. And FAGE BestSelf Greek yogurt is available in a variety of flavors from plain, vanilla, strawberry, blueberry, and peach.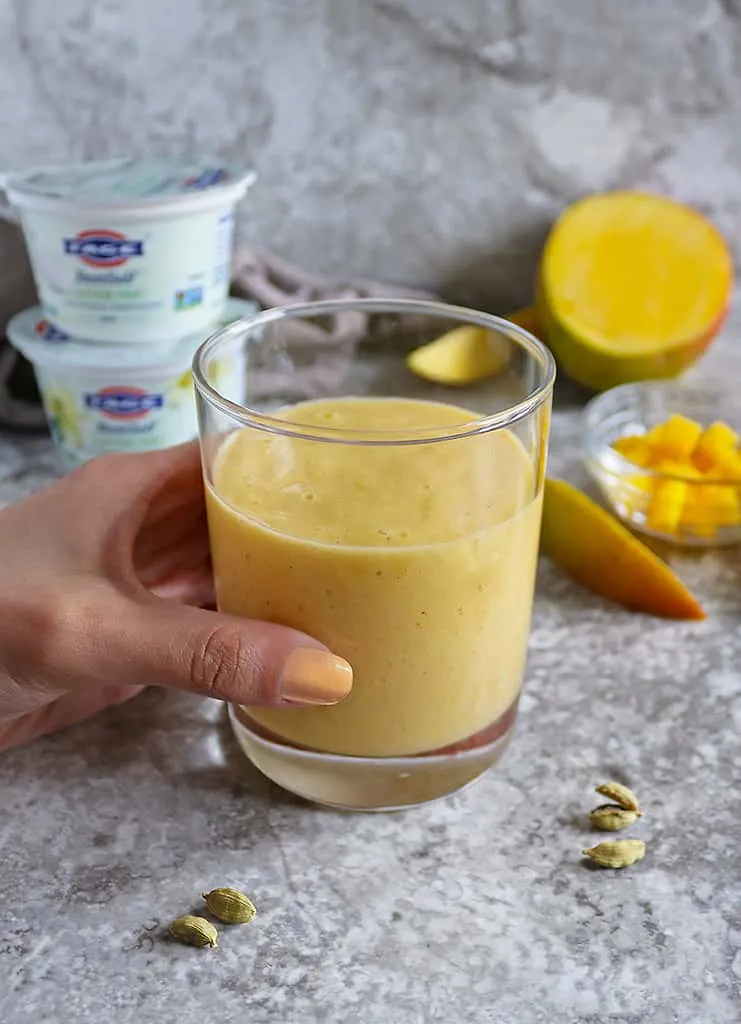 What are the ingredients to make this Mango Yogurt Smoothie?
Now, getting back to this thick, rich, and creamy Easy Mango Yogurt Smoothie, I used only 6 ingredients to make it, and they are:
Mangoes,
Cardamom,
Maple syrup (only if your mangoes are not very ripe and sweet),
Lime, and
Coconut milk.
Simply add all ingredients to a blender, blend 'em up and enjoy!
I like to add some finely chopped mango cubes to the top of this smoothie. This smoothie is so thick that those mango chunks do not sink but sit on the top until they are mixed up.
I simply love this healthier, more nutritious take on mango lassi. It is a delicious afternoon pick me up. And, after dinner on some nights, it has also served as a creamy and rich drinkable dessert!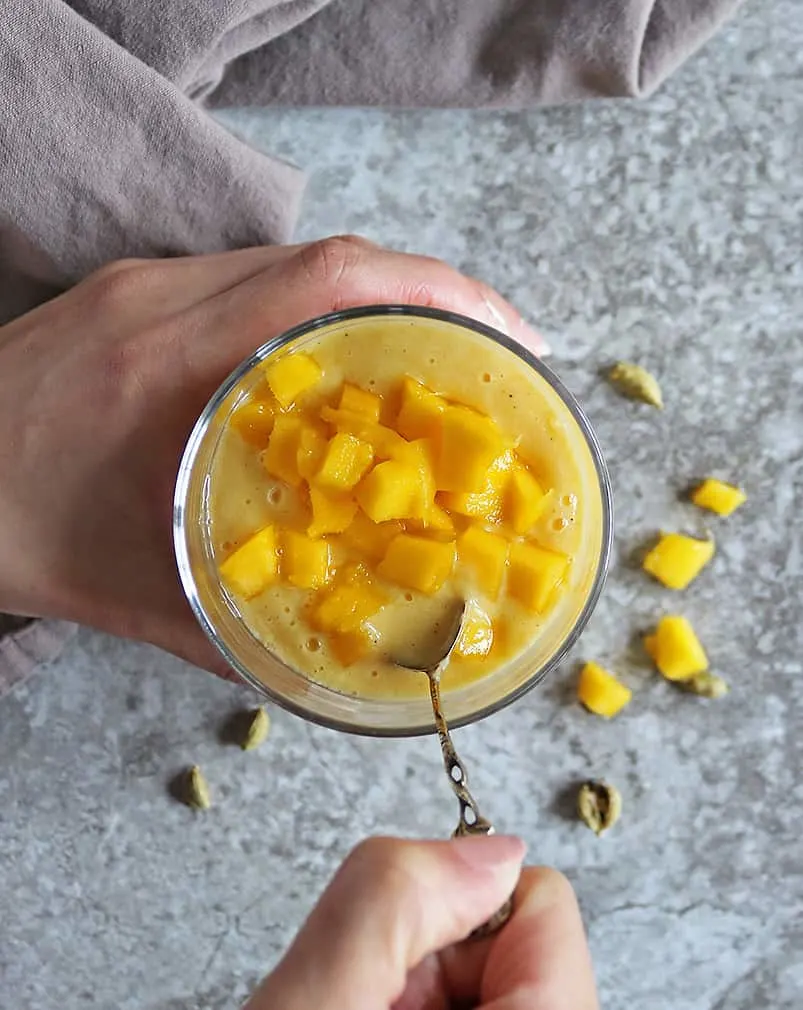 FAGE has such a wonderful variety of products to fit any lifestyle. From multiple milk fats and no sugar added options, the whole family can enjoy FAGE as a delicious addition to their day! Make sure to use the FAGE Store Locator to find FAGE products near you!
If you are looking for more cool beverages to enjoy this summer, check out some of our other favorites:
This Moong Bean Shake,
This Iced Bourbon Salted Caramel Latte,
This Raspberry Yogurt Drink,
This Tropical Oatmeal Smoothie,
This Dragon Fruit Mango Smoothie, and
A reader favorite, this Date Shake!