Spiced with coriander and cumin, this tomato-coconut Tindora Curry is still quite mild ~ and, with a side of quinoa or rice, it makes for a delicious, easy, and quick vegetarian dinner.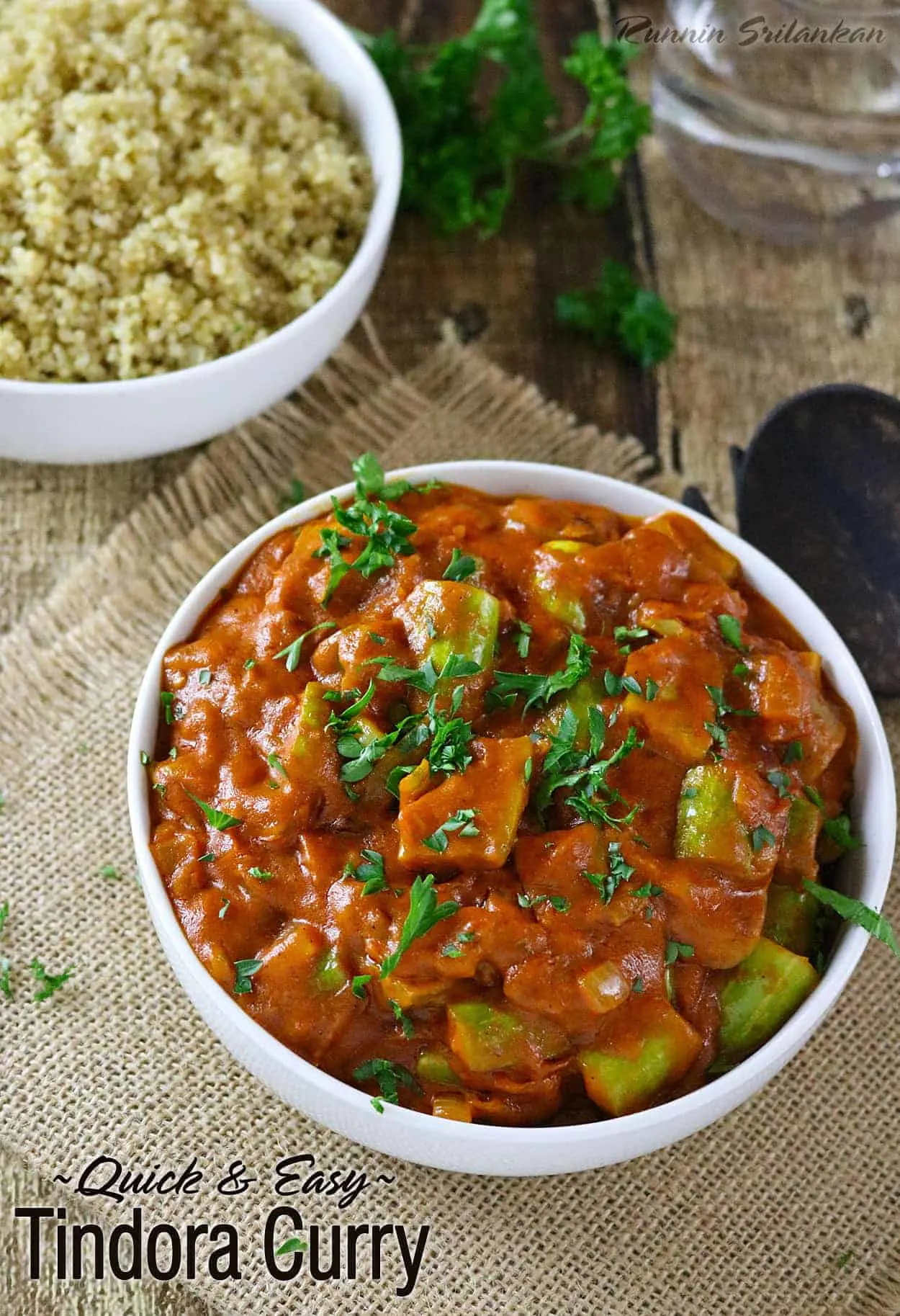 Tindora (not to be confused with the dating app Tinder) is a cute little gourd that I walked by more times than the years Tinder (the app) has been around; and never thought to try – till yesterday! I know my memory isn't what it used to be, but, I don't recall coming across Tindora while I lived in Sri Lanka – even though it is said to be widely popular in the South Asian Subcontinent. After having seen so many people buy it by the bag-full at a South Asian store I frequent; curiosity got the better of me, and I brought home my own bag-full of this spiky, mini, cucumber look-alike.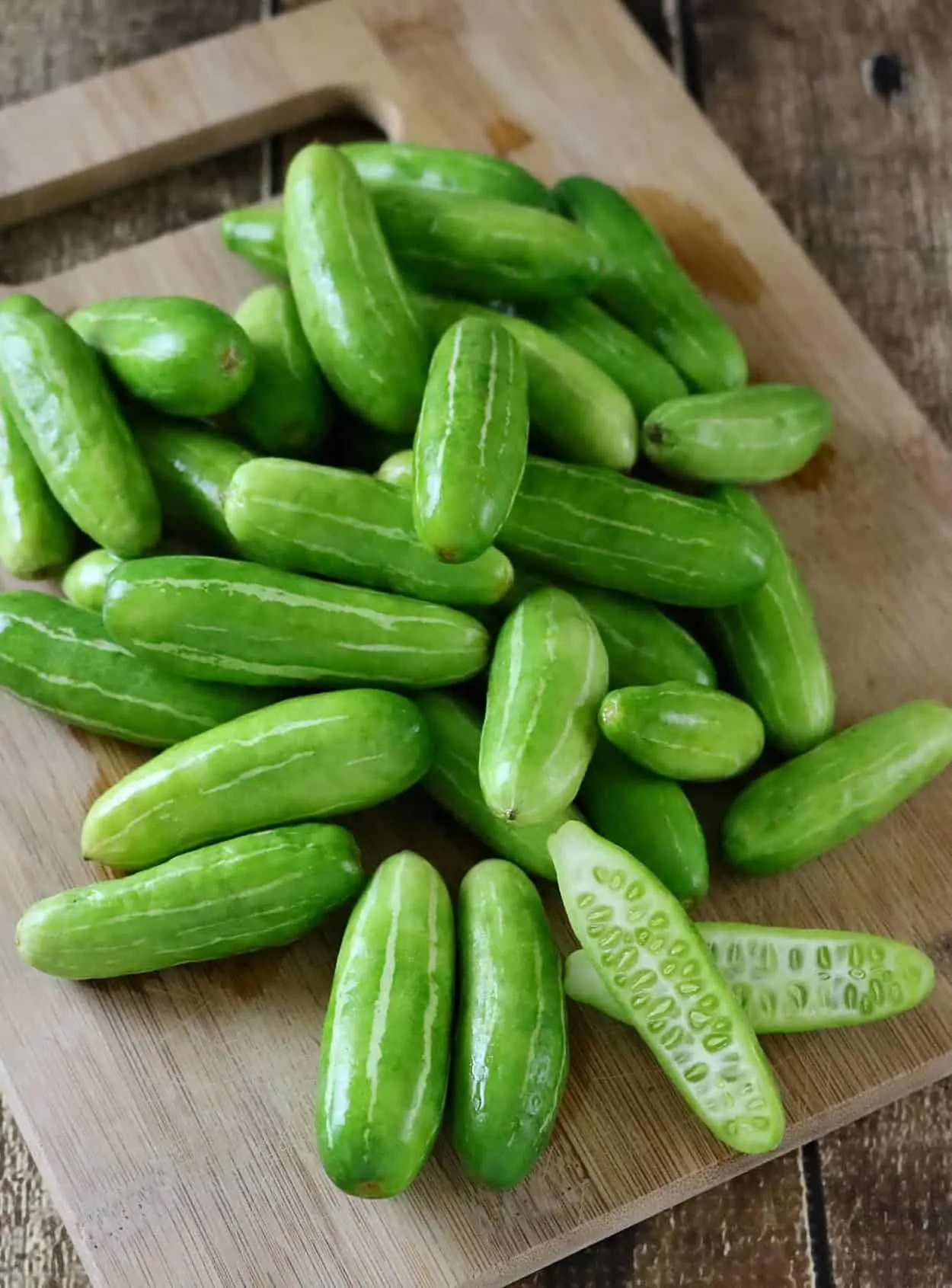 Of course, I cajoled my trusty friend, Google, to share more info about Tindora with me and was so surprised to find that this mild-tasting, bland, juicy, fruit off of a vine had a slew of health benefits. From being touted as a blood sugar regulator to an antioxidant to an immune system modulator, this little gourd had it's share of accolades.
But, that's not all. Google also directed me to the plethora of ways that Tindora can be enjoyed. I drooled for hours over dry curries, broth based curries, stuffed Tindora recipes, and pickled Tindora concoctions. I managed to talk myself out of torturing my taste-buds by perusing Pinterest for another hour, and actually taste-testing Tindora for myself. While it looks a lot like a mini cucumber, Tindora is a lot crunchier than cucumber and can be eaten raw or cooked. It seemed milder in taste than a cucumber – if that's imaginable.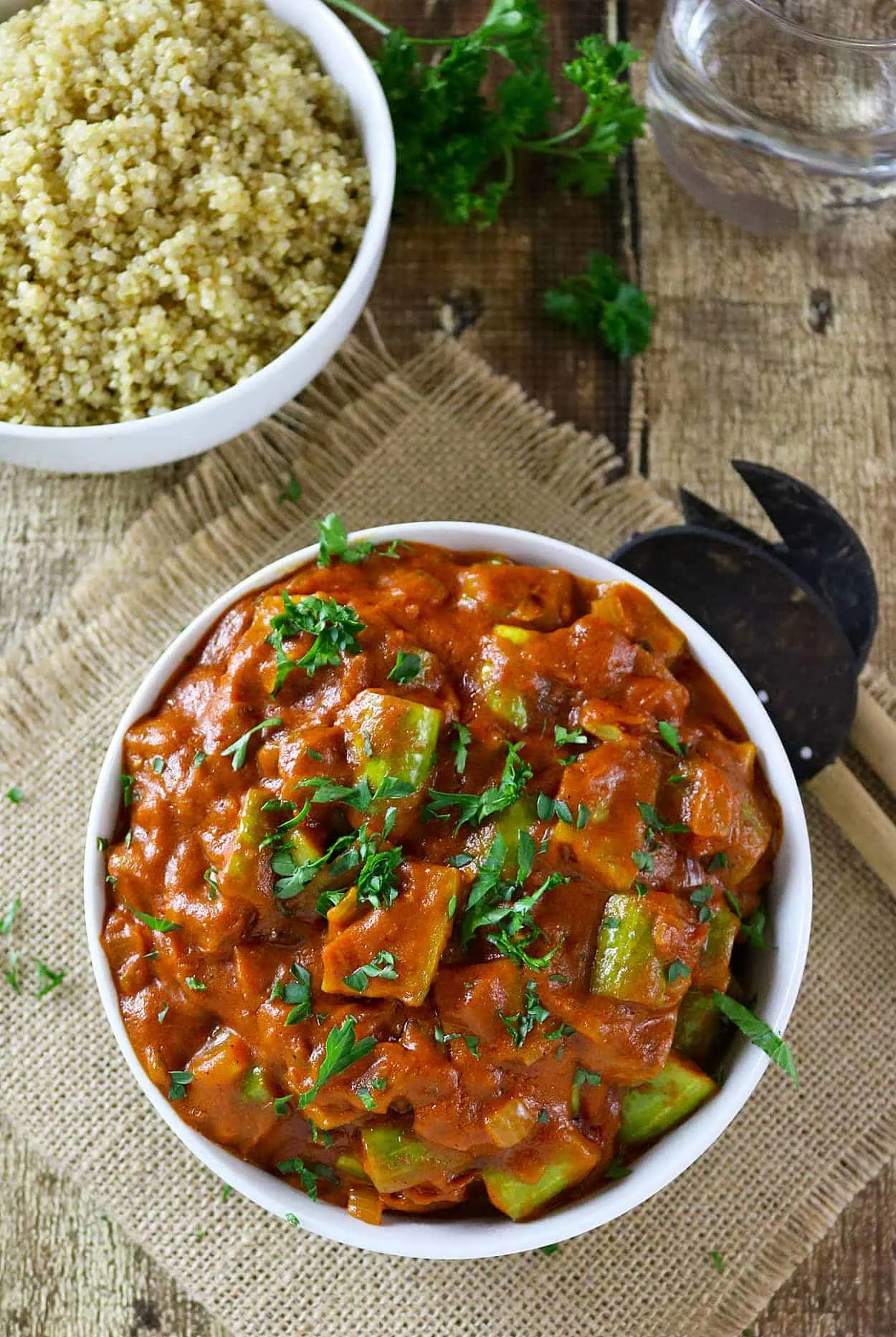 I decided to use a curry base I use often when trying to throw together a quick, easy and delicious curry together. I started off with a caramelized onion, grated ginger and garlic in a pot. I added in the Tindora at this point and then finished off my curry with tomato paste, coconut milk, coriander, cumin, paprika, and turmeric, and salt and pepper to taste. My daughter enjoyed this curry so much that she decided to tempt fate by eating it straight from the pan – saying, "sometimes plates can be so over-rated!"
[Tweet "Creamy, Spiced, Coconut-Tomato Tindora Curry #easy #vegetarian"]
What new veggie or fruit have you tried, or plan on trying this summer?
And, my daughter suggested I pose this next question to y'all – and that is: would you "swipe right" on this Tindora Curry if you saw it pop up on Tinder? 😆
Speaking of my daughter, I will be MIA for the rest of July to enjoy her company (and stop her from eating from pans) before she starts her senior year of high school, so I apologize ahead of time if I don't visit y'alls space on the interwebs – but I will be sure to visit in August!
Till then, here's hoping your July summer days are oh so happy!