This fusion-y Easy Vegetable Tikka Masala is jam packed with veggies coated in a tangy, luscious, deliciously spiced sauce – check out the recipe below and happy cooking!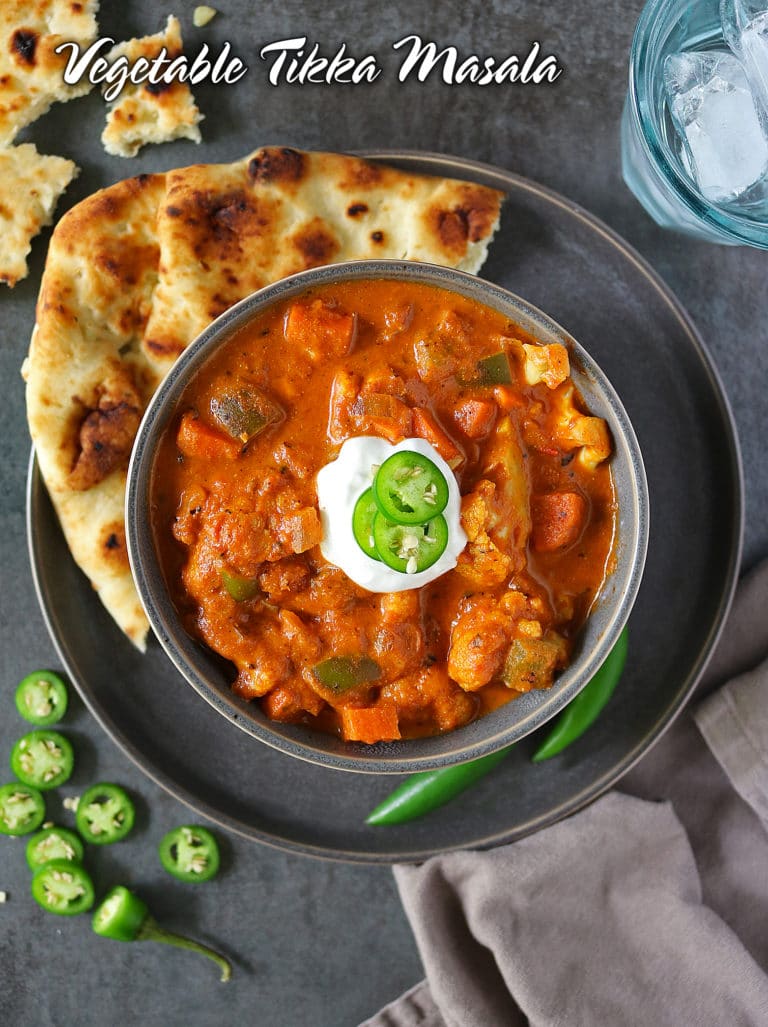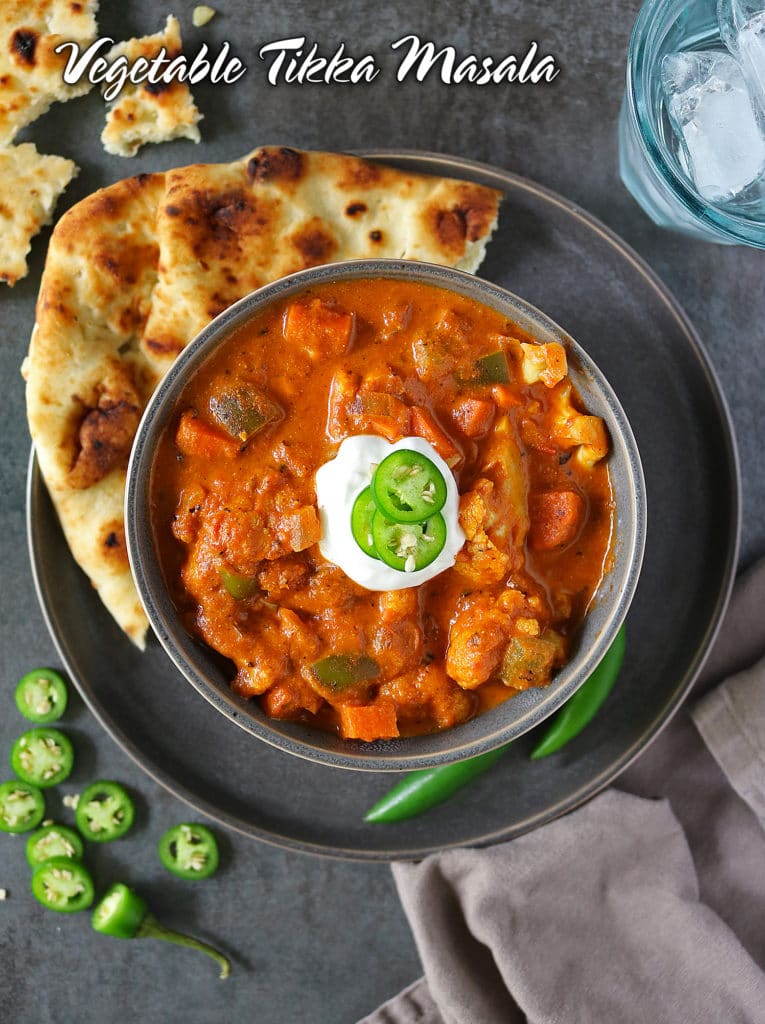 Even after all these years, three little words strung together, can be so powerful. They are just a bunch of black on white … right? But, three little words "chicken tikka masala" can have the spittle trying to escape out of those glands in the back of my mouth like my dog trying to escape my hold when he sees a squirrel!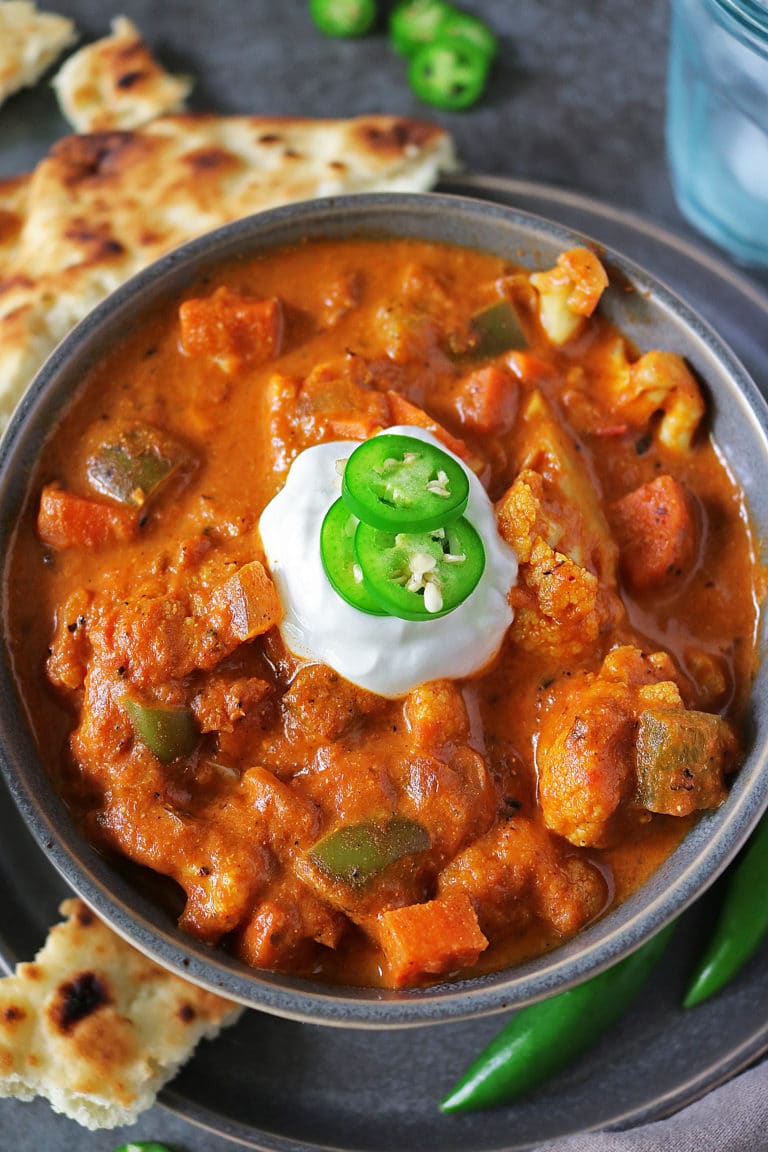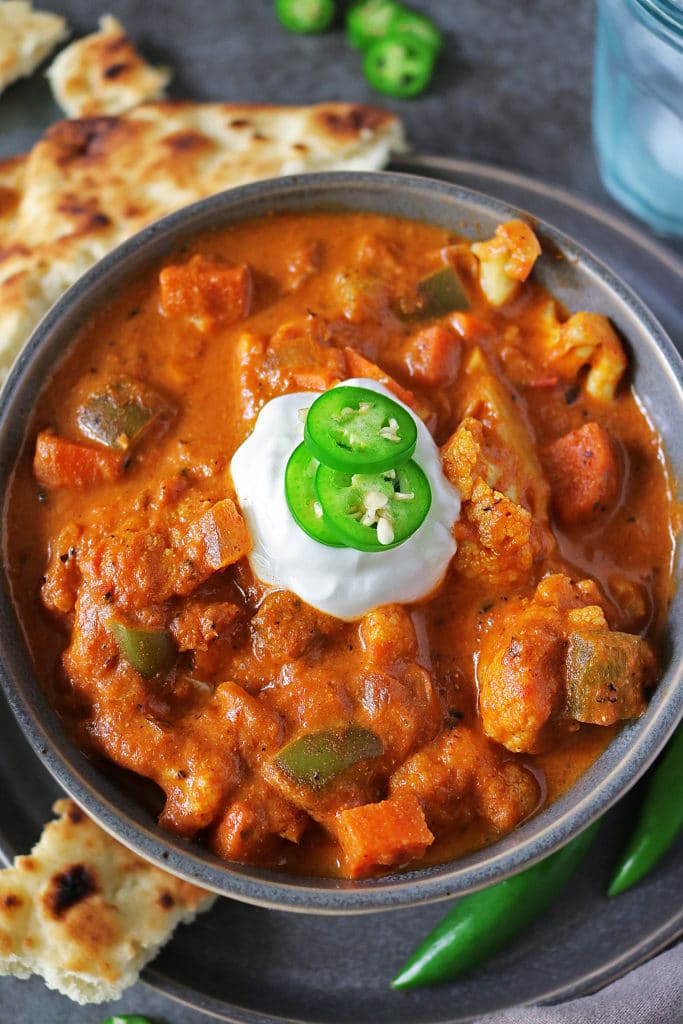 Way, way back when I was a teenager, chicken tikka masala was synonymous with the beginning of the weekend. Back then, I lived in Abu Dhabi with my parents, and most Thursday nights (Friday was our Saturday) my dad would head to the little Indian Restaurant on the corner of the block and bring home packages of delicious-smelling chicken tikka masala, fish masala and buttery parathas and we would tear into them like bears waking up after winter (only, we woke up from our "winter" every 6 days). Chicken tikka masala was foreign to our Sri Lankan tastebuds then and we were not able to get enough of it. That creamy, tangy, oh so tastily spiced sauce that so generously and lusciously coated chunks of tender chicken …or fish …and those flaky, buttery parathas (so different from the rotis we were used to)- ahhh …those were the Thursday nights of such gluttonous bliss!
Recently, I was talking to my daughter about those Thursday nights and she asked if I could try making a tikka masala. As she is a vegetarian, I opted to use cauliflower, carrots and green pepper in a vegetarian version. This came out so much better than we expected, my daughter suggested it had to be shared on here (lest I forget the recipe and never make it again). I won't say that what you see here is an authentic tikka masala but more a fusion one. One that is made with ingredients you will find at your neighborhood grocery store. But, still, one with a creamy, tangy, oh so tastily spiced sauce that so generously and lusciously coats chunks of veggies. One that is a delight to eat as is (yes, we ate bowls of these like we would soup) or sopped up with naan (which we also picked up at our neighborhood grocery store).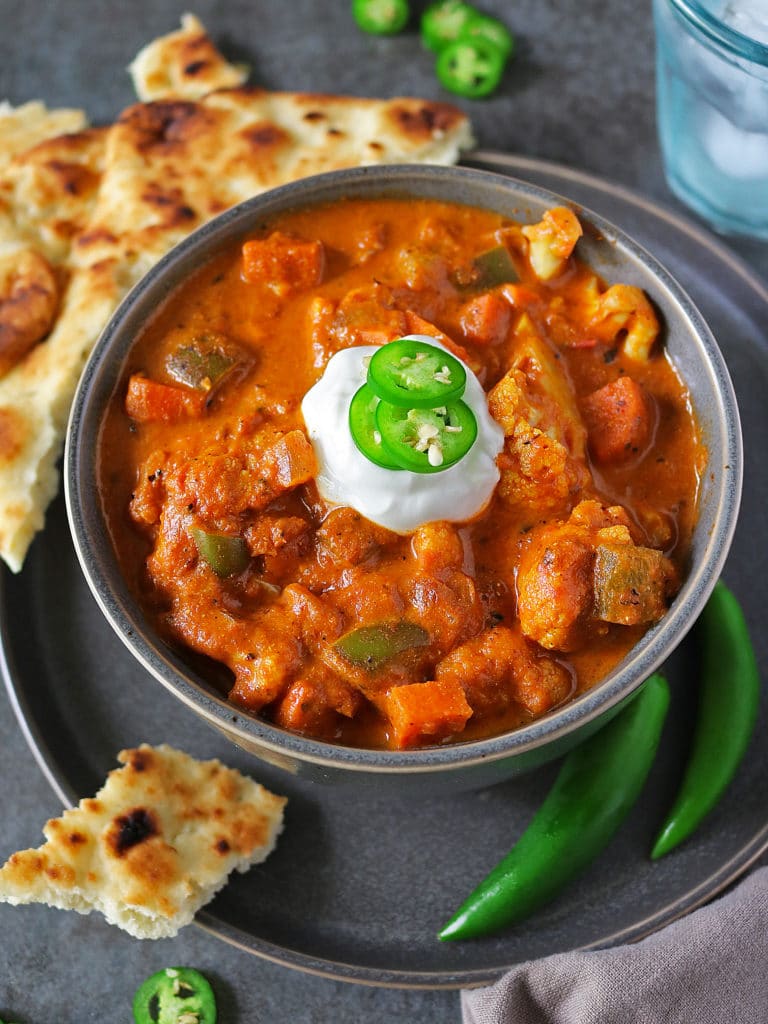 Whether you give this delicious yet super easy Vegetable Tikka Masala a try or not, I hope this weekend is filled with something delicious for you, something that will have the spittle trying to escape out of those glands in the back of my mouth! Happy Cooking AND Eating till next week!
Easy Vegetable Tikka Masala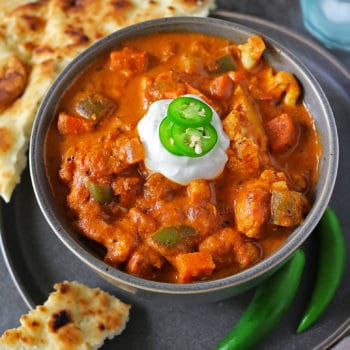 This Vegetable Tikka Masala is so easy to whip up and you can find most of the ingredients for it at your local grocery store. The longest part of this recipe is caramelizing the onions – a step you don't want to skip as these add so much flavor to this scrumptious dish!
2 tbsp olive oil
1 yellow onion diced
2 tsps freshly grated ginger
4 cloves garlic diced
1 tsp chili powder
1 tsp smoked paprika
1 tsp coriander
1/2 tsp turmeric
1/2 tsp cumin
1 6 oz can tomato paste
1 13.5 oz can fire roasted tomatoes
1 13.5 oz can full fat coconut milk
1 cup water
1 head cauliflower, with florets separated or chopped
2 carrots peeled
1 green bell pepper chopped
salt and pepper to taste
3 tbsp plain Greek yogurt
Saute onions in a pan with olive oil, over a medium/low flame. Stir often to make sure onions are caramelized and not burned. Keep on stirring occasionally and cooking onions for about 20-25 minutes.

Add ginger and garlic and saute about a minute or so.

Then add in tomato paste, fire roasted tomatoes, coconut milk, smoked paprika, chili, coriander, cumin, turmeric and water and stir till well incorporated.

Then add in cauliflower and carrots and let simmer covered about 10 minutes.

Add in the green bell pepper and let simmer covered again for another 5 minutes or till cauliflower is tender.

Then add in the yogurt, season with salt and pepper and enjoy with naan or rice! *Can be served with a dollop of Greek yogurt and green chillies if desired.